Formula 1 vs IndyCar – Which is faster? Both racing series claim to be the premier open-wheeled, single-seater series in the world. The cars in both races are almost alike. Both are designed and constructed with mind blowing speed in mind. Both can hit top speeds well in excess of 300km/h. Both have a famous race too, the Monaco Grand Prix in F1 and the Indy 500 at the Indianapolis Motor Speedway. Some drivers like Romain Grosjean and Juan Pablo Montoya have raced in both series. So, which races should one follow if one has to see the fastest cars in the world race?
Formula 1 and IndyCar are two different series with different regulations, components of cars and track conditions. Their budgetary allocation is different and so are their engines in size, top speed, and power generated. They both have different aeronautic designs as well as brakes and gearboxes.
Some drivers, such as Mario Andretti, Nigel Mansell, and Marcus Ericsson have experienced success in both series
Formula 1 vs IndyCar – Which is faster?
A better way to find will be to take a look at the differences between a Formula One car and an IndyCar vehicle and the regulations that govern the two series.
Formula 1 car
Formula 1 racing started in 1950 and has continued season after season. Each team fields two cars with two drivers. 20 drivers compete to be first to the checkered flag in 23 races held all over the world. Most of the tracks that Formula 1 cars race on are purpose-built. Only a few of the races are held on street circuits.
How is a Formula 1 car made?
Each F1 team is allowed to build their own chassis and they have to own the patent for the car parts. Formula 1 regulates the length, width and breadth of the car. The chassis are all constructed from carbon fibre but the aerodynamics differs from one constructor to the other. The suspension systems and the brakes also differ and the patent for the systems has to be owned by the manufacturer of the car.
Within each team a car can be built to the specifications of each F1 driver, however, this isn't always the case. 
Red Bull makes a car that suits the driving style of their World Champion driver Max Verstappen, while McLaren Racing are also believed to have delivered a car that suited Lando Norris more than Daniel Ricciardo, who endured two miserable seasons with the papaya-outfit before being let go.
How is a Formula 1 engine built?
When it comes to engine power, Formula 1 cars have used a 1.6 litre V6 turbocharged internal combustion engine for the last eight years. The engine along with the turbocharger forms a part of a power unit which comprises four more units. The MGU-K recovers the kinetic energy that would have been lost when braking. The MGU-H recovers heat energy from the exhaust heat. 
The battery unit and called the energy store and a control electronics unit complete the hybrid power unit. These hybrid systems help a Formula 1 car generate a power output of up to 1000bhp. Ferrari. Mercedes, Renault and Honda are four engine manufacturers and power unit suppliers that the teams can choose from. 
Each car is allowed the use of two energy stores and two control electronics per season, Three engines and turbochargers, MGU-Ks and MGU-Hs are allowed per car during the 23 races of the 2021 season. Use of any additional components than those allowed will mean grid penalties for the driver of the car.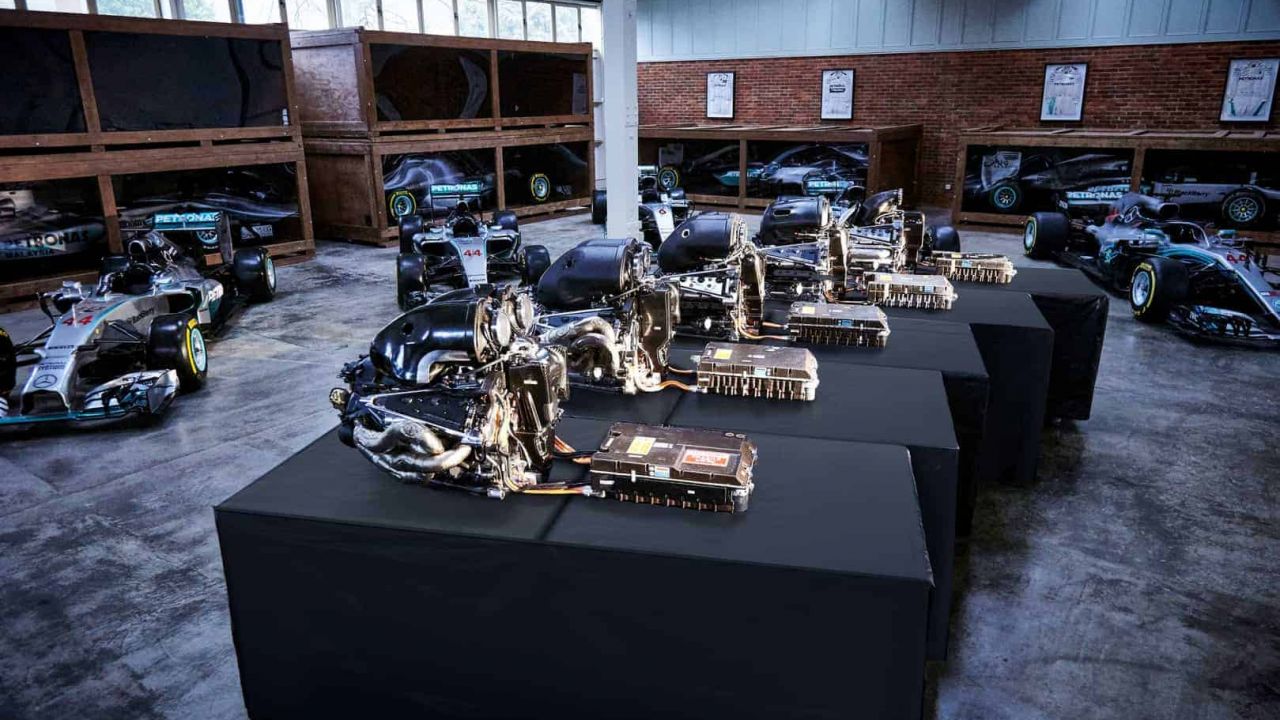 How does a Formula One gearbox work?
Eight forward gears along with a mandatory reverse gear constitute the gearbox of a Formula 1 car. The gears are semiautomatic and can be shifted seamlessly. The gears must last for six consecutive Grand Prix. Any additional change of gears before the stipulated six races, attract stiff grid penalties.
Formula 1 allows an engine rpm of 15000, but the fuel flow restrictions and the power curve forces the drivers to change gears below 12000 rpm.  
On most laps, all the drivers will make an average of 71 gear changes.
How do F1 cars reduce drag?
Armed with a hefty budget, teams pour a lot of money into research and improvement of the aerodynamics of a car. The rear wing alone will cost $150,000! A cheap essay writer could write thousands of essays for that amount. All this is done to increase the downforce and increase the cornering speeds of the car. A shorter cornering time gives a car an advantage over its rivals. 
Formula One regulated the dimensions of a car and stipulates the location of the aerodynamic aids. Teams improve car aerodynamics by simulations and wind tunnel testing. The complex aerodynamics of a Formula 1 car leaves a lot of dirty air in its wake making trailing the car and overtaking difficult. 
To limit the money a team has on hand to spend on aerodynamics and to make the sport an even playing field, Formula 1 has introduced a cost cap of $145 million per year. This cap will be reduced further over the years. Teams finishing higher in rankings are allowed lesser simulations and wind tunnel tests.
Formula 1 has reduced the width of the floor of the car and introduced limitations in a bid to reduce the generated downforce. The organisation has also introduced the DRS system which allows a driver within one second of the car in front to increase his speed and overtake. But constructors find ways to circumvent these limitations and gain back the lost downforce.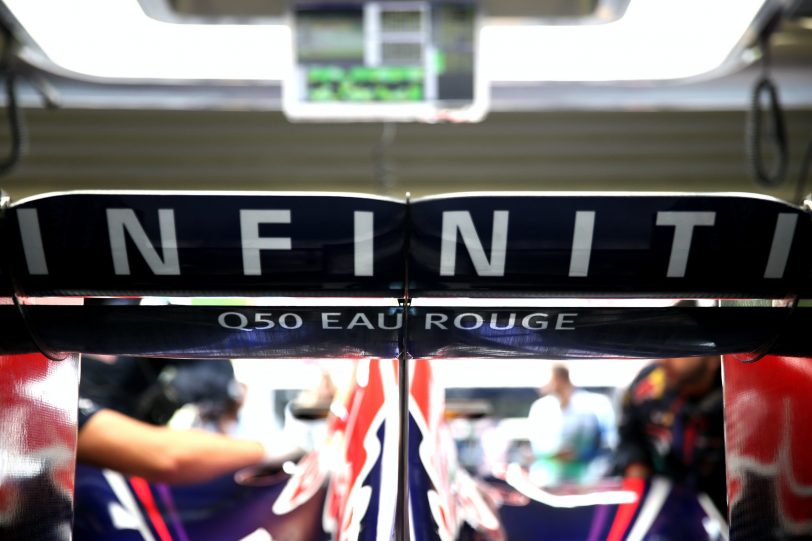 What are the other components and regulations of a Formula One race?
The steering wheel of a Formula 1 car is a very complex component. It consists of various buttons, paddles, thumbwheels and dials. Any one of these or a combination can be used to control and/or adjust differential settings, engine modes and brake settings. A screen display allows the driver to monitor information and data. 
The brake system of the car consists of composite carbon fibre brake discs. A hydraulic calliper squeezes both the front and the rear brakes with assistance from the energy recovery system of the power unit. 
Pirelli is chosen as the sole supplier of tyres for Formula 1 cars. Pirelli offers five different compounds for dry tracks over a season. The team can choose any three compounds depending on the condition of the track, and during a race, two different compounds must be used for at least one lap between pit stops. An intermediate compound can be used on slightly wet tracks and a wet weather compound on tracks when it is pouring down.
  
The minimum weight of a Formula 1 car has to be 740 kg with the driver in the car but without fuel. Cars used to weigh much below before 2014. Cars are weighed with dry tyres fitted on the car. To achieve this weight cars use a ballast. The ballast can be placed anywhere to adjust the weight distribution of the car.   
Is there a budget limit in F1?
The FIA and the Formula 1 teams have agreed to a budget ceiling of $145 million for the 2021 season. The budget is expected to be further reduced in the coming years as they look to attract more engine manufacturers into the sport. This ceiling does not include the drivers' salaries and the salaries of the top four employees of the team. Nevertheless, teams find loopholes and spend hundreds of millions of dollars per season.
A lot of money is spent on R&D in increasing the downforce and improving the aerodynamics of the cars. Most of this is done either by wind tunnel testing or through CFD simulations. The FIA has, to even the playing field, stipulated that the higher a team finishes, the less time they will get in testing aerodynamics.
How does an IndyCar work?
IndyCars use the same chassis across the board. Though an IndyCar team such as Andretti Autosport may have five of six drivers competing in a race all of them use the carbon fibre Dallara DW12 chassis. With 24 or more drivers competing in a race, the Indy car grid is a bit more flexible than Formula 1. The Indianapolis 500 may see as many as 33 drivers competing.
The competitors have to choose between Honda and Chevrolet for the engine to power their cars. The cars use a 2.2-litre twin-turbocharged V6 engine. These engines deliver a power of between 550 and 700bhp. The amount of power generated will depend on the type of boost used and the track. On ovals, drivers will often go for less power for engine durability and safety.
IndyCars use six-speed gearboxes with one compulsory reverse gear. They have a choice of wet and dry tyres supplied by Firestone. The dry tyres have a variety of compounds. On the street and road courses, drivers must use both dry and wet tyres at least once. Wet tyres are not allowed when racing on ovals. 
IndyCars use track-specific suspension systems and brakes. For example, a suspension system used for racing on an oval track may not be used for a road course. The one used for a road course may not suit racing on a street circuit. The same goes for the brakes.
Are IndyCars all the same?
Lower budgets and increased weight makes IndyCar cars quite different to F1 cars to help everyone compete on a level playing field. IndyCars use the same chassis and almost similar engines and gearboxes. But they differ greatly from each other. IndyCar Series teams are permitted to design and build their accessories such as suspensions and brake ducts. This is necessary for cars that race across north American ovals, street and road circuits.
Brake ducts will vary depending on the type of circuit and sealing gaskets of a different material will be used on oval tracks. Anti-knock springs will also not be mounted behind the pistons. Having a good suspension will make a difference in the car's performance on the street circuits.
Alterations are made to the weight of the cars to suit the circuits. Aero kits, the brakes, suspension and the amount of power generated will change depending on the course. The car might weigh 730kg on ovals and street tracks but its weight will be reduced to 716kg on speedways. While thin aerofoils will be used on speedways, they will be replaced by multi-element wings on other tracks.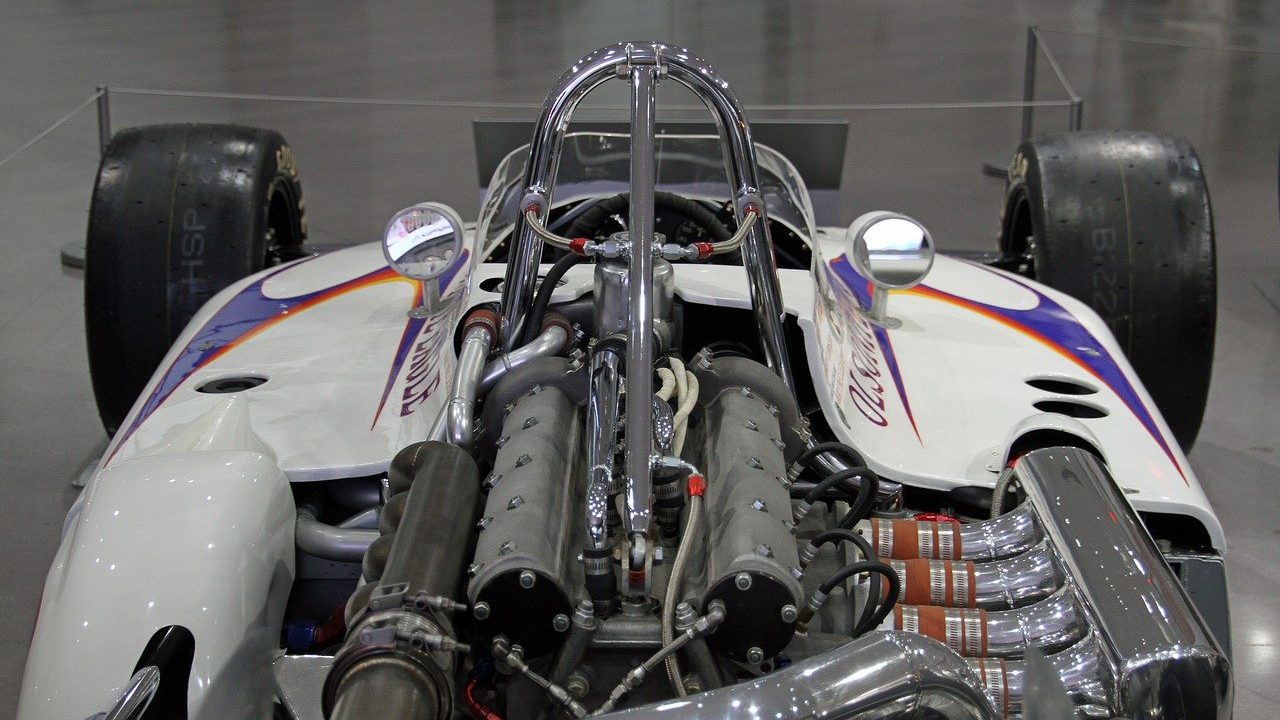 How does IndyCar push to pass work?
While F1 cars use the DRS system to improve overtaking, an IndyCar driver will use the push to pass system which was introduced in 2009. The system enabled drivers to boost the power of the car by up to 40BHP. But there were limitations on the number of uses of the system.
In 2017, the governing body changed the rules to enable drivers to use the system for a maximum of 200 seconds during a race. This enabled drivers to pull out of an overtaking manoeuvre on any given lap. This would save precious seconds for another overtaking attempt later in the IndyCar race.
What's faster an IndyCar or Formula 1 car?
Remember that both an F1 car and an Indy car are built for two different motorsport formats giving them several notable differences. They also race across different kinds of tracks and have a different set of rules governing the races. They also race across widely different distances with different time frames to finish their races. There is also a stark difference in the budgets they are allowed.
What type of tracks do the two cars race on?
Both racing series are run on road and street courses. While F1 cars race on purpose-built tracks and street circuits, on the other hand, IndyCar Series races are held across ovals, street circuits and road tracks. IndyCars change/alter their suspension depending on what kind of tracks they are racing on. An F1 car suspension design and manufacture is a costly affair. No F1 manufacturer will be able to change an F1 car suspension in time for a race on a different type of surface.
F1 cars have higher acceleration, greater downforce and better braking systems because they race on tighter circuits with shorter straights. IndyCar is heavier than an F1 car and relies on its momentum to hold its speed over much longer straights. The ovals have much wider curves than on an F1 track.
Over what distance are the two races held?
An F1 car is designed to race over a distance of 305 kilometres while IndyCar races over 805 kilometres every contest. While an F1 race has to finish within 2 hours. In case a red flag has been shown for whatever reason, the race has to end after a time limit of three hours. The race will be stopped as drivers cross the finish line at the end of the duration. IndyCar races can last over 3 hours or longer depending on which track the cars are racing on. 
F1 cars have a tank capacity to carry fuel for only one race and are not refuelled during the race. Indy cars are refuelled in between the start and end of the race because the race is held over a much longer distance. Refuelling in F1 was removed due to safety concerns after several high-profile incidents.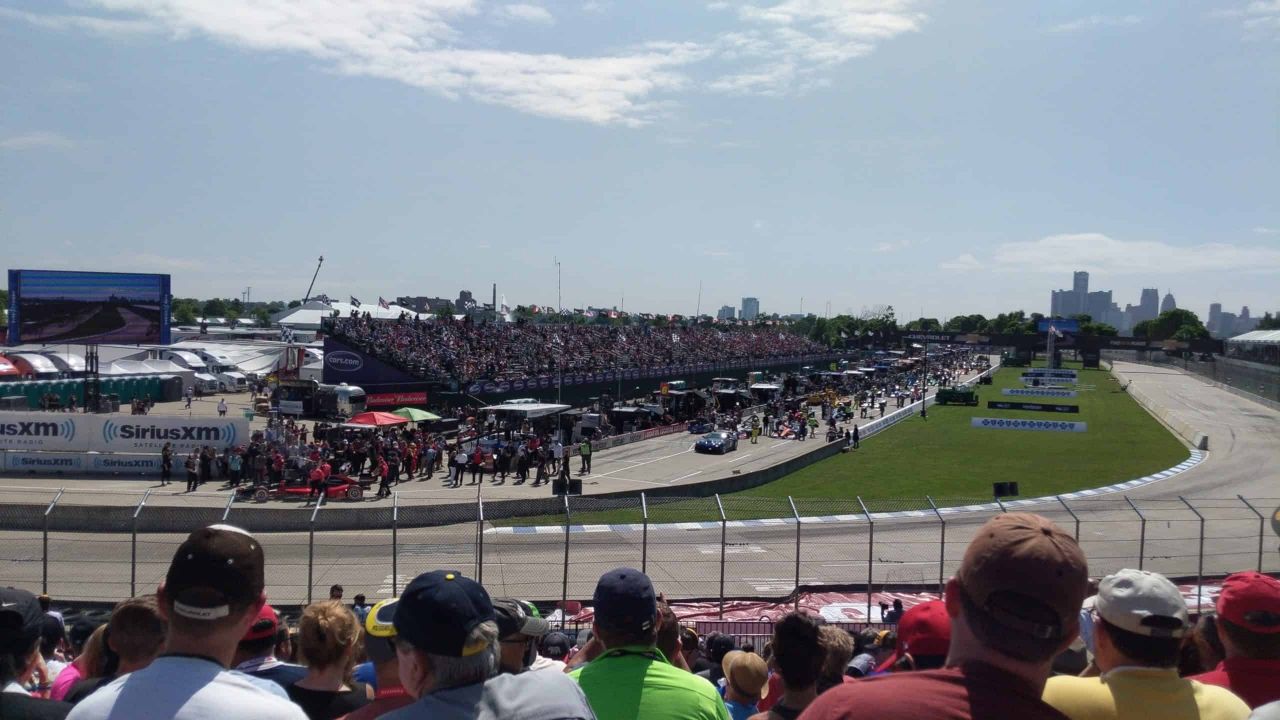 IndyCar vs F1 – Which Is Faster – The Conclusion
F1 cars are built for quick acceleration and sharp braking on custom-built surfaces. The heavier Indy car is built for speed over longer straights. So with these key differences are the two cars suited to race across tracks of the two formats?
An F1 car will outpace an IndyCar on an F1 track time and time again. An F1 car has much more acceleration than an IndyCar and will easily gain a lead on the IndyCar at the start. Its greater downforce also enables it to take the turns at higher speeds. Add to that a much more efficient braking system which allows it to easily save time on braking.
F1 cars are not built to run across long distances at high speeds. An F1 car, without substantial modifications, will not be able to last the distance over the lengthy Indy race distance. Its suspension will not hold and the engine will probably seize.
This is the case of "horses for courses". Each car is good for the purpose it was designed and built for. An F1 car will triumph on an F1 course while it won't last the distance in an Indy race. Similarly and IndyCar will lose badly on an F1 course.
Both cars and races are fast and good. Although F1 has a good following worldwide, IndyCar has a huge following in North America. We just let the cars race in the environments and conditions best suited to them. There's no need to scratch our head to figure out which car is faster. Ours is but to enjoy both races and visit research paper writing service.