Fernando Alonso was born to a working-class family on 29 July 1981 in Oviedo, Asturias, Spain. He raced in Formula One under the Spanish flag and won the Formula One World Drivers' Championship in 2005 and 2006. He also won the 24 Hours of Le Mans in 2018 and 2019 and the 24 Hours of Daytona in 2019. In 2018-9, he won the FIA World Endurance Championship. He has also driven for McLaren, Ferrari and Minardi in Formula One.
Fernando Alonso started go-karting at an early age of three and won his first karting race at the age of seven. He was the junior champion of the Asturias and Galacia counties when he was eight and progressed to Cadet class in 1990. Genís Marcó, a go-kart importer, found financial support for Alonso and mentored him. He made sure that Alonso was able to compete in the European series.
Mentored by Mike Wilson, the six-time Karting World Champion, Alonso won the Asturias and Basque County Cadet Championship in 1990. In 1991, he finished runner up in the Spanish National Cadet Championship. Alonso went on to win three Spanish Junior National Championships from 1993 to 1995. He finished third in the CIK-FIA Cadets' Rainbow Trophy.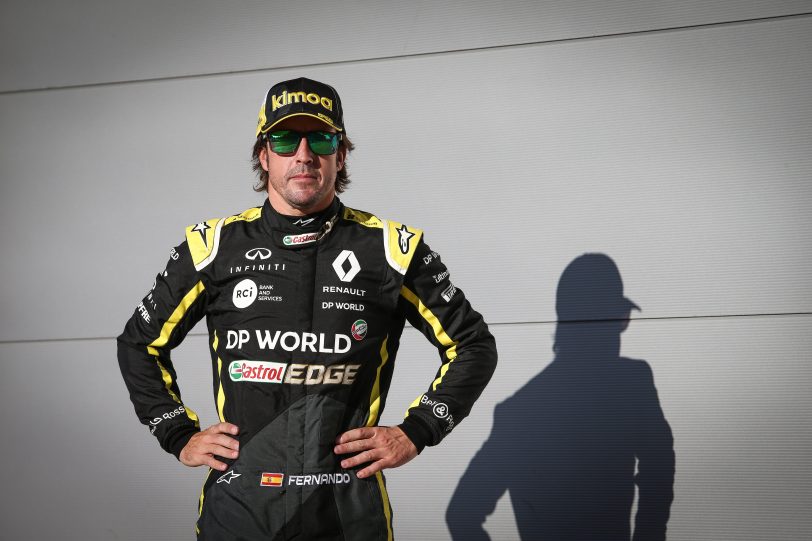 In 1996 Alonso took his fourth Spanish Junior Karting Championship. He also won the Trofeo Estival, the Marlboro Masters and the CIK-FIA 5 Continents Junior Cup. Alonso won the Italian and Spanish International A championships and finished second in the European Championship, the Masters Karting Paris Bercy and the Spanish Karting Championship.
Fernando Alonso's Career In Formula 1
In 1999, Fernando Alonso won his first motor racing title, the Euro Open by Nissan with Campos Motorsport. In 2000, he progressed to the International Formula 3000 Championship Team Astromega, a team backed by Minardi, In the competition, he won the Hungaroring and Spa-Francorchamps to finish fourth with 17 points.
Minardi and Renault (2001-2006)
As a result of winning the 1999 Euro Open by Nissan, Alonso got an opportunity to a test in a Formula One car. He served as Minardi's test and reserve driver in 2000 and joined its Formula One team in 2001. Alonso's best finish was a tenth place in Germany and finished the season in the 23rd place having scored no points.
In 2002, Alonso joined Renault as a test driver and worked in the engineering department to improve Giancarlo Fisichella and Jenson Button's cars. He tested in Spain and Britain and drove a Jaguar in an evaluation at Silverstone. Alonso was promoted to the Formula One team in 2003.
In the 2003 Formula One World Championship, Alonso became the youngest driver to win the pole position in Malaysia. At the Hungaroring, he became the youngest driver to win a Grand Prix. He got 55 points in the championship with four podium finishes and was placed sixth in the ratings.
Persisting with Renault in 2004, Alonso had no victories in any of the season's races. On his way to the fourth place in the championship, he finished third in the Australian Grand Prix. Alonso had three more podium finishes and pole position in France. Alonso continued with Renault in 2005.
In 2005, the FIA had brought in new rules. The car engines had to last for at least two races and teams could not change tyres during a race. Alonso had to fight off Kimi Räikkönen's McLaren to win the Formula One World Drivers' Championship for the first time. Alonso, in a more reliable car, had seven podium finishes including seven victories on his way to the Championship.
Alonso had signed a contract with Renault in 2005 for the 2006 season. He romped through the first nine races with six victories and three second-place finishes. The FIA then banned Renaut's tuned mass damper and allowed development in Michael Schumacher's Ferrari to even competition.
This saw both the drivers on equal points before the penultimate race in Japan. But Schumacher had to retire in Japan due to engine failure when leading the field. Alonso now needed only one point in the last Brazilian Grand Prix to clinch the championship title. Alonso did that by finishing second and became Formula One's youngest double World Champion.
McLaren (2007)
Although Renault did not release Alonso in 2006 he had an understanding with Ron Dennis, the McLaren boss, from a secret meeting in Japan. He joined McLaren for the 2007 season. By the end of the Italian Grand Prix, Alonso had won four race. He was trailing his teammate, Lewis Hamilton by four points and leading Kimi Räikkönen by three.
But there were problems in the McLaren team including the espionage scandal. Alonso and Hamilton also had differences that led Alonso to block Hamilton in the pits during the race in Hungary. Alonso finished the season behind Kimi Räikkönen and with equal points with Lewis Hamilton. Hamilton was awarded the second place because he had earned more second-place finishes than Alonso.
Renault (2008-2009)
Alonso went back to his old team, Renault for the 2008 season. Alonso's car suffered from a lack of speed due to the development moratorium. He managed to garner only 9 points from the first 7 races. Because of aerodynamic development to his car, Alonso won two races in Singapore and Japan and finished fifth in the championship that season.
In 2009, the Renault car lacked sheer speed and a dual diffuser system. Alonso achieved a third-place finish in the 13th race in Singapore. He scored points in 8 races and earned a pole position in Hungary but had to retire due to a wrongly fitted tyre. Alonso finished the season in the 9th place, his worst ranking in the championship in his career.
Ferrari (2010-2014)
Alonso had signed an agreement with Ferrari to drive for them in 2011. The contract was brought forward to 2010 when Ferrari had to let go Räikkönen. Alonso was leading the championship list by 8 points when he went into the final race in Abu Dhabi. A strategy error by Ferrari meant that Alonso was not able to pass Renault's Vitaly Petrov and finished second in the championship despite five victories.
In 2011, Alonso again had to put up with lack of aerodynamic grip and poor tyre handling. He won the British Grand Prix thanks to a strategy error by Red Bull. Alonso earned ten more podium positions and was in contention for the second place in the championship. But Mark Webber won the Brazilian Grand Prix and Alonso finished fourth both in the race and the championship.
In 2012, Ferrari extended Alonso's contract till 2016. Alonso built a lead of 46 points in the Drivers' Championship with wins in Malaysia, Valencia and Germany. Alonso was afflicted with mechanical problems, and start line collisions and lost the lead to Sebastian Vettel. He needed to finish at least third in the last race in Brazil and Vettel not to score any points. Alonso did finish second. But Vettel finished fourth, taking the title and Alonso finished second.
Alonso finished second for the third time in his career in 2013. He won in China and Spain and earned points consistently. A change in the tyre compound rendered his car slower, from the German Grand Prix onwards. Alonso was disenchanted with Ferrari and believed that they couldn't build a title-winning car.
In 2014, Mercedes cars gained an advantage over the others with the introduction of V-6, turbocharged engines. Alonso could not win any Grand Prix but finished third in China and second in Hungary. He finished the championship race in the sixth place with 161 points. Alonso had differences with the Ferrari team and left in 2014 to re-join McLaren on a three-year contract.
McLaren (2015-2019)
In his first year at McLaren in 2015, Alonso suffered a concussion in an accident in a test session. He was replaced during the Australian Grand Prix by a reserve driver. He then discovered that the car's Honda engine lacked power and speed. He managed only 11 points over the season finishing a dismal 17th in the Drivers' Championship.
Injuries sustained at the 2016 Australian Grand Prix kept Alonso from competing in the Bahrain Grand Prix. Alonso scored nine points that season and managed to coax speed from his car, qualifying ahead of teammate, Jenson Button, fifteen times. Two fifth-place finishes in Monaco and the United States saw Alonso finish 10th in the championship.
Unreliability of the McLaren car again affected Alonso's 2017 season during the first half of the season. A seventh-place finish in Hungary was his best before the summer break. He earned three consecutive top-ten finishes thereafter, and ended the season in the 15th championship place with a tally of 17 points.
In the 2018 season, Alonso finished 5th in the season-opening Australian Grand Prix. he out-qualified his teammate Stoffel Vandoorne in every race and achieved 9 top-ten finishes. McLaren stopped developing Alonso's car to focus on the 2019 season. Alonso finished the 2018 season in the 11th place with 50 points. His commitment to Formula One racing wanned, Alonso left the sport the sport as a driver at the end of the 2019 season.
Alonso, however, remained at McLaren as a brand ambassador. He aided and advised drivers and drove in select test sessions. His contract with McLaren, valid till 2019, was not renewed. In 2020, Alonso competed in the Indianapolis 500 and the Dakar Rally.
Alpine (2021-)
Alonso has signed a contract to drive with Alpine F1 Team in 2021 and 2022. Renault had rebranded the team name to Alpine from 2021 onwards. Alonso test drove the Renault R.S.18 for four days in preparation of his return to Formula One. He also test drove the Renault R.S.20 during the post-2020 season young drivers' test.