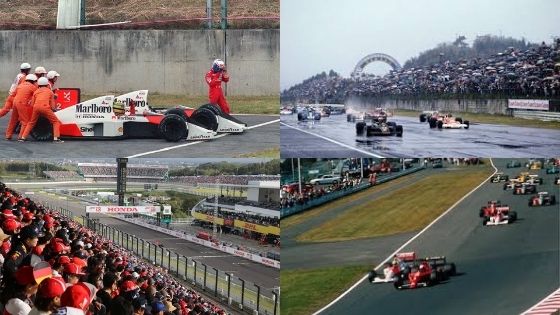 Japanese Grand Prix
The Japanese Grand Prix is a race on the FIA's Formula One World Championship calendar, and is one of the last races of each season. This makes it one of the most exciting races as it is often a title-deciding event. Japan has hosted over 34 World Championship races. It was the first Asian nation to host a Formula One race, followed by Malaysia in 1999 and Singapore in 2008.
We recommend visiting Motorsport Tickets for Japanese Grand Prix tickets.
When was the first Japanese Grand Prix?
The first Japanese Grand Prix was run at Suzuka Circuit at 80 km (50mi.) for two consecutive years 1963 and 1964 as a sports car race which marked the birth of motor racing in Japan. The first eight runnings of the Japanese Grand Prix were at the Fuji Speedway.
Fuji Speedway
Without its banking, the first Formula One championship was staged at the high speed 2.7 mile track of Fuji Speedway in 1976. After an incident which claimed the lives of 2 spectators, the scheduled race for 1978 was cancelled and didn't resume at the Fuji Speedway for many years.
Suzuka Circuit
When Formula One returned to Japan in 1987, the Honda-owned Suzuka circuit was already redesigned and modified. It is a favourite of both the drivers and the fans. The race was won by an Austrian driver, Gerhard Berger of Ferrari. It was their first victory since 1985.
Fuji redevelopment
The Formula One Championship went on smoothly at the Suzuka circuit over the years until FIA made an announcement on the 24th of March 2006 that the future races will be run at the Toyota-owned Fuji Speedway in Shizuoka Prefecture. With the Japanese GP moving to the redesigned circuit (by Hermann Tilke), it was met with apprehension as the previous circuit was the favorite of many, including the fans. Furthermore, this new track had received mixed reviews from many people within the Formula One paddock.
It was announced in 2007 that this circuit would be alternated with Suzuka from 2009 onwards. The 2007 race was held during a heavy rain and was won by Lewis Hamilton. The following year's title was claimed by Fernando Alonzo in a Renault at Fuji.
Return to Suzuka
Toyota faced an economic slump in 2009 and it became the reason behind the race not returning to Fuji Speedway in 2010 and beyond. According to the reports, Toyota stated that hosting the Japanese Grand Prix at their circuit would further worsen their economic situation. This resulted in having the race in Suzuka for the 2010 season.
A strong typhoon struck the 2014 race which also stirred controversy about the late-afternoon start time not being adjusted. It caused an accident that claimed the life of a driver, Jules Bianchi – Just nine months after his accident, he died from his injures (nine months comatose).
This led to modifications to the circuit for the following year. Drainage gutters were placed at the Dunlop Curve to allow water to drain quickly during a rainstorm. The crane was also moved to avert accidents such as Bianchi's from happening in the future.
Extension of F1 races in Suzuka was announced in August 2013 for five years, through to 2018. Then a further extension was announced in 2018 for the same venue until 2021.
What does the Suzuka Circuit look like today?
The circuit is famous for its 8-shape layout as designed by John "Hans" Hugenholts. A 1.2 KM straight passes over the front section by means of an overpass. There are only 2 FIA Grade 1 licensed tracks that are 8-shaped, this and the Fiorano Circuit.
The circuit has been modified as the circuit administrators comply with safety regulations:
In 1983 adding a chicane was inserted at the last curve slowing down the cars approaching the pit straight and the Degner curve was made into two corners instead of one long curve and more crash barriers and more run-off areas.
In 2002, chicane was modified and some of the snake curves were made a bit straighter and faster; also, the runoff area at the Dunlop Curve was doubled (previously 12 meters) to 25 meters, and the corner itself was made slightly tighter.
In 2003, the chicane was made slightly faster.
The circuit can be used in five configurations:
car full circuit
motorcycle full circuit
"Suzuka east"
"Suzuka west car,"
"Suzuka west motorcycle"
How to get to the Japanese Grand Prix
The best place to stay is in Nagoya which is the closest major city to the Suzuka Circuit. It's a 1 hr travel via train. Narita airport in Tokyo and Kansai airport in Osaka caters to intercontinental flights, and from Narita, you may take a flight to Chubu airport (Nagoya). Another way to Nagoya is via high speed train or busses.
Going to Nagoya
Via Domestic flights: The Tokyo to Nagoya itinerary is served by Japan Airlines and All Nippon Airways several times per day. Unfortunately, there are no direct flights from Osaka to Nagoya.
Trains: The JR Tokaido Shinkansen connects Tokyo and Nagoya. Travel times depends on the type of train you will ride; Nozomi trains takes 100 mins, Hikari trains takes extra 10 minutes and Kodama trains will take 3 hrs. The Japan Rail Pass is valid on the Hikari and Kodama trains.
Buses: A one-way trip from Tokyo to Nagoya on wheels takes 5-6 hours via Willer Express.
Kintetsu Railways to Suzuka Circuit
From both Nagoya and Osaka to Shiroko Station (nearest station on this line to the Suzuka Circuit) are served by trains from Kintetsu Railways. From Shiroko, follow the signage that leads to the shuttle buses, which take around 15 minutes to get you to the circuit. The buses run fairly regularly on Grand Prix weekend. You can use Kintetsu Rail Pass to pay for the train ride.
Japanese Taxis
Taxis are readily accessible and the best option when the trains and busses stops running after midnight. These are safe, reliable and affordable with only USD 6 as base fare. Most taxis are metered and some will give you an estimated fare. Drivers here are very honest. It's also best to have your address written in Japanese and present it to the driver to avoid miscommunication and inconvenience.
What to prepare when going to the Japanese Grand Prix
Do I need a visa to enter Japan?
In most countries, they have a "Reciprocal Visa Exemption Arrangement" and this is also effective in Japan. Of course, it will always depend on what country you'll be coming from. A "temporary visitor" entry's validity period is 15 to 90 days.
Money in Japan
Japan uses Yen as their currency and is usually weak against major and well know currencies, especially the US Dollar. Japan, just like most Asian countries, are cash-based society. Despite their setup, you can find so ATM's in most cities. Major international credit cards are accepted by hotels and restaurants. Regarding tipping, giving tip in Japan is INSULTING to people. So you do not give tips.
Personal Safety
Japanese people are full of nice people in general. They believe in ultimate decency and reputation is so important. This makes the country safe with a much lower rate of crime than any developed Asian countries. But of course, it still pays to be extra careful wherever you go.
Japan is well known for strong earthquakes. Having knowledge on what-to-do's during this phenomenon is a must before you go to japan. Please don't forget to secure your travel insurance.
Health
The Japanese value personal hygiene and cleanliness. When in public places, cover your nose and mouth whenever you sneeze or cough. It would be better if you will wear surgical mask, which is widely available. Generic over the counter medicines are commonly available in most Japanese pharmacies. Most big hotels have an in-house doctors or clinics, or if not, they will assist you if you need medical attention.
Suzuka Weather
Temperature could range between the average of 13 – 26°C (56 – 78°F) since it is held every October – early autumn in Japan. You can expect clear skies and a highlighting exhibit of beautiful flowers by mother Earth. However, it is still advisable to bring clothes for all types of weather.
Japanese Language
A big population of Japan are not English speakers, though they can read and write some. In many instances, though Japanese are extremely friendly and polite, language is seen to be a challenge. On the upper hand, multilingual signs are present in the cities. Learning few useful Japanese phrases will surely help you a lot.
Where is the best place to watch the Japanese Grand Prix?
You'll never run out of great seats to watch the Japanese Grand Prix at the Suzuka circuit. There are lots of corners and you'll be able to witness how the F1 cars and drivers push to their limits in every obstacle and challenge.
Main Grandstand: V1+V2
These are the main grandstand at the Suzuka circuit and it overlooks the main straight. It's the best vantage point to watch the teams as they prepare for the race and put themselves in their positions.
The F1 Fanzone is also here, you'll never have to walk far just to entertain yourself if there is no happenings yet in the circuit. This big grandstand is divided into 2 sections:
V1 – the lower part of the stand
V2 – the upper section.
Grandstand Q2
Seats in Q2 are the most popular at Suzuka and is highly recommended. Seats to the left (block 1) of the grandstand gives the best vantage point of the last corner and pitlane entrance. Then, to the right of the stand (block 3) you can see until the legendary 130-R. another view is the Degner and First Curve.
The Casio Triangle is the tight, low-speed chicane between 130-R and the Final Curve. Now this makes all the seats the best here. You are placed to see one of Suzuka's main overtaking spots and it has witnessed a lot of heart pumping, wheel to wheel action for so many years.
Grandstand Q1
Q1 is the much affordable version of Q2, but of course will lesser advantages. Why? First, the topmost row is at the same height of Q2's lower row. Second, the dreaded catch fencing. However, this will not totally ruin your GP weekend, but is not definitely the best spot for photos.
Grandstand B2
Seats in Grandstand B2 also offers great vantage point. Dashing down the main straight before braking into the apex of turn 1, this is one of the well-known overtaking spots. And aside from the "overtaking" thing, seeing F1 cars vanish into the snakelike turns 3 and 4 is really awesome.
Grandstand B1
B1 is not so popular like the B2 although it has a view of the track. It is lower and with the safety fencing between your eyes.
But worry not, this is at this very active part of the race. This is decent enough for a lower budget.
Grandstand D
This is placed in turns 3 to 6 at Suzuka. And these turns are the ultimate test for a n F1 car. Seats are made of old wooden bleacher and unfortunately, there's no shelter if it rains. However, its' just near an area with food stalls and rest rooms, an also a shelter from any passing typhoons.
Grandstand I
You'll have an amazing view of the hairpin from the moment the cars exit from under the overpass on the other side of the bend, braking hard into the tight hairpin and dashing away.
This exhibits the perfect demonstration of the mechanical capability of an F1 car in terms of braking and acceleration. The slow apex speed makes it a great spot for photo opportunities. This is a 30 minutes' walk from the main entrance.