Max Verstappen is a driver competing in Formula One with Red Bull Racing under the Dutch flag. Born of Belgian-Dutch parents, at the age of 16 years 176 days he became the youngest driver to participate in a Formula One race.
Max Emilian Verstappen was born on 30 September 1997 to Jos Verstappen, a former Dutch Formula One driver, and Sophie Kumpen, a Belgian karting competitor. Although born in Belgium, Max spent the best part of his childhood with his father because of his racing activities.
Verstappen crossed the border into the Netherlands during the day and began karting at the age of 4 under his father's mentorship. He raced under a Dutch license because he admitted that he was raised like a Dutch person and that was how he felt he should race.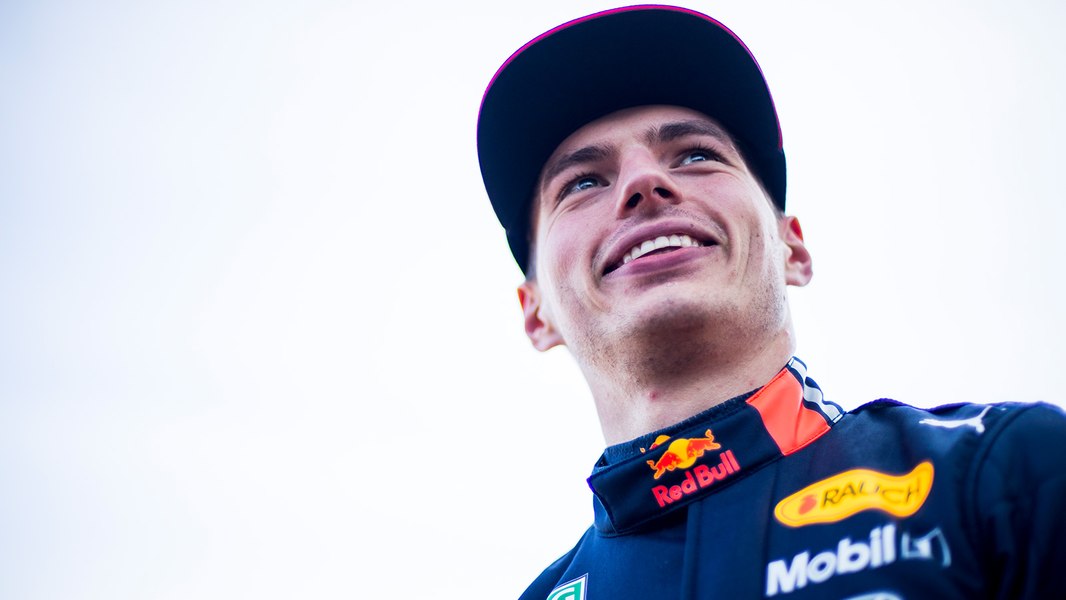 Max Verstappen's family has a long-standing relationship with motorsports racing. His father Joe Verstappen was a Formula One driver while his mother Sophie Kumpen competed in kart racing. His cousin once removed, Anthony Kumpen competed in endurance racing and is two time NASCAR Whelen Euro Series champion. He is currently the team manager for PK Carsport in the Euro Series.
Max Verstappen's Career Before Formula One
Karting; 2006-2013
Having begun karting by the age of 4 years, Max Verstappen competed in the Mini Junior Championship in his home province of Limburg, Belgium. He took part in the Rotax Max Minimax class in 2006 and won the Belgian Championship.
Verstappen's father entered him in the CRG kart racing where he won both the Dutch and Belgian Minimax championships and the Belgian Cadet Championship. In 2009 Verstappen joined Pex Racing, a CRG customer team. With them, he won the Flemish Minimax championship and the Belgian KF5 championship.
In 2010, Verstappen was invited to join the CRG factory team and compete in the European and World Championships. In his first foray in international karting, Verstappen finished second to the Brit, Alexander Albon in the KF3 World Cup.
Verstappen won the Euroseries beating Albon who would eventually join him as a partner at Red Bull Racing in Formula One. In the WSK World Series, Verstappen beat Robert Visoiu and won the championship.
Still competing with CRG, Verstappen won the Euro Series in a Parilla powered CRG kart in 2011. In 2012, Verstappen joined the Intrepid Driver program to compete in the KF2 and KZ2 classes. In the KF2 WSK Master Series, Verstappen beat Felice Tiene to win the championship. He also won the South Garda Winter Cup in the KF2 class beating Dennis Olson and Antonio Fuoco.
At the end of 2012, Verstappen left Intrepid and decided to race the CRG-built Zanardi karts. With the CRG factory team, he competed in the SKUSA Super Nationals in the KF2 class and finished 23rd in 2013.
In 2013 he also won the European KF and KZ championships. When he won the 2013 World KZ Championship at Varennes-sur-Allier in France, Verstappen was just 15 years old. He had won the championship in the KZ1 class, the highest class in karting.
Formula Renault and Formula Three (2013-2014)
Testing
Verstappen did not spend much time racing single-seated racing motor cars before he graduated to Formula One. He was sixteen years old when he had his first experience driving a racing car in October 2013.
At Pembrey Circuit he tested a Barazi-Epsilon Formula Renault car, driving it for 16 laps. In December that same year, he tested a Dallara Formula 3 car run by Motopark Academy. He tested another Formula Renault car at Circuito de Perez.
At Circuit de Ricardo Tormo near Valencia, driving for Joseph Kaufmann Racing, Verstappen set a faster time than most of the experienced drivers like Eddie Cheever III and Tatiana Calderón. Verstappen went through Formula Renault faster than regular drivers of the time.
Florida Winter Series
In January 2014, Verstappen let it be known that he would compete in the Florida Winter Series. In February, Verstappen started from pole and won at the Palm Beach International Raceway, recording his first Formula victory.
In February that year, Verstappen won his second Formula race when he beat Nicholas Latifi by 0.004 seconds at Homestead-Miami Speedway. Having made his mark in Formula racing, Verstappen was invited to race in Formula 3 by Van Amersfoort Racing.
Formula Three
Racing for Van Amersfoort Racing in 2014, Verstappen finished the 2014 Formula 3 season in third place. He was preceded by champion Esteban Ocon and runner-up Tom Blomqvist. Verstappen had won 10 races that Formula 3 season.
Max Verstappen's Career In Formula One
Scuderia Toro Rosso (2014-2016)
In August 2014. Max Verstappen tested a Formula Renault 3.5 car and joined the Red Bull Junior Team. He also had an offer from Mercedes for their driver development programme. Scuderia Torro Rosso confirmed just six days later that Verstappen will be one of their drivers for the 2015 season.
Verstappen's partner was to be Carlos Sainz Jr, as Daniil Kvyat was promoted to Red Bull Racing. Verstappen promptly opted for 33 as his race number. He participated in the first free practice testing at the Japanese Grand Prix and became the youngest ever driver to participate in a Grand Prix weekend.
In January 2015, the FIA changed the system for issuing a super licence by raising the age limit to 18 from 2016. Verstappen became the youngest driver in the World Championship race when he raced in the 2015 Australian Grand Prix at the age of 17 years and 166 days.
In his first race in Australia, Verstappen was forced to retire from a point's position due to Engine problems. Verstappen qualified sixth in the ensuing Malaysian Grand Prix and finished 7th. He thus became the youngest full-time driver to score in Formula One at 17 years, 180 days.
He had Engine problems in China, electrical problems in Bahrain and finished 11th in Spain. At the 2015 Monaco Grand Prix, Verstappen was involved in a high-speed collision with Romain Grosjean and was awarded a five-place grid penalty for causing the accident.
Verstappen thereafter regularly finished with points. His best finishes in 4th place came at the Hungarian and the United States Grands Prix. He received the Rookie of the Year, Personality of the Year and Action of the Year (for his overtaking Felipe Nasr in Belgium) awards at the FIA Prize Giving Ceremony.
In 2016, Verstappen, driving for Torro Rosso, qualified 5th in the inaugural Australian Grand Prix. After being frustrated with his teammate Sainz blocking him, he clipped Sainz before attempting to pass him and ended up finishing seventh.
However, Verstappen finished sixth at the race at Bahrain the following weekend, scoring the first points that Torro Rosso ever scored at the Sakhir circuit. Red Bull decided to replace Daniil Kvyat with Verstappen for the Spanish Grand Prix on 5 May 2016.
Red Bull Racing (2016 – present)
Verstappen qualified fourth at the 2016 Spanish Grand Prix and rose to the second position after Lewis Hamilton and Nico Rosberg crashed out. Daniel Ricciardo, his teammate held the lead but stopped for a pit stop and handed the lead to Verstappen.
Verstappen stubbornly held off Kimi Räikkönen of Ferrari to win his first Formula One victory. He became the youngest driver to score a Formula One Grand Prix victory at 18 years and 228 days of age, relieving Sebastian Vettel of the record.
Verstappen finished his first eight races with Red Bull with 6 top-five finishes which included four podiums. During the Belgian Grand Prix, Verstappen was involved in several incidents. At the first corner, he collided with Räikkönen and pushed Räikkönen, Vettel and Pérez wide at Les Combes.
He followed all this up by aggressively blocking Räikkönen on the Kemmel straight. Many F1 drivers protested against Verstappen's aggressive driving. The F1 director gave Verstappen a gentle warning and the FIA later disallowed moving while braking.
At a rain-affected 2016 Brazillian Grand Prix, Verstappen started from fourth on the grid and spun along the main straight. Relegated to the 18th place after a change of tires with 15 laps to go, Verstappen passed several cars and finished the race in the third position earning accolades for his driving.
Verstappen was forced to retire in seven of the first 14 races in the 2017 season either due to mechanical problems or because of collisions. Of the seven races that he finished, he earned third place in China and finished either fourth or fifth in five others.
In a surge of success, Verstappen won the Malaysian Grand Prix and finished second in the Japanese Grand Prix. He finished third in the United States Grand Prix but was demoted to fifth because he had cut the corner when passing Vettel in the final lap.
Verstappen won his third Formula One race just aged 20 at the 2017 Mexican Grand Prix passing Sebastian Vettel on the opening lap and holding his position till the finish. Max Verstappen finished the 2017 Formula One season in sixth place.
At the start of the 2018 Formula One season, Verstappen was involved with at least one incident in the first six races. He recovered enough in Australia after going wide to finish in sixth place.
Verstappen crashed twice in Bahrain, first during qualifying and with Hamilton during the race and later retired. He collided with Vettel and finished fourth in China despite earning penalty time.
Verstappen recovered in Spain finishing third but had run into the back of Lance Strolls car. He collided with his teammate after a long battle in Azerbaijan. Both the teammates were retired.
In Monaco, Verstappen crashed severely during free practice and the Red Bull team could not repair his car in time for qualifying. Starting last on a track which is notorious for the difficulty in overtaking, he overtook six cars to finish 9th and salvage 2 points.
Verstappen started third on the grid and finished 3rd in the Canadian Grand Prix. He followed it up with a second finish in France. At his home circuit in Austria, Verstappen won the fourth Grand Prix race of his career.
In Britain, Verstappen was forced to retire with gearbox problems and a crash during qualifications. He finished fourth in Germany and retired in Hungary ending the first half of the season just behind his teammate.
In a very good second half of the season, Verstappen earned podium finishes in Belgium, Singapore, Japan and USA. He won the Mexico Grand Prix, his fifth career F1 victory, and finished second after colliding with Ocon in Brazil. He finished 3rd in Abu Dhabi and ended the season in fourth place.
In the 2019 season, Verstappen was joined by Pierre Gassly (Carlos Sainz was relegated to Torro Rosso) even as Red Bull switched to Honda engines. He started the season by finishing third in Australia and finished fourth in Bahrain because a late safety prevented him from finishing third.
Verstappen earned 4th places in China and Japan and finished third in Spain. In Monaco, he was released in the path of Sebastian Vettel after a pit stop. The mistake cost him two places and he was demoted from second place to fourth.
In Canada, Verstappen finished fifth while he started and finished fourth in France. Verstappen won the Austrian Grand Prix and finished fifth in Britain after he was hit from behind by Vettel while in the third position.
Verstappen won the second race of the season on a wet German track. In Hungary, he was overtaken by Hamilton during the closing laps after leading for most of the race and ended up second.
In the second half of the season, Alexander Albon joined Verstappen at Red Bull. In Belgium, Verstappen collided with Räikkönen and retired. In Italy, he started at the back of the grid because of an engine component penalty but recovered to finish 8th.
Singapore and Russia saw Verstappen finishing 3rd and 4th respectively while he retired in Japan, colliding with Charles Leclerc. In Mexico, Verstappen earned a grid penalty and suffered a puncture during the race, but recovered sufficiently to finish 6th.
A third place in the USA was followed by Verstappen's third victory of the season in Brazil. With a 2nd place finish in Abu Dhabi, Verstappen finished the 2019 season in a commendable third place.
The 2020 Formula One season was first postponed and then curtailed because of the Covid pandemic. Max Verstappen drove remarkably well in the 17 race season to finish the 2020 Formula One season third with 189 points behind Lewis Hamilton and Valtteri Bottas.
He won the 70th Anniversary Grand Prix at Silverstone and earned nine more podium places, six of which were second finishes in 2020. Max Verstappen has a contract with Red Bull Racing which ensures that he will race with the team till 2023.
In 2021 Verstappen claimed his maiden F1 championship by winning the final race of 2021, the Abu Dhabi Grand Prix, in controversial fashion after a late safety car period saw the field bunched up with the lapped cars between then-race leader and Verstappen allowed to unlap themselves.
With Verstappen on new soft tyres and Hamilton on older hard tyres, the Dutchman was able to pass the Mercedes driver early in the final lap, taking an emotional victory that delivered the F1 title.