With a second podium finish in the 2020 FORMULA 1 season for Daniel Ricciardo, it was 'Shoey' time at Imola as the Australian made the most of his second podium appearance to partake in his tradition of drinking champagne from his boot.
Daniel Ricciardo Remembers 'Shoey'
It was such a long time between podium drinks for Daniel Ricciardo that when he finished on the podium at the 2020 Eifel Grand Prix, the first time he was in the top three since 2018, the Australian forgot to do a 'Shoey'. He didn't make the same mistake twice.
'Two podiums in three races! I'm very happy and I didn't forget to do the 'shoey' this time around!
'We were pretty settled in fifth but then Max triggered the safety car. It was the right thing to stay out, especially after Perez pitted.
'It is pretty difficult to overtake here and it was worth the risk today: it paid off. It's a shame about Esteban as the car was strong today. The result here means we get into third in the Championship, which is what the team is aiming for.
'I'm super happy to come away from Imola with a great podium: big thanks for everyone at the team. No second tattoo this time round though, I think Cyril's suffered enough!'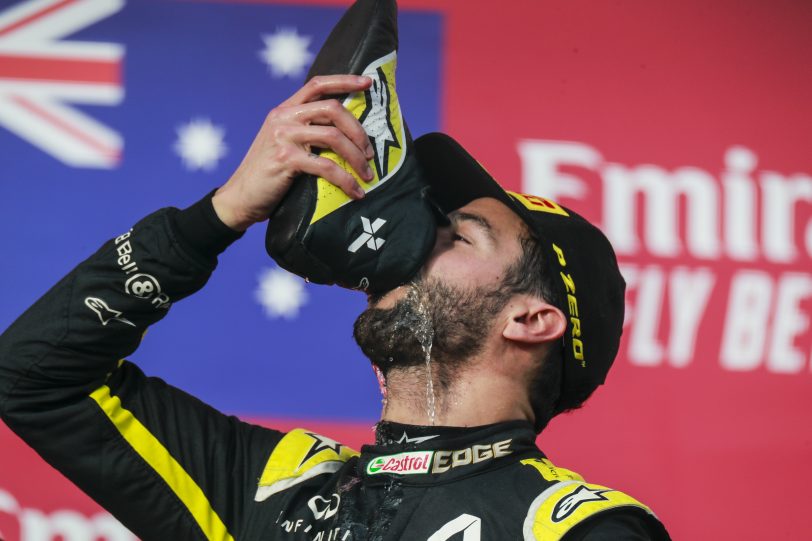 Aussie Takes Advantage Of Safety Car
When the virtual safety car came our following Max Verstappen's accident, Ricciardo and his team made the decision not to pit and to keep track position, something that paid off in the pursuit of a second podium in just three races.
'It was a bizarre one. I got into fourth off the start and I felt that was obviously the best we could do with the three at the front.
'But then Pérez had really good pace. He passed us through the pit sequence and then I think he pitted for the soft at the end with the safety car. We obviously kept track position.
'I'm not sure what happened to Max but that obviously put us in the fight. Kvyat came out of nowhere in the last few laps, but it was fun.
'Two podiums in three races. It all just happened very quickly at the end there. It was fun.'
Here Daniel Ricciardo talks about his second podium in three races, and Lewis Hamilton joining him for a Shoey.
Daniel Ricciardo Enjoys Unexpected Podium Finish
After such a long podium drought, Ricciardo is savouring every visit to the podium, and is hungry for more in the closing races of the season.
'They'll all pretty good, for sure. I'm not going to take this for granted. It's the second in three races but I'm as excited as I was in Nürburgring.
'I feel it was a bit more unexpected, this one. We were running P5 with roughly 15 laps to go, I think, and then there was the issue with Max, so that brought out the Safety Car. So I guess that put me in fourth on track, and then Pérez pitted which, yeah, obviously I was smiling about because I was 'well, that's given me third on track' and I knew hanging on with the Hard on the restart was going to be tricky but I was more than happy to fight for it at the end.
'Track position's obviously very important around here, so yeah, I think both myself and the team were very willing to keep me out on track. We held on.
'I think the threat at the end was Kvyat and that was very surprising. I wasn't sure where he came from but I was told he was on the Soft and he was coming on obviously very strong – but we held on and I'm just very, very happy. It's pretty surreal actually, the first one and to get two now in such close proximity. It's awesome.'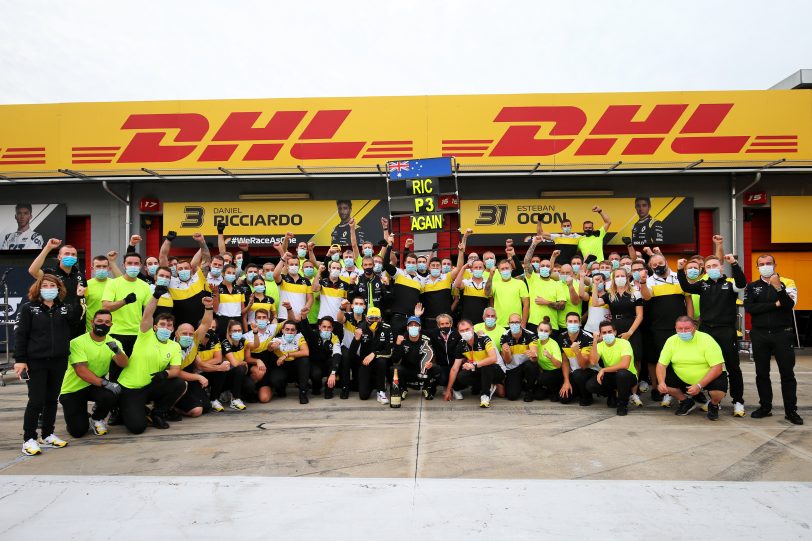 Renault Up To Third In Constructor's Championship Standings
The result moved Renault up to third in the FORMULA 1 Constructor's Championship standings on 135 points, with Racing Point and McLaren just one point behind, with both manufacturers tied on 134 points.
'It's so close! That's awesome. Obviously I saw Esteban off fairly early in the race I believe with a mechanical, so that's a shame. I don't know where he was on track but I know he would have had the pace to collect points today I'm sure.
'So, obviously, it's great that we got big points with one car but I think if we're going to keep our nose in front for sure we need both cars in the points.
'It's a shame, I guess he had some reliability issues today but still got a few races to go and I think we'll fight until the end for sure – so I'm excited for that,' concluded Ricciardo.
Lewis Hamilton Also Does A 'Shoey'
After previously saying he would never do a 'Shoey', Lewis Hamilton finally took part in Ricciardo's tradition, joining the Australian in his post-race podium ritual.
'It definitely didn't taste great. I mean I don't really like Champagne as it is, but it definitely tastes worse.
'But what's positive is that Daniel's mum thinks I was a good sport, so I'm grateful for that.
'I think Daniel had said that I'd once said never, that I would never do it. So there's a lesson – never say never. It was a good moment,' said the race winner.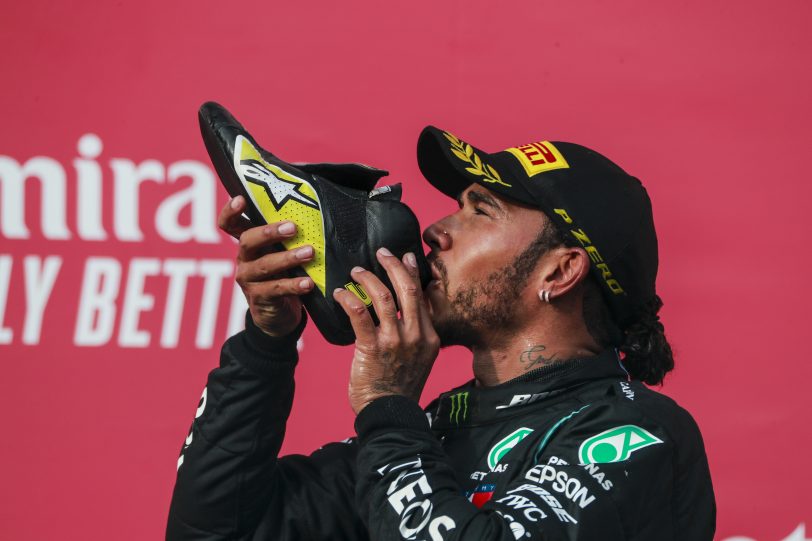 Bold Decision Pay Off For Cyril Abiteboul
The decision not to pit Ricciardo and keep track position paid off for Cyril Abiteboul who, while disappointed for Esteban Ocon, was delighted for Daniel Ricciardo and the team.
'I'd like to start by apologising to Esteban as it was another retirement due to a technical issue. He was not far off yesterday and had a decent start to be in the mix despite the early stop to remove the tear off from his ducts.
'He then suffered from an issue that caused some trouble with his gearbox and he had to retire. It's a shame as Daniel has shown that when the car is working there is pace and competitiveness.
'Once again, the race went our way: it looked like we were up for P5 as Perez could benefit from his start on medium tyres and we were going to settle for that, but Verstappen's retirement opened things up.
'Our strategy team made the bold decision not to stop again, assuming that we had enough life and pace to contain the threat from behind. It was very brave, but it paid off thanks to a fantastic drive from Daniel.
'With his engineers, he managed to keep the exact tyre temperature required during the long safety car and then managed an amazing last few laps to get to the end and give us another podium.
'We are now third in the Championship and need to own it and focus on the weekends that will come very quickly.
'Finally, I would also like to offer my congratulations to Mercedes on their seventh World Championship; it's a phenomenal achievement, one that will continue to inspire us for all the work still ahead,' concluded Abiteboul.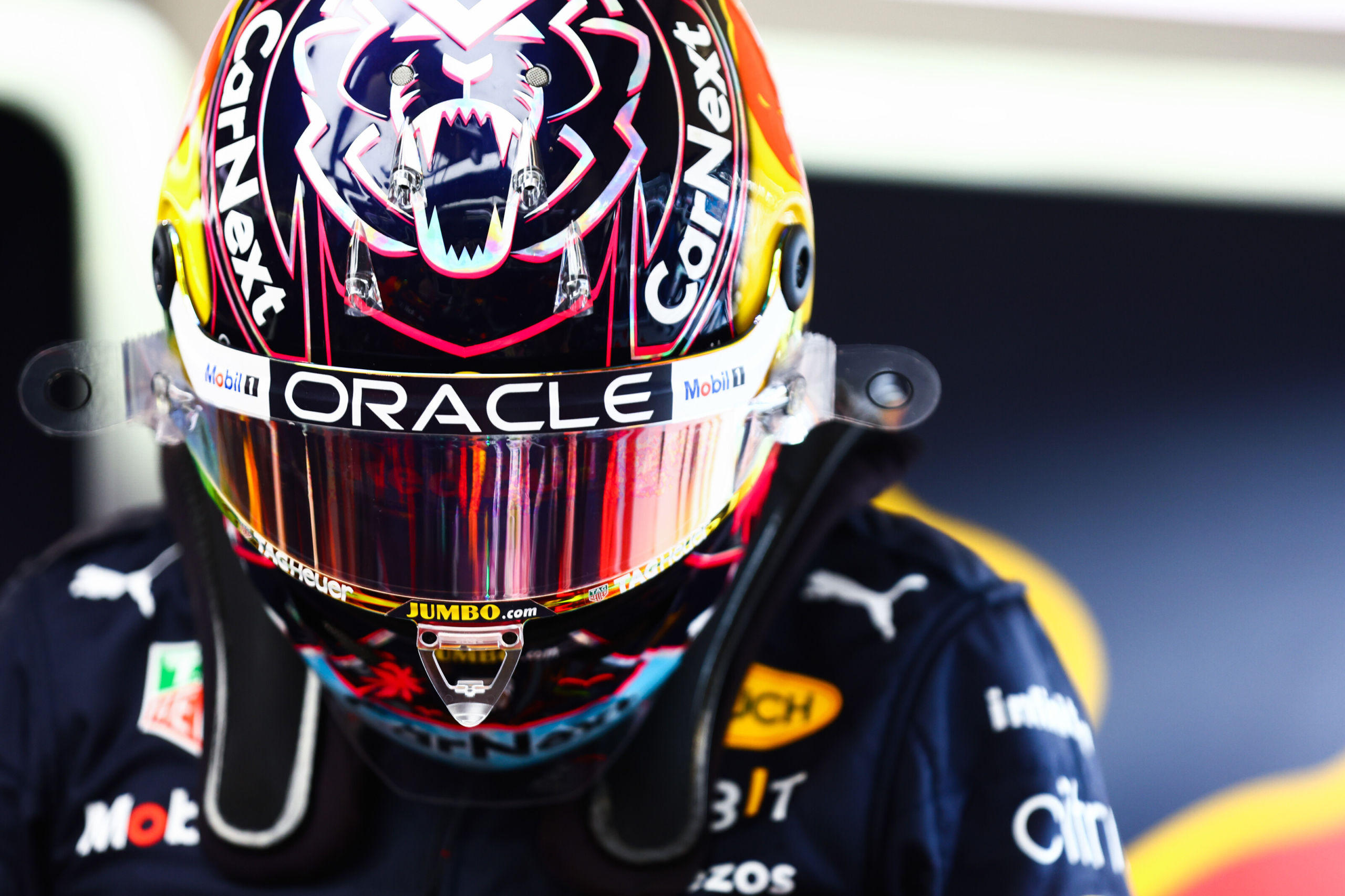 After gaining a huge amount of momentum with a dominant ...