Sergio Pérez is a Mexican racing driver contesting in Formula One for Red Bull Racing under the Mexican Flag, having raced earlier for Sauber, McLaren, Force India and Racing Point. He broke the record for the most starts before winning a Formula One Grand Prix. He won the only Grand Prix of his career so far at the 2020 Sakhir Grand Prix after 190 starts and ten years of Formula One racing.
Sergio Pérez was born on 26 January 1990 in Guadalajara, Jalisco, to Antonio Pérez Garibay and Marilú Mendoza Pérez. Until 2012, he was a member of the Ferrari Driver Academy. He made his Formula One debut for Sauber in 2011 =and won his first Formula One podium with them in the 2012 Malaysian Grand Prix. He was referred to as the "Mexican Wonder Kid' because of his youth and performance.
In 2013 Perez shifted to McLaren but the team failed to win a single podium position during the season. McLaren replaced Pérez with Kevin Magnussen and Pérez moved on to Force India for the 2014 season. He stayed with Force India throughout their going into administration and the team was reformed as Racing Point in 2019.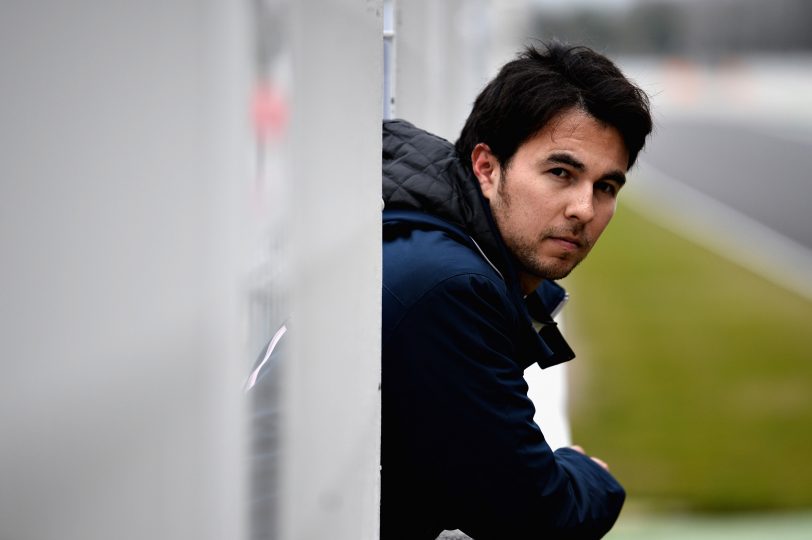 It is with Racing Point that Pérez won his first Grand Prix at the 2020 Sakhir Grand Prix. Although was due to race with Racing Point till the end of the 2022 season, Perez decided to move to on to Red Bull Racing for the 2021 season. That is because Racing Point had decided to replace Pérez with Sebastian Vettel before his announcement of the transfer.
Sergio Pérez's Career Before Formula 1
Karting
Sergio Pérez began Karting at the age of 6years. In his first year of competition in 2006, he claimed four victories in the junior category was declared as the runner-up. The youngest driver to contest in the youth class, Pérez won one race and earned five podiums to finish fourth in the category for the year.
In 1998, Pérez returned to the junior category, won four races and became the youngest driver to win the championship. He also contested in Shifter 125 cc and Master Kadet that year. In 1999, he stood third in the Shifter 125 cc contest with 3 wins. After obtaining special permission from the Federation, Pérez competed in the 80 cc Shifter and became the youngest driver to win the competition.
Pérez competed in the Shifter 80 cc as well as the Shifter 125 cc in 2000. In 2001 he competed in Shifter 125 cc regional and became the youngest driver to compete in the contest. The talented young man caught the attention of the Scuderia Telmex's scouts with his performance.
In the Shifter 125 cc nationals in 2012, Pérez finished runner-up while he finished 11th in the Global Shifter 125 cc race in Las Vegas, after qualifying fifth. In 2013, he was leading both the championships when he had to withdraw from the last seven races. But he finished third in the Telmex Challenge as well as runner-up in Mexico.
Single-Seater racing, Formula BMW, A1 Grand Prix
The same year, sponsored by Telmex, Pérez was invited to participate in the Easy Kart 125 Shootout. He was the youngest competitor in the category but managed to qualify first and win the race.
Sponsored by Telmex, he competed in the US-based 2004 Skip Barber National Championship that was his debut in single-seater racing where he finished eleventh. In 2005, Pérez was signed by Team Rosberg to race in Europe. Living in his manager's quarters, he finished fourteenth in the German Formula BMW ADAC series.
Pérez improved his performance to finish sixth the next year. In the 2006-2007 A1 Grand Prix season, he participated in a single round where he was the third-youngest competitor. He was racing for A1 Team Mexico.
Formula Three
Pérez shifted to Oxford to compete in the British Formula 3 Championship for T-Sport team in 2007. Competing in the National Class for older chassis, he won two-third of the races, two-third of pole positions and finished on the podium in all but two races.
In 2008, he competed in the International Class of the Championship where he led for most of the competition. He ultimately finished fourth in the Championship.
GP2 Series
Campos Grand Prix invited Pérez to race for them in the 2008-2009 GP2 Asia series. He was the first Mexican driver to compete at this level since 1990. He won his first GP2 Series race in the sprint at Sakhir and won another one at Losail.
Racing for Arden International for the main 2009 GP2 Series, Pérez finished twelfth with his best second-place finish coming at Valencia. He raced in the 2009-2010 Asian GP2 Series ahead of the main series for Barwa Addax, finishing the series in the second place with five race wins.
Sergio Pérez's Career In Formula 1
Sauber (2011-2012)
In October 2010, Sauber announced that Sergio Pérez will race for their team during the 2011 season. Subsequently, Sauber announced that they have entered into a partnership with Telmex, the Mexican telecommunications company and Pérez's sponsor. In October 2010, Pérez had become a member of the Ferrari Driver Academy and was the fourth Mexican driver to compete in Formula One.
Pérez finished 7th in debut Formula one race in Australia with Sauber but was disqualified for a technical infringement. He retired after parts from another car flew into the electrical system of his car in Malaysia, finished 17th in China and 14th in Turkey. He took his first Formula One points in Spain where he finished ninth just ahead of his teammate Kamui Kobayashi.
Pérez crashed during qualifying in Monaco and missed the race as well as the one in Canada. On his return to the European Grand Prix, he finished 11th but took his career-best seventh-place finish at Silverstone. Pérez finished eleventh in Germany, 15th in Hungary and retired in Belgium. He was also forced to retire in Italy with a gearbox problem.
He scored a point in Singapore, finishing tenth and took an eighth-place finish in Japan. Pérez finished 15th in the Drivers' Championship with a tenth place finish in India and with 14 points. In September that year, Pérez had tested the Ferrari F60 as apart of the Ferrari Driver Academy.
Pérez was retained by Sauber for the 2012 season. He started the season with an eighth-place finish in Australia. In Malaysia, he finished second after battling with Fernando Alonso for the first place and a late error. That was Sauber's best result as an independent team.
In China, Pérez finished 11th after qualifying eighth and did not score any points for the next three races. He achieved his second career podium in Canada after finishing third. Pérez qualified 15th in the European Grand Prix and finished 8th. After the race, he complained that the poor qualifying form of the Sauber car is a problem for him.
In Britain, he collided with Pastor Maldonado. Although Maldonado was awarded a penalty, Pérez was forced to retire. He qualified 17th in Germany but made his way through the field to finish 6th. Pérez finished second in Italy from a 15th position start because of clever tyre management. He finished the season in 10th place in the championship rankings.
McLaren (2013)
In September 2012 Pérez was released from the Ferrari Driver Academy and signed to race with McLaren for the 2013 season. He replaced Lewis Hamilton who had moved to Mercedes. He started the season by finishing 11th in Australia and earned his first points for McLaren in Malaysia, starting and finishing 9th.
In Bahrain, Pérez started 12th and finished 6th after a fierce duel with his teammate Jenson Button. Button was not pleased and commented that Pérez had to be more careful in the future while commending him on his driving. In Monaco, Pérez collided with Kimi Räikkönen after several aggressive moves and retired. After the race, Räikkönen said that Pérez deserved a punch in the face.
Pérez's fifth-place finish in India was his best of the season. He finished the 2013 season placed 11th in the driver's rankings, two places behind Jenson Button. In November Pérez announced that he would be leaving McLaren at the end of the season. Exactly a month later, Force India announced that they had signed Pérez for the 2014 season.
Force India (2014-2018)
At Force India, Pérez replaced Kevin Magnussen and partnered Nico Hülkenberg. In the 2014 Australian Grand Prix, Pérez finished 11th but was promoted to 10th place after Daniel Ricciardo was disqualified. He failed to start in Malaysia due to gearbox problems but a week later in Bahrain, he earned Force India's first podium since 2009, finishing third.
In China, Pérez started 16th and worked his way through the field to finish 9th. Pérez was forced to retire for the first time that season after a collision with Jenson Button. In the Canadian Grand Prix, he was fighting for a podium finish when he started facing braking issues. He was hit from behind by Felipe Massa's car in the last lap and had to retire.
Carrying a five-grid place penalty from the race in Canada, Pérez recorded the third fastest lap of his career in Austria. He collected points in all but four races in the remainder of the season culminating in a seventh-place finish in Abu Dhabi. Pérez finished the 2014 season in the 10th place in the driver's rankings, one place behind his partner Nico Hülkenberg.
Force India retained Sergio Pérez for the 2015 season. He started the season-opener in Australia with a 10th place finish. After missing out on points in Malaysia and China, he secured eighth place in Bahrain. He took his best finish in Russia finishing third. He scored most of his points in the last nine races to finish 9th in the driver's rankings.
In 2016, Pérez failed to score in the first four events but scored his first points in Russia, finishing 8th. Upgrades were introduced to the Force India car and Pérez finished seventh in Barcelona. Perez scored two third-place finishes in Monaco and in the European Grand Prix. He finished the 2016 season in his best-ever seventh position in the driver's rankings.
Pérez remained with Force India for the fourth consecutive season in 2017, this time having Esteban Ocon for a partner. Sergio Pérez continued his points-scoring streak in the 2017 season for the first five races. In Monaco, he collided with Daniil Kvyat to retire and end the 17 race scoring run. He scored points in all but two races and retired in Monaco.
Pérez again finished the season seventh in the driver's rankings with 100 points but without any podium finishes. He finished 12 places ahead of his partner Daniil Kvyat and was retained by Force India for the oncoming season.
Finishing the first three races of the 2018 Formula One outside points, Pérez took the eight podium position in Azerbaijan, finishing 3rd. It was his first podium finish after 37 starts. That was the only podium finish for Pérez that season. He was to collect points in 11 of the remaining races with his best finish being a fifth-place position in Belgium.
Pérez ended the season placed eighth in the driver's rankings with 62 points but four places ahead of his teammate, Esteban Ocon. In 2018, Force India went into administration and was reformed as Racing Point. Sergio Perez stuck with Racing Point and partnered Lance Stroll for the 2019 season.
Racing Point (2019-2020)
Pérez signed a four-year contract with Racing Point, through to the end of the 2022 season. Most of the work on the car was disrupted by the administration events and Racing Point saw the 2019 season as a transition season. However, after a poor finish in Australia, Pérez scored points in the following three races, taking 6th-place finish in Azerbaijan.
Eight races followed without points including on a wet German track on which Pérez crashed out early. Just like in 2018, Pérez accumulated points in the last eight races except in Singapore, where he retired. He started the streak with a 6th place finish in Belgium and ended it with a seventh in Abu Dhabi.
It was in the 2020 Formula One season that Sergio Pérez came into his own. He was diagnosed with COVID19 just three days before the British Grand Prix and missed two races. Nico Hülkenberg replaced Pérez, and it was later confirmed that Pérez would miss the subsequent 70th Anniversary Grand Prix.
He started the season with a strong 6th-place finish in the season-opener in Austria. He continued with points finishes in the Styrian Grand Prix and in Hungary. After missing two races due to the COVID infection, he came back strongly in Spain finishing 5th. He scored points in all the subsequent races taking two 4th place finishes in Russia and in the Eifel Grand Prix.
Pérez took the ninth Formula One podium finish of his career at the Turkish Grand Prix. He was forced to retire in the Bahrain Grand Prix when an MGU-K problem caused flames to bellow out of his car. He was third for most of the race. Perez announced after the race that he will be leaving Racing Point at the end of the season.
Pérez was hit by Leclerc on the first lap and went to the 18th and last place in the race at the Shakhir Grand Prix. He worked his way through the field to take the lead in the 64th lap and won the First Grand Prix of his ten year Formula One racing career.
Pérez had won the first Grand Prix win for a Mexican Driver since 1970 when Pedro Rodriquez won the Belgian Grand Prix. Pérez finished the 2020 Formula One World Drivers' Championship in fourth place, the best position of his career.
Sergio Pérez is due to race for Red Bull Racing-Honda for the 2021 season replacing Alex Albon. He will have Max Verstappen as a partner.