Red Bull's Max Verstappen claimed his fourth win in five races after Charles Leclerc retired from the lead for the second time in three races.
Verstappen, 24, extends his championship lead to 21-points over team mate Sergio Perez, who has moved into second following Leclerc's failure to finish.
After claiming his 25th Grand Prix victory, Verstappen said: "Today we had incredible pace in the car, we could really look after the tyres and we could chip away for the lead. Checo did a good job at the start getting ahead of Charles, I got blocked in and couldn't go anywhere. Once I was on the hard tyres and in the lead and I could just manage it and could control the gap. It would have been good to have had a battle with Charles today but he had a DNF. To get a 1-2 for the Team was really good, we've scored some good points today and made the gap bigger to Ferrari. There's still a long way to go, it's a long season so we need to keep pushing as a Team."
Leclerc, who had taken a brilliant pole position, saw his Ferrari power-unit fail with smoke billowing from the back of the car on Lap 20.
Victory for Verstappen is Red Bull's fifth consecutive win since the Australian Grand Prix, the world champions' 65th podium appearance a new record for a Red Bull driver.
Sergio Perez finished second, for a third one-two finish of the season for the Milton Keynes team, and the Mexican also picked up the fastest lap of the race.
"I started really well, we were leading and felt we had things under control. We were a little unlucky with the timing of the VSC which made things a bit more difficult for us. When you are leading the race for the first stint, which is normally the harder one, then you think you are looking strong but that wasn't to be the case today and that is racing. I got some bad degradation on my rear tyres, which meant I couldn't keep Max behind, he was extremely fast and it made sense for him to pass me rather than fight it. We were told to keep certain pace on the hards once both Ferraris were out of the race and we managed the rest of it well. We have to understand where we could have got more out of the car today and go forward to Canada and make sure we are in contention once again. Today was a great result for the Team and a good day in the Constructors' Championship," said Perez.
No points for Ferrari allowed Mercedes to close the gap on the Italian team, as George Russell finished third and Lewis Hamilton fourth.
On a day where multiple Ferrari power-units broke down, the points positions were collected by Gasly, Vettel, Alonso, Ricciardo, Norris and Ocon.
Red Bull lead the Constructors' Championship by 80-points, having trailed Ferrari as recently the Spanish Grand Prix in May.
Leclerc's Title Challenge Unravelling
Charles Leclerc's race win hopes had already taken a dent when he lost the lead at the start to Sergio Perez, who started alongside him.
Immediately the Mexican showed that the Red Bull had the pace to win, by pulling a lead of two seconds in the opening laps, moving him clear of DRS threat from the Monegasque.
Instead of looking ahead, Leclerc was more concerned with Verstappen in third, who was hustling the Ferrari but unable to find a way through, even with DRS on the long straight down to Turn 1.
The first signs of woe for the Scuderia came on Lap 9, as Carlos Sainz stopped at Turn 4, with a reported brake-by-wire problem.
The subsequent Virtual Safety Car (VSC) allowed Leclerc to pit for hard tyres, handing Red Bull track position in first and second.
24-year-old Leclerc then began to eat into the time lost to the leading pair, as Verstappen also closed on Perez.
Once in the DRS zone, Perez was instructed not to fight, with his Dutch team mate easing into the lead on the brakes at the first corner.
Verstappen instantly put more than a second between himself and Monaco winner Perez, ahead of their pit-stops.
Perez stopped first, but a delay helped ensure that Verstappen returned from his stop in the ahead, but Leclerc now led.
Ferrari had told their Monegasque driver to use the harder rubber, as they were planning to use a fresh set of medium compound tyres later in the race to chase the Red Bull's down, but we would not see that come to pass.
On Lap 20, Ferrari's day in Baku was completed with plumes of smoke erupting from the rear of Leclerc's car on the main straight.
The double DNF handed Red Bull and easy win in the end, as Verstappen stroked it home, both Red Bull's making one further stop for new hard tyres when a second VSC was deployed for Kevin Magnussen's stopped Haas.
Perez was left to rue the missed chance to stop during the first VSC, saying: "There was some miscommunication."
The three-time race winner added: "I got too much deg (degradation) on the medium tyre, it was extremely high for me and Max was stronger on that medium stint."
Despite having taken pole position in all of the last four races, Leclerc has not converted any into victory, his last win coming in April at the Australian Grand Prix.
He has only finished on the podium once in that run of poles, in Miami, with two DNF's and a fourth place at his home event in Monaco.
Speaking about reliability after the race, Ferrari Team Principal Mattia Binotto said: "Certainly it's a concern, reliability is a factor, always a factor. We need to understand and analyse, I have not the answer yet."
Ferrari's Failure's Hand Mercedes Unlikely Podium
The demise of the Ferrari pair allowed Mercedes driver George Russell to move into an easy third position, which the 24-year-old held to the finish.
He too took advantage of the Magnussen induced VSC to change to fresh hard tyres, on his way to an eighth straight top five finishing position.
The second Mercedes of Lewis Hamilton, who was battling back pain from the severe bouncing the Silver Arrows cars have been suffering in Baku, fought back having lost places during the first VSC period.
The seven-time world champion lost out to Sebastian Vettel's Aston Martin in the pit lane, a position he regained when the German over shot his braking when attempting to pass Esteban Ocon's Alpine.
Hamilton quickly seized his chance on the struggling Frenchman, who was on older tyres, to make his move forward.
As the race wore on, Hamilton made steady progress to catch and pass Japanese driver Yuki Tsunoda.
Hamilton briefly lost the position to Tsunoda, when boxing for fresh tyres under the later VSC, before repassing the Alpha Tauri driver.
F1's most successful driver then closed down Tsunoda's team mate Pierre Gasly to claim fourth place.
At the end of the race, Hamilton gingerly extracted himself from his Mercedes W13, his back clearly having taken a bit of a beating.
The 27-points scored have closed the eight-time-consecutive Constructors' Champions on Ferrari, the gap down to 39-points.
Ricciardo Rises Despite Hold Up
Daniel Ricciardo's position at McLaren has been the subject of much scrutiny over the last few weeks, but the Australian produced a fighting drive to finish ahead of team mate Lando Norris.
Starting on the hard tyres in 12th, behind Norris on the medium compound in 11th, the McLaren duo were chasing the Alpine of Alonso in the early stages.
Norris, who has regularly out-shone his Perth-born team mate, was slower than Ricciardo, who asked to be let by to make the most of his strategy.
The McLaren pit wall asked Ricciardo, 32, to hold position, while Norris attempted to use an overcut strategy to get ahead of Alonso.
This failed, but the second VSC offered Ricciardo a free pit stop and he re-joined the circuit ahead of his British team mate.
Norris, now on harder rubber, closed and asked for Ricciardo to speed up, which the Australian did, with the team suggesting a swap of positions if Ricciardo could not pass the Spaniard ahead.
As it was, Ricciardo could not get close enough to challenge the Alpine, which had shown incredible straight-line speed, and Norris was now instructed to hold position.
There might have been a few held breaths on the last lap from McLaren fans and staff as the pair were separated by only a few car lengths, but Ricciardo held on to finish eighth ahead of Norris.
After a rough run in recent races, the winner of eight Grand Prix will hope this can be a springboard for more consistent performance as F1 moves on to the location of Ricciardo's maiden win, in Montréal, Canada.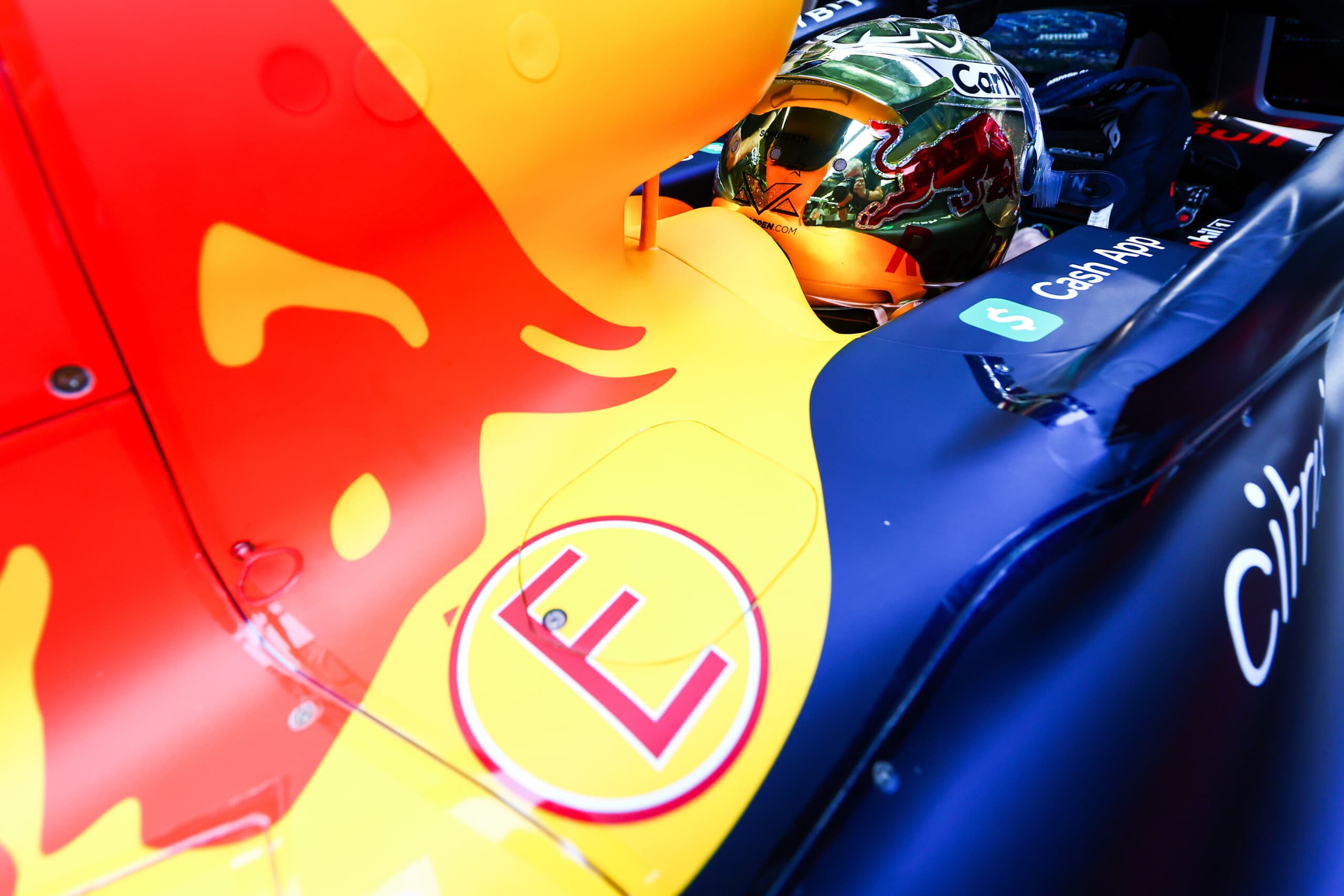 With 2022 in the record books, attention has quickly turned ...