The recent curtain-raising Bahrain GP was an excellent event for the two Ferraris, especially the one driven by Charles Leclerc. But for teams like Red Bull, Sakhir produced anything but a remarkable ending. With less than three laps to go, Max Verstappen, current world champion, retired owing to a sudden and strange flaw with his Red Bull, his Honda-powered engine bailing out on him as well as his understated teammate, Sergio Perez.
While the starry evening skies over Sakhir International Circuit brought ecstacy for the Scuderia stable, for Red Bull, there was only agonizing pain.
What remained in the end were two contrasting pictures- the deserving winner Leclerc having redeemed himself on the one hand and the sight of an extremely upset Max Verstappen only embittering Red Bull fans on the other.
But was that all? Perhaps fair to say that something else stood out at Bahrain.
Among the most dominant facets- if not a desirable one- in the aftermath of the 57-lap race were the long litany of anti-Max Verstappen comments that hogged the social media stratosphere.
This is when Max Verstappen didn't abuse anyone, collected zero points, didn't falter on his own, and as seen, didn't compromise another driver's race.
On the contrary, he endured a tough Grand Prix when at one stage, he was looking set to gather a maiden 2022 podium. From lap sixteen until the end of the nineteenth lap, he drove like a champion, overtook Leclerc, only to concede the race lead to him with the battle continuing for three grand laps, Leclerc eventually overtaking Max.
But in the context of the nearly endless parade of anti-Verstappen sentiments it's only fair to say that while they carried massive creativity and quip, one's not sure if any of it was necessary. Though, the thing that underlined the rather pronounced emotion from a certain legion of F1 fans was whether 'Karma' crucified Verstappen's race?
Think this is controvery? Here's proof!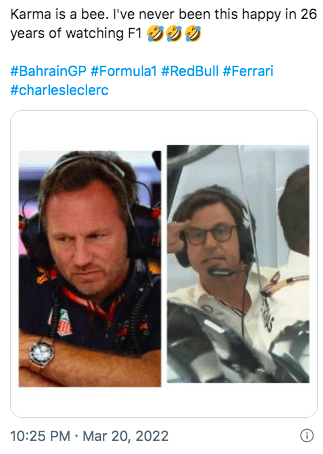 Here's another one-

Check this as well-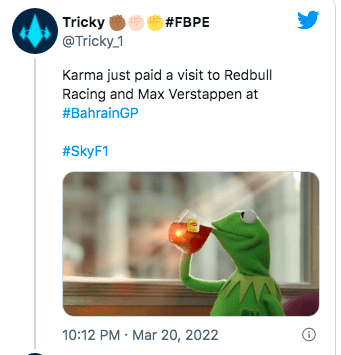 There's more-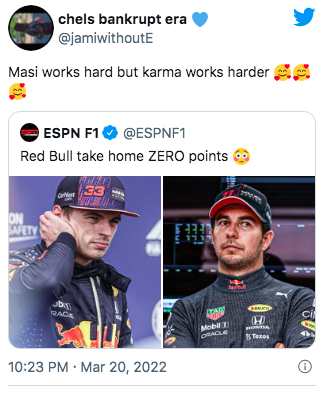 Unsurprisingly, the reference to 'Karma' is a rewind to the 2021 year-ending but highly dramatic Abu Dhabi Grand Prix. It was an event that won't be forgotten in a long long time, where at the back of a strange (and rather confusing) call by Masi, the-then race director, Verstappen got the advantage of fresh tires under the safety car period and was able to subsequently pass Lewis Hamilton to claim his driver's title.
What perturbed and angry fans understand rightly is that Max Verstappen was able to usurp Lewis Hamilton at the back of a call none saw coming, one that turned advantageous for Red Bull. What most fans, with much respect, don't is that Verstappen didn't bribe Michael Masi to execute such a chaotic move. Then neither did his team!
The ones who got it wrong were the stewards. However, the ones who simply benefited from it, albeit crushing the heart of a deserving candidate for the 2021 title in Lewis Hamilton, were Red Bull.
There's no evidence prior to the race nor post it – and this isn't to sound dramatic- of Christian Horner or Verstappen meeting the Australian privately in a bid to influence him to call out that erroneous move.
That is why when Max Verstappen retired at Bahrain, to much of the sporting universe in this age of ultra-expressive and highly opinion-driven world, it seemed only fair to wage a mighty assault by way of using terms like Karma and other more venomous expressions for it seemed justice had prevailed.
This is when F1 already corrected its massive woe by removing the very man from the position of calling the big shots so that no such regrettable instance could (ideally) ever take place henceforth.
Factually, had it been Max Verstappen at the receiving end of the wrong call at Yas Marina in 2021 and Hamilton benefitting from it, there would've been similar reactions at the recently-concluded Bahrain Grand Prix. It would simply have been a case of the character plot changing; the victor becoming the vanquished.
Then the Karma remarks and the rampant Max Verstappen hate, depending on what Facebook group you are a part of, would've been directed at Sir Lewis Hamilton, not the famous Dutch driver. Yet, what we ought to ask ourselves is this- is hatred fair?
What purpose does it serve? If you are getting pleased at the back of downing someone, what are you even doing?
While it is easy to condemn Max Verstappen, the very driver who unsportingly and rather shockingly didn't even care to check on Lewis at the major accident at Monza last year, what mustn't be forgotten is his conduct with Leclerc at post-Bahrain GP.
While the famous Monegasque driver was giving an interview to the media, among the firsts to congratulate the very capable Ferrari driver was Max Verstappen himself. The warmth, the smile and the genuine plaudits weren't flimsy, didn't seem out of place and would seem rehearsed only to those for whom Max Verstappen shouldn't exist in the first place.
Frankly, given it's a long season ahead with many more dramatic and perhaps heated moments to unfold, the embitterment toward Verstappen will only increase. Yet, what cannot be undermined is that last year, he was on another level. And while merciless and on occasions, needlessly aggressive that he may have been, he was the only real driver to mount an incredible challenge to the legend of the grid- Lewis Hamilton.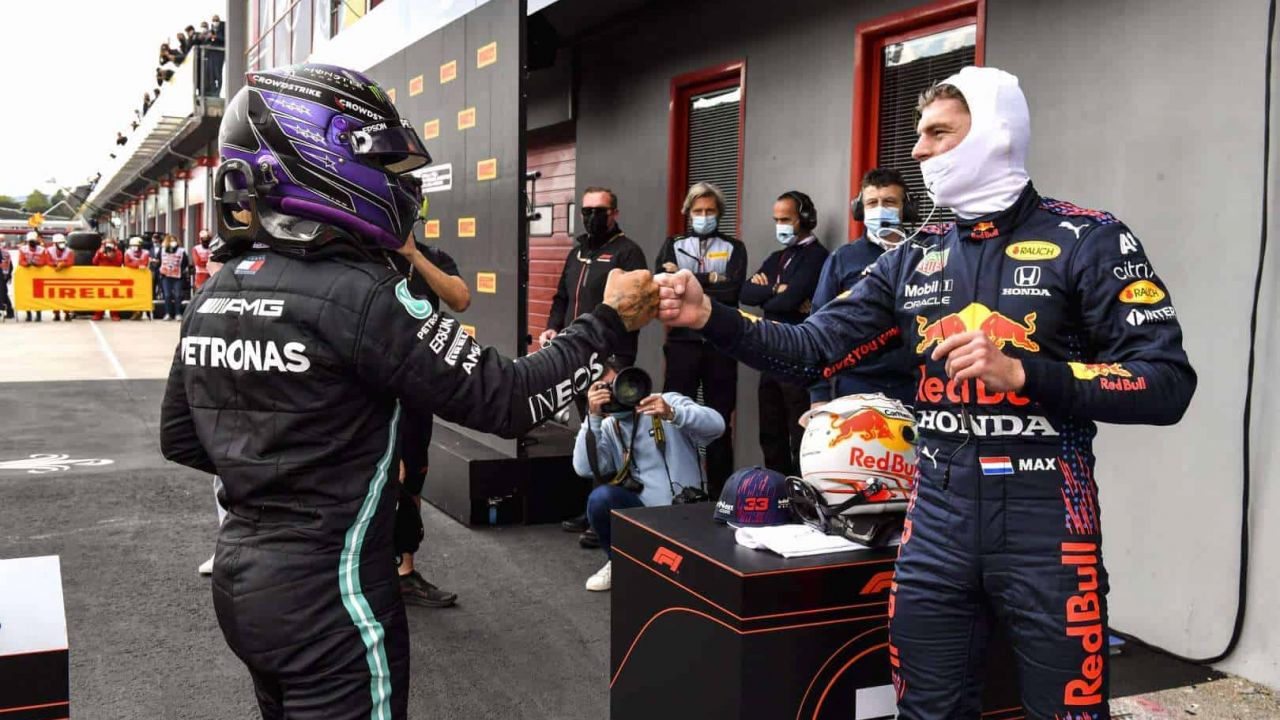 What could possibly change at the end of 2022 is the face of the driver who takes it all. Yet, what likely won't is the anti-Max Verstappen sentiment. And to those of us who miss the moments where respect and camaraderie defined the sport not rhetorics, that's some loss.
But here's something that is inspiring. When asked whether he himself believed that what happened to his archrival was Bad Karma, Lewis Hamilton instead chose to focus on the positives eschewing any sign of negativity toward 'Mad Max.'
Is there something in his actions for us to replicate?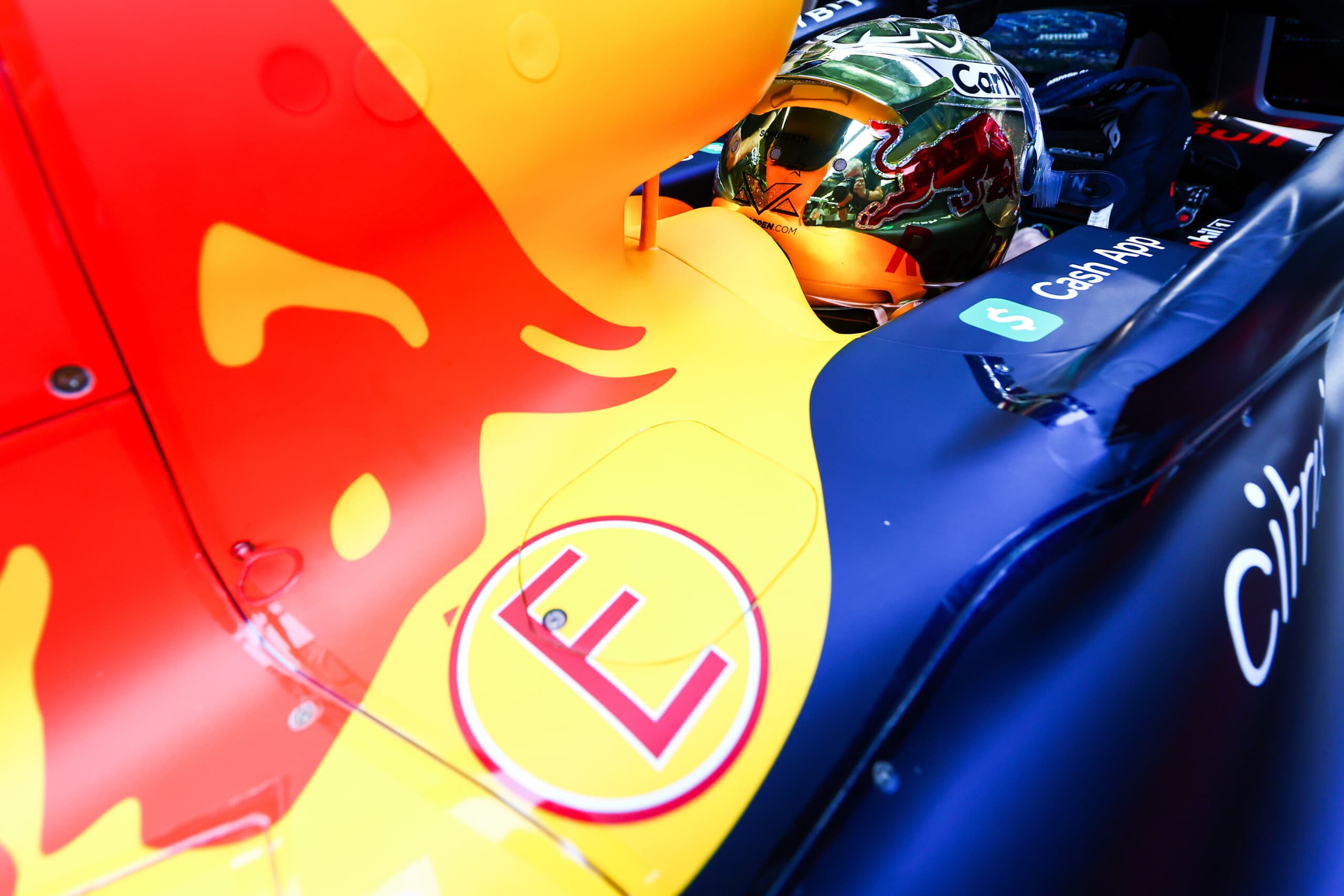 With 2022 in the record books, attention has quickly turned ...