Must Watch: Title-Winning Drive By Max Verstappen?
Finishing second in the 2021 Russian Grand Prix may become a championship-deciding drive by Max Verstappen says Philip Mathew…
---
Visit the Grid Talk store ►
https://f1chronicle.com/store/
Subscribe ►
Subscribe to the Formula 1 Grid Talk podcast YouTube channel – https://www.youtube.com/c/Formula1Gri…
George – https://sportlightpro.com/
Everything F1 – https://www.everythingf1.com/podcast/
Hit The Apex – https://linktr.ee/5RedLights
Grip Strip – https://philipgmathew.com/
Listen On ►
Spotify – https://open.spotify.com/show/4i19HuY…
Apple Podcasts – https://podcasts.apple.com/us/podcast…
Follow ►
Facebook – https://www.facebook.com/F1ChronicleO…
Twitter – https://twitter.com/F1Chronicle
Tumblr – https://f1chronicle.tumblr.com/
Grid Talk Podcast Store Competition
To celebrate the launch of the Grid Talk Podcast store, we're giving away some merchandise!
Competition 1
Each month, to be in the running to win a Grid Talk-Champion t-shirt, all you need to do is:
Give us a 5-Star review on iTunes
Or
Leave a comment on the YouTube replay with your favourite moment from the race.
Competition 2
Each month, to be in the running to win a Grid Talk mug, all you need to do is hit that 'subscribe' button on YouTube.
And!
If you have already left an iTunes review, we'll be choosing one lucky reviewer to win a Grid Talk Champion t-shirt too!
Winners of all three competitions will be announced during the Turkish Grand Prixview.
Pit Stop Transcription
Let's move on to it. The guy who finished in second place, Max Verstappen starred at the very back after his engine change. He was fifth or sixth for most of the race, he wasn't really going to get fully up there, but he got… he can't seem to be [inaudible 00:00:17] and he just seemed to pass everybody filling second place. It's a great result from him in the end and I think Red Bull will be very, very happy with that. And with the notion of Lewis having to probably take an engine penalty at some point, here in the last seven races, if there are seven races, that getting a second place finish at a track where generally, it's one of the hardest to overtake, and all the other things that come with that, basically didn't even run qualifying… pace was really good, but… and that's just unbelievable. That's a world championship drive. The guy who most of the year has been the best driver… I mean, he is the best driver this year so far, the stats basically show that with wins, and poles and all. He has led the points most of the year. And this drive, come December, might be the reason why he becomes a Formula 1 World Champion at 24 years old, to become one of the youngest world champions ever. Red Bull did… I mean he was in trouble, on the second stint it seemed with the tires, and seemed like he was stuck and he didn't have anywhere to go. The rain, in the same way as it assisted Lewis Hamilton, really helped Max Verstappen out. The… what is it? Crofty and Paul all didn't really know how he jumped four or five cars. Possibly it was a better pit stop, possibly it was timing, who knows? But it's a thing where… that's what you do and what you need to do in those tough spots. And I thought he would get top five, that's what they were saying, they were going to get… I figured, "Oh yeah, he'll get a top five finish, no problem." But to get a second place finish and literally only lose two points… or to lose seven points or whatever it was and only be down two points in the championship going to Turkey, is a net win. And it's still… I mean, this is going to go down to the wire no matter what, but for Max Verstappen, that was a championship level drive. And Red Bull responded in a tough spot for sure, which all you can say is, "That's what they've been doing most of the year anyway." So I think they're as happy, if not happier than Lewis is, and Mercedes is with their victory. So we'll see what happens. Seven races to go. And Max Verstappen's right there.
Lance Stroll Left Fuming In Miami
At the end of the 2022 Miami Grand Prix, Aston…
Lewis Hamilton Will Decide When His 'Masterpiece' Is Complete
After a difficult start to 2022 much has been made…
What Is The 2022 F1 Engine Freeze?
Here we explain the 2022 F1 engine freeze, and what…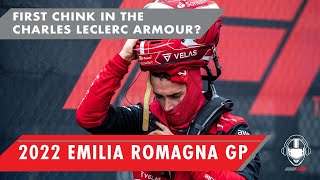 First Chink In The Charles Leclerc Armour?
After pitting for fresh tyres to try and snatch the…
Toto Wolff Apologises To Lewis After Imola Nightmare
At the end of an awful weekend in Imola, Toto…