Must Watch: A Team Effort Delivered Victory 100 For Lewis Hamilton
After taking a dramatic race win at the 2021 Russian Grand Prix, Lewis Hamilton was quick to praise his team.
As Philip Mathew observes, it was a total team effort that delivered win number 100 on Sunday.
---
Visit the Grid Talk store ►
https://f1chronicle.com/store/
Subscribe ►
Subscribe to the Formula 1 Grid Talk podcast YouTube channel – https://www.youtube.com/c/Formula1Gri…
George – https://sportlightpro.com/
Everything F1 – https://www.everythingf1.com/podcast/
Hit The Apex – https://linktr.ee/5RedLights
Grip Strip – https://philipgmathew.com/
Listen On ►
Spotify – https://open.spotify.com/show/4i19HuY…
Apple Podcasts – https://podcasts.apple.com/us/podcast…
Follow ►
Facebook – https://www.facebook.com/F1ChronicleO…
Twitter – https://twitter.com/F1Chronicle
Tumblr – https://f1chronicle.tumblr.com/
Grid Talk Podcast Store Competition
To celebrate the launch of the Grid Talk Podcast store, we're giving away some merchandise!
Competition 1
Each month, to be in the running to win a Grid Talk-Champion t-shirt, all you need to do is:
Give us a 5-Star review on iTunes
Or
Leave a comment on the YouTube replay with your favourite moment from the race.
Competition 2
Each month, to be in the running to win a Grid Talk mug, all you need to do is hit that 'subscribe' button on YouTube.
And!
If you have already left an iTunes review, we'll be choosing one lucky reviewer to win a Grid Talk Champion t-shirt too!
Winners of all three competitions will be announced during the Turkish Grand Prixview.
Pit Stop Transcription
So, lads, let's start with today's race winner, Sir Lewis Hamilton claiming his 100th win in the sport. His fifth win around Sochi. In the end, he won by over 50 seconds, but Phil, that does not tell the story at all. He had a fantastic battle today with Lando Norris for the majority of the race, and he had to really make some ground up after a poor start. Yeah, it was a crazy race for sure, George. I mean, it isn't the usual… It was the usual kind of Russian Grand Prix, after the start, DRS trains and the whole bit, but there was so much action that went on. It was Lewis trying to get back up after the… Okay, not a great start. Got back up, got blocked, came back, having to do all that, an extra stop in coming from tail back. You have Lando and Carlos battling each other. Carlos, having to pit and starting the whole… Well, he didn't start it, but it started that whole train of guys with the undercuts and how that affected the race. I mean, it was really an interesting race. It was not what most people, I would assume, expected, including me. I also didn't expect Lewis, on the way things were going this weekend, to get this victory. I think I'd said it on my show, or I think I might have said it here, jokingly, that it's like, "Oh, yeah, Lewis is probably going to go and get number 100 in Mother Russia." Well, he did, but it wasn't straightforward, and he could tell that it, I mean, it hasn't sunk in, of course, it's too early, but what he had to do to race against Lando. He caught him on dry tires, but couldn't get past him, same way as he struggled behind Daniel Ricciardo earlier in the race, and then, that rain really just threw the dice. It was like a dice roll and Bono and company made the right call and gave Lewis the opportunity to get those enters and go at that 100th victory, which was unbelievable to say the least.
Lance Stroll Left Fuming In Miami
At the end of the 2022 Miami Grand Prix, Aston…
Lewis Hamilton Will Decide When His 'Masterpiece' Is Complete
After a difficult start to 2022 much has been made…
What Is The 2022 F1 Engine Freeze?
Here we explain the 2022 F1 engine freeze, and what…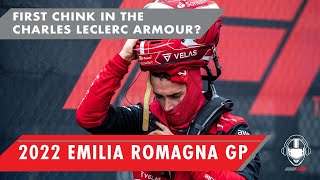 First Chink In The Charles Leclerc Armour?
After pitting for fresh tyres to try and snatch the…
Toto Wolff Apologises To Lewis After Imola Nightmare
At the end of an awful weekend in Imola, Toto…