At the 2021 Italian Grand Prix, was that crash between Max Verstappen and Lewis Hamilton a racing incident, or was Max to blame?
———————————————————————————————————————–
Visit the Grid Talk store ► https://f1chronicle.com/store/
Subscribe ► Subscribe to the Formula 1 Grid Talk podcast YouTube channel – https://www.youtube.com/c/Formula1Gri…
George – https://sportlightpro.com/
Everything F1 – https://www.everythingf1.com/podcast/
5 Red Lights – https://www.youtube.com/channel/UClem…
Listen On ►
Spotify – https://open.spotify.com/show/4i19HuY…
Apple Podcasts – https://podcasts.apple.com/us/podcast…
Follow ►
Facebook – https://www.facebook.com/F1ChronicleO…
Twitter – https://twitter.com/F1Chronicle
Tumblr – https://f1chronicle.tumblr.com/
Grid Talk Podcast Store Competition
To celebrate the launch of the Grid Talk Podcast store, we're giving away some merchandise!
Competition 1
Each month, to be in the running to win a Grid Talk-Champion t-shirt, all you need to do is:
Give us a 5-Star review on iTunes
Or
Leave a comment on the YouTube replay with your favourite moment from the race.
Competition 2
Each month, to be in the running to win a Grid Talk mug, all you need to do is hit that 'subscribe' button on YouTube.
And!
If you have already left an iTunes review, we'll be choosing one lucky reviewer to win a Grid Talk Champion t-shirt too!
Winners of all three competitions will be announced during the Turkish Grand Prixview.
Pit Stop Transcription
George:
Basically, Hamilton and Verstappen had another on track crash. Verstappen was in second behind Ricciardo, Hamilton was in fourth behind Norris. Verstappen stopped, did his one stop, had a horrible pit stop, 11 seconds I think it was, dropped him behind a bunch of cars, so Mercedes decided, right let's pit Hamilton, let's get him out there. But they too had a slow stop, not as slow as Verstappen, but a slow stop. And unbelievably, Hamilton came out onto the same piece of track almost as Verstappen. They go into the first chicane, they collide, both out of the race, in the gravel, safety car comes out and changes the race. But I'm going to put you on the spot a bit here, Aaron, who is to blame here if anybody?
Aaron:
Inherently it is a racing incident, but personally I think a little bit of more of the blame lies with Max. And I always feel that the responsibility for not having a crash in most cases of an overtake lies with the car trying to make the overtake. There are some exceptions, if you're trying to overtake Mazepin, I'd watch out. They came out side by side, when Hamilton came onto the racing line and Lewis left him space and Max was well within his rights to go for the move around the outside of the first corner, but he was always going to be driving into a disappearing wedge. For me, I think the red mist had come down because of his slow stop and I think just for that split second he was so almost hell bent on making up for that error in the pit stop, whether the team didn't have the nut tight enough on the right front, or it was just a generic error. He was so determined to make it right that he forgot to think big picture. And I spoke about this yesterday on the qualifying analysis, he was thinking big picture. He didn't go and attack Bottas when he didn't need to. Today he attacked Hamilton where he didn't need to. If he'd squared up the car, because Hamilton was tucked up behind Norris, he could have got a really good run down to the Della Roggia chicane and made a very clean pass. And then that would have put Hamilton in a tough position. Ultimately, I think the stewards will deem it a racing incident, but I think Max has to go and reassess how he's going to go into combat a little bit, because that could have been a lot worse than it was.
Lance Stroll Left Fuming In Miami
At the end of the 2022 Miami Grand Prix, Aston…
Lewis Hamilton Will Decide When His 'Masterpiece' Is Complete
After a difficult start to 2022 much has been made…
What Is The 2022 F1 Engine Freeze?
Here we explain the 2022 F1 engine freeze, and what…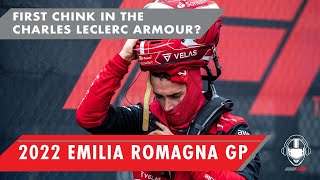 First Chink In The Charles Leclerc Armour?
After pitting for fresh tyres to try and snatch the…
Toto Wolff Apologises To Lewis After Imola Nightmare
At the end of an awful weekend in Imola, Toto…