F1 News Today | 5 October, 2021
Hello and welcome to F1 News Today with Tillie!
Let's take a look at what's making news in the world of Formula 1 today…
1) A Third Of 2022 Season Could Feature Sprint Races
20 2021 Turkish Grand Prix Tyre Compounds
3) Lando Norris was 'depressed a lot of the time' as an F1 rookie
4) Wolff says DNFs are a 'no-go' if Hamilton is to win record 8th crown
We're powered by the F1 Chronicle, make sure you visit f1chronicle.com for more news, and subscribe to the F1 Chronicle YouTube channel so you never miss an episode of F1 News Today. 
---
Visit the Grid Talk store ►
https://f1chronicle.com/store/
Subscribe ►
https://www.youtube.com/c/Formula1GridTalk
Follow ►
Facebook – https://www.facebook.com/F1ChronicleOfficial/
Twitter – https://twitter.com/F1Chronicle
Tumblr – https://f1chronicle.tumblr.com/
Artwork ►
Avatar by Chereverie
Twitter: @mewdokas Tumblr: chereverie Instagram: chereverie.art
---
Transcription ►
Hello and welcome to F1 News Today with Tillie!
Right, let's take a look at what's making news in the world of Formula 1 today…
While it's still all to play for in 2021, looking ahead to 2022, F1 CEO Stefano Domenicali has said there will be 23 races and up to a third of races next year could have sprint qualifying races!
Domenicali said…
"I can anticipate that, for sure, the calendar will be done with 23 races…
"Of course we will be very respectful towards the Covid regulations issued around the world from the different governments…
"But that is our aim that F1 can give this sign of hope and to go to normal things to enjoy!
"The idea is to make sure there is the right rhythm to the calendar…
"There are of course considerations related to periods to make sure logistically the flow has to be right."
"One thing I can tell you, without discovering too many things is that next year the season will start in the middle of March and will finish in the middle of November…
"We said at the beginning of the year there would be three sprint tests this year to make sure we have the right plan for the future…
"The vast majority of the comments we received were super positive!
"Promoters are super happy because there is something new and important on Friday and Saturday and Sunday!"
Well sis nobody asked me, did they?? I for one don't rate the sprint qualifying races at all. For me, pole is there to be won with the best lap time on a Saturday!
There, I said it…
Ok, and moving on!
For the Turkish Grand Prix, which was added to the calendar to replace Singapore this year, the three tyres in the middle of the Pirelli range have been nominated…
C2 is the P Zero White hard, C3 is the P Zero Yellow medium, and C4 is the P Zero Red soft…
This is one step softer than the nomination made for the Turkish Grand Prix last year, which was held in November after a nine-year absence from the calendar.
Speaking of the compound selections, Pirelli head of F1 Mario Isola said…
"Turkey was one of the most dramatic and unpredictable races of last season, mostly due to a very slippery track as a consequence of low grip from the new asphalt!
"The slipperiness of the circuit, exacerbated by the rain, caught many people by surprise, and that's why this year we've opted for a softer tyre nomination…
"Also, with the race taking place more than a month earlier, this should result in higher temperatures…
"Following our tyre nomination, the track has undergone a high-pressure water cleaning process, which should lead to greater roughness and more grip, so there's also the possibility that with softer compounds we will face higher wear levels compared to last year!
"That's something we will only find out when we get there, so the work done in free practice will be very useful…
"Because everything was so new last year, we took the conservative option of coming with the hardest tyres…
"Going a step softer this weekend will probably open up the possibility of a few different strategies as well!
Speaking on breakfast TV in the UK, McLaren's Lando Norris has opened up about the mental health issues he has been dealing with in F1…
As a rookie in 2019, Norris battled depression and anxiety, and is now sharing his story to hopefully help others going through similar struggles…
On the ITV show This Morning, Norris said…
"I guess people, from when they just watch TV, they don't realise many things that a driver goes through…
"And it's a bit of shame, but there are more programmes now where you get to see what the driver is like behind the scenes, and the amount of pressure and stress that they have to cope with!
"Especially at my age, coming into Formula 1 at 19, there's a lot of eyes on you. So, dealing with all these kinds of things, took its toll on me…
"Feeling like I don't know what's next?
"If this goes wrong, if I don't go out in the next session and perform, what's going to happen?
"What's the outcome of all of this? Am I going to be in Formula 1 next year? What am I going to do because I'm not really good at many other things in life?
"So, just all of that, and then just feeling depressed a lot of the time that if I have a bad weekend, I just think I'm not good enough and things like that…
"When they start adding up over the season, and then the social media side of it all, that can just really start to hurt you…"
I'm so happy to see Lando has come out the other side, and has the courage to stand up and be a voice for others…
Great work Lando!
Finally, Mercedes boss Toto Wolff has said Lewis Hamilton can't afford to have a DNF if he wants to win the championship this season.
This gives the team some tough decisions to make on whether or not they change Hamilton's engine, and take the penalty that will bring…
Wolff said…
"Definitely we are in a phase of assessment, how to continue this season in terms of power units…
"I think we haven't only made the cautionary engine change for Bottas because we felt we wanted to stockpile, but also because we want to understand the engine's performance, and that has given us some question marks…
"At the moment, we're just taking it one race weekend at a time and we will reassess the performance of the power units and then take decisions…
"I think neither driver and neither team can have any comfort in the current situation, because there is just no gap in terms of points and I think that this is going to go very long!
"Reliability versus performance is always the fine line that you need to get right, and as I said before, DNFing obviously is a no-go for the championship, and nobody, neither us nor our competitors can afford a zero-point race weekend…
It just adds to the intrigue, and we love to see it!
We're powered by the F1 Chronicle!
Make sure you visit f1chronicle.com for more news… and subscribe to the F1 Chronicle YouTube channel so you never miss an episode of F1 News Today!!!
See you tomorrow for the next update!
Lance Stroll Left Fuming In Miami
At the end of the 2022 Miami Grand Prix, Aston…
Lewis Hamilton Will Decide When His 'Masterpiece' Is Complete
After a difficult start to 2022 much has been made…
What Is The 2022 F1 Engine Freeze?
Here we explain the 2022 F1 engine freeze, and what…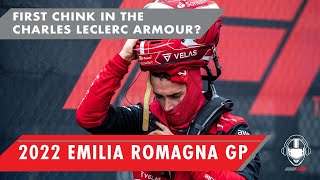 First Chink In The Charles Leclerc Armour?
After pitting for fresh tyres to try and snatch the…
Toto Wolff Apologises To Lewis After Imola Nightmare
At the end of an awful weekend in Imola, Toto…