Hello and welcome to F1 News Today with Tillie! 
Let's take a look at what's making news in the world of Formula 1 today…
1) Toto Wolff looking to lean on experience in Championship chase
2) Max Verstappen ready to keep pushing
3) Former McLaren boss Martin Whitmarsh to join Aston Martin
4) Haas happy with 2022 project after Maranello visit
Download This Episode
——————————————————————————————————-
Visit the Grid Talk store ► 
https://f1chronicle.com/store/
Subscribe ►
https://www.youtube.com/c/Formula1Gri…
https://podcasts.apple.com/us/podcast…
https://open.spotify.com/show/467uGbL…
Follow ►
Facebook – https://www.facebook.com/F1ChronicleO…
Twitter – https://twitter.com/F1Chronicle 
Tumblr – https://f1chronicle.tumblr.com/ 
Artwork ►
Avatar by Chereverie
Twitter: @mewdokas Tumblr: chereverie Instagram: chereverie.art
——————————————————————————————————-
Transcription ►
Hello and welcome to F1 News Today with Tillie!
Let's take a look at what's making news in the world of Formula 1 today…
After a weekend off to recharge the batteries following an intense triple header, Mercedes team boss Toto Wolff is ready to go again, and believes his teams winning pedigree and experience can guide them towards more silverware with just eight races remaining in the championship chase.
Ahead of the Russian Grand Prix weekend, Wolff said
'After a demanding and intense triple-header, we are re-energised and ready to go.
'Last time out in Monza was bittersweet – a commanding performance and strong result for Valtteri but a feeling of missed points for Lewis, who had the potential to fight for the win.
'The pleasing thing is that the W12 looks competitive and with just eight races to go, now is the time to use our experience and focus on the details and processes which will get us over the line.
'We're looking forward to racing again in Russia, it is a circuit we've gone well at over the years and both our drivers have enjoyed great results in Sochi.
'We're hoping to continue our run of success in Russia but know that this year is an entirely different beast, and we're expecting another intense weekend.
'Last year, this race was one of the first to welcome fans back to the grandstands and it was incredible to feel the passion and buzz of the crowds again.
'We've just been treated to fantastic support in Spa, Zandvoort and Monza, and this weekend will be no different.
'Our aim is to pull together a strong weekend, starting in FP1 and building one session at a time.
'Lewis is in the tenth championship battle of his F1 career, and he is laser-focused on what he needs to deliver in the next eight races.
'As for Valtteri, he's driving better than ever, like we saw in Monza – and he will be flat out every weekend.
'There's a calm determination about the team right now and the business end of a season, fighting for championships, is exactly what we enjoy the most.'
With two weeks between Monza and Russia, the collision between Max Verstappen and Lewis Hamilton in Italy has been replayed and dissected over and over by media and fans alike.
One man who is looking forward, not back, is Verstappen, who insists the best way to keep making progress is to keep pushing.
In his pre-race comments, Max said
'I think you can reflect all you like but it's important to look forward and keep pushing.
'I still believe it was a racing incident, but we have been given a three-place grid penalty and we just have to work with it now.
'The race in Monza definitely wasn't our day for many reasons, but now I just plan to look forward to Sochi.
'It was great to finish second there last year in Sochi especially as it has never been a good track for us as a team.
'We have been more competitive this year and we have a better package at the moment so it will be interesting to see how competitive we can be there this year.
'It will be of course completely different to Monza and it looks like there might be some rain this weekend.
'The track itself and the layout is completely different to the previous races so I'm definitely looking forward to going back there and seeing what we can do.
'The penalty is of course not ideal but nothing is lost, that's how I look at it.
As for the Drivers' Championship, we still have a lot of races ahead of us and it's a very tiny margin.
'We will try and make the most from the weekend and work with the package we have.'
One team making moves ahead of 2022 is Aston Martin, with the announcement that former McLaren team principal Martin Whitmarsh is set to join the team in the new role of CEO of Aston Martin Performance Technologies from October 1.
The new position means Whitmarsh will oversee the strategic director of the Aston Martin Formula One team as well as setting up a new arm of the company that will use its experience in F1 to provide engineering and manufacturing services.
Speaking about his appointment Whitmarsh said
"I am delighted to have been appointed by Lawrence to the position of Group Chief Executive Officer of the new Aston Martin Performance Technologies, from October 1st 2021.
"I have known and admired Lawrence for many years, and I have always been extremely impressed by his formidable business acumen and his seemingly inexhaustible ambition.
"Equally, I have always respected 'Team Silverstone', if I can call it that, which has often punched above its weight under its various previous incarnations, and which now has the weight with which to punch harder than ever before.
"Lawrence intends for Aston Martin Cognizant Formula One Team to win Formula One World Championships, plain and simple, and I would not have joined him in that endeavour unless I was utterly convinced that it was an entirely achievable aim.
"I know what it takes to win in Formula One, and, inspired by Lawrence's leadership and backed by the skill, passion and resolve of the workforce, I intend to do whatever I can to make sure that our team becomes the winning operation that Lawrence is determined that it should be.
"Last but far from least, I am very enthused about the formation of the new Aston Martin Performance Technologies, under which corporate umbrella Aston Martin Cognizant Formula One Team will sit, and I am excited about the prospect of developing and applying our technical capabilities and intellectual property as a successful and profitable new business."
Another team looking to 2022 is Haas, as the American team made a controversial call to bypass any development of their 2021 challenger, while also hiring an all-rookie line-up of Mick Schumacher and Nikita Mazepin, with the aim of focusing on a return to form under the new 2022 regulations.
It was a risky move to make, especially considering the teams slide down the pecking order in recent years, but team boss Guenther Steiner is confident that their owner was pleased with what he saw after the pair made a recent visit to the Maranello design hub to see how the VF-22 was taking shape.
Steiner told motorsportweek.com
"These are the things that keep me and the whole team going – the future.
"Going there with Gene, he hasn't been in Italy for three years, due to COVID-19 he couldn't come for the last few years.
"I showed him around and how we've changed over, how we've organised ourselves and how Simone Resta is leading the group.
"I think he was happy with what he saw, and again he looks forward to 2022 like all of us.
"I think we will be ready. Where we end up, I don't know yet but for sure we will make steps forward."
That concludes this episode of F1 News Today with Tillie.
Lance Stroll Left Fuming In Miami
At the end of the 2022 Miami Grand Prix, Aston…
Lewis Hamilton Will Decide When His 'Masterpiece' Is Complete
After a difficult start to 2022 much has been made…
What Is The 2022 F1 Engine Freeze?
Here we explain the 2022 F1 engine freeze, and what…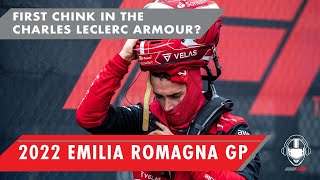 First Chink In The Charles Leclerc Armour?
After pitting for fresh tyres to try and snatch the…
Toto Wolff Apologises To Lewis After Imola Nightmare
At the end of an awful weekend in Imola, Toto…