With rumours swirling about Mercedes involvement in the Racing Point brake duct sage, Lewis Hamilton not yet signed for 2021, and ongoing uncertainty around the Covid-19 situation, Mercedes boss Toto Wolff has thrown an extra layer of intrigue into the ring, confirming he may not be at the helm for 2021.
Sighting the toll the sport takes and the need for standards not to slip, Wolff revealed he is in talks with Daimler chiefs over his current role, and how it will look going forward.
Hamilton's Future Is Tied To Toto
While 6-Time World Champion Lewis Hamilton is yet to put pen to paper on a deal tying him to Mercedes, the Brit has confirmed that whatever happens with Toto Wolff will decide his next steps. While he's flattered, Wolff doesn't see his position to be that important to Hamilton.
'I really have enjoyed many years in Formula 1 in that role and the discussions that we are having are very good. I'm happy that my relationship with Ola is probably as good as it can be and we speak almost every day.
'There are many factors that make me want to stay in Formula 1.
'On the other side, it takes a toll and this plays into my consideration but as it stands, there is no reason not to continue with Mercedes and we will find out in which role.
'This is down to the discussion between Ola and myself. We want to do the best for the team and continue to see the team prosper and as I've said before, I really enjoy the role and my plan is to continue but I never want to be in a situation that you're going from very good to good and try to play my part in the team and that is the discussions we're currently having.
'I enjoy what I do, I enjoy it mostly because I love to work with the people that are in the team and there is no better place for me to be than in a meeting room with the engineers, to sit in the garage and watch the great work that is happening around.
'I enjoy the battles that we have off-track, I like to engage with our sponsors and partners and this is how I feel.
'What that means for the future is a decision that I need to take together with my wife and together with Ola and that doesn't mean that I won't be around as a team principal or I won't be around in any other role but it's just that I'm thinking about it.
'I think Lewis staying at the moment is the best he can and it's what he wants to do. He has the possibility of achieving great success going forward, winning more races and hopefully championships.
'It's flattering that he says that it's dependent on what I do but I think he doesn't need me, he has a great team there that will always support him, but I haven't taken the decision yet, these are discussions that are ongoing and that are positive and I enjoy them.
'I don't want to give it a spin that I am leaving because that's not the case. It's just that I'm in a moment of reflection, of reflection of where Formula 1 is heading to, what is happening around the Covid case and also personal reasons, that I've said before.
'Susie is in a good place, running a Formula E team and that means she's away a lot. I've been to God knows how many races, I think 120 Formula 1 races in the last eight years and that is something we're thinking about.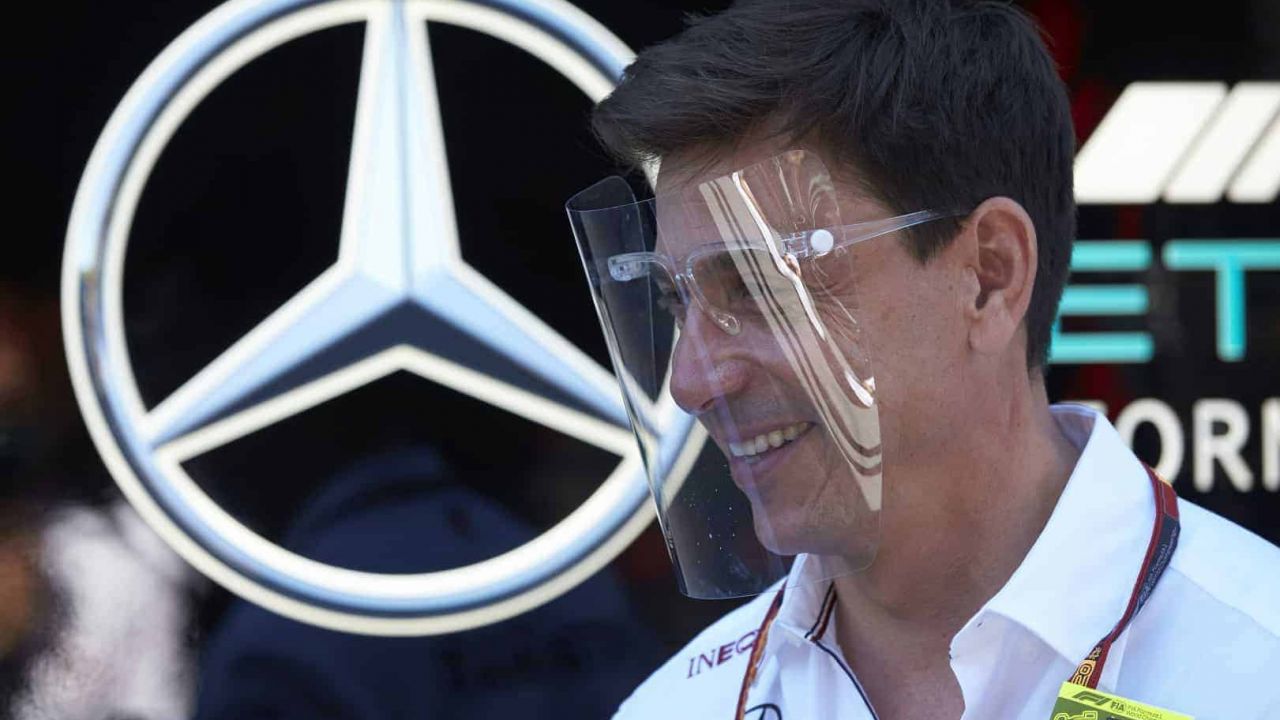 Outside Interests Not A Conflict
With present and future Mercedes clients, Williams and McLaren, dropping their appeals against the Racing Point sanctions this week, eyebrows were raised, and led to some comments that Wolff has too many fingers in too many pies, something he strongly refutes.
'I completely understand that if you have been successful over a few years and me as an entrepreneur, which I have always been, having interests in certain indirect relationships with players in the sport – this is annoying.
'If I were on the other side I would also pick on these things.
'There is one essential point with me: when I joined Mercedes, I decided, and this was an intense discussion with Mercedes, to do everything in the interest of the sport.
'So, to clarify: I sold the Williams shares but I got them back because they were held in escrow and the last payment defaulted. It's not something that I wanted and I made it clear with Mercedes that my main priority with those shares is to sell them. So the process that has been started by Claire and the team is something that I really appreciate because it allows me to sell those shares. That's number one.
'Number two: The Aston Martin investment is tiny. I've bought a few shares in a car company that has no direct shareholding with an F1 team but is simply doing the branding on the Red Bull car this year and on the Racing Point next year. I see it as a good investment – I like the products, the new management team is fantastic. And I have no board seat, which was agreed with Daimler, and no other involvement. I'm not a consultant, I'm not an executive and I'm just watching from the sideline what happens.
'And driver management. I've refrained from direct driver management. It's all under the roof of MGP, of the Mercedes Formula 1 team. We have tried, like any other big team, to really look at the talent that is coming up from karting onwards, and like Ferrari, that has expanded its activities in the junior programme, and has some very promising young drivers coming up, we have done that a few years ago. Red Bull has done it.
'There is no conflict of interest. But I understand that it pisses some people off and sometimes the perception is something that is important to recognise and I do that.
Rule Changes To Slow Mercedes?
This week the FIA announced a ban on 'party modes' in qualifying, a move which many saw as an attempt to slow down Mercedes. Most notably, Lewis Hamilton was vocal in his criticism of this move, however, Wolff was optimistic his team could use it to their advantage.
'I think the primary goal of the FIA was to implement the rule to better understand and better analyse what is going on with the engines.
'It's a very complex method between the combustion engine and the energy recovery system and I having one mode it becomes more easy for the FIA to really see if everything is in compliance.
'And then on the second point: it has always been the case in Formula 1 that pulling back the leaders, or what supposedly are the leaders, is something that is good for the sport.
'We see it very much as a challenge.
'We have a good quali mode and we are able to give it a little bit more power in that last session. But if that is not possible anymore because everything needs to be smoothed out over the race then it's not a deficit for us but on the contrary, we think we can translate it into more performance in the race.
'That is something that is a great challenge for us that will take on once the rule is implemented,' concluded Wolff.
One thing is for certain, that with so much on his plate, and with his eyes on a 7th Constructor's Championship, Wolff will be a man in high demand in the coming months. Can he juggle so many priorities? Time will be the judge of that, but history says yes.