Red Bull driver Sergio Perez won in a twice delayed, wet-dry Monaco Grand Prix as Ferrari fumbled their strategy to hand Red Bull victory.
Perez scored his third grand prix win, holding off Carlos Sainz, as Ferrari's pit-wall blunder cost pole sitter Charles Leclerc dearly, as he finished off the podium and behind title rival Max Verstappen.
The Mexican had shown strong pace all weekend, capitalised on Ferrari pitting first to grab the lead having been third in the early stages.
"It's a dream come true, as a driver you dream of winning here. After your home race, there is no more special weekend. With the graining, to not make any mistakes, to keep Carlos behind was not easy. It's a massive day for myself and my country."
"It was really hard for me to think straight after the race, I was full of adrenaline and so much energy going through the race. Once I heard my national anthem on the podium here it hit me, it is a dream come true for any driver in the world to tick that box in Monaco and I can just be extremely happy."
"We were quick all weekend, we kept our heads down and knew today with the right strategy we could make things happen. This win was for my mum and all my family, she was very sick last week so I had very good motivation going into this race to get her a victory."
"It's been an incredible day, I am super happy for the whole Team and I hope my country are proud too. You don't win Monaco many times in your life so the first one is very special."
Perez's win makes him the most winning Mexican driver in Formula 1 history, moving him ahead of Pedro Rodriguez.
The race, delayed due to rain and started an hour late, was stopped on Lap 30 after a heavy crash for Haas' Mick Schumacher.
Red Bull put both their cars on medium tyres, meaning Perez had to battle graining on the front tyres, but the 32-year-old positioned his car perfectly and blocked the route to victory for Sainz.
Perez's win comes just one week after being ordered to allow teammate Max Verstappen to pass him in Spain, allowing Verstappen to go on to victory.
Championship leader Verstappen, who finished third, extends his lead over Charles Leclerc who finished fourth despite starting the race in pole position, the Dutchman's advantage now nine points.
Mercedes' George Russell continued his streak of top five finishes in 2022, ahead of Norris, Alonso, Hamilton, Bottas and Vettel.
Leclerc Denied As Perez Pounces On Strategy Error
Charles Leclerc entered the weekend as the favourite and had the boost of home support.
The Monegasque, 24, also needed to win, having retired from the lead in Spain last weekend as he aimed to re-take the championship lead from Max Verstappen.
It was going very well, despite the wet conditions which had delayed the start by an hour from the scheduled start time, as Leclerc edged out a lead over teammate Carlos Sainz.
Leclerc pitted from the lead for intermediates, while Sainz opted to run straight from wets to slick tyres.
The Red Bulls followed Leclerc's route but when the track dried out enough for the slicks, a communication error caused Leclerc to follow Sainz into the pit lane, on lap 21, costing him crucial time.
Leclerc was furious with his team, venting his anger on the team radio.
Red Bull ran their cars one lap longer and managed to get vital track position ahead of both Ferrari's, as the slick tyres on the Ferrari's were slow to build up temperature.
Once ahead, Perez held off Sainz until Mick Schumacher's crash brought out first the virtual safety car, then the full safety car and then eventually a red flag, on a day where race control left a lot to be desired.
Sainz almost did not make it that far, as when pursuing Perez, he caught a wet patch of track on the pit straight and produced a sensational save from a scary slide that his father, Rally champion Carlos Sainz Snr, would have been proud of.
With a rolling restart ordered, Red Bull fitted both cars with the medium compound tyre, rather than sticking with the hard compound fitted before the red flag.
Ferrari had kept their cars on the harder Pirelli rubber.
Perez drove beautifully to keep Sainz at bay, despite his yellow walled medium's struggling with graining, where the rubber forms tiny balls on the tyre.
Spanish driver Sainz tried in vain to force an error from his Mexican rival, but it is virtually impossible to pass a car of similar performance in Monaco, without a mistake.
An error was not forthcoming and Perez took the chequered flag at the end of two hours of racing, claiming a memorable victory.
"A Freaking Disaster"
Ferrari had been the class of the field on the streets of Monaco for the second year in a row and again managed to hand the race win to Red Bull.
The Scuderia locked out the front row but turned that into a second and fourth at the end.
After the race, Charles Leclerc faced the media and described his race as a "disaster."
"It was a freaking disaster today. The win was clearly in our hands, we had the performance, we had everything. I just don't really understand the call that I had and I need explanations for now.
"I couldn't do much, I was called just before the last corner, so couldn't react or ask for any information, but that was clearly the wrong choice."
Having lost track position, the Monegasque could not recover to score a podium at his home race, having taken a fabulous pole position in qualifying on Saturday.
Race Control Or No Control?
The start of the race was delayed as rain fell ahead of the start procedure, which is not unheard of.
A change of weather can catch teams out and leave them needing to change tyres after the five-minute signal, where the car must have tyres fitted.
This was all fairly normal, even if it was slightly conservative, but then the race start was further delayed, as more rain began to fall and importantly, more heavily.
The cars did move off the grid, at 3:16pm local time, with the track now heavily saturated, sparking memories of the abandoned Belgian Grand Prix of 2021.
The cars completed the formation lap, then one further lap before the red flags flew with the Swimming Pool section of the track resembling a regular swimming pool.
Sky Sports commentators David Croft and Martin Brundle shared the view of many fans on social media, feeling the race could have been started on time, before the heavy rain shower arrived.
Eventually, after almost an hour of waiting and minimal communication from Race Control, the cars left the pit lane and racing got underway.
Race Control's questionable day was not finished there though, as when Mick Schumacher crashed heavily at the Swimming Pool chicane on Lap 27.
With the rear axle of the Haas car completely detached, which it is designed to do, the Race Director Eduardo Freitas first called for the "Virtual Safety Car."
A few laps later, the full Safety Car was deployed to allow the Monaco marshalls to clear the wrecked Haas.
The red flag was later flown for a second time in the day as the barrier required repairs at the crash site.
Driver's reactions over team radio and the volume of damage suggested a dramatic accident, which it was.
German driver Schumacher, son of seven-time champion Michael Schumacher, lost control in the swimming pool section and crashed heavily.
Fortunately, the impact was not as severe as feared and the 23-year-old was able to walk away from the accident.
Race Control has been under close inspection following the events in Abu Dhabi at the end of the 2021 season.
The FIA now uses two Race Directors for F1 races, with the pair taking a tough stance on safety measures.
Sunday's result throws Sergio Perez into title contention, just 15-points behind teammate Verstappen, who leads the 2022 Formula 1 Drivers' Championship with 125-points.
The next race is in Azerbaijan, where Perez took his first Red Bull win in 2021 after Verstappen retired and Lewis Hamilton made an error at a late restart.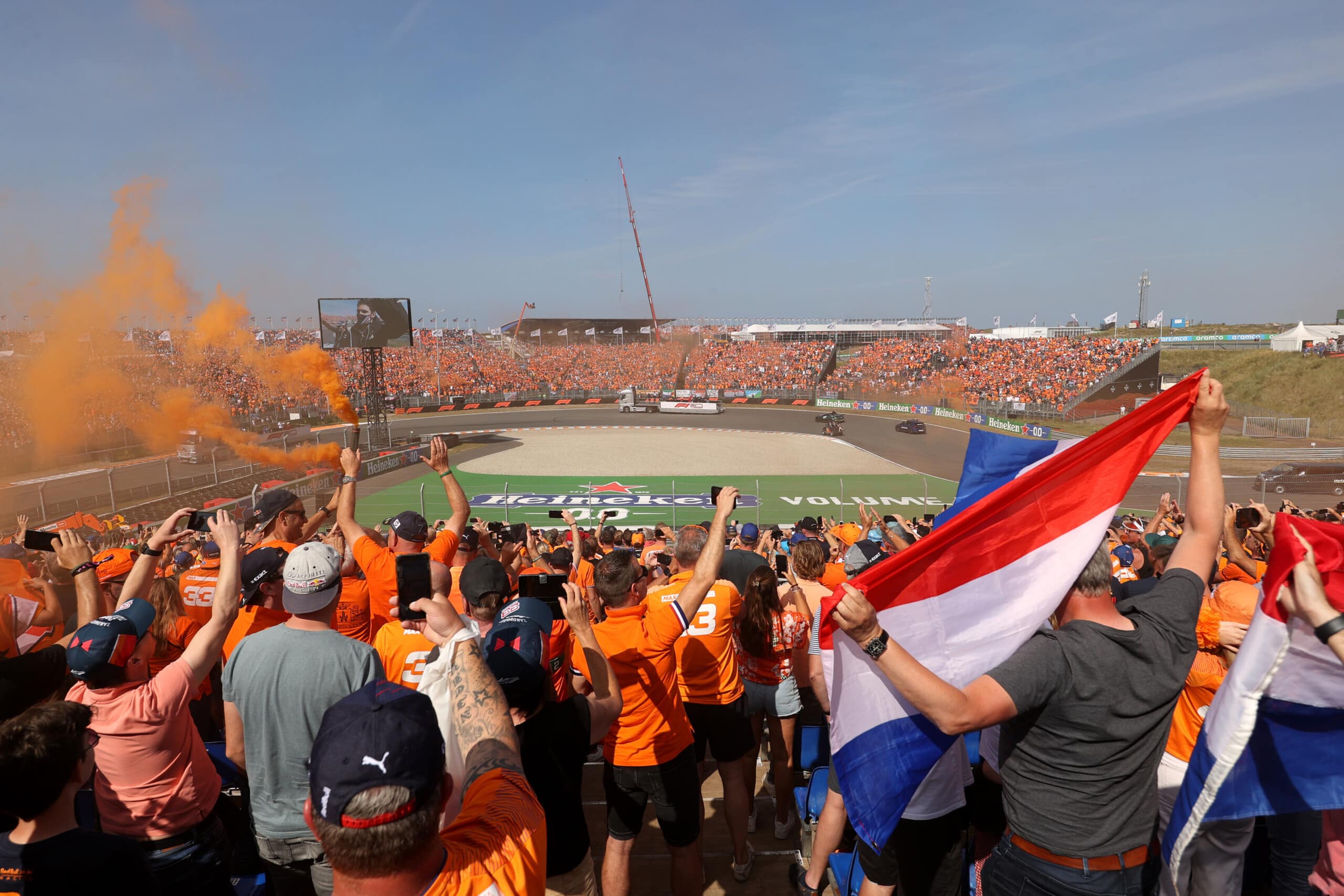 Formula 1 has today announced the Dutch Grand Prix will ...