Despite the rainy weather that afflicted both practice and qualifying this weekend so far, Silverstone dried up for the British Grand Prix. Carlos Sainz started from pole for the first time in his career, but he'd face stiff competition from championship leader Max Verstappen, who was starting alongside him on the front row.
There was drama from the opening corner in this one as we bring you all the highlights!
Lap 1 crash
Max Verstappen got off to the perfect start to take the lead going into Turn 1. Sainz settled behind, as Sir Lewis Hamilton also got an excellent launch behind to move up to third. Fernando Alonso, a man who is no stranger to rapid getaways, was up to fifth from seventh on the grid.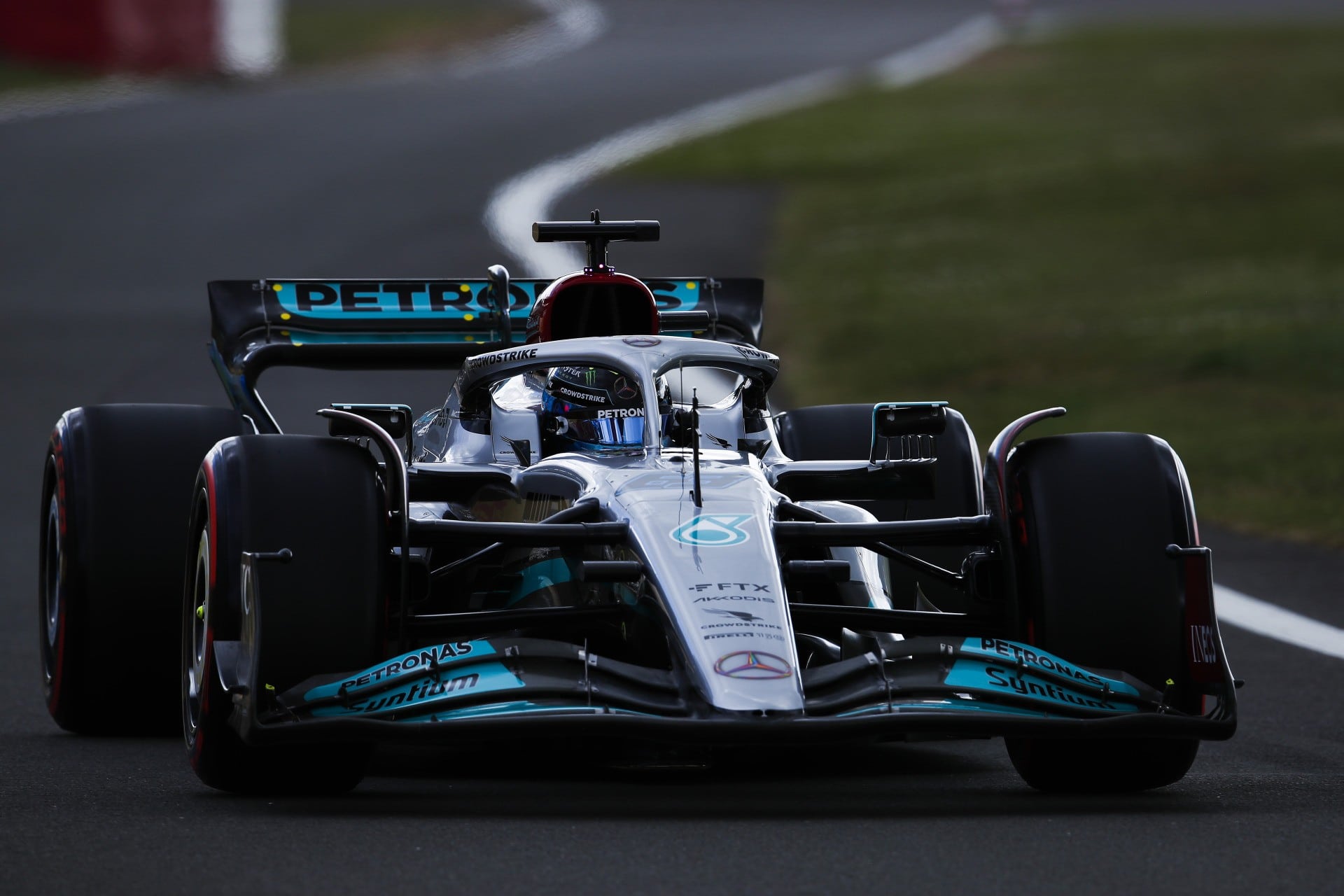 There was drama further back, as Pierre Gasly made contact with George Russell. Russell's car spun, and the rear of it acted like a ramp to launch Zhou Gunayu into the air. There was real concern regarding Guanyu, as he flew upside down into the gravel and over the tyre barriers. He had to be stretchered off the circuit, but is believed to be okay. Everybody at the Chronicle wishes Zhou a speedy recovery.
There was also contact involving Alex Albon and Esteban Ocon, the former both retiring. This was caused by Sebastian Vettel's Aston Martin making contact with the rear of Albon. Russell also retired, and despite Yuki Tsunoda losing his front wing, both AlphaTauris continued.
The crash actually, surprisingly, could've saved some lives, as protesters had laid themselves across the track waiting for the drivers come speeding past. Had they been at racing speeds, we could be talking about a very different race.
The restart
After a stoppage of just under an hour, the order was reset to the original qualifying positions as the cars lined up on the grid once more. Verstappen got a good start, but so did Sainz, who shut the door on the Dutchman into Turn 1. Sergio Perez also made a great start, going into third temporarily before Charles Leclerc barged back past.
Leclerc made a move of his own on Verstappen into Brooklands, but Max would force the Monegasque off the circuit and force him to concede. Perez and Leclerc also made contact again on Lap 2, both sustaining damage to their front wings. Perez would be forced to pit for repairs at the end of Lap 5, allowing Norris and Hamilton by.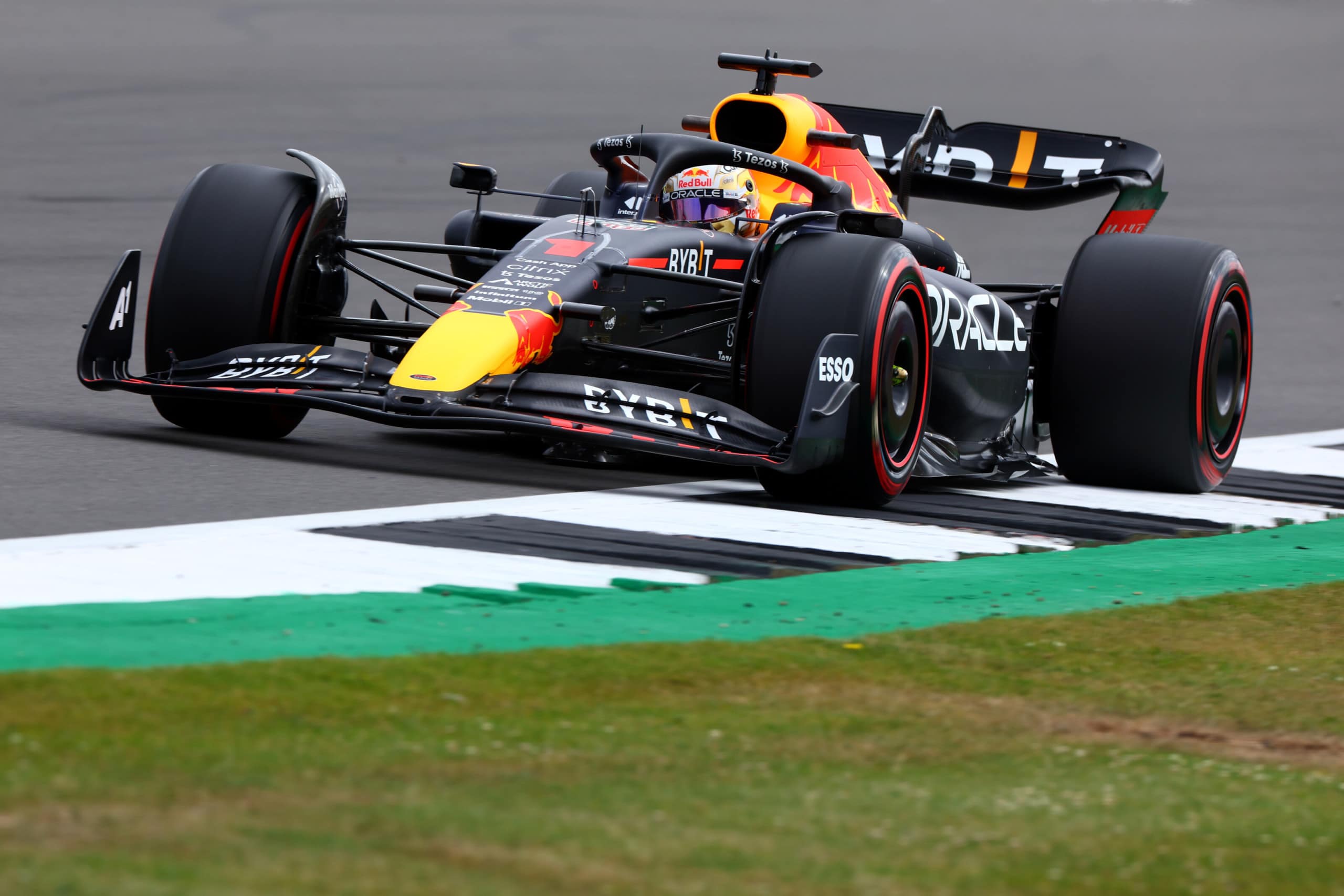 With no DRS to help Lando defend, Lewis powered past the McLaren and into fourth up the Wellington Straight. On Lap 10, Sainz would make a critical error. The Spaniard was looking comfortable, but lost the rear end through Becketts and conceded the lead to Verstappen.
Further back, the AlphaTauris collided when Tsunoda lost the rear end going through Village. Both continued, but would have to face a furious Franz Tost.
On Lap 12, Verstappen slowed, allowing Sainz and almost Leclerc through. He pit at the end of the lap for fresh rubber, a puncture the suspected issue. However, even after changing tyres, the world champion was still reporting an issue with the rear of the car, which was confirmed by his race engineer.
Red mist descends
Leclerc was fast losing patience with his teammate. Sainz was holding him up, despite Charles having the damaged car. On top of that, Hamilton was catching the pair of them on a day where Ferrari need to take full advantage of Red Bull's misfortune.
Sainz stopped for hards on Lap 20, while Leclerc stopped out. Valtteri Bottas' day would end here, a mechanical failure proving terminal. At the front, Hamilton was catching Leclerc, his medium tyres still performing well.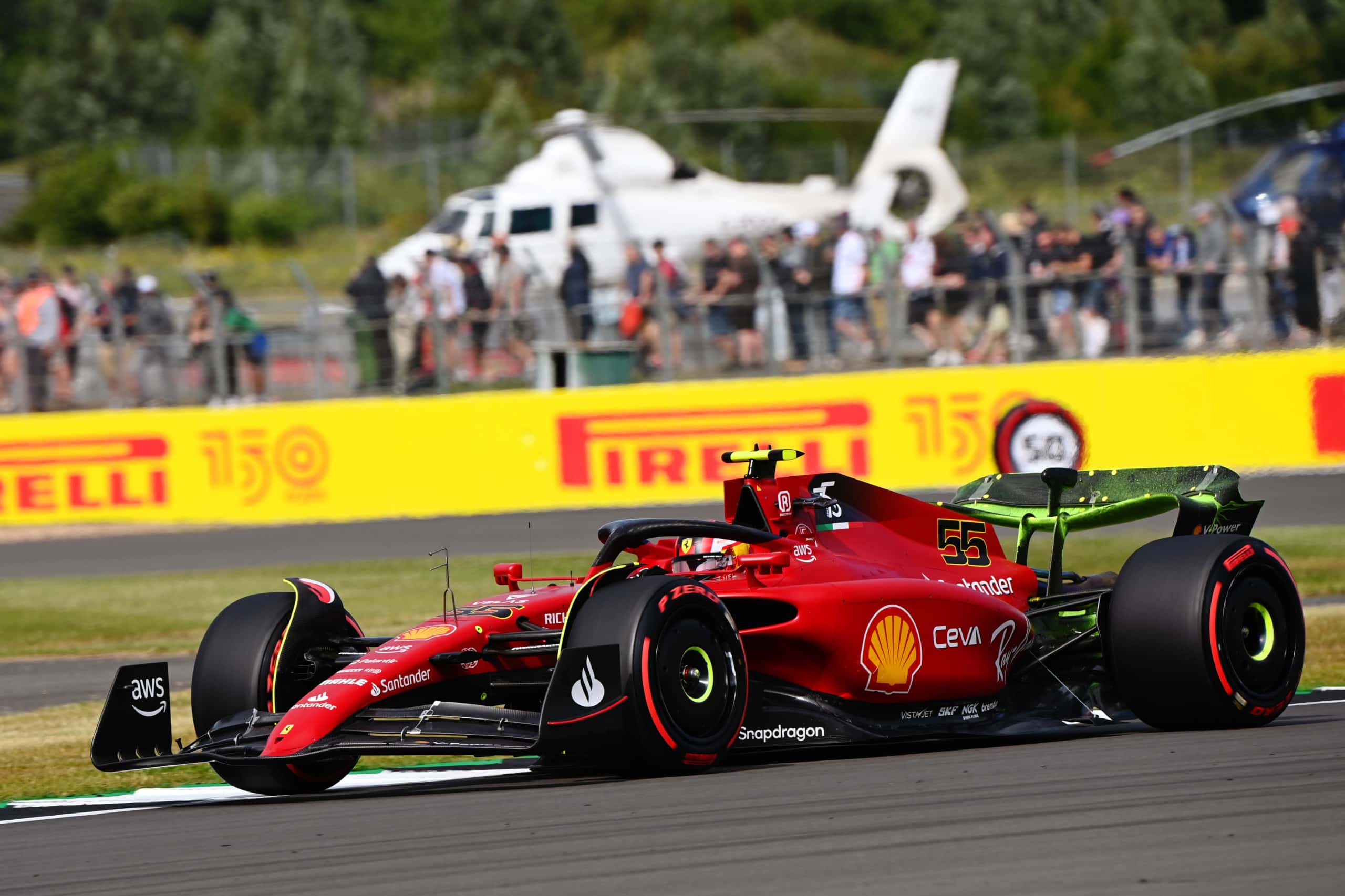 Verstappen would pit again, but his lack of grip remained. He expressed clear outrage on the radio, not helped by Sebastian Vettel's excellent move on him into Village. Leclerc would take his stop, but Ferrari opted not to change his front wing. He'd re-emerge around three seconds behind Sainz, but would be quicker.
On Lap 27, Gasly's race would conclude, a mechanical failure and crash damage ending his afternoon early. The Ferraris were under threat from Hamilton and were now free to fight out on track. Ferrari would swap the cars after Sainz's time wasn't fast enough and Leclerc was released.
Final battle
Hamilton stopped on Lap 34 for hard tyres. A slow stop meant he lost track position to both Ferraris, but with fresher rubber, he would have an advantage in this regard. Further back, Verstappen was under threat of not finishing in the points, after Esteban Ocon passed him into eighth place.
Ocon though, would soon retire thanks to the damage he sustained at the start of the race. Ocon parked his Alpine just before Copse, triggering a Safety Car and a flurry of pit-stops. Sainz and Hamilton both stopped, but crucially Leclerc didn't, leaving him on old hards until the end with three runners on new softs behind him.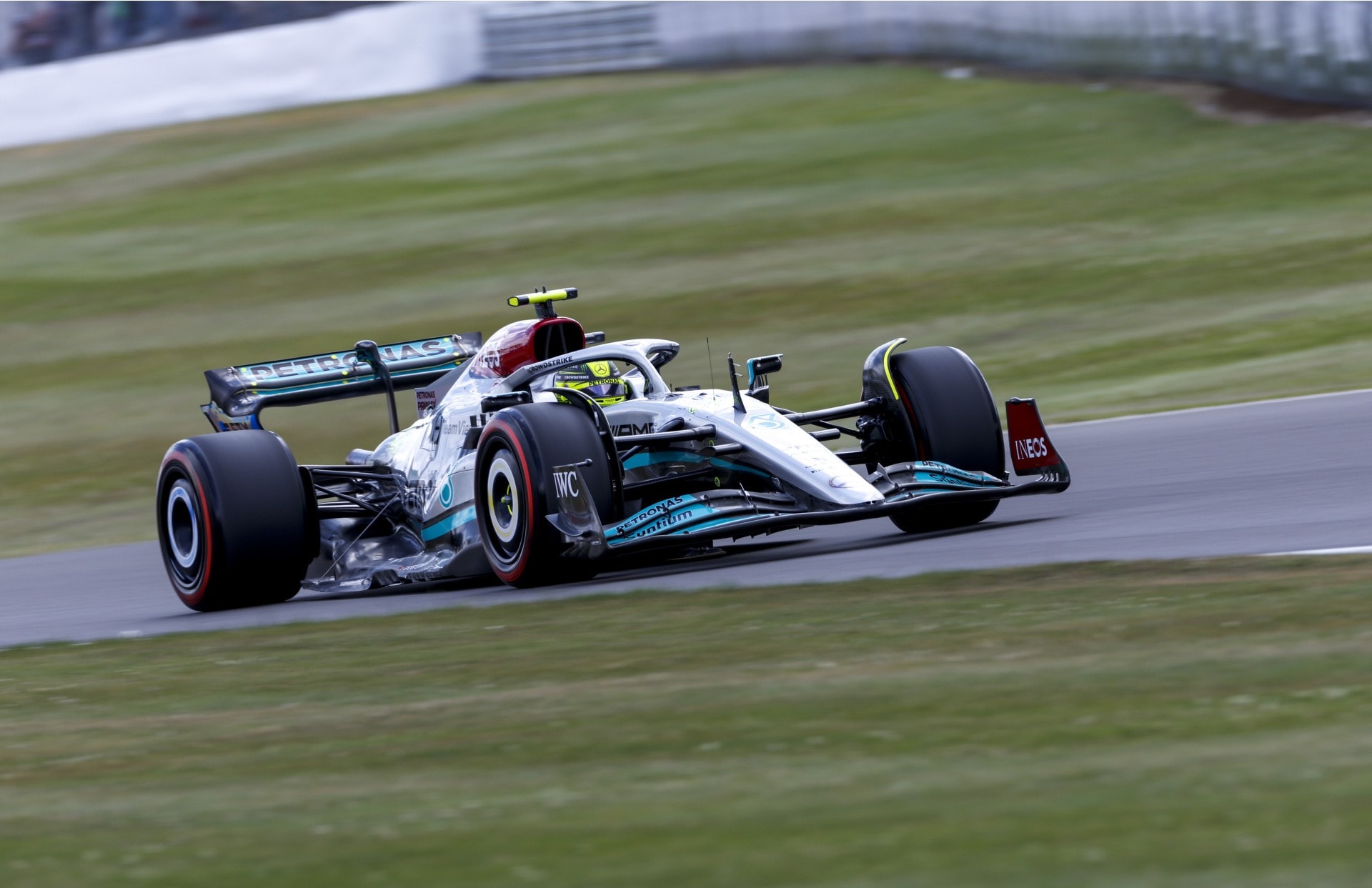 The race resume on Lap 42, with Lelcerc under immediate pressure from Sainz. Sainz got past into Brooklands, with Perez also forcing his way past Hamilton into third. Hamilton didn't take that lying down though, and continued to challenge Perez. Perez though, would attempt to snatch second from Leclerc through Stowe. Both ran wide though, opening the door for Hamilton. Hamilton would be caught and passed back by the pair of them though, and Alonso would get involved too. There was a five-way battle for second and it was awesome to watch.
Perez and Hamilton would get by, but not before some awesome defending by Leclerc.
In the end, it was Sainz who was top dog as he finally got his first Formula 1 win. Perez's recovery drive was admirable, as he finished runner-up. Sir Lewis Hamilton completed the podium around a circuit he always performs well at. Leclerc held onto fourth, with Alonso and Norris both producing great drives to fifth and sixth, respectively.
Verstappen would come home seventh, just ahead of Mick Schumacher, who scored his first F1 points. Vettel scored more points for Aston Martin in ninth, with Kevin Magnussen rounding out the points in tenth.
Full classification
| | | | | |
| --- | --- | --- | --- | --- |
| Pos | Driver | No. | Team | Time |
| 1 | Carlos Sainz | 55 | Ferrari | Leader |
| 2 | Sergio Perez | 11 | Red Bull | +3.7 |
| 3 | Lewis Hamilton | 44 | Mercedes | +6.2 |
| 4 | Charles Leclerc | 16 | Ferrari | +8.5 |
| 5 | Fernando Alonso | 14 | Alpine | +9.5 |
| 6 | Lando Norris | 4 | McLaren | +11.9 |
| 7 | Max Verstappen | 1 | Red Bull | +18.7 |
| 8 | Mick Schumacher | 47 | Haas | +18.9 |
| 9 | Sebastian Vettel | 5 | Aston Martin | +22.3 |
| 10 | Kevin Magnussen | 20 | Haas | +24.5 |
| 11 | Lance Stroll | 18 | Aston Martin | +26.1 |
| 12 | Nicholas Latifi | 6 | Williams | +32.5 |
| 13 | Daniel Ricciardo | 3 | McLaren | +32.8 |
| 14 | Yuki Tsunoda | 22 | AlphaTauri | +40.9 |
| Ret. | Esteban Ocon | 31 | Alpine | Crash damage |
| Ret. | Pierre Gasly | 10 | AlphaTauri | Mechanical |
| Ret. | Valtteri Bottas | 77 | Alfa Romeo | Mechanical |
| Ret. | George Russell | 63 | Mercedes | Crash |
| Ret. | Zhou Guanyu | 24 | Alfa Romeo | Crash |
| Ret. | Alex Albon | 23 | Williams | Crash |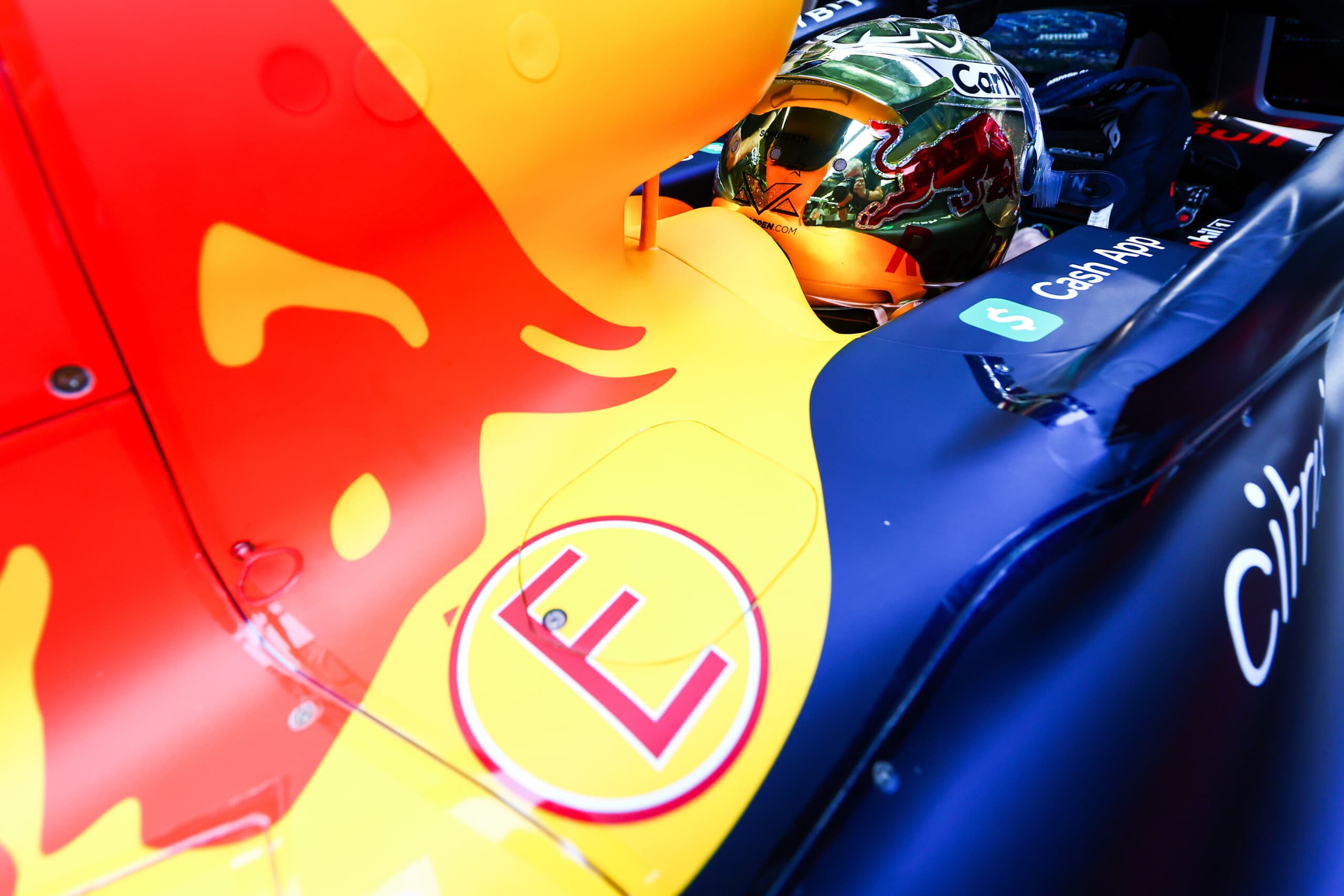 With 2022 in the record books, attention has quickly turned ...