Max Verstappen recovered from an early spin to win in Spain, taking the championship lead in the process, after rival Charles Leclerc retired from the lead.
The Dutchman, who fumed over team radio about a DRS issue, used a three-stop strategy to gain track position, with a bit of assistance from teammate Sergio Perez, who did not make life difficult when Verstappen closed up.
Verstappen again wins when he reaches the chequered flag in 2022, his 25-points taking him six ahead of Leclerc, who failed to finish for the first time this season.
"We had the strategy to get ahead again and do our own race. Difficult beginning but a good end! I tried to stay focussed, which is not always easy."
"It's great to finish the race today alongside Checo with a first and second place, it was a difficult beginning but a good end! I went off in turn four, I completely lost the rear and they said on Team radio that it was a big gust of wind. I lost a few positions through that and as soon as I wanted to attack, my DRS stopped working."
"It was upsetting at the time but then I calmed myself down and focussed on the bigger picture. It was a tough battle with George Russell, especially without the DRS, I didn't want to take too much of a risk as we were fighting for the lead, I had to be patient."
"As for the DRS, I'm not sure why there's an issue, we'll look into it and at the end of the day nothing was lost. We are on a good trajectory and we can be proud of that as a Team, but as you can see, some things are fragile and we need to keep on working hard, we have to be on top of everything," said Verstappen.
Verstappen had slid off the track in the early laps, which dropped him behind George Russell's Mercedes.
The 24-year-old battled the Englishman, but struggled to pass, due to a malfunctioning DRS system, venting his frustration over the team radio.
But with the aid of a different strategy, the reigning world champion was able to emerge from his final pit stop clear of the much-improved Mercedes.
The Red Bull driver, who won his first race in Spain six years ago, rapidly reeled in teammate Perez, who did not fight when Verstappen went for the lead at turn 4.
Perez did pick up the fastest lap but was still unhappy about being instructed not to fight.
"It's a great result, we are leading the Constructors Championship so, although I obviously want to win, I have to be realistic and I am happy with the Team result. My frustration on the radio was in the heat of the moment but I need to speak with the Team to understand a few bits from the race. Sometimes when you are driving you can't get the full picture, so it is a normal thing to debrief things to understand the race."
"The Team momentum couldn't be any better here, it is a great Team and we are very united. It wasn't about Team orders today, what really changed my race was going onto different tyre strategies and that worked better for Max and, at the end of the day, the Team because we managed to both get past George."
"I could have won today but making the two-stop work was difficult and it turned out that the three-stop was the better strategy. I think we had a very strong race today, the race pace and management from us was great today and it was important not to make mistakes. Hopefully we continue this momentum on to Monaco and are strong next weekend too," added Perez.
George Russell finished third, for his second Mercedes podium, ahead of Carlos Sainz in the remaining Ferrari.
Lewis Hamilton recovered from a lap 1 puncture to finish fifth, with Bottas, Ocon, Norris, Alonso and Tsunoda completing the points scoring positions.
Ferrari Falter Again
Verstappen may have won the race, but Charles Leclerc had been in total control, having fended off Verstappen on the run to turn 1.
Ferrari struggled with tyre wear in the previous two races, something that was a concern to all teams in the scorching Spanish sun, but edged away from the Red Bull in the early laps.
On lap 9, Leclerc's small advantage became a commanding lead, as Verstappen ran wide at turn 4, the team putting it down to an unexpected gust of wind.
Leclerc was then able to manage his pace, as everyone else pitted for fresh tyres, looking set for victory and hardly noticed by the tv cameras.
Lap 27 was the lap it all came undone for the Monegasque, as his power-unit gave up and he lost power, coasting back to the garage.
Leclerc said: "I had no indications before and then it just broke, lost the power completely. So it's a shame. In those moments I believe that there's nothing else I can do but look at the positives and there are plenty this weekend."
It summed up what became another disappointing day, as Carlos Sainz was not in position to sweep up, having also gone off at turn 4, on lap 7, having also made a poor start where he lost two positions.
Sainz did recover to fourth place at the end but the points lost in Spain have allowed Red Bull, with their one-two finish, to storm to the top of both championships.
Mercedes Back On Form
Mercedes appeared to be back on form in Spain, with their best qualifying result of the season, which became third and fifth in the race.
George Russell, starting a season-best for the team in fourth, grabbed a position off the line as Sainz stuttered from the line, gaining a further position when Verstappen had his off-track moment on lap 9.
The 24-year-old from Kings Lynn battled with Perez and Verstappen for several laps, holding back the eventual race winners.
His efforts were aided by Verstappen's DRS problems, but nevertheless, Russell's composure and tactical driving allowed him to frustrate the defending world champion, even re-taking the position when it appeared that Verstappen had passed him.
Russell was promoted to the lead but was swallowed up quickly by Perez, who had a fully functioning DRS system.
The ex-Williams driver collected his second podium for Mercedes, despite having to manage a water leak late on, having thrilled fans and commentators alike with his stout defence.
On the other side of the Mercedes garage, Lewis Hamilton produced his best drive of the year, surging through from 19th, after colliding on the opening lap with Haas driver Kevin Magnussen.
Hamilton, fearing a long and fruitless afternoon, told his team that if they needed to protect the power unit then they should retire the car, but the team told him points were still a possibility, with eighth place the target.
Hamilton made steady progress, having replaced his starting mediums with soft tyres, and by the time most had pitted twice, was running solidly in the top 10.
After removing a second set of medium tyres for soft tyres, Hamilton breezed by Esteban Ocon's Alpine, pulled a brave move on former team mate Valtteri Bottas around the outside of turn 3 and then passed Carlos Sainz' Ferrari.
Hamilton, who has won six times in Spain, including all of the last five years, did drop back to fifth having to also manage the power unit late on.
Toto Wolff told Sky Sports F1 after the race that Mercedes pace "was better than expected", adding: "We saw this growing through the race. At the end it was literally just making it over the line."
Wolff also described Hamilton's pace as "stunning" saying that the winner of 103 grand prix, could have fought for the win.
Mercedes will be aiming to build on this vastly improved performance in the coming races in Monaco and Azerbaijan.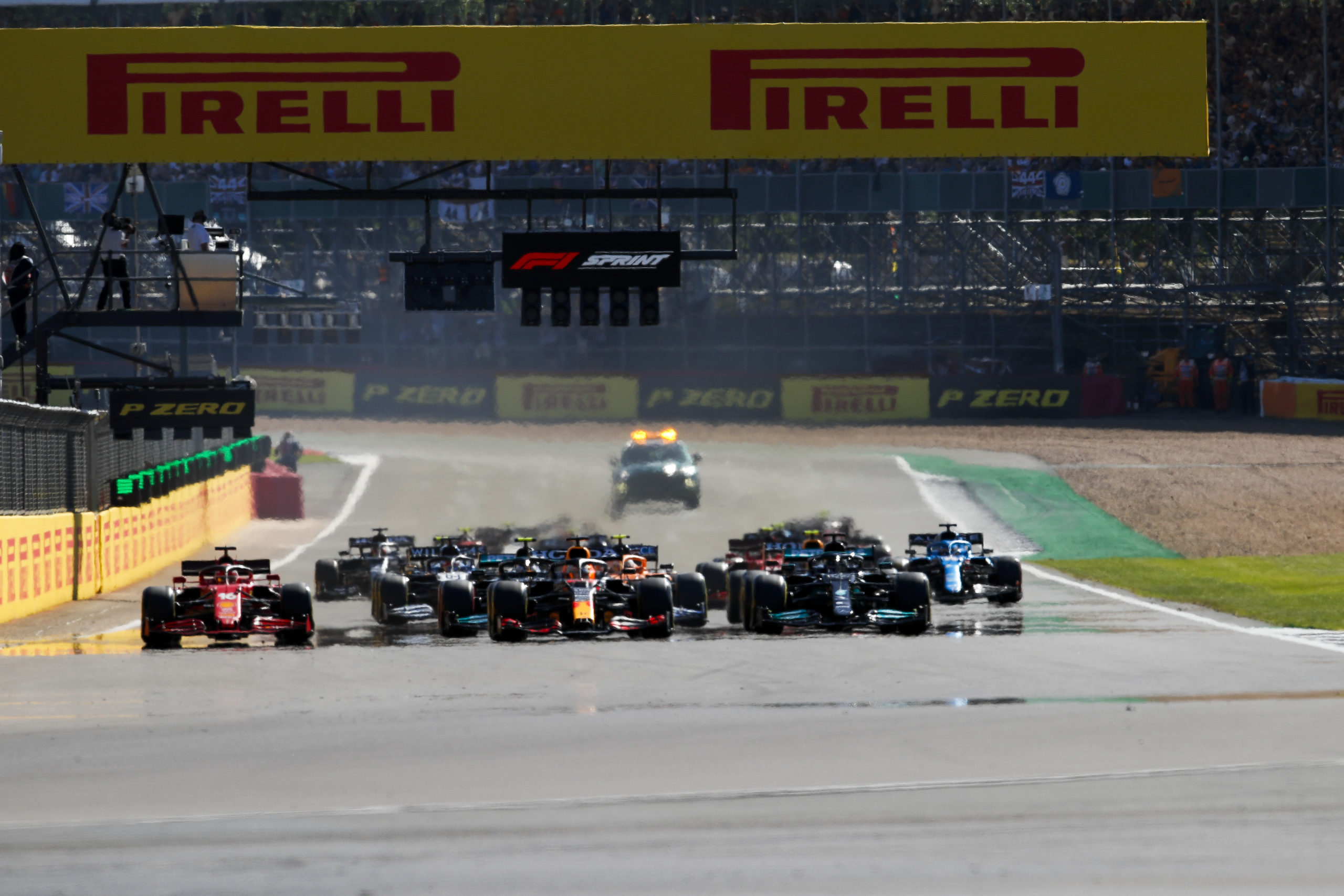 Formula 1 returns to the venue of the first ever ...