After a horrible start to the season where his team looked way off the pace, Lando Norris has driven to a podium finish at Imola, putting an exclamation mark on some incredible progress in a short space of time. 
'An amazing race and amazing weekend and to be honest. To beat a Ferrari is much better than we were expecting so I'm happy. The team deserve it, you know, from nowhere in race one to now scoring a podium I think they all deserve it. So top job to the team.
'From where we were, what, three weeks ago, four weeks ago, a month, in Bahrain to be on a podium, I genuinely didn't think we would be on the podium all year after Bahrain. So it's quite a shock. Maybe not surprising after the kind of progress we've made over the last month but yeah definitely not a podium you know, with how much quicker the Red Bulls and the Ferraris are.
'It's hard to ever imagine yourself on the podium and a great result today would have been P5. But a few good things throughout this race, you know, an amazing start to be ahead of the Ferraris, to stay out of the chaos which happened behind, just I guess a lonely but a great race.
'You know, just managing the gap to George, looking after the tyres for the whole stint, everything just went well all weekend to be honest. Not just the race today, but qualifying P3 already was a pretty good achievement for us. So great weekend. Nice to see the improvements we've been bringing and to reward everyone with a podium is even better.'
Although it was a somewhat lonely race for Norris, the Brit still found it quite stressful given the varying conditions.
'The start already is always a bit more stressful. I had such a good one, I kind of got behind Sergio I think, and got a bit squeezed by Charles onto the kerb, so I had a bit of a moment there.
'But just kind of choosing when to go onto the Mediums, you know, you put one wheel slightly wide or tight or whatever and you lock-up, you're in a gravel, you're out.
'So, every lap in these conditions, it's hard to describe, I guess, to the viewer but inside, you have to push so much, you have to manage the tyres but then your line has to be perfect and if you put yourself a little bit wide or you hit a kerb wrong – like you probably saw, you're spinning and you're in the wall or something.
'It's just stressful, every lap like this. It feels like such a long race as well – makes it even more rewarding when you cross the line at the end.'
It has been a lot of work for McLaren to go from starting the season so poorly to being on the podium, with Norris crediting the whole team for the rapid rise.
'If I wanted to speak in simple terms, we need the improvements everywhere. High speed, medium speed, slow speed, maybe more bias towards the slower to medium speed. But as a package, everything needs to be just that next level, you know?
'I think as we've said, in the past, the balance has been good. And we're happy with the balance, it's just, you do a good lap, you do something that feels good, and you just slow because you go around every corner, slower than the others.
'So it's not easy: you want to focus on everything but over this long season, you got to focus on certain things first. We've not brought anything big. I know there's been big steps but it's not like we've brought a new floor or new things or whatever. Just smaller things. But those smaller things seem to be having an effect when you put them all together on a weekend like this.
'But a lot of Daniel's and my comments are in line. We have slightly different driving styles, so they're not always identical but in how we want to improve the car and get quicker, they're pretty much exactly the same. So, that's a good thing.
'The guys and girls are focusing hard to come up with these new paths. And yeah, I'm confident over the length of the season, we can continue to bring more and try and get closer to these guys.'
Despite his early struggles with the new car, Norris feels the changes to the regulations have made the sport better overall.
'It's 100% better. It's what they intended to do and the reason for the changes are working. I think you have been seeing better races this year than for many years.
'Sergio has pointed out the point of the racing being harder today is just because of a dry line and you never want to go on overtake on the wet parts so that always makes it a lot more difficult. But yeah, there's only so much you can do and only so many corners and times you can get close enough.
'I don't think I've ever had DRS this weekend when I've been behind someone so it's difficult to know how quick that's working. But I'm happy. I think the changes are good. The thing which doesn't allow you to get even closer is the tyres, you know, like I'm managing pretty much every single lap in the race – even in qualifying, you have to manage a bit.
'So when you have these couple of oversteers when you're following, when it gets a little bit harder you pay the price very quickly and that's what limits you to get that final bit to really overtake and maybe race as close as what you can in Formula 4 and things like that.
'So yeah, Pirelli are working hard to improve this.  It's the first year on the tyre, they know what they need to work on and I'm sure they'll come up with better tyres for next year,' concluded Norris.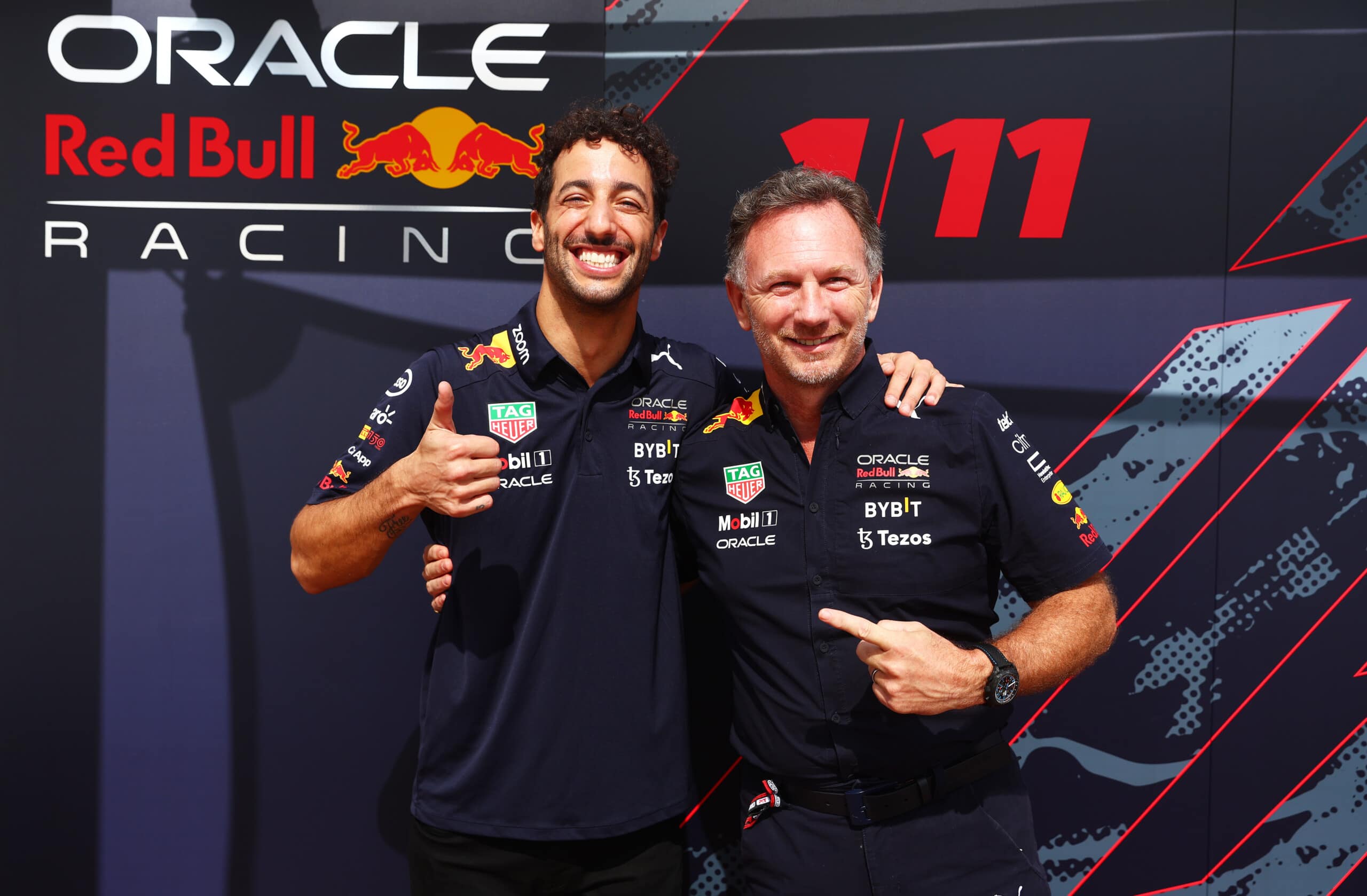 Oracle Red Bull Racing today confirms Daniel Ricciardo will return ...