After delivering his best ever qualifying result in F1 – a P2 – and his teams best qualifying performance in nine years, Lando Norris spoke of how he 'took quite a few more risks' on his way to such a stellar lap time that saw him finish ahead of the second Red Bull of Sergio Perez, as well as both Mercedes drivers.
Lando Norris Saved The Best Until Last
After improving incrementally all weekend, Lando Norris saved his best for last, being fastest across 18 of the 20 mini-sectors that make up a lap of the Red Bull Ring.
'It feels like we made a good step forward from last weekend with a couple of things. I was kind of… not frustrated but I thought there was a little bit more in it last weekend – especially to be ahead of both the Mercedes cars, and that's what we did today.
'The whole of quali was pretty good; pretty straightforward and good laps and so on. Then, I definitely saved the best 'til last and did my best lap in Q3, Run Two. So, I'm obviously very happy. I've got a great position for tomorrow and I think we maximised everything we could today.
'I was only four-hundredths away from P1, so it would have been nice to do that little bit more but I'm very happy with where I am.
'I think most corners I definitely did my best laps on. I was actually just behind Max, so I was P2 on track and was a bit nervous I was going to start losing a lot in the straights – which I did but I made up for it in the corners. Especially the high-speed turns.
'I took quite a few more risks and that's where I found a lot of my lap-time and it paid off in the end. So, it's a cool feeling – especially around here, it's a pretty awesome track to really push it on and to try to find those last couple of hundredths. Especially taking risks and not taking risks and so on – so it's a good feeling. Definitely rewarded myself nicely.'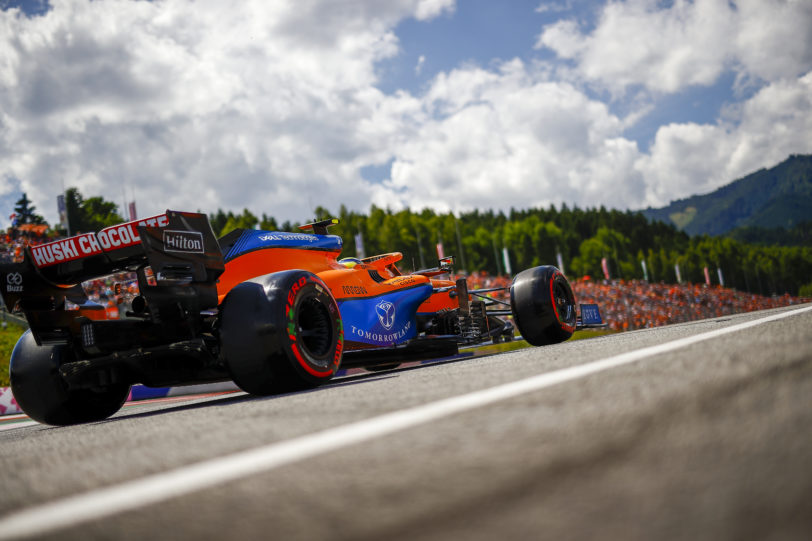 P2 A Fair Result
After coming so close to a maiden pole position F1, the temptation could have been there to wonder 'what if' but Norris has kept a level head, and feels his position is reflective of where the performance of his car currently sits.
'Of course, there's always that little bit but I'm sure Max will still say the same thing. It's tough because it's so easy to just run that little bit wide and get your lap deleted and so on. I think I improved quite a bit already in those last two corners comparing to the rest of my lap so yeah, it's like risk versus reward and how much do you really risk and I think I took the risk and I ended up where I did but if I think… If I had loads more opportunities, if you gave me another opportunity I don't necessarily think I would improve that much more.
'We are where we are, I think throughout this year we don't have a good enough car comparing to Red Bull or Mercedes in general, although maybe today we do but considering how much quicker they were last weekend I think we struggle in a lot of areas, our car's not as quick as them and a lot of things are not possible comparing to them. I think I maximised our result and that's all I could do.'
Finding The Limit
After some excursions off the track in FP3, Norris found the limit, and was able to use that to his advantage in qualifying. With his team pushing their limit off the track during the week, and the Brit pushing his on it, the combination gave the team a great reward.
'I think I'm sure everyone makes little mistakes here and there but we also know the car comes alive a bit more when you take the fuel out and when you turn the engine up.
'I think the main reason for my mistake in P3 was because I was just suddenly a lot closer to the car ahead in the final corner and I had less rear into the corner and I made the mistake because of that and while I wasn't that close, everything was fine, so that caught me out a little bit.
'The car was good last weekend in qualifying and we knew what worked well and what didn't. I think you're just always trying to find the limits and you're pushing and it's not easy to always maximise the braking, because it's so easy to have a little lock-up or run wide and things like that, so you make those mistakes in practice but I didn't make them in qualifying. That's just the way of learning.
'There's not too much difference this weekend with the actual car itself in terms of specs or anything; it's pretty much the same. I would say in terms of the lap I did was probably a bit better, taking the risks a little bit more and just doing a better lap and putting it all together that touch more.
'I think we maximised the car last weekend. We just made some very small tweaks for this weekend so it's not like we turned a car upside and found anything new or something that suddenly worked that didn't. It's just looking into more data, ironing out the little bits of inconsistencies and little things you struggle with. And then more just down to me delivering the lap when I have to so yeah, nothing that's surprising or nothing obvious but also feeling like I did a good lap myself and a lot of it came from that.' 
Norris Ready To Race
Although he understands a race win, or even a podium, is unlikely come race day, Norris is still ready to fight for the race lead into turn one, and will try to make the most of his opportunities when the lights go out.
'We'll do our best to try to take a step forward and go in the right direction – but it wasn't like we were exactly close last weekend. And now, we have that little bit more of a step.
'I don't want to be too negative, I want to be optimistic as I should be – but I'm also realistic and know it's going to be a very tough race.
'We're in the best position possible to maximise everything but if I have a chance to go for P1, a chance to race Max and go for it, then I will. I'm still doing that, I'm still racing, I still want to do the best I can – but I think I also know what's best for us, what's best for myself and the team and who we are – sadly – really racing against in the race tomorrow,' concluded Norris.
By the end of Friday practice for the Spanish Grand ...