In a sport all about constant pressures, back-breaking turns, media cavalcade and endless avalanches of perspiration, a smile is a rare thing- don't you think? Though, truth be told, one would reckon not so rare after all, especially when it concerns Daniel Ricciardo, in whose case it becomes a recurring phenomenon. But the funny thing is, not that it's gonna make anyone laugh, the man behind Formula 1's most infectious smile, isn't really smiling all that much. Well, not in 2021, at least.
Some call him the 'Honeybadger,' while some reckon he's Australia's finest export to Grand Prix Racing in modern times.
Fundamentally speaking, the guy with intrinsic goofiness which evaporates into thin air soon as the visor is down and the red light turns green isn't feeling at the top of the game.
There's something not quite right about Daniel Ricciardo.
And to put it simply, it concerns with his handling of the McLaren MCL 35M, rather his lack of it. The front, according to Daniel doesn't quite work much to his liking. Now, it's a similar scenario that Kimi Raikkonen faced back in the year where his Ferrari predicament was no longer unavoidable, 2014, the very year of his comeback to the Scuderia following the Lotus stint.
The Finn found his woes exacerbated by a difficult front-end which wasn't suiting his driving style. In the end, in comparison to Alonso's 161 points, Kimi bagged just 55. A heck of a difference.
Is the current Lando Norris versus Daniel Ricciardo scenario heading that way, given the high-performing McLaren's aero functioning isn't quite working for the massively-talented Australian?
Who knows!
Yet, some may wonder when Daniel Ricciardo was able to drag his Renault of 2020 to not one but two podium finishes, including an incredible result at Imola (where he had just no experience of F1 racing, at all), how is it that the Perth-born is struggling in the same car with which Norris has already bagged two handsome podiums, including one at a track where overtaking is left to chance not skill- Monaco?
The last three race-finishes of Daniel Ricciardo read P7 at Austria, followed by a P5 at Silverstone, and then a P11 at Hungary, where he finished behind Raikkonen's Alfa Romeo.
Daniel Ricciardo and the woes of 2021
This year he's already collected three finishes outside of the top ten, whilst prior to his teammate Norris' Hungarian GP retirement (owing to the opening lap skirmish), the Briton had the record of scoring in every single Grand Prix of 2021.
The woes, there are many. So much so that many have questioned the intent of the driver associated with mental toughness and that steely resolve that very much endeared someone like a Mark Webber to many fans back in the day. Though, this is Daniel Ricciardo, a man with no fewer than 31 fiery podiums against his name, 7 of which have resulted in big wins.
The main question, however, that one can't turn away from is what might have happened to Ricciardo had he been contending with the McLaren of 2015 and 2016 seasons?
But all hope isn't lost. When Ricciardo collected his best finish of the season yet, a fighting fifth at Silverstone, though finishing behind young Norris, it was being labelled that the comeback was beginning to show.
However, in the very next race, Ricciardo fell out of the points following an eleventh in Hungary after suffering floor damage in the Lap 1 mayhem. The current talk in F1 paddock, a busy place akin to a fashion label store rampaged by dollops of women, where talk is incessant, is that Ricciardo has lost the zeal for the contest.
Though, that's the very moment where one might remind himself about imagining a 'what-might!'
Would any of us have thought about such a thing had Ricciardo been in a Red Bull, or better yet, a Mercedes?
That he's driving a car that can get the measure of the SF 90- but isn't- could well be down to a genuine loss of form. Or, as they say in Cricket, at times, you don't get out to a bad shot; it's often that you get a genuinely unplayable delivery, which is much like a bullet with your name all over it.
What is one to do then?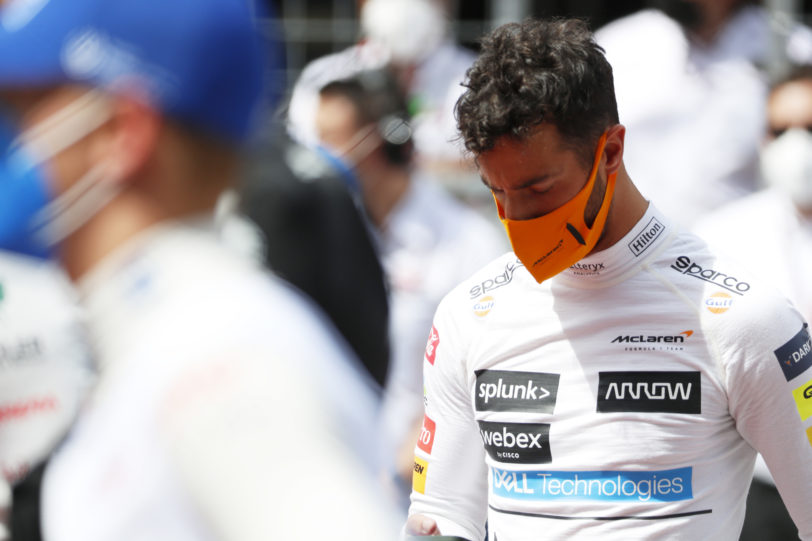 Frankly speaking, when Daniel Ricciardo is in his elements, think Monza 2017, where the Honeybadger made up one place after another, inside the opening few laps itself, including moving up on the likes of Raikkonen, Perez, Verstappen (the first two at the Ascari Chicane), the world appears a better place.
It seems the throttle of the contest has shifted from the likes of Mercedes and Lewis to a more trigger-happy and dauntless force that has a feel for a real contest.
Someone who wouldn't say no to a duel.
But given his loss of form- all of which could well be a temporary scenario, as asserted by the likes of even Alonso- Ricciardo is facing tough questions.
It's come to a point where they are asking, is there any life left in the racer, which not hypothetically, but actually is a disgraceful question to be posed at someone who made up quite a reputation of snatching glories convincingly when it seemed they belonged to the other.
Think of the wins with Red Bull at Azerbaijan and China.
Moreover, that every racer goes through that one lean phase where the world suddenly seems pitted against you should not be such a difficult thing to digest.
Think Alonso in 2015. Raikkonen in 2014. Vettel in 2020.
That Ricciardo can bounce back and he's seen a similar run into poor fate, circa 2018 and its unreliable car at races like Monza and the US GP, is widely known.
Though how soon will Ricciardo actually bounce back is something only time can tell for none of us are soothsayers with a reputation to time travel.
What's, certain, however, is that given racing and winning is in his DNA, Daniel Ricciardo wouldn't sit down quietly and do nothing about it. He will fight and shall continue to grill himself as for the rest of his team's engineers and mechanics, a process that had begun after the first three rounds suggested that there wasn't much exhilaration being experienced on track.
Meanwhile, here's what the famous Aussie had to say:
"I've always considered myself a winner in this sport, so if I found myself constantly out of the points and without the right team behind me I'd probably say 'okay, my time here is over, goodbye'. But at the moment, I think I'll be here for a few more years."
He'd further add, "As I approach the 200th grand prix and I look back on what I see, it makes me happy because getting to Formula 1 is the hardest thing for a driver to achieve, but it's not easy to stay there either. So I'm proud of my path. I would obviously have liked a world title but I'm happy and satisfied with the choices I made. Then, in terms of the future, we'll see what's in store for me!"