Charles Leclerc produced another stunning qualifying lap to grab his second consecutive pole position on his home streets of Monte Carlo.
The four-time race winner set a blistering 1:11.376 to set provisional pole position and was on target to go faster on his final lap.
Leclerc's 14th pole position in F1 was confirmed without completing his final lap, when Sergio Perez spun his Red Bull into the barrier at Portier, which brought out the red flags ending the session.
Monegasque Leclerc said: "It is very special, I'm incredibly happy. It's been a smooth weekend so far, that last lap before the red flag was really good. I was so on the limit."
"I am very pleased with our overall performance so far this weekend. I felt confident in the car and started pushing a bit more in Q3. The first lap was good. I think that the second was one of the best laps I have ever done in qualifying. It was so much fun to drive and I was really on the limit. I had a lot of oversteer, so the rear was quite loose. Still, I knew that the lap was coming together nicely and that felt particularly good. It's a shame that I couldn't finish it, but this is Monaco and we know that the final attempt is always at risk of yellow or red flags."
"We secured pole anyway, so I am really happy. Whatever the conditions are tomorrow, we will start from the best place possible and will do everything to finish the weekend as smoothly as it has gone so far."
Leclerc set the fastest time in qualifying in 2021 at Monaco, after he himself had crashed in the final seconds, but did not take the start, due to a driveshaft issue on race day.
Carlos Sainz, in the other, Ferrari qualified second fastest, but he hit the stopped Red Bull as he was the first driver on the scene.
Sainz, 27, claimed he did not see the yellow flags until too late.
The Spaniard said: "Perez crashed in front of me, I was on my flying lap, I saw the yellow flag and hit the brakes and had to avoid him as best I could. We will never know, but I was feeling good with the car today."
"I did all I could to react quickly and avoid the crash, but it was too late. Things like this can happen in Monaco and unfortunately I was caught up in it again."
"Overall, P2 is a decent position to start on Sunday and it's a good day for the team with another front row lock-out and a good opportunity to score solid points tomorrow. Let's race!"
Ferrari had consistently held an edge over the title rivals Red Bull, consigning the winners of the last three races to the second row, with Perez outqualifying Max Verstappen.
Behind the top four cars, McLaren's Lando Norris produced a fabulous lap to secure fifth position, beating Mercedes' George Russell.
Fernando Alonso, who also found the barrier on his final run, was seventh ahead of Lewis Hamilton, with Sebastian Vettel and Esteban Ocon completing the top 10.
Leclerc In A League Of His Own, But Can't Rest On His Laurels Yet
Leclerc entered the weekend as the favourite for victory, his Ferrari car excelling in low-speed corners, of which there are plenty around Monte Carlo.
Leclerc has topped all but one session this weekend, with only Red Bull's Sergio Perez able to produce a faster time in free practice three.
The 24-year-old had already set provisional pole on the first laps in Q3, with almost a quarter of a second back to team mate Sainz.
Leclerc, not content with his first lap, pushed even harder on his final run, setting a first sector time that was fastest of all.
The second sector time threatened to pull him further clear of the competition, with what could have been one of the most spectacular laps in Monaco history.
In the end, because of the red flags, Leclerc's initial lap was enough for his fifth pole of the year.
Leclerc's dominance was underlined by Red Bull Team Principal, Christian Horner, who said: "I don't think the pole was on today, Charles was mighty."
Pole position is considered more important in Monte Carlo than almost anywhere else, as overtaking opportunities are so limited.
You may think that Leclerc can have an easy night's sleep, knowing that he need only ace the start in Sunday's grand prix, but Leclerc has not finished his home event, let alone won it.
Racing around Monaco is fraught with risk, as the smallest tap of a barrier can have major ramifications.
Perhaps the most iconic Monaco memory is of Mansell and Senna in 1992, which Senna won following a late pit stop for Williams' Mansell with a puncture.
With that in mind, Leclerc will have to be perfect again on Sunday to deliver his third victory of 2022, which would be enough to regain the championship lead.
However, rain is forecast to be in the vicinity of the race track, with potential thunderstorms later in the afternoon, which could alter the outlook of the race dramatically.
Norris and Vettel Surprise Performers
Mclaren's Lando Norris and Aston Martin's Sebastian Vettel both stood out in qualifying.
Norris, six times a podium scorer in F1, has battled tonsilitis over the last two weeks but still delivered impressive results.
In Spain, Norris would have made the top 10 in qualifying but for having his time deleted as he ran minimally past track limits.
Norris, 22, said: "It wasn't a perfect lap, but it was one which was good and the car's been feeling very good all weekend, I've been comfortable in it and I've been able to have confidence to do the laps when I needed to and so on, so I've been happy."
The Briton's result was in stark contrast to that of Australian team mate Daniel Ricciardo, who could only manage 14th, having crashed in second practice on Friday.
Over at Aston Martin, double Monaco winner Vettel arguably overachieved.
The quadruple world champion reached Q3 for the second time this season, with Lance Stroll down in 18th after major repairs to his car from FP3.
Vettel, 34, secured ninth on the grid, beating Alpine's Esteban Ocon, although the Frenchman may have been able to go faster without the late red flags.
The former Red Bull and Ferrari driver said: Overall, we're very happy. We got into Q3 and had a really good lap in Q2. In Q3, the first run was good so I think we are happy."
Vettel used clever strategy to gain positions in the 2021 race, his qualifying performance placing him well to try something similar in 2022.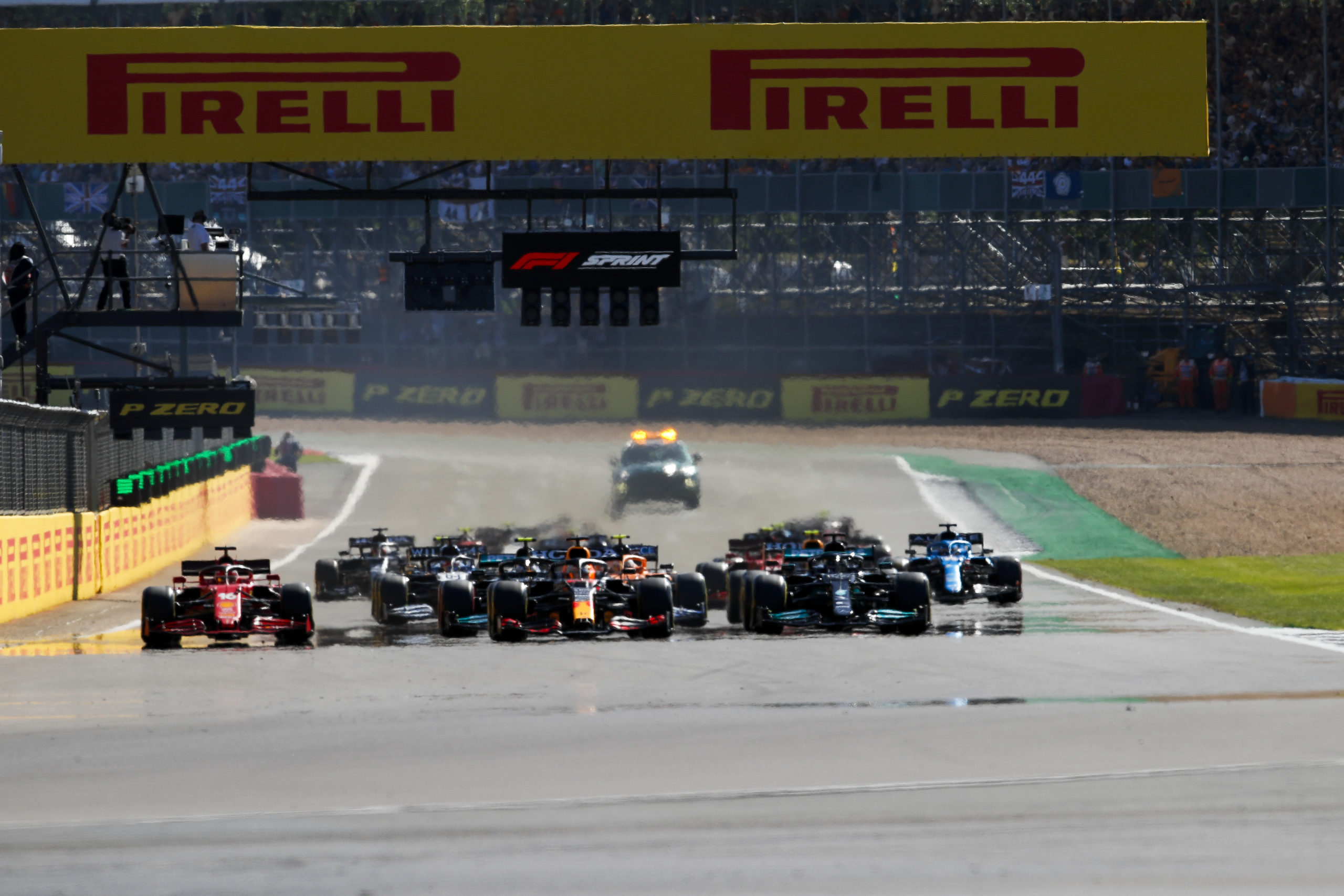 Formula 1 returns to the venue of the first ever ...