Carlos Sainz finished third in the 2023 Italian Grand Prix, delighting the Tifosi. Still, for a casual observer simply reading the results after the race, it would have looked like a ho-hum race dominated by Red Bull. As far as Spain's new 'Minister of Defence' goes, it was anything but!
First, after starting on pole, Sainz held off a determined Max Verstappen for 14 laps, before succumbing to the Red Bull's dominant DRS that saw Verstappen finally pass, then pull away from the Spaniard.
Then, with Sergio Perez looking to make it a Red Bull 1-2, Sainz once again defended doggedly, before his tires went off towards the end of the race, putting him into a late battle with his teammate Charles Leclerc for the final podium position.
Speaking in the press conference, Sainz found the funny side of his new title, saying "I'm happy to share Minister of Defence titles of Spain. We can be Minister of attack or defence. And yeah, it's a nice title, I find it quite funny when I see these memes out there. Then for Charles, no, I never felt too much of a risk. Obviously with a teammate you're always a bit more tense, a bit more space because it's the last thing you want in Monza in front of the tifosi, the two Ferraris to touch. But I think we had a tough battle. It was for an important position and we managed to keep it clean. And it was good fun. As I said, I had fun with Charles but I also had fun with with Max and Checo. I would have preferred to be the one attacking than the one defending, I'm not going to lie, but today was my turn to defend and I feel like I did that well."
No Team Orders At Ferrari
With Sainz and Leclerc going toe to toe in the closing laps, and almost coming together on several occasions, it seemed curious that there were no team orders in place, however, Sainz enjoyed the competition.
"I would have understand it both ways. If they would have given team orders, I would have understand. If I would have been Charles trying to get a podium, obviously I wouldn't have liked the team orders. So it completely depends on the position you're in. I'm not going to lie, it is very depending on a very subjective position or feeling. I think it was on the limit but it was nice teammates, hard, F1 battle you know, which in the end is also I guess what you guys want to see. And I had fun doing it."
"We obviously knew that the car that is in DRS is always going to be feeling like it's the quicker car – but we know that around this track, once you get into that DRS, you feel quicker and we knew that. But at the same time, we know we were both fighting for a podium in Monza. So, there was always going to be a bit of a fight, a bit of a battle. In the end, we kept it clean. There were a couple of nice moves here and there, tight battles."
"P3 in Monza in front of the tifosi is as good as it can get – at least for this weekend, because clearly Red Bull were, in the end, quite a bit quicker than us today, as we expected. It was a day to try and I tried everything I could to keep them behind, especially that first stint in front of Max. It probably nearly cost me a podium, because it meant that I was wearing a lot my tyres and using the tyres more than probably what I would have liked, and making me very vulnerable towards the end of the stints, and always under a lot of pressure by Max first, than Checo, than Charles. In the end I could make it on to P3 because we made it – but it was a tough one. A very tough one."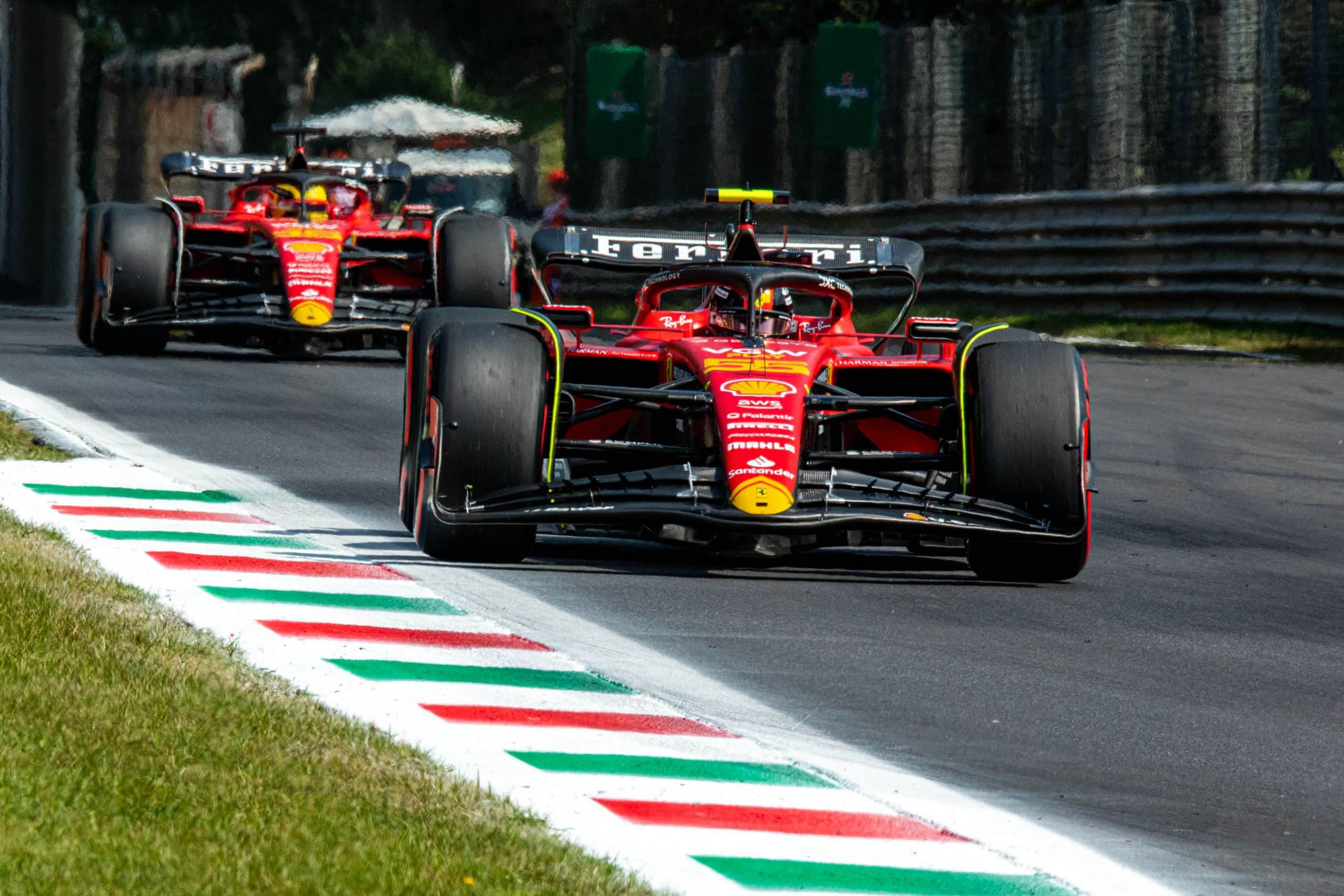 Tyre Management and DRS
At the 'Temple of Speed' tyre management is so important, but with DRS playing such a pivotal role, Sainz found it hard to defend his lead when his tires degraded from lap 12 on.
"I felt like I had fairly under control but then I think I… around lap 10 to 12, I started filling the rear left tyre giving up a lot,  like a lot earlier than I would have expected. At that point, I realised I had used my tyres too much and probably to keep Max behind,  I had worn that rear-left tyre too much and that I was going to suffer a lot for the rest of the race because it was going to probably make me box early into a hard tyre. And then the second stint was going to be very long. It's exactly what happened and my feeling was correct. But yeah, honestly, I didn't expect to degrade so much but it was clear that I was pushing very, very hard to keep them behind. Probably harder than what the car, or what I should have done."
"I've had it before, in places like Austria or Canada where, once you get into a DRS, you can manage the tyres a bit better because they pull you on the straight and then you can control the exits and the traction and the medium-to-high speed a bit more. And today I never really had the chance to to feel that, and I had to push quite a lot in the corners, to try and keep that gap and defend into Turn One, and in the end, it was just never possible for me to manage those tyres. It nearly cost me, as I said, the podium, but, as I said today, I didn't want to go home with a feeling that I haven't tried, and I didn't try to win, and stay ahead. I was committed to trying, and to make sure I was going to use all the life of those tyres to try to stay ahead. Nearly managed to do that in the first stint, but in the end, the stints are just a bit too long for us right now."
"If you compare us to Mercedes and other teams, it looked like we did have some decent pace this weekend. If you compare us to Red Bull, they were clearly quicker for me, especially from lap five, lap six once the tyres coming to temperature and you're driving on a hotter tyre and with less grip than the first five laps when the tyre is new. There is where you clearly feel that the Red Bull can make a difference and can either manage more but keep a good pace or they can either just push more for a faster pace and deg less. It's difficult. We are trying to find the solution and the way forward. I do believe a lot of is still aerodynamics and we still need to keep working on our aero package for next year. For this year, I think it's what we have and  that's why there are so dominant in the races."
Carlos Sainz Best Weekend In F1?
It was an impressive weekend from Sainz, who was fastest in both FP2 and FP3 before taking pole, then driving a determined race to score his first podium of 2023, making it arguably the best race weekend of his F1 career to date.
"I've done other strong weekends in F1 that maybe got a bit unnoticed when I was in the midfield where I felt I extracted everything out of the car. Of this year, for sure, of my Ferrari career probably. Of my F1 career, it's a tough call but I felt like this weekend I was on it from the beginning, comfortable with the car especially over one lap. I felt really, really at home and I could put together strong laps yesterday and snatch pole but today was again a bit tougher and it shows me exactly where we need to keep working on and where I will put my head down and keep pushing the team to keep working on our tyre understanding and our race pace understanding," concluded Sainz.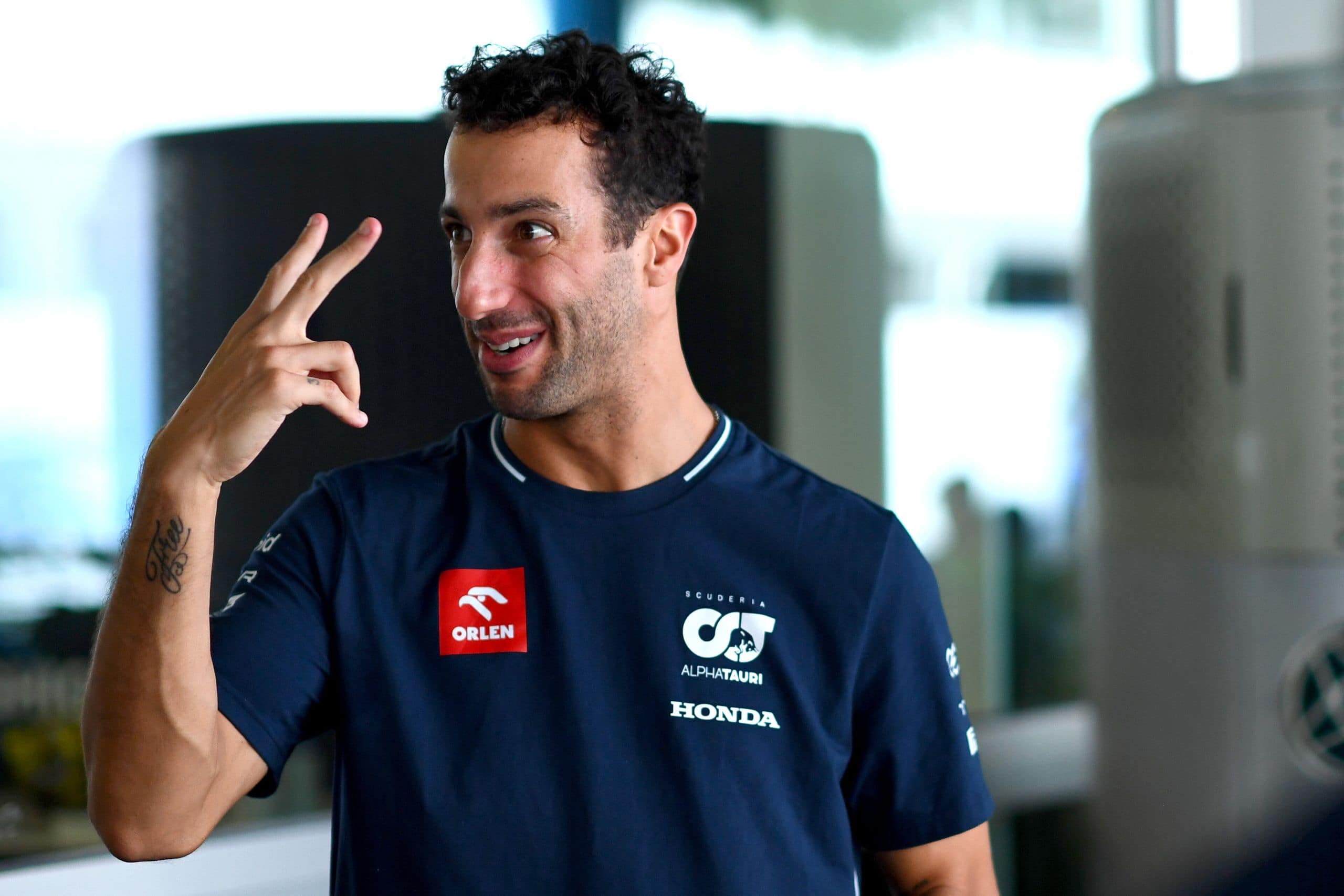 Daniel Ricciardo could miss up to two more grands prix, ...