Streets of Speed and Surprises
The 2022 Formula 1 season makes the trip to the edge of the Caspian Sea and the streets of Baku, Azerbaijan, with Sergio Perez well and truly in the title hunt after his win in Monaco.
Perez more than earnt his victory in the Principality, despite Jos Verstappen's claims that Red Bull failed with their strategy, and enters this weekend just 15 points behind his Dutch team mate Max Verstappen.
Verstappen, 24, has yet to finish on the podium in the streets of Azerbaijan's capital city, after a tyre failure just five laps from the chequered flag whilst leading the race.
That, along with Lewis Hamilton's "brake magic" error allowed Mexican Perez to take his first win for Red Bull.
The 32-year-old now returns to Baku off the back of his second victory for his team, with his name firmly in the championship chat.
If the five races held on the Baku streets have taught us anything, it is that surprises are plentiful.
Ricciardo won from 10th position in 2017, Bottas looked set for victory before a late puncture in 2018 and Charles Leclerc took pole position last year for Ferrari.
The Safety Car has been deployed in three of the five races in Baku, with one generally leading to another.
The 6.003km circuit is iconic for the section that squeezes past the castle, but also for its combination of low-speed corners and flat-out charges that link them all together.
This combination will present a conundrum for the engineers, especially with the 2022 car designs not having run this layout before.
Williams' Head of Vehicle Engineering Dave Robson said: "There is a temptation to significantly lower the downforce and drag level for this circuit but how far it is correct to do so will depend on a range of risk-reward trades."
Catastrophe is never far away, even for the most in control driver, as the some of the very best have tripped up at various parts of the layout.
The castle section has regularly caught out drivers, like it did with Leclerc in 2019, when the Monegasque looked set for pole position. The hard-braking for turn 15 also presents a challenge, with multiple drivers pushing the limits too far.
Baku could throw up anything and everything this weekend, on a circuit where no driver has won more than once.
Could Perez take consecutive wins?
Sergio Perez is seeking a career first in two ways, as he chases consecutive wins within a season for the first time and back-to-back wins at the same circuit.
And Mexico's most successful F1 driver could be in the right car to follow up his previous successes.
The Red Bull has, in 2022, shown prodigious straight-line performance coupled with a liking for a lower-downforce setup, which maximises the car's efficiency and aerodynamic performance.
However, the power of DRS is smaller when the car runs with low wings, which could put Ferrari into a strong position in qualifying on Saturday, with Charles Leclerc and Carlos Sainz able to carry more downforce for the slower sections.
Think back to Jeddah, where Perez took a surprise pole, the Ferrari was every bit as fast as the Red Bull when Leclerc and Max Verstappen were duelling for the win.
Dutchman Verstappen won the game of DRS chicken to emerge victorious and we could see something similar in Baku, especially if a Ferrari finds itself leading the way.
Championship leader Verstappen has something of a score to settle in Azerbaijan, after his dramatic exit from last year's race.
The 24-year-old said: "I'm looking forward to returning to Baku, we have some unfinished business there after last year."
Verstappen leads the championship by nine points from Leclerc, having won three of the last four races, but Perez, off the back of his Monte Carlo triumph and with a new Red Bull contract in his pocket, could be the man to beat on a track where he has found regular success in previous seasons.
Mercedes To Feature or Flounder?
Mercedes have won three of the five races in Azerbaijan, making them the most successful team on the streets of Baku.
But if they are to continue their winning record in the Land of Fire, the Brackley team are going to need to find a balance between their apparent straight-line performance, which emerged in Barcelona after the team appeared to solve their porpoising issues, and the struggles in low-speed corners.
Monaco was tough for the Silver Arrows, but George Russell still managed to retain his record of finishing in the top five at every race in 2022.
Ahead of the weekend, Team Principal Toto Wolff said that Mercedes "need to be maximising every opportunity we can to stay in the fight."
Wolff added: "With another street circuit in Baku up next, the team has been working flat-out to analyse those two races and identify the areas we can innovate to push us forward."
The W13 has been kind to its tyres on the whole this season, which could hurt them in Baku, where tyre temperature can be difficult to generate due to the low steering angle input's, meaning heat soak from the brakes is important.
If the Mercedes car's are potent on the straights, a chaotic race which stops the field spreading too much, could leave them in a very handy position, or they may well find themselves sliding around on cold tyres.
Session Times and Tyres
Below are all the session times you need for the Azerbaijan Grand Prix weekend.
| | | | |
| --- | --- | --- | --- |
| Session | Local (AZT) | UK (BST) | Europe (CEST) |
| Practice 1 (Friday) | 15:00 – 16:00 | 12:00 – 13:00 | 13:00 – 14:00 |
| Practice 2 (Friday) | 18:00 – 19:00 | 15:00 – 16:00 | 16:00 – 17:00 |
| Practice 3 (Saturday) | 15:00 – 16:00 | 12:00 – 13:00 | 13:00 – 14:00 |
| Qualifying (Saturday) | 18:00 – 19:00 | 15:00 – 16:00 | 16:00 – 17:00 |
| Azerbaijan Grand Prix (Sunday) | 15:00 – 17:00 | 12:00 – 14:00 | 13:00 – 15:00 |
Pirelli have brought the same compound of tyre as they did in 2021, with the C3, C4 and C5 in action this weekend.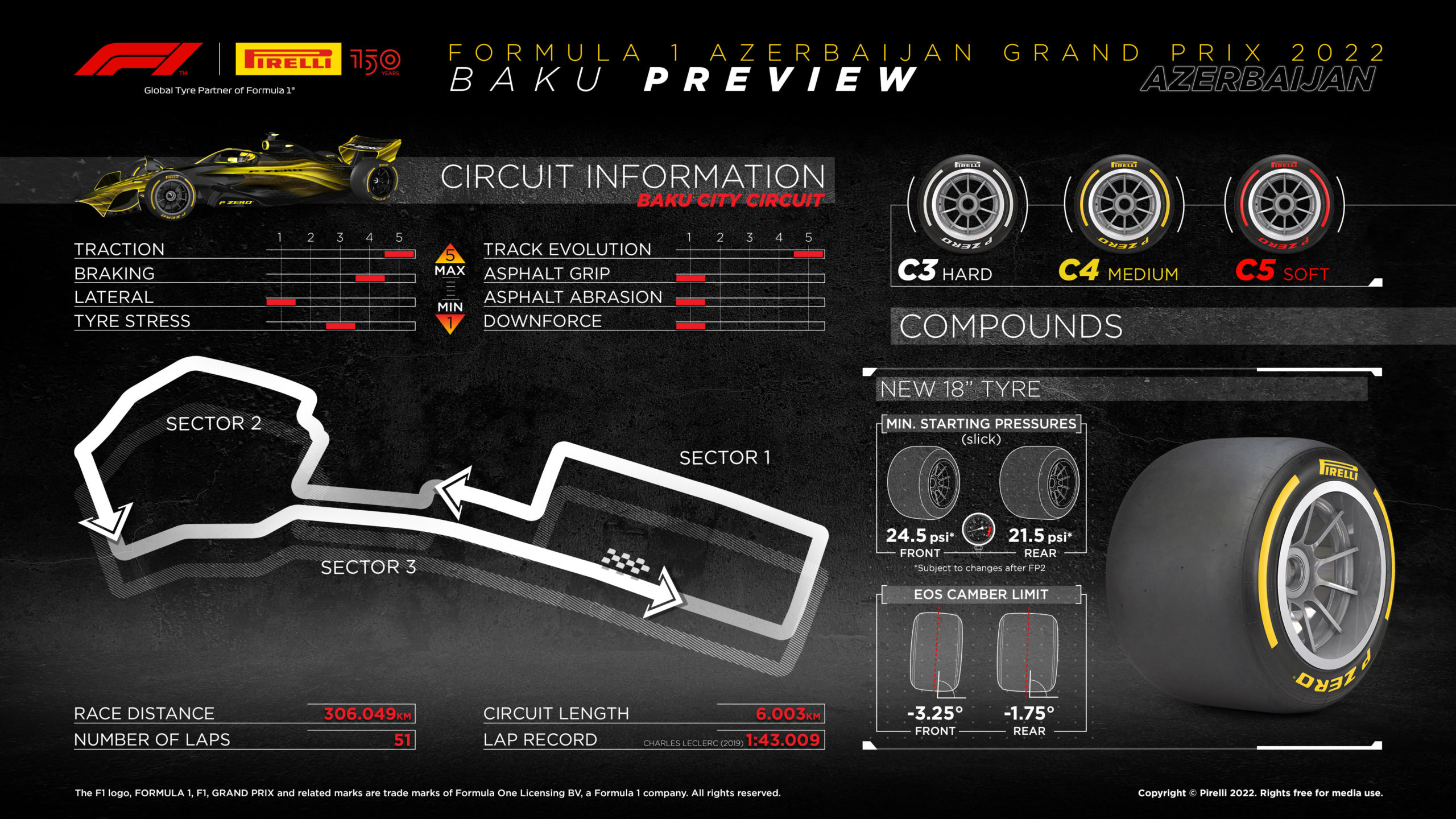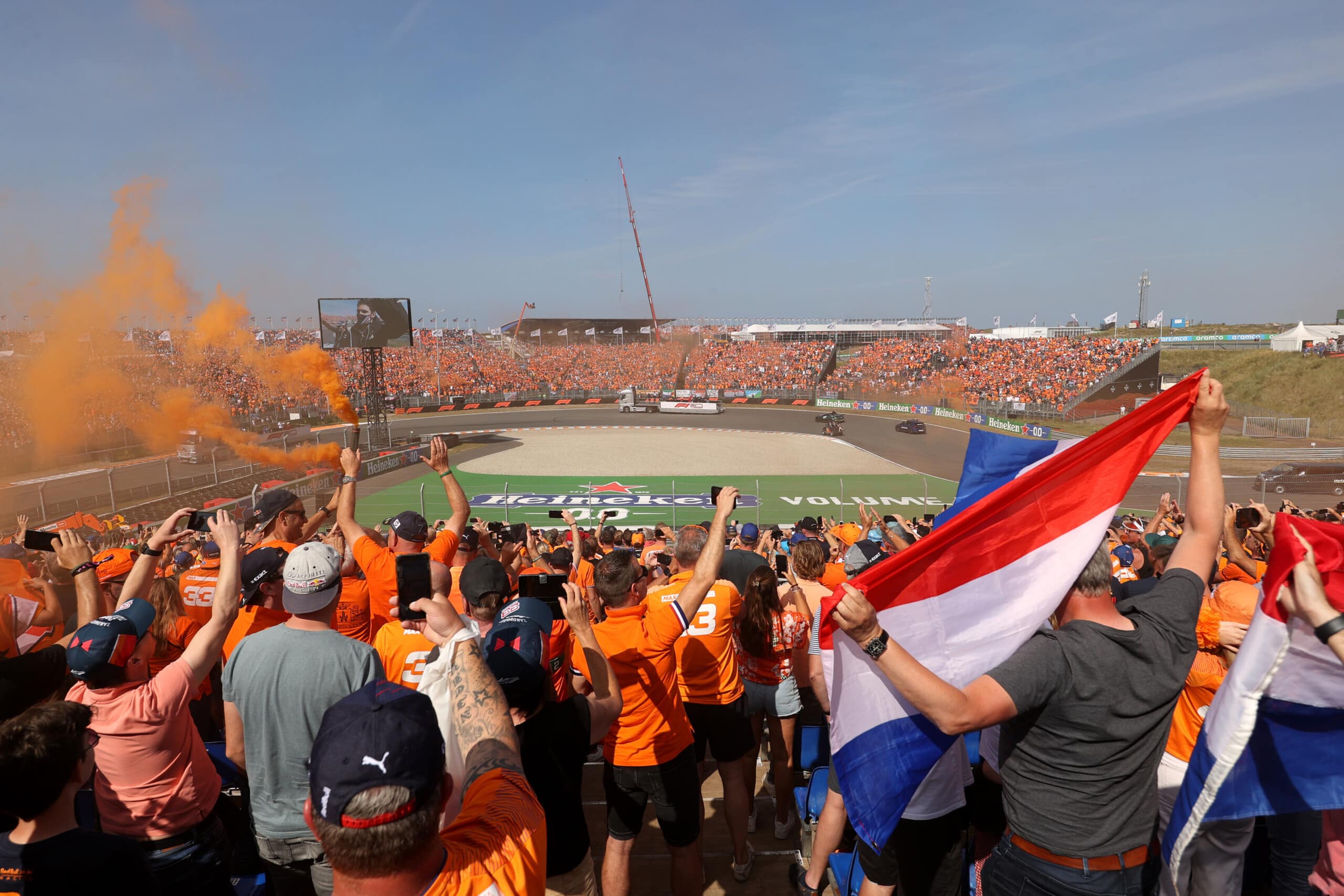 Formula 1 has today announced the Dutch Grand Prix will ...