2023 Saudi Arabia Grand Prix: Qualifying Tyre Analysis – Red Bull's Sergio Perez will start tomorrow's grand prix from pole position, courtesy of today's best qualifying time of 1m28.265s on the P Zero Red soft C4 tyre. Ferrari driver Charles Leclerc was 0.155s slower but is affected by a 10-race grid penalty. As a result, Aston Martin's Fernando Alonso will line up alongside the Mexican on the front row, thanks to a time of 1m28.730s.
The second row will be made up of Mercedes driver George Russell, who set a 1m28.857s, and Ferrari's Carlos Sainz on a 1m28.931s. All the drivers in Q3 used new sets of soft tyres.
Tonight's qualifying session got underway at 20:00 local time, with track temperatures between 30.3 and 32.8°C, slightly lower than those seen in FP2 yesterday. In FP3, which got underway at 16:30, the asphalt temperature was around seven degrees warmer than qualifying. Ambient temperaturse ranged from 28.7°C in the early afternoon to 26.7°C in the evening.
The earlier FP3 session was used mostly to simulate qualifying. Red Bull was again fastest, with Max Verstappen stopping the clocks with a 1m28.485s on a new set of soft tyres, and Perez behind him with a 1m29.098s on used tyres. Alonso was third, 0.998s slower than the best time.
The Pirelli Pole Position award was given to Perez by French former footballer Patrice Evra. Evra was one of the best left backs in Europe during his career, playing amongst other teams for Manchester United, with which he won five Premier League and one Champions League trophy, while he triumphed in Serie A twice with Juventus. Evra took part in two World Cups and three European Championships as part of the French national side.
Mario Isola, Head of Motorsport
"We saw an interesting qualifying with plenty of memorable moments. The C4 also showed itself to be a very versatile tyre in the final session that determined the grid, both on a flying lap as well as over longer runs. Q1 demonstrated how it was possible to have a good level of grip also on the second and third attempts with the same set of tyres, using cool-down laps in between. The opportunity to have a tyre with these characteristics already presented itself on certain circuits last year, and we've seen that once more here today. On an unusual track like Jeddah, the method of preparing the tyres varied from team to team: another element that underlined the particular characteristics of the C4 combined with those of the different teams using them. From a strategy point of view, all the data collected so far this weekend confirms a one-stopper as being the quickest option, with only small differences between the three possible combinations. This is also bearing in mind the high likelihood of neutralisations and possible stoppages, from what we have seen at the two previous grands prix held here to date."
2023 Saudi Arabia Grand Prix: Qualifying Tyre Analysis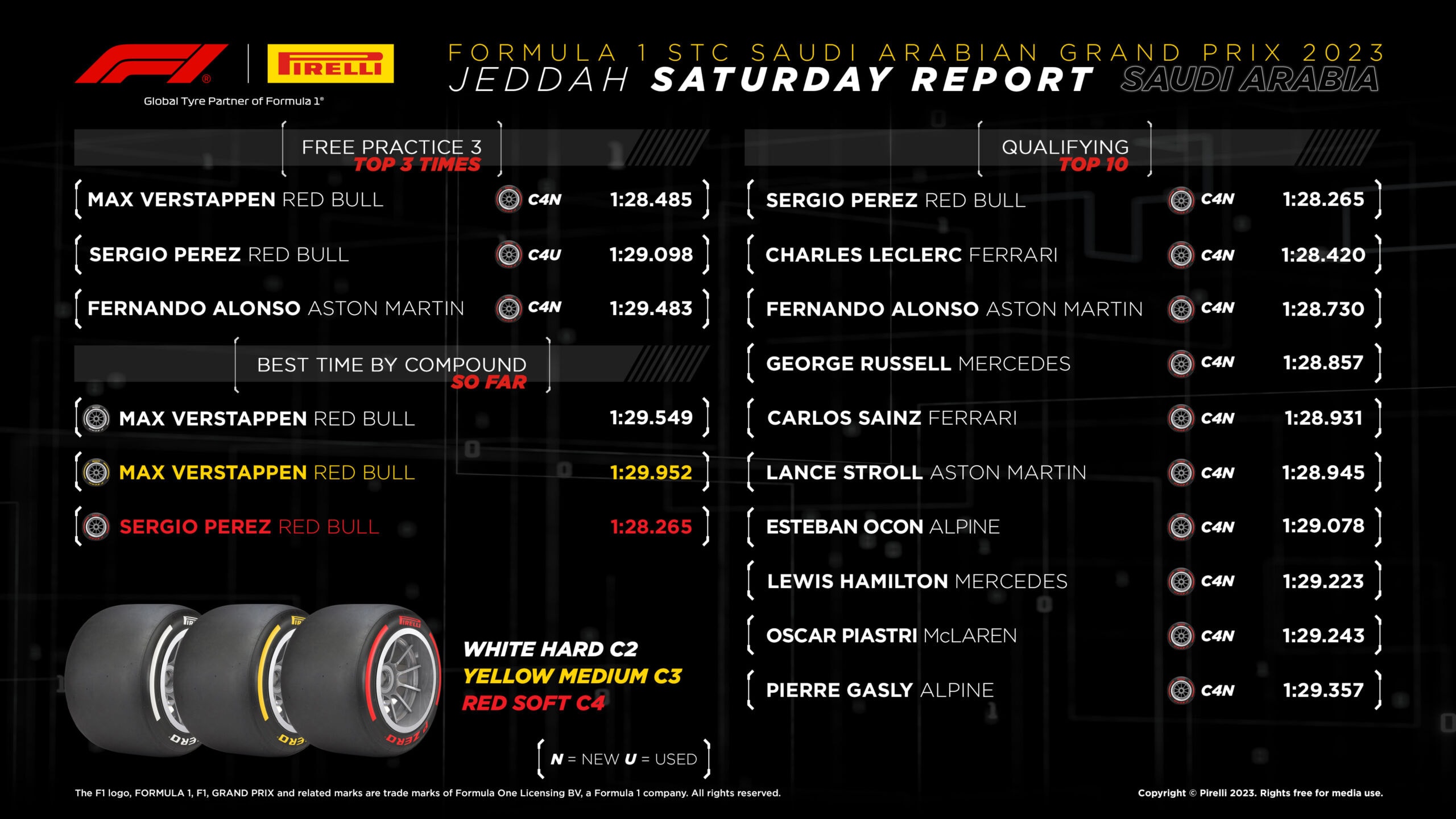 Possible Race Strategies
The fastest strategy is set to be a one-stopper. Simulations show the combination of P Zero Yellow medium C3 and P Zero White hard C2 to be slightly quicker than the other two options available, even though the differences are relatively small. To run this optimal strategy, the pit stop window is between laps 18 and 25, while the pit stop window for a soft-hard strategy is between laps 13 and 20. For a medium-soft strategy, the time to change is between laps 27 and 34.
The only two-stopper to consider would involve starting on the soft and then swapping to medium between laps 10 and 15, before going back onto soft with a second stop between laps 32 and 38.
On a track like Jeddah there's always a high risk of neutralisations and stoppages, as Perez will well remember. Having taken the first pole of his career last year, he pitted a lap before the safety car came out in the race – which cost him the chance to stay in the lead.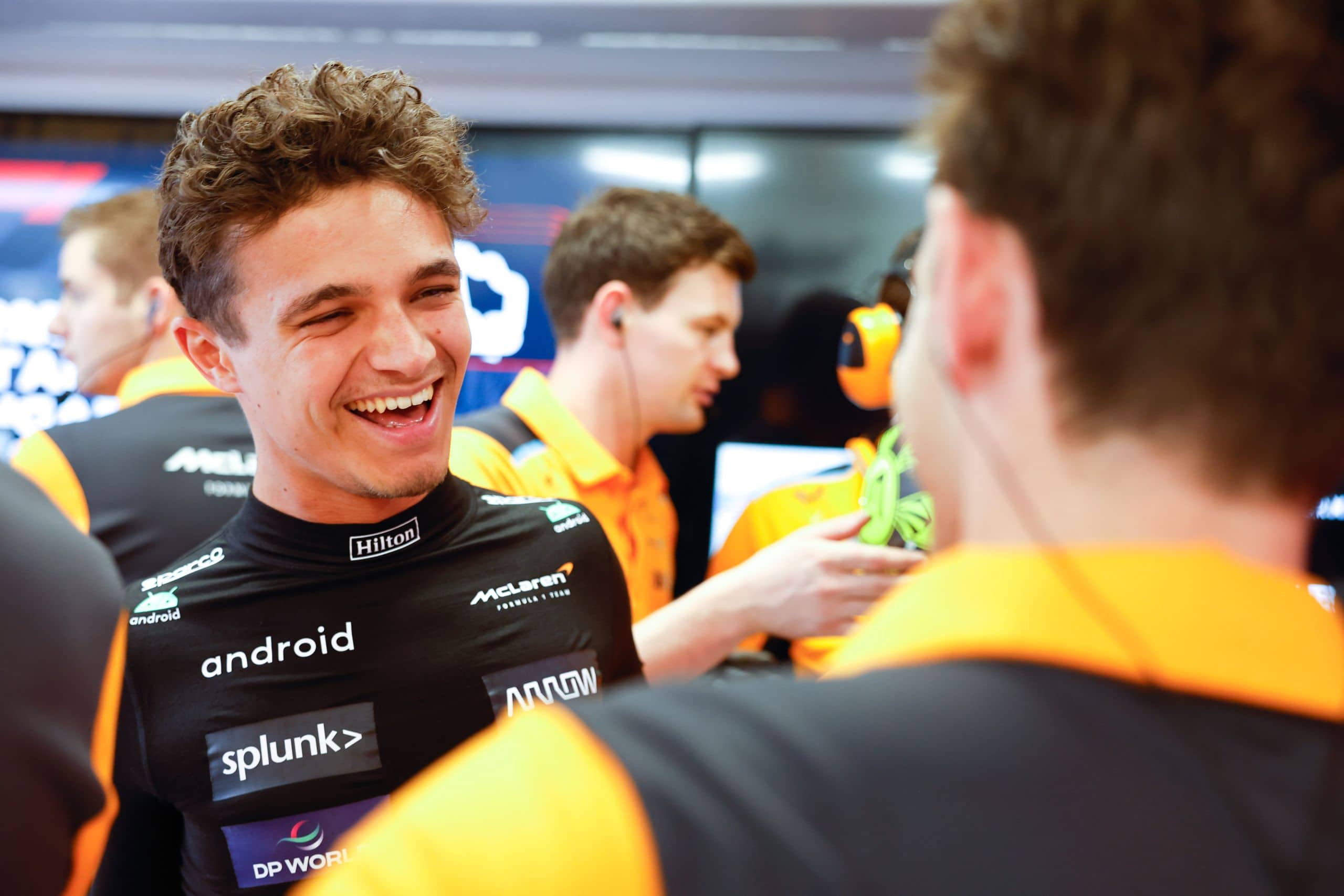 In the most recent times, Zak Brown, the top boss ...