2023 Miami Grand Prix: Qualifying Tyre Analysis – Red Bull's Sergio Perez claimed pole for the Miami Grand Prix with a time of 1m26.841s on a new set of P Zero Red soft tyres: a benchmark that was nearly two seconds faster than last year's pole time. Aston Martin's Fernando Alonso was three-tenths slower in second, while Ferrari's Carlos Sainz was third on a 1m27.349s, ahead of Haas driver Kevin Magnussen. Alonso and Magnussen set their best times on a used set of soft.
Ferrari driver Charles Leclerc, who claimed pole in Miami last year, lost control of his car in the closing minutes of Q3 and hit the Turn 7 barriers: the same part of the track where he had a problem in FP2 yesterday. The session consequently finished early, as there was no longer enough time for the other nine competitors on track to set a flying lap.
Red Bull's Max Verstappen was the fastest driver on track today, even though he will start tomorrow's race from ninth place on the grid. The reigning world champion set the best time of the day in Q2: 1m26.814s. Verstappen was also fastest in FP3 today with a time of 1m27.535s: 0.406s quicker than Leclerc in second, while Perez was third on a 1m28.050s. The teams mainly ran using the soft tyre in FP3, with grip consistently improving.
The C4 proved strong performance even after several laps on the smooth asphalt of the Miami Autodrome.
In FP3 (from 12:30 to 13:30) track temperatures peaked at 54 degrees centigrade with 33 degrees ambient. Conditions were cooler later in the afternoon with a minimum track temperature of 39 degrees, while ambient temperatures varied only by a few degrees.
The Pirelli Pole Position Award was given to Perez by DJ Tiësto. The electronic dance music producer and Grammy Award winner was classified at the head of the 'Top 100 DJs' ranking by DJ magazine for three consecutive years. His latest album is called 'Drive'.
Possible Race Strategy
As was the case last year, the fastest race strategy is a one-stopper, starting on P Zero Yellow medium and switching to P Zero White hard between laps 12 and 20. A two-stopper is also worth considering: starting on the medium, switching to hard between laps 10 and 16, and finishing on the soft from laps 35 to 43. An alternative could be with the soft for the last 11 to 16 laps of the race. The teams will have to consider the strong possibility of a safety car, given that the last Miami Grand Prix was stopped twice as well as the weather. with a high chance of rain also during the race tomorrow.
Mario Isola, Pirelli Head of Motorsport
"Qualifying was both exciting and dramatic, with a distinctly Spanish-speaking flavour to the top three: Sergio Perez, Fernando Alonso and Carlos Sainz. As expected, pole was a lot faster than last year when Miami made its debut, with an improvement of nearly two seconds (1.955s to be exact) that might have been even bigger had the final runs of Q3 taken place. The softs showed good performance: they were quick not only on the first flying lap but were also able to recover grip after one or two cool-down laps, giving drivers the chance to improve their positions. The data collected so far suggests that a one stopper from medium to hard is the best theoretical way to run the race. The slight shortening of the pit lane opens up the possibility of a two-stopper, but we've also seen a bit of graining on the softs over long runs. This is the case if the weather remains stable, but forecasts indicate that rain could come into play on Sunday, either before or during the race. And as everyone knows, if it rains, anything can happen…"
2023 Miami Grand Prix: Qualifying Tyre Analysis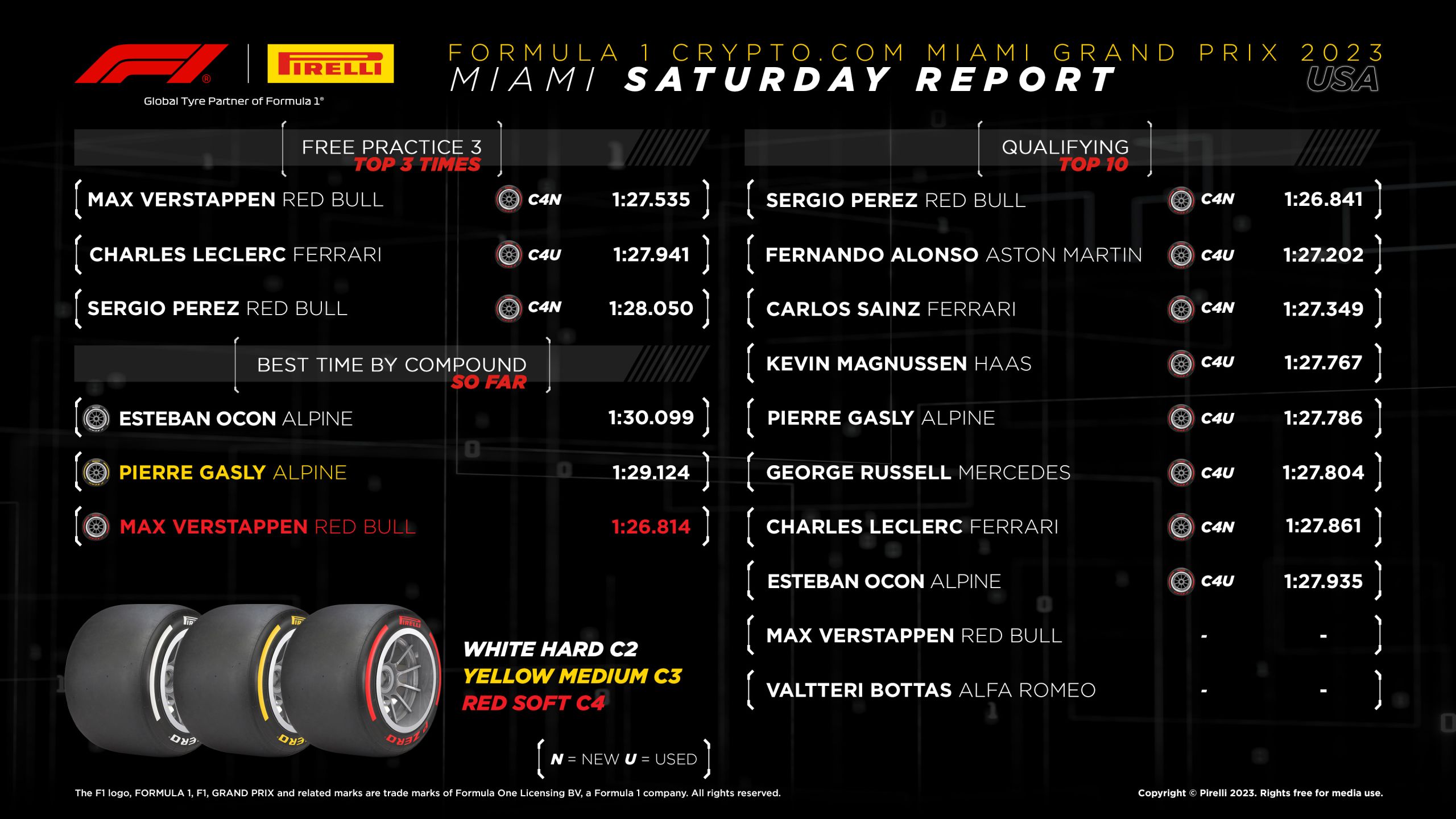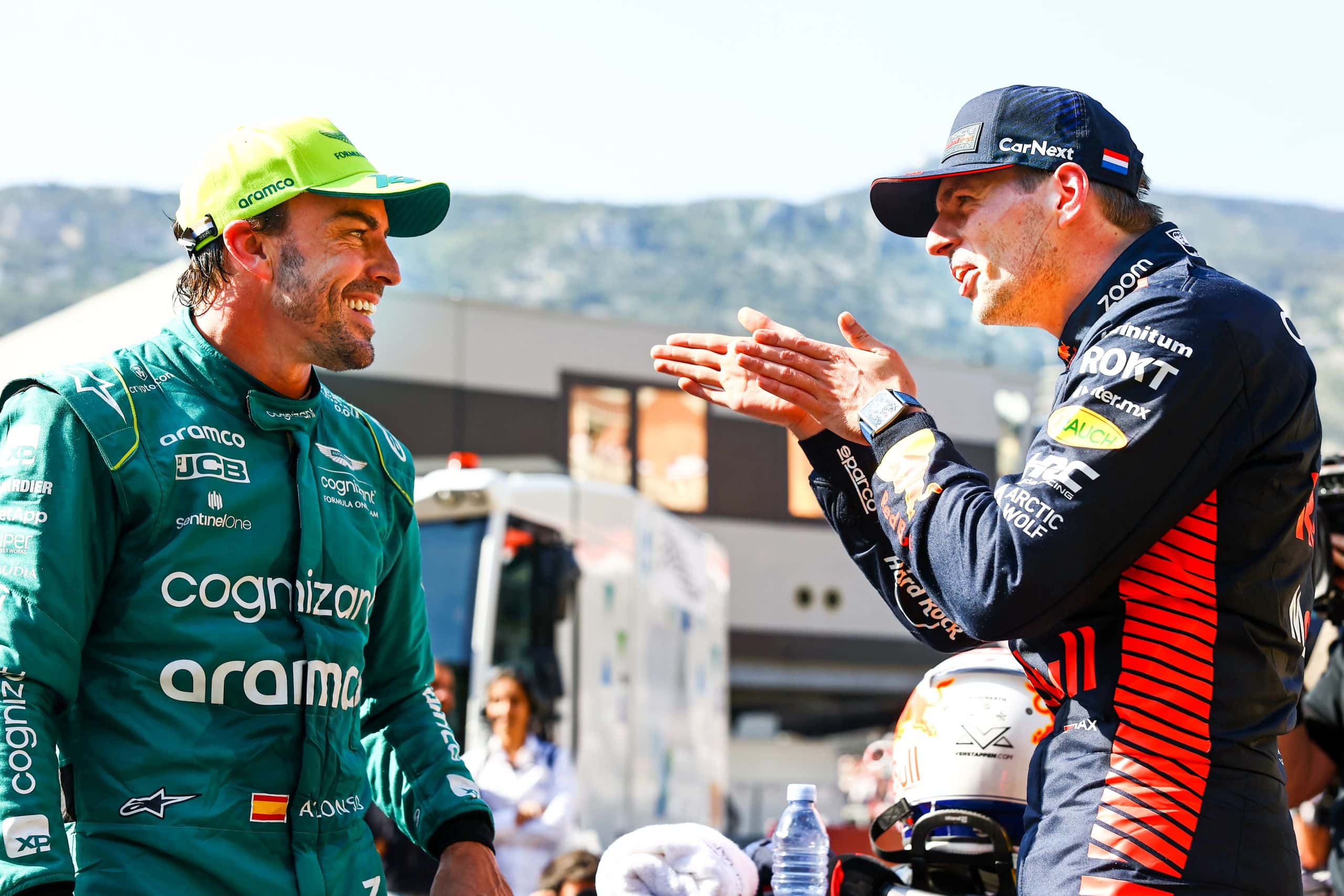 Max Verstappen has snatched a last-gasp pole position at the ...