2023 Canadian Grand Prix – Sunday Tyre Analysis: Max Verstappen won the FORMULA 1 PIRELLI GRAND PRIX DU CANADA 2023. It was his 41st victory, which puts him level with Ayrton Senna in fifth place on the all-time winners list which is headed by Lewis Hamilton on 103.
This was Red Bull's 100th win from 355 Grand Prix starts. Its first dates back to 19 April 2009 when Sebastian Vettel won in China. Red Bull is the fifth team to have reached a century of wins in a category headed by Ferrari (242), followed by McLaren (183), Mercedes (125) and Williams (114).
Of the top ten finishers, six drivers stopped twice with only four making just the one stop. However, it is worth noting that Perez's second pit stop, just two laps from the end was carried out purely to allow him to pick up the extra point for setting the fastest race lap.
16 drivers opted to start on the Mediums: three of the remaining four – Perez, Bottas and Magnussen – chose the Hard tyre, while only Gasly preferred to start on the Softs.
As expected, the C5 was the least used compound in the race, completing just 12 laps: ten of those were in Gasly's first stint and two with Perez at the end of the race.
The most used compound was the C3 (70.4% of all laps completed) but a significant number of laps (28.7%) were run on the C4.
In terms of stint length, the standout performance came from Albon, who is no stranger to this feat, running 58 laps on a set of Hards. He finished in an impressive seventh place. Leclerc drove the longest stint on Medium tyres doing 39 laps.
Mario Isola – Pirelli Motorsport Director
"It was a very interesting race, the most closely balanced so far this season, as can be seen from the results sheet, with four drivers from four different teams all finishing in the space of under 20 seconds. Yesterday's prediction that a two-stop strategy was the best option was confirmed as the top three all went down this route, even if they each managed it in different ways. However, the one stop proved to be a valid alternative, as demonstrated by the two Ferrari drivers: Leclerc and Sainz went to over half-distance on the Mediums without any significant degradation in terms of tyre performance, a sign that their car is making progress on the set-up front.
"Temperatures were lower today than on Friday and that contributed to reducing the risk of overheating the tyres. Another factor that played an important role in tyre management was the fact the track rubbered-in very quickly during the race, even though it was initially very dirty after it had rained for almost all of Saturday.
"Personally, it was an honour for me, on behalf of Pirelli, the race's Title Sponsor, to hand over the winning constructors' trophy to Adrian Newey, someone who has contributed so much to the history of this team and of our sport and indeed, who continues to do so, on the very day when Red Bull celebrated its 100th win."
2023 Canadian Grand Prix – Sunday Tyre Analysis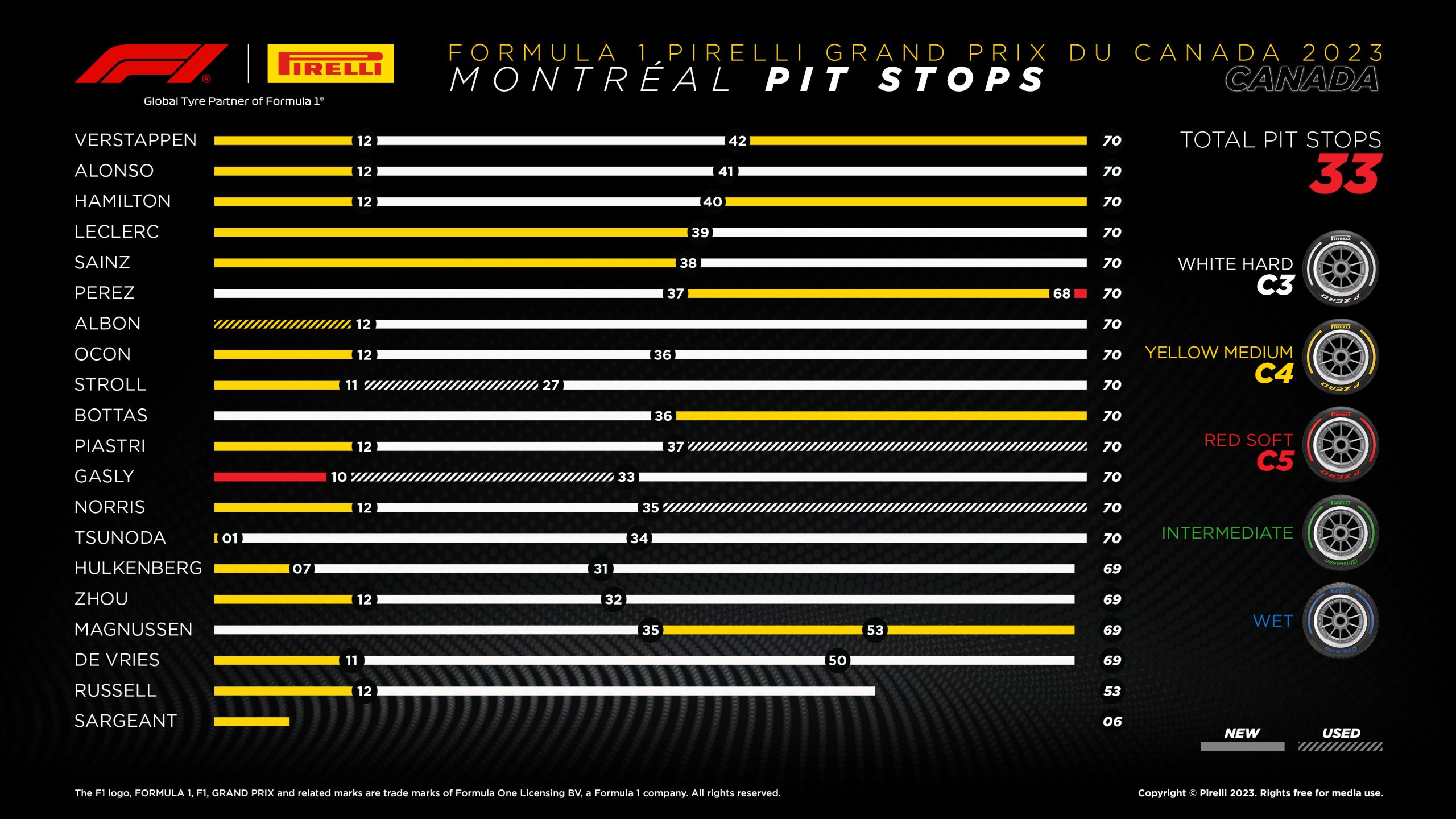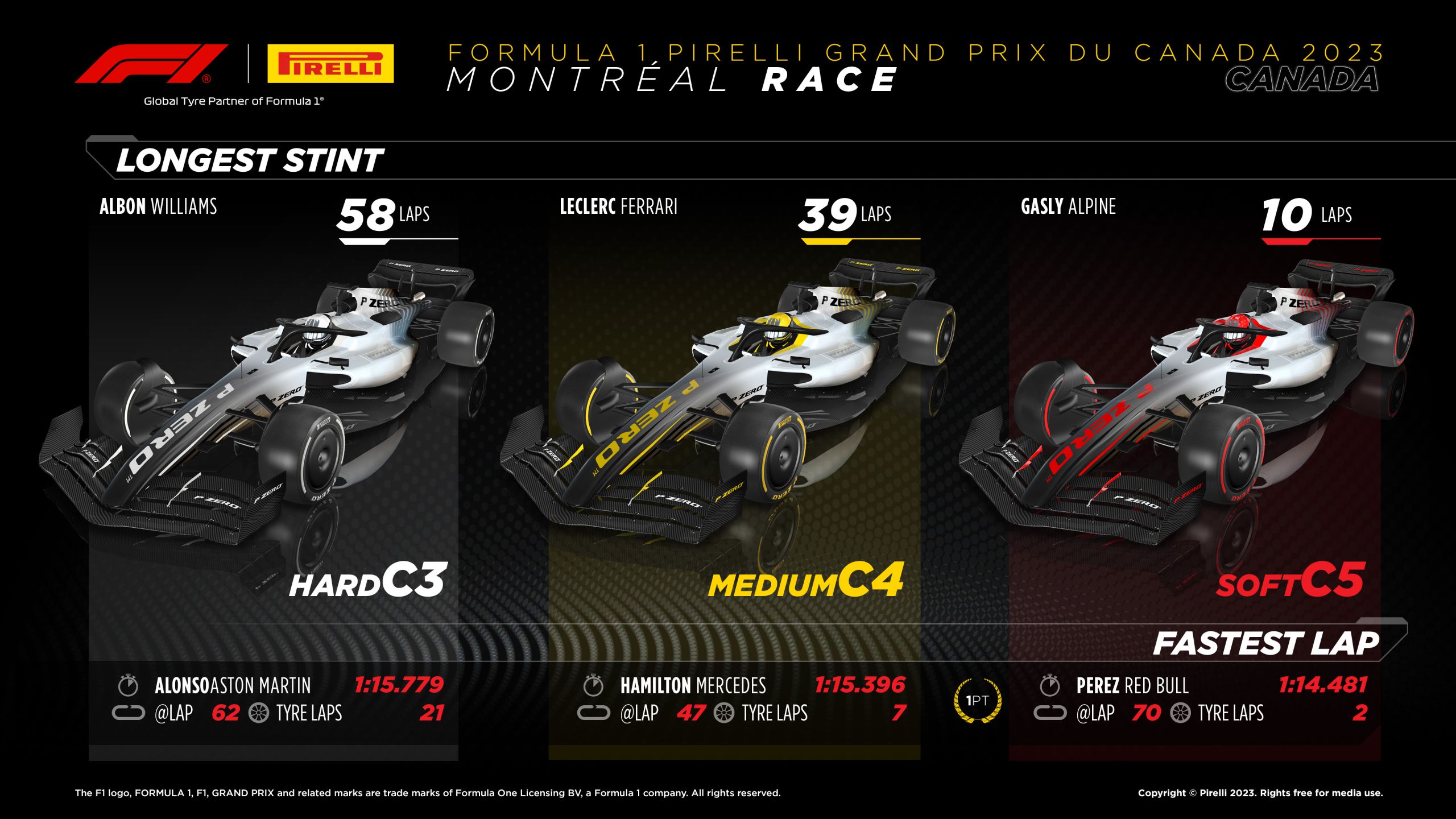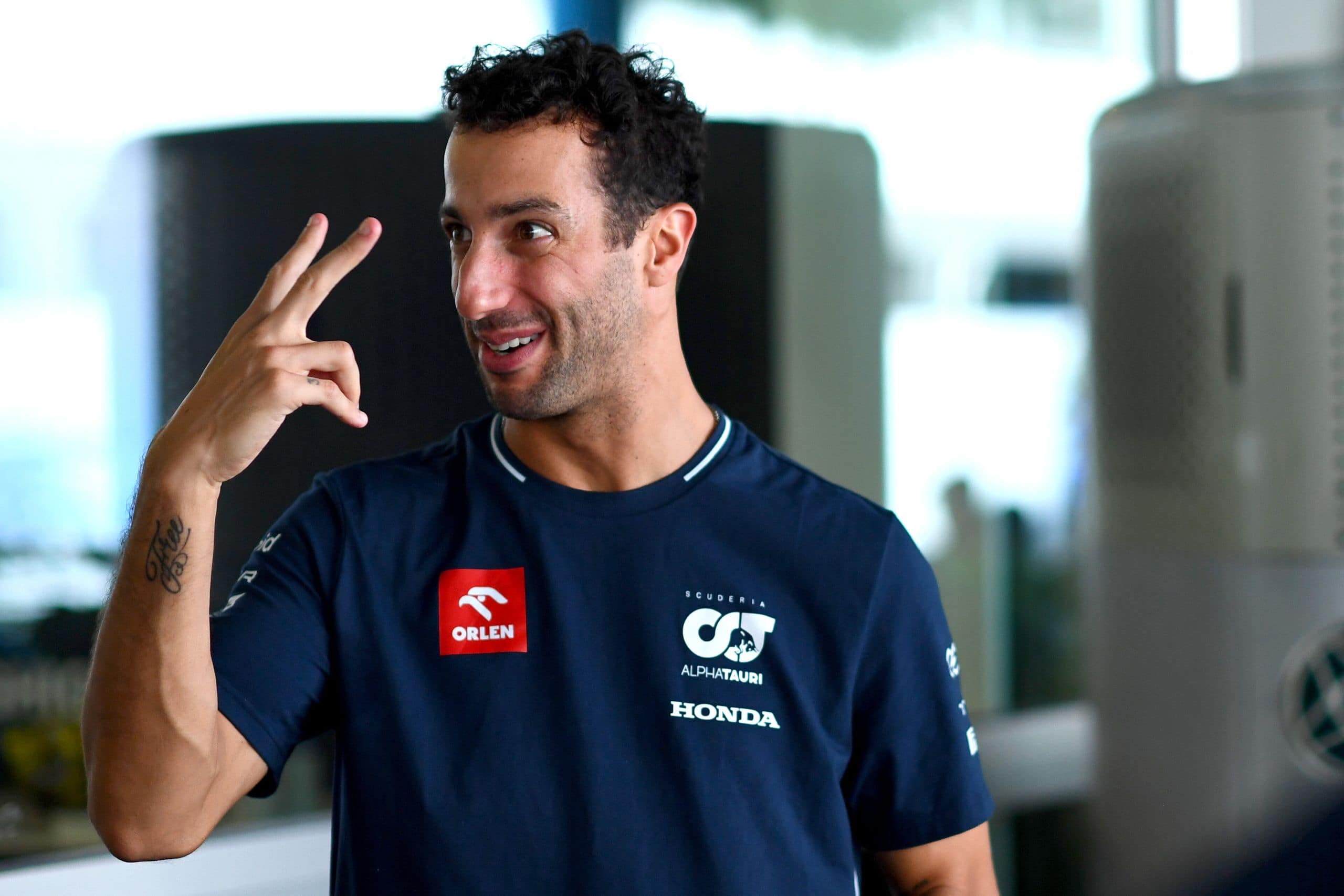 Daniel Ricciardo could miss up to two more grands prix, ...