Max Verstappen has won the 2019 German Grand Prix in emphatic fashion, mastering the wet conditions to take his second victory of 2019.
Verstappen Stays Calm, Seals Win
The Aston Martin Red Bull Racing driver triumphed at the end of one of the most thrilling and spectacular races of the past few years. It featured a chain of incidents and accidents that had the crowd on its feet for most of the race. And what a crowd – 61,000 thousand today at the Hockenheimring, with 153,000 attending over the whole weekend from Thursday to Sunday.
"To come out on top after a race like that is amazing and for the Team to win for the second time this year with Honda is incredible. I don't know exactly what happened at the start but it seemed that everyone on the right side of the grid had a bad getaway and low grip. I had a particularly poor start when I released the clutch but stayed calm and followed the Mercedes cars closely. It was hard to pass due to the dirty air and the tyres started to struggle as the track dried. From there onwards we always made the right decisions. Even though the first slick tyre was maybe a bit hard and I had a few moments, with a 360 spin, I luckily kept going. Once I was back on the Intermediates and in the lead I was able to control the race and really show the pace of the car. Once you are ahead you can take a few less risks and everything feels a bit nicer. The conditions were very tricky and it was all about survival. It was definitely not an easy race and very tricky with the changing conditions. The Team made all the right calls. They were giving me the right information and keeping an eye on all the other teams and sector times. They were really on top of things and everyone worked so well together. It has been one of my most difficult races and it is great to come out on top. For sure I enjoy driving in the wet but also you need a good car for that. You can find a bit of pace in yourself but today we had both things right and I'm very happy with the result. The orange fans were standing up, especially when I was in the lead which was also amazing to see. A big thank you to the whole Team and it has been a crazy but amazing Sunday," said Verstappen.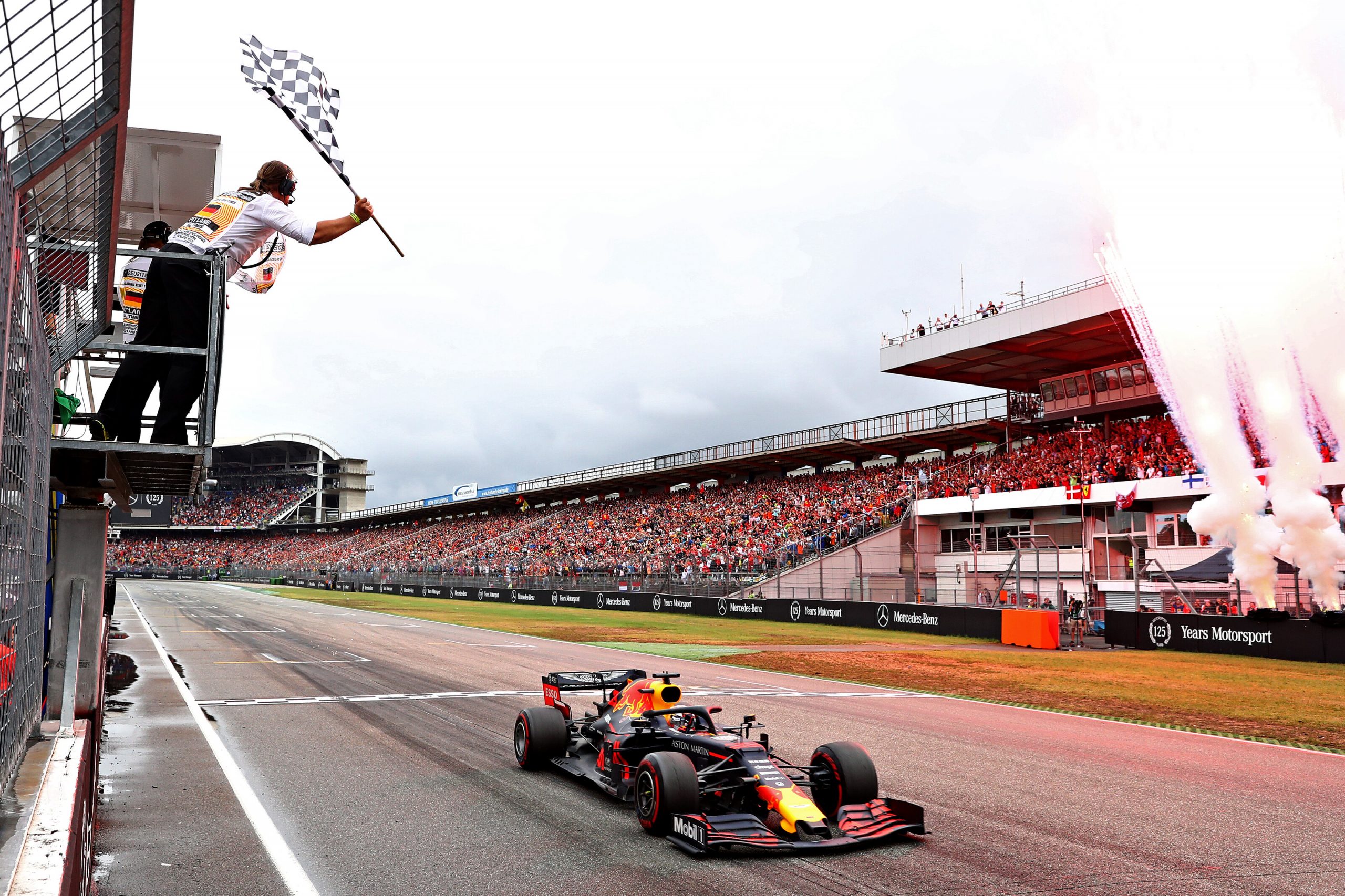 Sebastian Vettel Fights Back
Sebastian Vettel certainly gave his home crowd something to cheer about, as he staged an incredible climb up the order to go from 20th and last on the grid to second at the chequered flag.
"That was quite a race. I enjoyed it even though it was a tricky race, something of a lottery. It was a very long one and I don't even remember all of it. It was very tough at times, especially on the intermediates in the slippery conditions. I made up a lot of ground immediately after the start and in the first couple of laps, even though it was difficult to see. After that, it was quite hard to get into a rhythm as I did not feel so comfortable on the intermediates and their degradation was quite high. It was hard to tell if the lack of grip was because of the track being greasy or because the tyres were going off. To be honest in these kind of races you can't count on anything until the last couple of laps. I think I was about P8 when the last safety car came out. There are so many decisions to make, but overall we stayed on track and in the race. In mixed conditions when it was starting to dry on the slicks I felt comfortable and that's when we made up the most ground," added Vettel.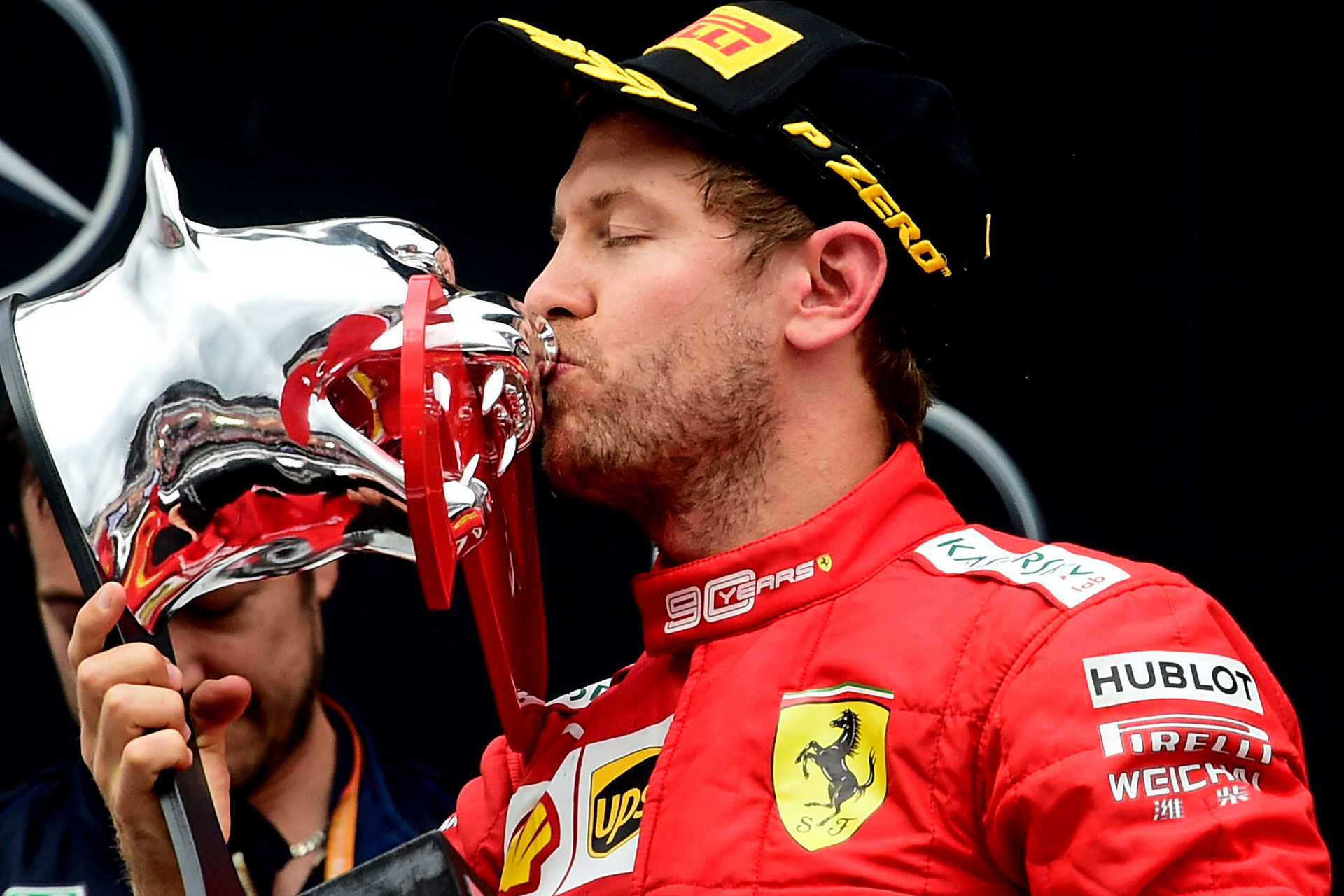 Surprise 3rd Place For Daniil Kvyat
Third place also caused a stir, with the surprising Daniil Kvyat securing Red Bull Toro Rosso Honda's second ever podium following on from Vettel's win in the 2008 Italian Grand Prix.
"It's incredible to be back on the podium in what could be called my 'second career'. I thought it would never happen again in my life, so I'm so incredibly happy. There are so many emotions I still need some time to let it all sink in! This achievement is so great for us since it's 11 years since Toro Rosso's last podium with Sebastian in Monza. It was such an amazing day and I'm so happy. Thank you to everyone in the team, it was just an incredible day. I was readier than ever to fight for this kind of position. This year I feel more mature, my head is cooler, and I'm readier to fight on top, so I think I proved that today to myself and everyone around here. I hope this will become a habit soon! These kinds of races aren't easy, it was a tough call to pit that lap earlier, but it's a 50/50 call between the team and me, we win and lose together and today we won together," said Kvyat.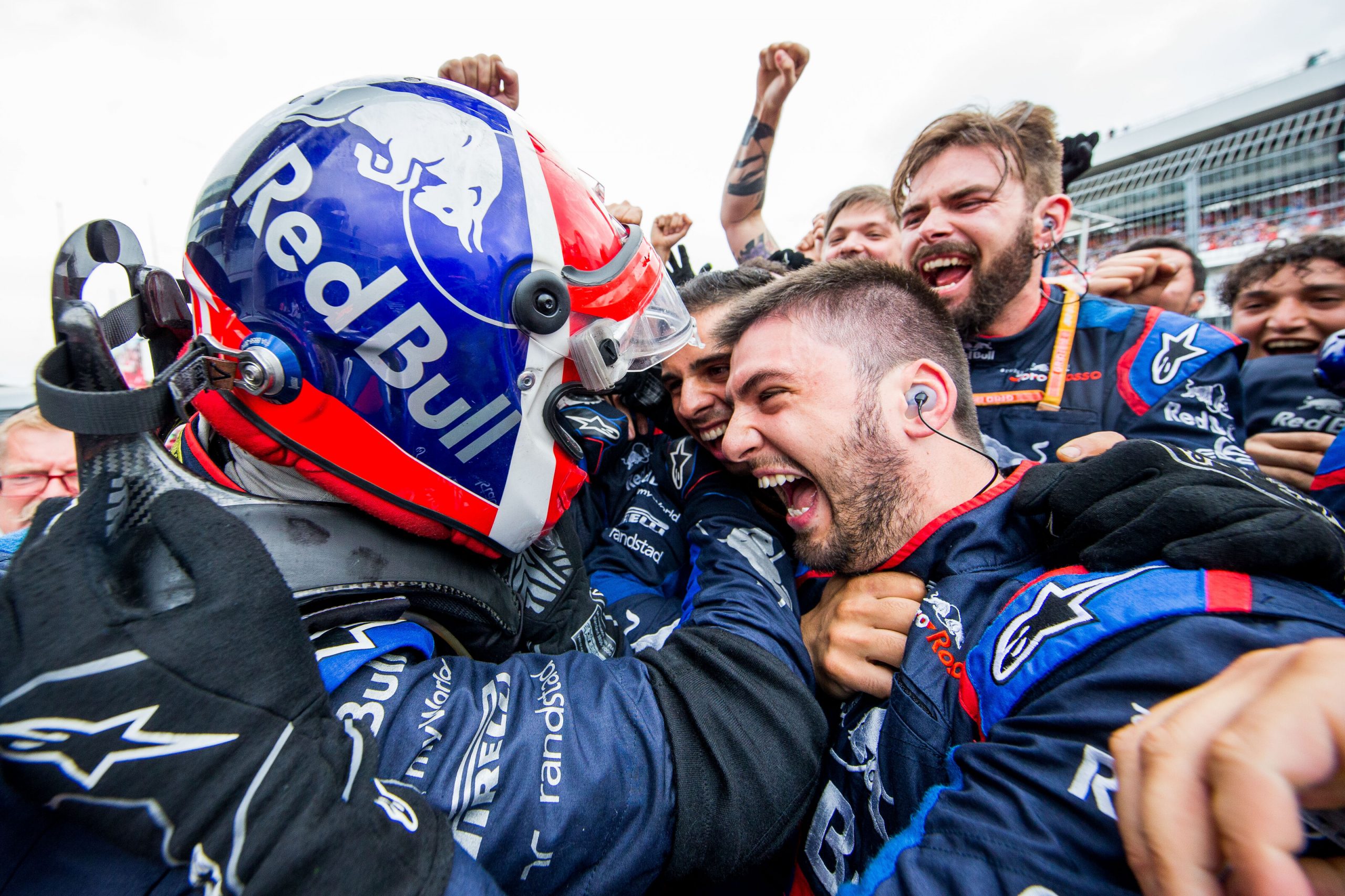 Rain Turns Race On Its Head
After the infernal heat of the past few days, race day saw the rain play its part, not heavy but pretty much constant all day long. Only occasionally was the track dry enough for slick tyres to be used and it was the changeable nature of the track conditions, combined with several Safety Car periods, both virtual and actual, that outlined the script for this amazing race.
In an action-packed race, two moments, in particular, decided its outcome. The first came between laps 23 and 27 when the track was finally dry enough for a switch to slick tyres. At the time, Lewis Hamilton seemed to have everything in hand, followed a safe distance behind by his teammate Valtteri Bottas, who had Verstappen shadowing him, while Leclerc was coming up from tenth on the grid.
Errors Cost Leclerc And Hamilton Dearly
Vettel was the first to make the tyre switch, fitting Softs while lying sixth. Verstappen came in on lap 24, taking on Mediums, as did Bottas on lap 26 and Hamilton on 28, while Leclerc copied his team-mate on lap 27. Suddenly, the rain intensified and made life more complicated. Ferrari's Monegasque driver was caught out badly, crashing into the barriers at the final corner on lap 28. Hamilton also skidded off track but was able to continue, cutting across the grass to rejoin the pit lane, for which he was given a 5-second penalty. His team was not ready to fit a new front wing and that cost him a lot of time.
The Safety Car came out while Leclerc's Ferrari was towed away and all the drivers who had fitted slicks pitted again for intermediates, which shook up the order. It was now Verstappen, Hulkenberg, Bottas, Albon, Hamilton, Sainz, Raikkonen, Vettel, Gasly and Giovinazzi.
Heartbreak For Hulkenberg
Hulkenberg was another one caught out at the last corner on lap 40, completing a really bad weekend for Renault, as Ricciardo had retired on lap 13 with a technical problem. Then came another decisive phase of the race between laps 44 and 48, just as the window opened for slicks. The first to gamble on dry tyres was Lance Stroll on lap 44, followed by Kvyat and Magnussen on lap 45. Of the leaders, Verstappen and Bottas came in on lap 46, while Hamilton, Raikkonen and Vettel pitted on lap 47.
The final run of pit stops – there were 74 of them in total – once again shook up the order: on lap 48 Verstappen was leading once again, but behind him, we now found the surprising Stroll and Kvyat, while Bottas was fourth, Vettel ninth and Hamilton down in twelfth. The fight between the two drivers brave enough to make the first move to slicks was won by Toro Rosso's Russian driver, who dispensed with Stroll on lap 51. At this stage of the race, Vettel was the quickest man on track and he began moving up the order again. He was seventh on lap 51, sixth next time round and fourth on lap 60, after another brief safety car period was required after Bottas crashed the Mercedes at turn 1. At the restart, the local hero got himself into a podium position, passing Stroll on lap 62, before even dealing with Kvyat next time round. By then, it was too late to think about attacking Verstappen.
Unusual Top 10, First Point For Williams
The top ten was completed by Stroll, Sainz, Albon, Raikkonen, Giovinazzi Grosjean and Magnussen, but this order was jumbled up after the race as the Alfa Romeo drivers were found to have violated a rule relating to driver aids at the start. They were both given a 10 second stop and go which was then changed into 30 seconds added to their race time. The main beneficiaries were Hamilton who thus salvages two points and Robert Kubica. The Polish driver was promoted to tenth and thus brings Williams its first points since last year's Italian Grand Prix, when Stroll and Sirotkin finished ninth and tenth respectively. Today's point is a well-deserved reward for Kubica, given the exceptional efforts he has made to return to Formula 1, after his terrible rallying accident in 2011.
"It was a crazy race today and track conditions were very slippery. I managed to bring the car home with no mistakes which is the most important thing. Although racing in wet and changeable conditions isn't new for me, it's been nine years since I last experienced it in a Formula One car and it certainly refreshed my memory," said Kubica.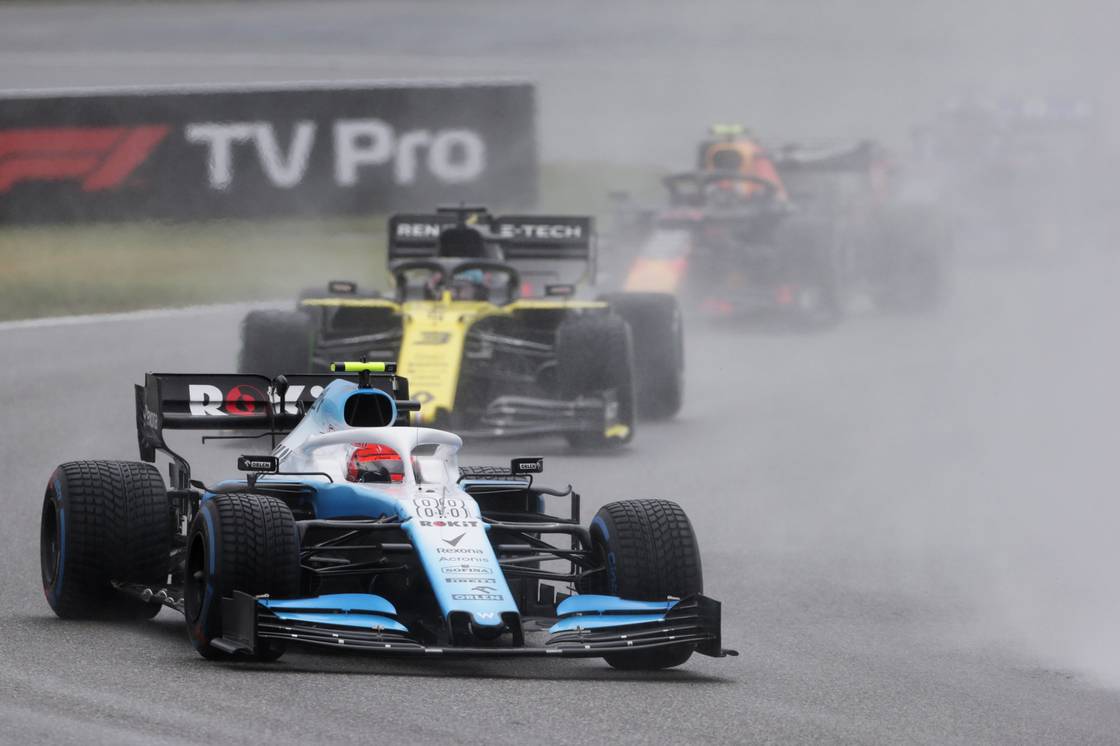 At the front, Verstappen was impeccable at all times, attacking when he needed to and managing the situation when that was the way to go and, in the end he took a well-deserved win, his second this year and his career seventh. It was Red Bull's 61st win, the second with a Honda power unit. It was a memorable day for the Japanese company, the first time it had two drivers on the podium since the 1992 Japanese Grand Prix when Gerhard Berger finished ahead of McLaren team-mate Ayrton Senna.
Vettel's fightback certainly had the crowd on its feet, but it must have left Ferrari thinking about what might have been, as it really had the potential to take its first win of the year if it had not been for yesterday's reliability problems and Leclerc's mistake today, for which he readily accepted the blame.
Daniil Kvyat's third podium is definitely the best possible way to celebrate the birth of his first child yesterday evening. Lance Stroll too must have got a real confidence boost, given that he often comes in for some unfair criticism.
After a run of three truly exciting and thrilling Grands Prix, the World Championship does not even pause for breath, with the cars back on track as from this coming Friday 2 August at the Hungaroring, on the outskirts of Budapest for the 2019 Hungarian Grand Prix.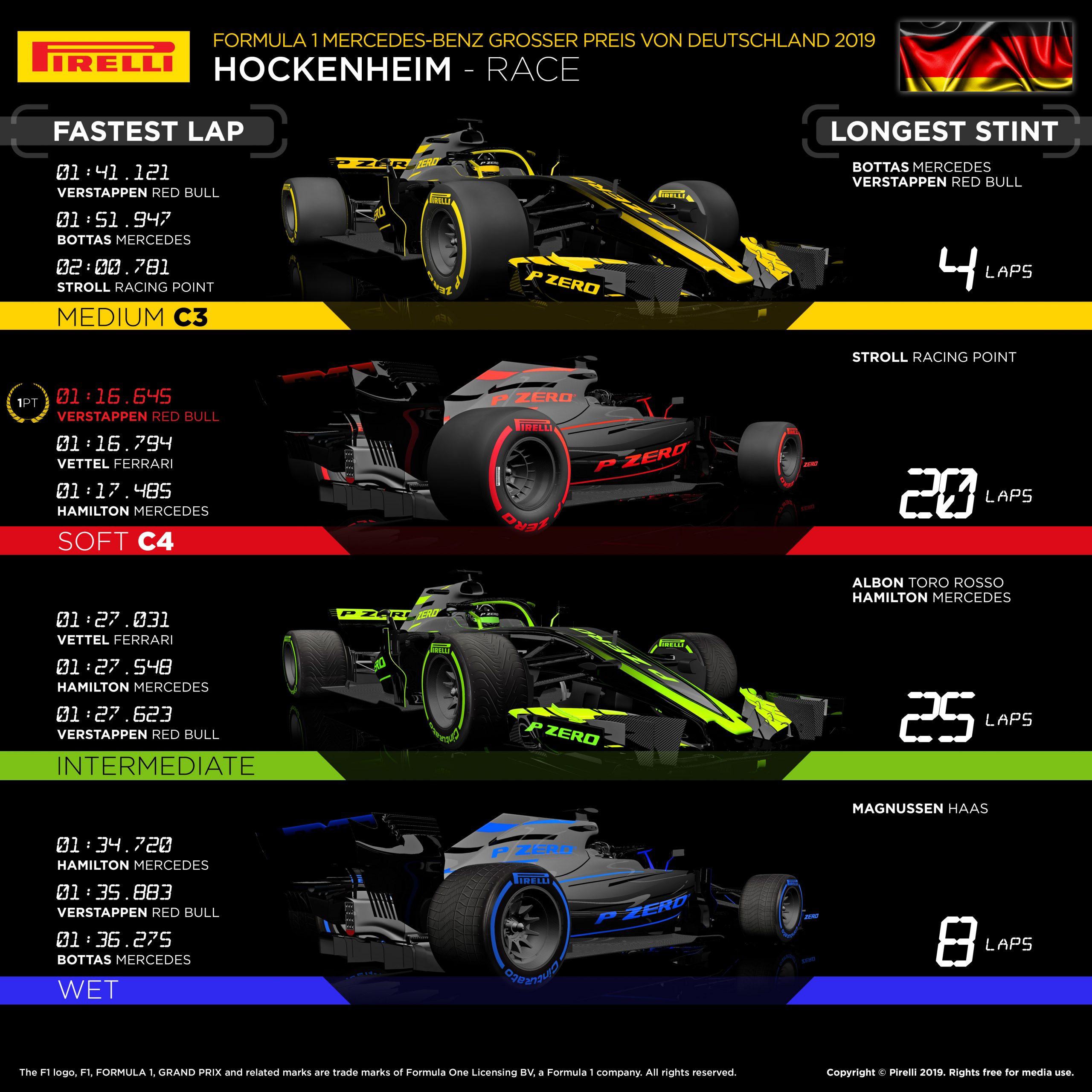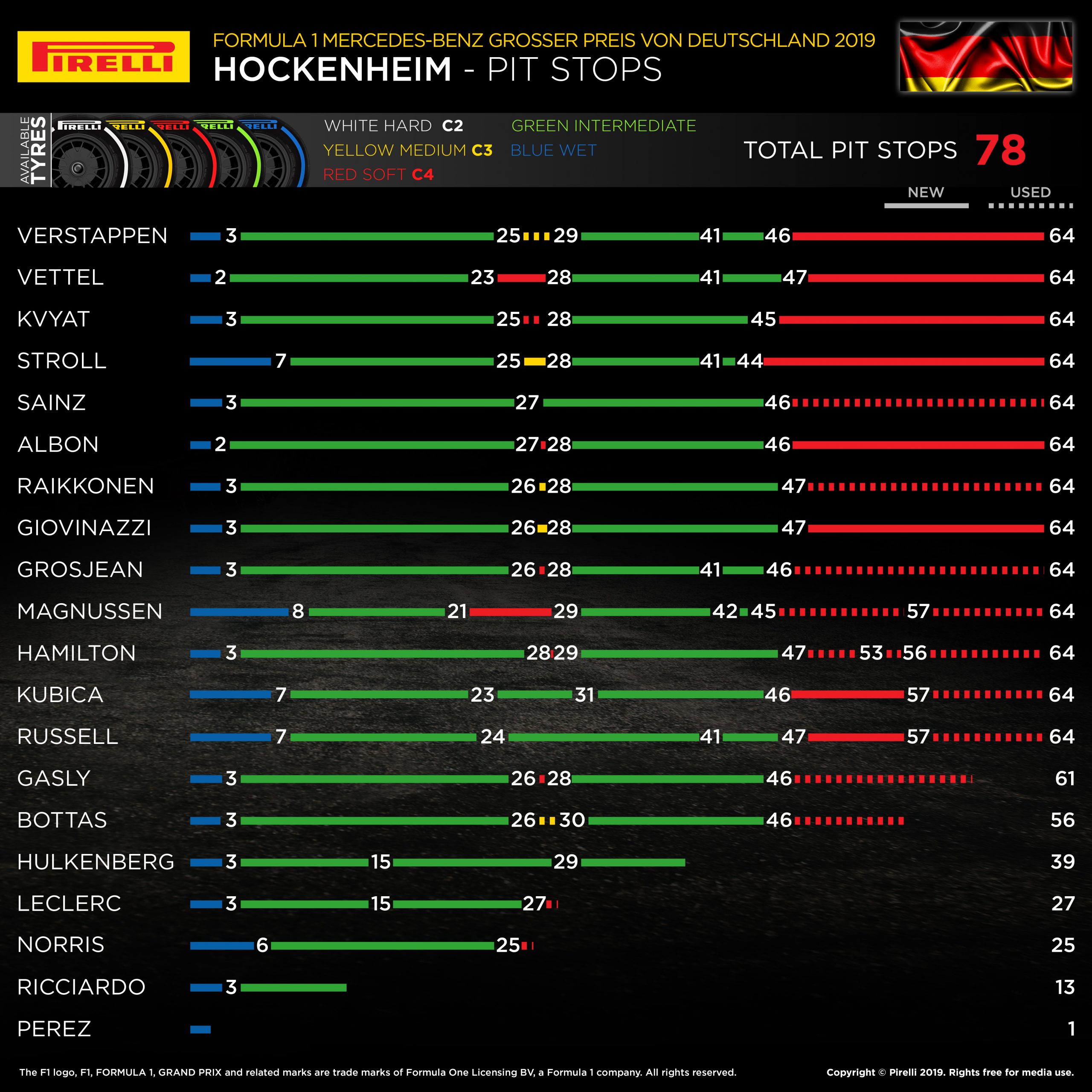 Ferrari's Charles Leclerc took a sensational pole position in Spain, ...