It was a McLaren 1-2 at the 2021 Italian Grand Prix, with Aussie Daniel Ricciardo taking his first win in papaya colours! As Aaron Harper from the 5 Red Lights Podcast comments, days like this are exactly what McLaren brought Ricciardo in for.
———————————————————————————————————————–
Visit the Grid Talk store ► https://f1chronicle.com/store/
Subscribe ►
Subscribe to the Formula 1 Grid Talk podcast YouTube channel – https://www.youtube.com/c/Formula1Gri…
George – https://sportlightpro.com/
Everything F1 – https://www.everythingf1.com/podcast/
5 Red Lights – https://www.youtube.com/channel/UClem…
Listen On ►
Spotify – https://open.spotify.com/show/4i19HuY…
Apple Podcasts – https://podcasts.apple.com/us/podcast…
FOLLOW ►
Facebook – https://www.facebook.com/F1ChronicleO…
Twitter – https://twitter.com/F1Chronicle
Tumblr – https://f1chronicle.tumblr.com/
Grid Talk Podcast Store Competition
To celebrate the launch of the Grid Talk Podcast store, we're giving away some merchandise!
Competition 1
Each month, to be in the running to win a Grid Talk-Champion t-shirt, all you need to do is:
Give us a 5-Star review on iTunes
Or
Leave a comment on the YouTube replay with your favourite moment from the race.
C
ompetition 2
Each month, to be in the running to win a Grid Talk mug, all you need to do is hit that 'subscribe' button on YouTube.
And!
If you have already left an iTunes review, we'll be choosing one lucky reviewer to win a Grid Talk Champion t-shirt too!
Winners of all three competitions will be announced during the Turkish Grand Prixview.
Pit Stop Transcription
George:
So, lads, let's start with the winner of this race. And as you can maybe tell by mine and Aaron's shirts, if you're watching on the video on our YouTube, it was, unbelievably, a McLaren and a McLaren one two. Aaron, Daniel Ricciardo finally getting the result deserving of a driver of his quality at McLaren. Lando Norris as well, coming home in second. No, this is not Groundhog Day, this is not April Fool's Day, we're being deadly serious. This actually happened. And you know what? It was deserved.
Aaron: Oh, it was. And there's a slightly cruel twist of fate in the fact that Lando has been so stunning all year and then, when the cards fall the right way, he ends up in second place behind his teammate. But credit where credit's due, Daniel drove brilliantly and yesterday, I made him driver of the day for the qualifying sprint and hoped that I didn't put the jinx on him for today and boy, he cashed in when he made a great start and that was it, that was the crux today. He made the start, won the start, took the first corner and that was it. He held Verstappen at pretty much arm's length. He went as fast as he needed to go. And let's not forget, he's won … Was it eight races or seven before today?
Tom: Seven before today.
George: Yeah.
Aaron: Seven before today, so this is his eighth win. He's an accomplished race winner, he's been in the sport for a decade, so he knows what he's doing, to coin a phrase. You can't ask for much more and this is the sort of thing that McLaren signed him for. This is why they're paying him however millions of pounds to race for them. And alongside Lando, if they can deliver a car that is the equal of a Red Bull or a Mercedes, they are in with a massive chance of scooping one or potentially both championships. And if Daniel can take this sort of confidence into the next few races and close out the season really strongly, he's looking really well set for next year. And he even mentioned it himself, that the August break came at a good time for him, he just processed everything that he'd been through in the first six months with McLaren and he's come out the other side and he's looking really, really strong. He drove well to qualify fourth in Spa. The McLaren didn't really handle so well around Zandvoort, but they've cashed in big-time today with a one-two. For Daniel to do that, it's just, I'd say surprising, but it's the sort of thing we expect from him.
Lance Stroll Left Fuming In Miami
At the end of the 2022 Miami Grand Prix, Aston…
Lewis Hamilton Will Decide When His 'Masterpiece' Is Complete
After a difficult start to 2022 much has been made…
What Is The 2022 F1 Engine Freeze?
Here we explain the 2022 F1 engine freeze, and what…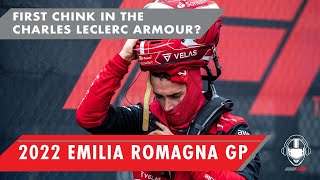 First Chink In The Charles Leclerc Armour?
After pitting for fresh tyres to try and snatch the…
Toto Wolff Apologises To Lewis After Imola Nightmare
At the end of an awful weekend in Imola, Toto…