Must Watch: Lando Norris Will Bounce Back
While the 2021 Russian Grand Prix was heartbreaking for Lando Norris, as Aaron explains, with the trajectory he and the team are on, much better days are just around the corner.
---
Visit the Grid Talk store ►
https://f1chronicle.com/store/
Subscribe ►
Subscribe to the Formula 1 Grid Talk podcast YouTube channel – https://www.youtube.com/c/Formula1Gri…
George – https://sportlightpro.com/
Everything F1 – https://www.everythingf1.com/podcast/
Hit The Apex – https://linktr.ee/5RedLights
Grip Strip – https://philipgmathew.com/
Listen On ►
Spotify – https://open.spotify.com/show/4i19HuY…
Apple Podcasts – https://podcasts.apple.com/us/podcast…
Follow ►
Facebook – https://www.facebook.com/F1ChronicleO…
Twitter – https://twitter.com/F1Chronicle
Tumblr – https://f1chronicle.tumblr.com/
Grid Talk Podcast Store Competition
To celebrate the launch of the Grid Talk Podcast store, we're giving away some merchandise!
Competition 1
Each month, to be in the running to win a Grid Talk-Champion t-shirt, all you need to do is:
Give us a 5-Star review on iTunes
Or
Leave a comment on the YouTube replay with your favourite moment from the race.
Competition 2
Each month, to be in the running to win a Grid Talk mug, all you need to do is hit that 'subscribe' button on YouTube.
And!
If you have already left an iTunes review, we'll be choosing one lucky reviewer to win a Grid Talk Champion t-shirt too!
Winners of all three competitions will be announced during the Turkish Grand Prixview.
Pit Stop Transcription
Now, normally I wouldn't talk about the guy who finished in seventh this early in the show, Aaron, but I feel I have got to make an exception this time. Lando Norris, he got overtaken by Carlos [Ines 00:00:10] at the start, after starting on his first pole position in the sport. He eventually overtook him about 20 laps or so into the race. And from then, he just powered on, even with Hamilton hounding him in a much faster car, he just looked comfortable. Hamilton couldn't get close to him. And it was just that one decision, that decision to stay out, you got to feel for the guy because it went from damp to monsoon conditions in a lap. And it was just impossible for him. Yeah, it was such a mature drive. And if you just start with the first lap, it would have been quite easy for him to panic on the brakes into turn one, or into turn two even, knowing that Carlos had a run on him and he was like… It could have got a bit hot and bothered on the brakes, and skittled the pair of them out of the race, but he drove sensibly, he drove maturely. Took about the lead off… He dropped to about two seconds back at one point, and then closed down the gap because he kept his tires in better condition, and he knew the Ferrari would grain up the fronts. Pounced when he needed to, and just drove so maturely. It was like he'd led 20 races before and won 10. But it's such a cruel thing, sport. And the rain came at the most inopportune time and he made a bad call, but that is formula one. How many times do we see…? You think back to 1995 at Spa, Schumacher stuck in out on dryers while everyone else was on the wets. It's hero to zero stuff. If you get it right, you are bang in charge of your own destiny, but if you get it wrong, you can slide down the auto very, very quickly. But we should not let that one decision overshadow Lando's performance this weekend. He's taken a maiden pole position with a good call to get onto the slicks at the right time, maximize that car's potential, then he drove a really mature race. Kept it all pretty much pointing the right direction until the point where he simply couldn't drive any longer on slicks. And that that can happen to anyone. It can just be a flash shower that catches you out at one corner. And that can happen to even the best. So, Lando has been on another planet this season in terms of his performances. Hopefully he doesn't get too disheartened with this. I'm sure he won't. But I don't know if you saw the interview with Sky Sports he did pretty much right after the race. It looked like he shed a few tears already, so he may even be shedding a few more later on. But he'll come back stronger. And all the greats go through something like this. You think George Russell has gone through something like this. Charles Leclaire with Bahrain 2019 has gone through something like this. They all go through something like this, and they all come out the other side. So, I have every confidence in Lando that he'll bounce back. Whether or not he'll win a race this season now is slightly up for debate, but if he keeps performing the way he has been, and he's there for when Maxim Lewis inevitably tangle again, then he could be on hand to pick up the pieces.
Lance Stroll Left Fuming In Miami
At the end of the 2022 Miami Grand Prix, Aston…
Lewis Hamilton Will Decide When His 'Masterpiece' Is Complete
After a difficult start to 2022 much has been made…
What Is The 2022 F1 Engine Freeze?
Here we explain the 2022 F1 engine freeze, and what…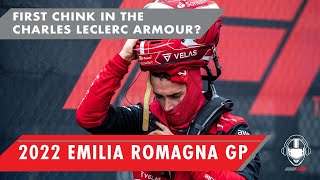 First Chink In The Charles Leclerc Armour?
After pitting for fresh tyres to try and snatch the…
Toto Wolff Apologises To Lewis After Imola Nightmare
At the end of an awful weekend in Imola, Toto…