F1 News Today | 1 October, 2021
Hello and welcome to F1 News Today with Tillie!
Let's take a look at what's making news in the world of Formula 1 today…
1) Qatar Grand Prix Added To F1 Calendar In 10-Year Deal
2) Bottas first teammate Hamilton could communicate with
3) Mazepin: 'My dad could turn an F1 team into gold!'
4) Alfa believes Norris should have been penalised in Sochi
We're powered by the F1 Chronicle, make sure you visit f1chronicle.com for more news, and subscribe to the F1 Chronicle YouTube channel so you never miss an episode of F1 News Today.
---
Visit the Grid Talk store ►
https://f1chronicle.com/store/
Subscribe ►
https://www.youtube.com/c/Formula1GridTalk
Follow ►
Facebook – https://www.facebook.com/F1ChronicleOfficial/
Twitter – https://twitter.com/F1Chronicle
Tumblr – https://f1chronicle.tumblr.com/
Artwork ►
Avatar by Chereverie
Twitter: @mewdokas Tumblr: chereverie Instagram: chereverie.art
---
Transcription ►
Hello and welcome to F1 News Today with Tillie!
Right, let's take a look at what's making news in the world of Formula 1 today…
Today we're all about Qatar!
That's right, Qatar will fill the last open spot on the calendar with a race to be held there from the nineteenth to the twenty first of November this year…
But wait, there's more!
A 10 year deal has also been reached for Qatar to host a grand prix from 2023 on, with just the venue to be confirmed.
When the deal was announced, President and CEO of Formula 1 Stefano Domenicali said…
"We are very pleased to welcome Qatar to the Formula 1 calendar this season and for the longer term from 2023!
"The Qatar Motor and Motorcycle Federation and Authorities have been incredible, and have moved at great speed to ensure the race can take place this season at the Losail Circuit, famous to many as the host of MotoGP…
"We have shown that we can continue to adapt, and there is huge interest in our sport and the hope from many locations to have a Grand Prix!
"The huge effort from all the teams, F1 and the FIA has made it possible to deliver a 22 race calendar, something that is very impressive during a challenging year and something we can all be proud of!"
Hmmmm, first Saudi Arabia, now Qatar…
Well sis, it seems we really do race for money!
Sighhhh….
In more melancholy news, Lewis Hamilton has revealed that Valtteri Bottas is the first teammate he has really been able to communicate with!!
Asked during an interview with Sky Italia which driver he felt he had encountered the biggest rivalry with, Hamilton answered with a discussion about his teammates…
Lewis said…
"Honestly, it depends on the moment of my life I was in…
"When I was just a kid I met Fernando Alonso…
"I was enthusiastic and talented but I didn't know how to handle everything!
"Then I found myself in different positions with Heikki, with Jenson and with Nico…
"I learned different things from each of them…
"Each one was a challenge!
"You can never ignore your teammate because you will learn from him or vice versa…
"You can make mistakes…
"I wouldn't change anything about my journey alongside them, for better or for worse!
"I recently commented about my current teammate and said he was the best teammate, but you have to see what that definition means…
"We are in a sport where we try to win two different championships – we both try to win the Drivers' title, but our job is to win the Constructors' title too, so we have to work together!
"For the first time, I had a teammate with whom I really communicated…
"You know, 'I felt this…', 'I had this feeling'…
"Without hiding anything from each other, trying to improve each other, helping each other to be our best version!
"It had never happened with other drivers before. It's something unique!
"And as a human being, it's fantastic!
"Once we get off the track we talk like gentlemen. No tricks…"
I'm not crying, you're crying!! I really feel for Lewis, and hope he can have a similar relationship with Russell next year…
I've been talking a lot about everyone's favourite Russian this week, but this one did give me a chuckle…
Nikita Mazepin has said his dad could turn an F1 team into gold if he were to buy one…
Speaking with Sport Bild, Mazepin said…
"That would be an interesting option for him. He made gold out of everything he started!!
"But I am very loyal to Haas…
"So if he were to buy a team it would be exciting to see how they duel, and hopefully beat him!
"I'm currently part of a team that is 10th out of 10 places in the Constructors' Championship…
"But, I said I am loyal!!
"I want success with Haas."
"I have my place because I'm a racing driver and the team see me as an asset…
"The reason for the sponsorship is the company sees Formula 1 as an opportunity for new business.
"I'm the only Russian driver, and of course a Russian company will always want to invest in a team that has a fellow countryman!!"
Seems there would be a tough decision for Mazepin Senior to make then…
Turn a team into gold with a proper driver, or languish at the back with his own son behind the wheel!!
This could get interesting…
Finally, Alfa Romeo boss Fred Vasseur believes Lando Norris should have received a penalty after crossing the pit entry white line during the Formula 1 Russian Grand Prix.
Speaking with motorsport dot com, Vasseur said…
"I'm very sad for Lando, because he did a fantastic weekend in Sochi…
"But then it's not because you like the guy and he deserved to win that we have to change the rule!!
"The rule is crystal clear, that if you cross the line, you have to be penalised…
"It was the case on tons of occasions, for 10 times less than this, with Yuki in Spielberg, with Kimi last year in Mugello, and exactly the same condition with Lewis in Hockenheim in 2019!!
"I will say that it's even worse in these conditions, because when Tsunoda put a wheel on the white line in Spielberg, it was not a safety issue, it was not a gain of time, because like when you are at the pit exit you go straight if you touch the white line, you are not faster. But he got penalised!
"And nobody complained about this that day, because the rule was clear, you put the wheel on the line, you are penalised…
"Last week, the advantage for Lando was mega!!
'Because in this situation either you take five seconds or you do another lap in the wet on slicks, and you're losing perhaps 25 seconds.
"And probably the five-second penalty is not enough…
"I perfectly remember that when Lewis took the penalty in Hockenheim, 99% of the paddock complained that it was too small!!
"Now we are starting to find let's say, not reasons, but the explanation around the incident, and we are looking stupid!!
"The rule is crystal clear…
Let it go Alfa!
We've moved on… we've moved on…
We're powered by the F1 Chronicle!
Make sure you visit f1chronicle dot com for more news… and subscribe to the F1 Chronicle YouTube channel so you never miss an episode of F1 News Today!
See you on Monday for the next update!
Lance Stroll Left Fuming In Miami
At the end of the 2022 Miami Grand Prix, Aston…
Lewis Hamilton Will Decide When His 'Masterpiece' Is Complete
After a difficult start to 2022 much has been made…
What Is The 2022 F1 Engine Freeze?
Here we explain the 2022 F1 engine freeze, and what…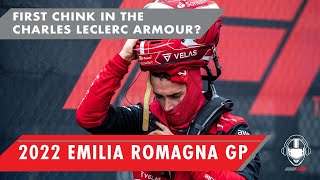 First Chink In The Charles Leclerc Armour?
After pitting for fresh tyres to try and snatch the…
Toto Wolff Apologises To Lewis After Imola Nightmare
At the end of an awful weekend in Imola, Toto…