Unperturbed Valtteri Bottas Wins Wildly-Eventful Austrian Season-Opener As Lewis Suffers Late Setback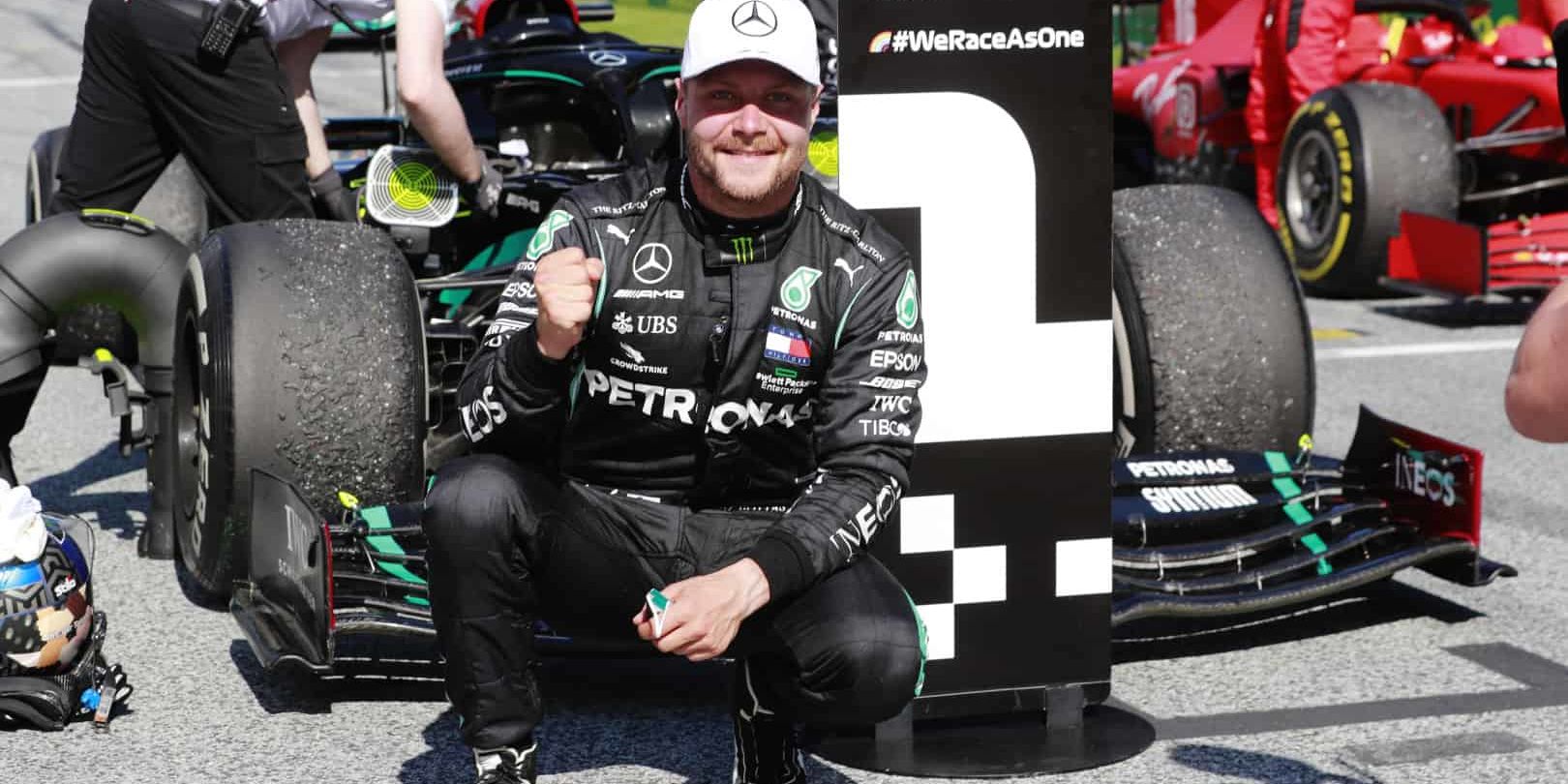 Not in the recent history of races at Austria did one see the kind of contest that Spielberg unfolded in its enticing season-opener here amid the Styrian mountains. The wait for F1 to resume had been an onerous one: 217 days. But the sport's return proved to be a thrilling and intriguing one as it gave fans everything desired from a belter of a contest- wheel-to-wheel racing, sudden retirements, multiple safety car deployments, and in the end, a victory for Mercedes.
Valtteri Bottas and Lewis Hamilton may have started the race strongly by locking out the front row to assert Mercedes' dominance. But in the end, it was the Finn, who won from pole position, leading every single lap, to register a clinical win amid an atmosphere ignited by intrepid racing, as Lewis Hamilton endured a dramatic race.
"Winning an F1 race is never easy, but today was particularly challenging. There were so many things going on in the race and it would have been quite easy to make a small mistake and lose it all. When the Safety Car came out the last time, I was thinking 'Come on! Again!?' I guess it was my chance to really master the restarts here. When you're in the lead, you want things to be constant and trouble-free, but today felt more like dodging bullets, though things were never out of control. I could build a good margin in the first stint and look after the car and the tyres to make sure that we could stick to our planned strategy. In the second stint, there was more pressure, particularly after all the Safety Cars. We faced some reliability concerns during the race, which put quite a bit of pressure on us, but luckily we made it to the end with both cars. I think we've shown that we have a good package. We need to get on top of the reliability issues, but I have no doubts that our team can solve those. I'm looking forward to another race here next weekend," said Bottas.
Even before the defending world champion could begin his Austrian challenge, his race was thwarted by a three-place grid penalty, sending him down to fifth at the start (in lines with Red Bull protesting the stewards' decision to not penalize 2019 champion for his qualifying gaffe).
Bottas – Cool like the mountain breeze
In a race where Valtteri Bottas was calmness personified, even as his teammate continually closed the gap to the race-leader, the final positions ebbed and flowed to the very close.
To exacerbate Hamilton's woes, a late collision on lap 61 with the Red Bull of Alexander Albon during the closing stages saw Hamilton slapped with a five-second penalty. This ultimately played into the hands of Charles Leclerc of Ferrari and as it panned out, Lando Norris of McLaren.
Hamilton defending staunchly from the Red Bull became a particularly tense moment of the race came as the Thai driver moved around the outside of Turn Four only for Lewis to cause a collision that would send Albon down to the rear end of the field.
A repeat of Brazil 2019, everyone thought.
"The team did a really great job today and so did Valtteri. I drove my heart out in the race, I did everything I could – but it was just one of those weekends. There are lots of areas where I can improve. I didn't do a great job in Qualifying yesterday and there's only me to blame; then this morning was very unusual to get called up right before the race, but I just tried to keep my head down and drive hard. The scenario with Alex felt more like a racing incident to me. The time penalty meant that I lost the podium, but it is what it is. The car felt great, although reliability was a real issue for us today. But at least we finished, so we'll take those points. Obviously it's a loss from a potential 1-2, but I'll try to recover those in the coming races. Ultimately, this was not a good weekend for me, but it could be worse – I'll take what I've got, try to learn from it and be better next time," added Hamilton.
Nevertheless, while the collision ended Albon's dreams to capture a maiden F1 podium, it couldn't prevent him from bagging the "Driver Of The Day" win, while Hamilton was eventually relegated to fourth upon the close.
But this wasn't the only dramatic moment where, in the end, only eleven cars crossed the checkered flag, with there being no fewer than nine retirees.
But right at the start, Valtteri Bottas got off to a clean getaway and immediately pulled away from the batting duo of Max Verstappen and Lando Norris opening an immediate lead of over two seconds at the front as Hamilton began cautiously from fifth.
There were early scuffles between Carlos Sainz Jr.'s McLaren and Charles Leclerc's Ferrari, the Spaniard trying his best to make a pass around Turn 14 over the Ferrari, with the Monegasque defending beautifully.
Blazing start by Albon, Lewis' determination and Vettel the spinner
It wasn't too long before Alex Albon would announce his intentions, as he'd pass Norris at the hairpin bend.
But worse luck was to follow for the young McLaren driver as the attacking Silver Arrows of Lewis Hamilton would pull off a straightforward pass soon after, with Norris struggling everywhere for grip.
His next target was Albon, who found himself defenseless in front of Mercedes' high-performance output.
Further down the midfield, there were gains for the likes of Vettel, who'd move up into tenth, having begun from eleventh on the grid, only the first occasion in a five-year Ferrari stint where the German failed to begin from the top ten at Spielberg. Ricciardo, on the other hand, was down in eleventh and found struggling for pace.
Meanwhile, Valtteri Bottas was unflustered as ever, having opened a gap by over five seconds to the drivers in close pursuit.
Lap Eleven unfolded the first big shocker of the afternoon as Max Verstappen race-retired due to an electronics failure, meaning the onus to score points for Red Bull's home race was now on Albon.
""I'm not quite sure what happened yet, we'll investigate and find out but of course that's not how you want to start the season. I had a good start, unlike last year, and quite early on I could see that Valtteri was quick so fighting for the win was always going to be a big challenge. I think it would have been an easy podium and third would have been a decent start to the season but what can you do? This is racing and it is what it is, you can't change the result now. It is a shame for everyone who worked so hard to get us here this weekend but we will just focus on the race next week and hope for something better," said a dejected Verstappen.
Seconds later, Ricciardo pulled out and retired owing to a mechanical problem.
But Max's retirement prompted Lewis to inherit second and Albon followed in third, though the duo would later meet in a shambolic rendezvous again.
Battles in the front, battles in the midfield
At the end of Lap 15, Bottas had opened a 15-second gap to Lewis and looked firmly in control of the proceedings.
Two laps later, an intense battle developed between the fighting trio of Stroll (then P7), Vettel (P8), and Ricciardo (P9), scrapping away for seventh on the grid. During the same time, further down the grid, Giovinazzi found himself under attack from teammate Kimi Raikkonen, who'd eventually pass the Italian in a neat move.
Meanwhile, on lap 21, Lewis, in addition to setting the fastest lap at 1:09:000, cut the gap to the race leader bringing down the void to 6 seconds. Right then, Stroll, who'd looked so good and utterly in control throughout, retired owing to an engine fiasco.
Meanwhile, yet another close battle was developing between Kevin Magnussen of Haas, the returning Renault driver Esteban Ocon and Alfa Romeo's Kimi Raikkonen, for eleventh.
The trio would continue fighting until lap 26, which inflicted yet another dramatic transition in the race. Kevin Magnussen, who'd been decently quick until such time in the midfield suffered a front brake failure going wide into the gravel trap. His retirement brought out a Safety car.
Meanwhile, Norris, pitting just ahead of Perez nearly enforced a collision which was avoided by the Mexican yielding in the end.
A spin from Vettel
Vettel, who was certain to finish inside the points tally contacted his future replacement at Ferrari at the hairpin bend and spun around to fall further back, ending just ahead of Latifi's Williams as Sainz continued unperturbed.
""It was a disappointing race for me, even if we knew beforehand it would be tough. I struggled for the entire race, already after the first two laps, just as I had done in quali. The balance and speed I had on Friday just slipped away from us and I was really struggling to keep the car on track. So now we have to try and find out why in the hope of doing better next weekend," said a disappointed Vettel.
Meanwhile, Lewis, undaunted by Valtteri Bottas in the lead began closing the gap even further, trailing the Finn by only a little over six-tenths. This would, within a fraction of a second, become fourt-tenths of a gap.
Further down the grid, Kimi Raikkonen essayed a smooth move going around the outside of George Russell for twelfth, finding himself only two seconds shy of Antonio Giovinazzi, on eleventh.
Soon, the Mercedes duo was ordered to say off the blunt Austrian kerbs so as not to further harm their gearbox sensors, a move that might have soured Mercedes' race but didn't.
On lap 51, George Russell, experiencing a fuel pressure problem pulled his Williams to the side of the track on the grass, and retired completely out of harm's way.
With 20 laps remaining, the Austrian Grand Prix made way for its second Safety car deployment. On lap 52, Albon pitted to give Perez third, the order at the front still dictated by Valtteri Bottas, looking ever in control, even as Hamilton appeared closer in his mirrors.
Hamilton and Albon tangle
Lap 55 gave the race yet another tangle and unforeseen hit, this time Kimi Raikkonen losing out on his front right tyre. The Safety car that had exited the track only seconds before was redeployed.
What was going to happen further, you wondered?
The race continued behind the Safety Car until lap 60, soon after which Hamilton and Albon came to blows with both drivers suffering flagrantly disturbing fortunes.
""It's still quite fresh so I've got to be careful what I say but there's nothing to add apart from how frustrating that is. I really think we could have easily won that race. We had a great strategy, the guys did a great job in the pit stops, yes we had a little bit of fortune with the Safety Car, but the car was feeling good. The hard tyre wasn't very strong today and I knew the Mercedes would have cold tyres on the re-start, so I already planned to get past them within a few laps of the Safety Car coming in. I feel like I had completed the move on Lewis already, and I was thinking about getting Bottas on the next lap. The contact with Lewis was so late in the corner that it surprised me. I was right on the edge of the track and I knew if I gave him all the space I could it would be up to him if he wants to crash or not. This time I was the one on the attack and he was defending. I wouldn't say this one hurts more than Brazil but that incident was maybe 50/50 whereas this one isn't. Obviously we've got next weekend to focus on now, we'll need a bit of luck to have the same opportunity as today, but let's see," added a dejected Albon.
Soon, Charles Leclerc pulled a sensational move on both McLaren's to push himself up into second, a late lunge revitalizing what had until such time been an insipid weekend for the scarlet red cars.
""The team did a fantastic job, both in terms of strategy and with the car itself. We knew we had to make the best of it today. I told myself that we had to take any opportunity we had and that's the way I drove. I am very happy with the result – we didn't expect to finish in second place.
While it was great to start off the season with a podium, we cannot ignore the fact that we aren't where we want to be in terms of performance. We were lucky this weekend, with safety cars and retirements mixing things up, but we can't expect to fight for the win at these next few races.
We have to stay motivated and I am sure that the whole factory is working very hard to bring us back stronger. And that's the spirit we need to remain focused on our targets," said an enthusiastic Leclerc.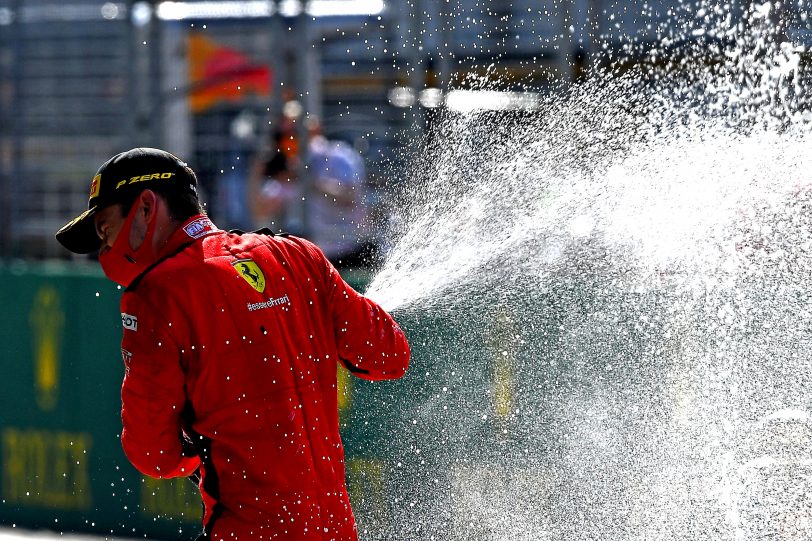 The tussle, meanwhile, became tense for Norris and Sainz' battling McLarens with Perez fighting for a strong finish.
At all this time, Bottas maintained great pace and captured the checkered flag to dominate in clinical fashion.
Thrilling final lap
The final lap of the race was anything but unexciting as Lando Norris became the headlining material of the race, setting the fastest lap only a few seconds from the checkered flag. In so doing, he reminded everyone that the same McLaren that had struggled for several years blitzed at 1:07:475.
I'm over the moon, my best Formula 1 result and my first-ever podium.
"We're all very happy, it's a great achievement for race one. We did a bit more on merit this weekend: our pace has been very good here. It's not been easy: we haven't had the third-fastest car on the grid – but we put it all together pretty much every time. We limited the mistakes we made and took advantage of every opportunity that came our way. Because of that, we got a podium, so a big thanks goes to the team at home and at the track for all their hard work.
"I would love to say we can achieve this next weekend again. We did have a little bit of luck, but we have a good car and we've kicked the season off with a great result. We know we've got a lot of work to do but if we can maintain this momentum, we can hopefully have a great season," said an ecstatic Norris.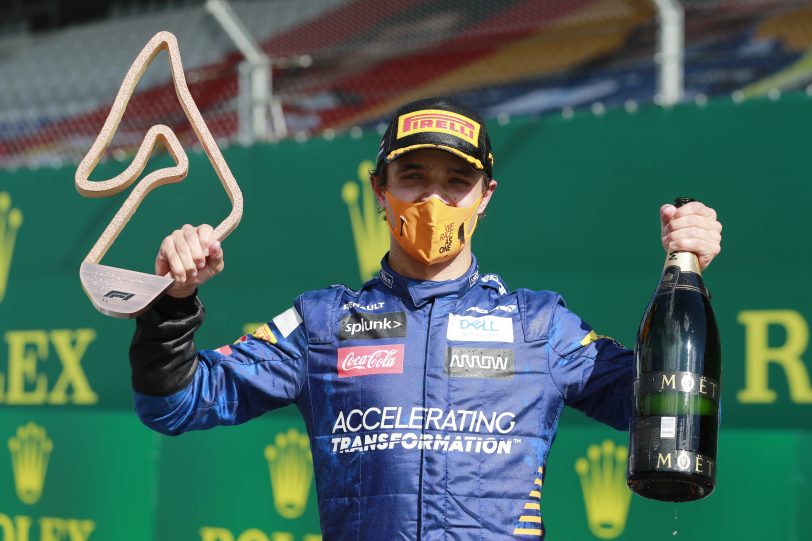 But there was relief for Charles Leclerc in second, glad to have battled his way through after experiencing an underwhelming qualiying a day earlier.
With such a thrilling start to the season, can the remainder of the season produce more cracking contests? Who's to know?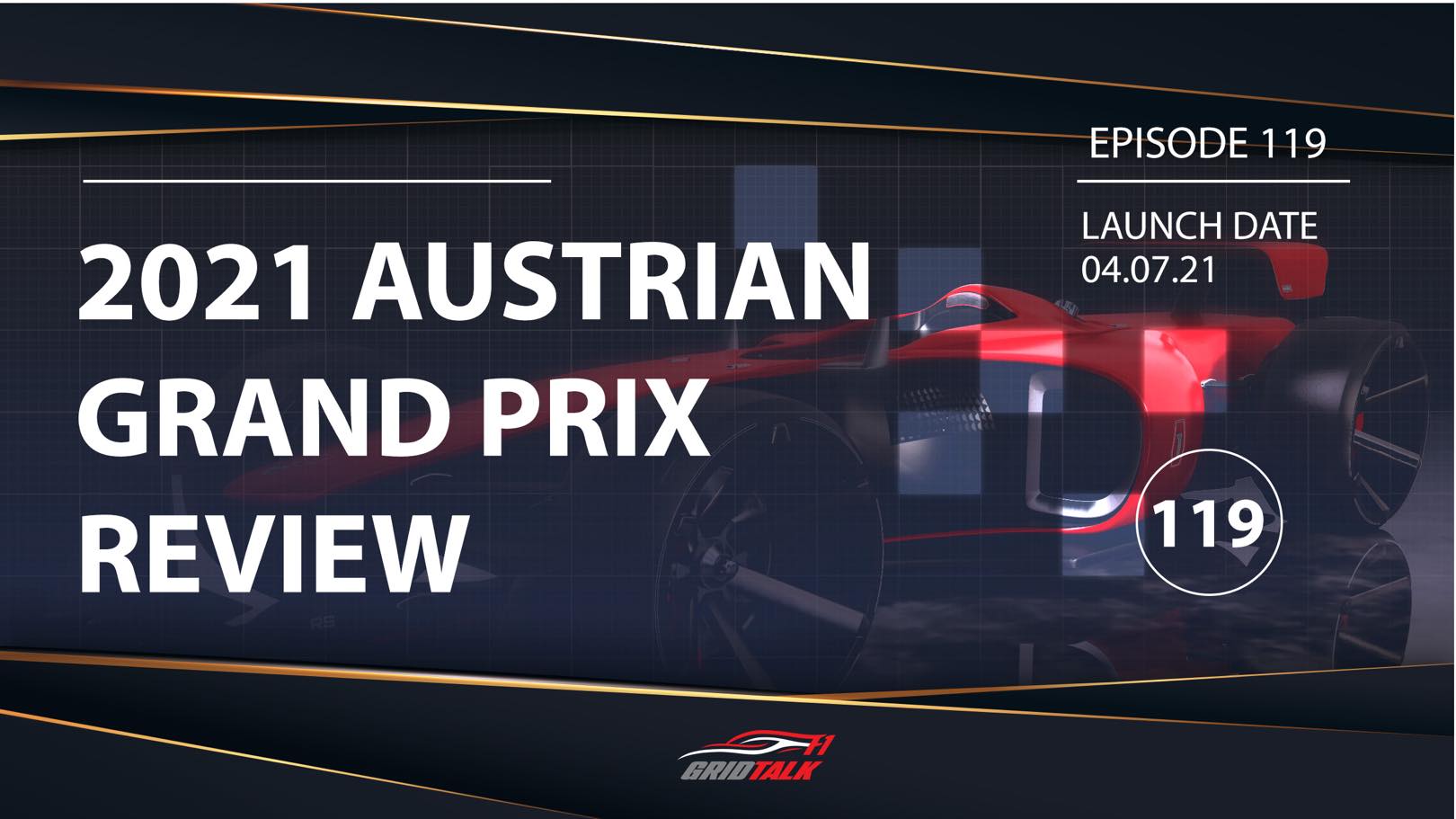 Welcome to Episode 119 of our Formula 1 podcast, Grid ...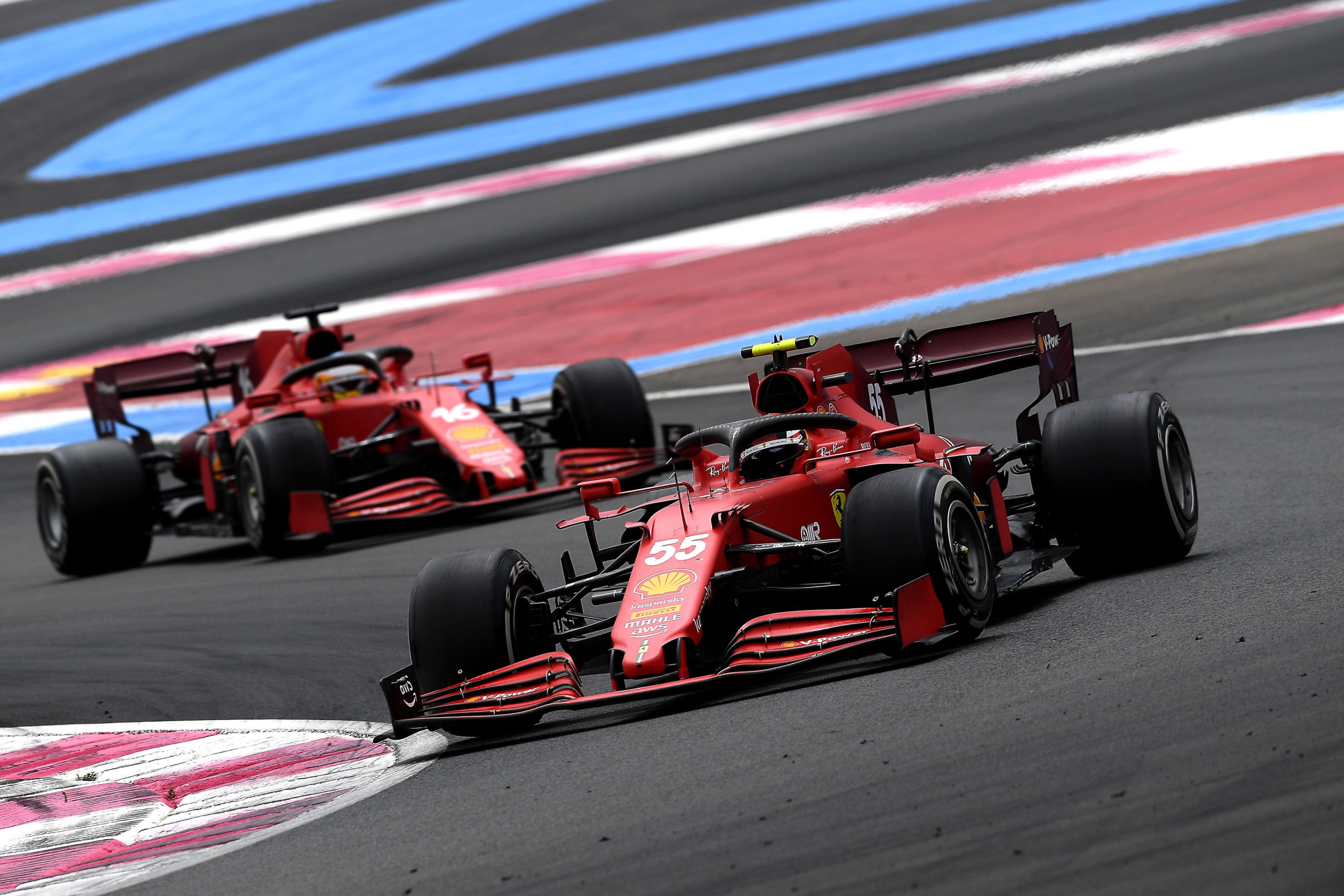 Charles Leclerc is currently sixth in the 2021 F1 Drivers ...