The FORMULA 1 EMIRATES GRAND PRIX DE FRANCE 2021 proved to be a point-less one for Scuderia Ferrari, as for the first time this season, neither driver made it into the points, with both the SF21s affected badly by tyre degradation.
After the start, Carlos Sainz and Charles Leclerc's race pace seemed reasonable, but after a dozen or so laps, the tyres on the SF21 began to suffer with degradation, particularly on the front left.
The same happened on the second stint which both drivers tackled on the Hard tyre, with it working for a few laps before the race pace gradually slowed. It meant that Sainz and Leclerc were easy prey for the chasing pack.
Even splitting the strategies did not work, with Leclerc making a second stop to take on another set of Mediums, while Sainz ran to the chequered flag without a further pit stop.
The immediate priority for Ferrari now is to analyse all the data from this weekend to prepare as well as possible for the double-header at the Spielberg circuit, that starts with the Styrian Grand Prix on 27 June, followed by the Austrian Grand Prix on 4 July.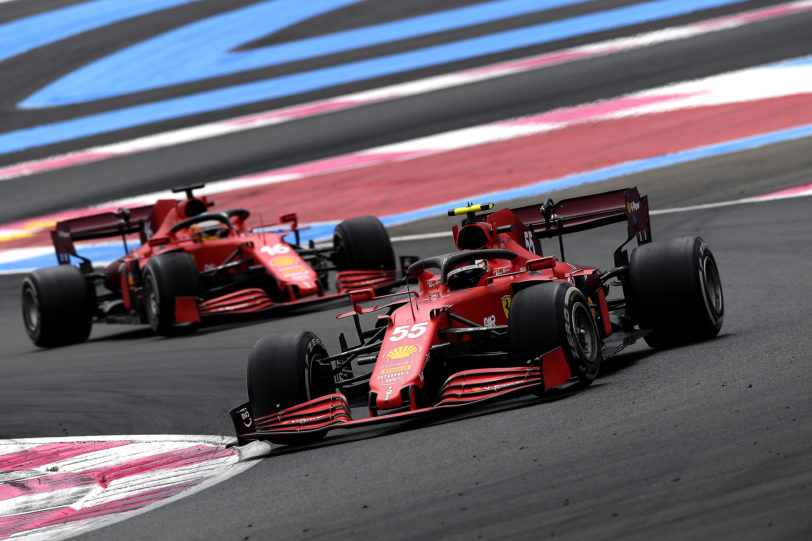 Carlos Sainz Best Placed Ferrari Finisher
While on paper it looks like Carlos Sainz narrowly missed out on a points finish, in reality he was nine seconds behind tenth-place finisher Lance Stroll, and was never really in the hunt.
'It is clear that today we didn't perform well and that we lacked pace. Since the very beginning we really struggled with degradation and we carried that issue through the entire race, regardless of the compound.
'Despite my best efforts, it was impossible to hold our initial position. We must analyse what happened, understand the issue and try to address it. If there is a team capable of doing that, it's this one. A double header in Austria awaits and I'm sure we will bounce back,' said Carlos Sainz.
Charles Leclerc Looking For Improvement
After out-performing his car in Monaco and Baku, Circuit Paul Ricard delivered a reality check for Charles Leclerc, and with high tyre-degradation, the pole-sitter from the previous two races had to settle for a frustrating 16th place in France.
'It was a very difficult race today. Both Carlos and I struggled on the two compounds we ran. Towards the end, we made another stop for a fresh set of Mediums on my side, to see whether there was something we could do better.
But it was the same as on the first stint: okay for three to four laps followed by heavy degradation. It is a big weakness and the main thing that we have to focus on now is understanding and improving for the future,' added Leclerc.
Difficult Day For Mattia Binotto
It was a difficult day for Mattia Binotto, who only has a short time to analyse the problems his cars experienced before the second and third races of this triple-header.
'A very difficult Sunday, which sees us go home empty-handed. Tyre performance severely affected our race today.
It's hard to accept, but we will learn from it, determined to move forward. Living through the experience of a race like this, can make you a stronger team,' concluded Binotto.