After a trip to Miami, full of high-profile stars and large amounts of fanfare, Formula 1 makes it's return to Europe, with Max Verstappen chasing three wins in a row.
After visiting the unfamiliar Miami International Autodrome, the teams will be glad to be making their way to a circuit, that many will be more intimate with, the Circuit de Barcelona-Catalunya.
Red Bull's Max Verstappen, who has won the last two Grand Prix, at Imola and in Miami, is aiming to "keep the momentum going from the last few races."
In fact, the Dutchman is undefeated in racing competition since his failure to finish the Australian Grand Prix at the start of April, as he also won the Sprint race, held at the Emilia-Romagna Grand Prix.
Despite those two wins, the 24-year-old trails championship leader Charles Leclerc by 19-points after five weekends.
The Monegasque has topped the standings from the first race in Bahrain, but failed to convert his pole position in Miami into victory, as Verstappen overtook both Ferrari drivers to win.
Ferrari team boss, Mattia Binotto, said: "We now need to respond," with their advantage in the constructors' standings down to only six points.
This weekend in Spain poses an intriguing question in the battle at the front, which team is the hunter and who is the hunted?
Title Fight Takes Shape On and Off Track
The 2022 title battle is well and truly heating up between Ferrari and Red Bull.
The teams lead drivers, Charles Leclerc and Max Verstappen, are the only two winners of a grand prix this season.
The pair have duelled for the lead on five separate occasions this year, at least once at each race weekend.
Leclerc, who leads the way in the drivers' standings, emerged on top in Bahrain and Australia, while Verstappen got the better of his old karting rival in Jeddah, the Imola sprint and Miami.
The 24-year-old's have kept it clean in battle, up to now, although as the point's gap shrinks, that could be subject to change.
Of course, the battle between Verstappen and Mercedes' Lewis Hamilton was fairly respectful in 2021, up to the British Grand Prix.
Both Leclerc and Verstappen will be aiming only for victory in Barcelona this weekend, for differing reasons.
Leclerc wants to arrest the momentum Verstappen his building up following his two wins in the last races, while the Dutchman wants to slice more points out of Leclerc's lead.
The pressure is on Leclerc and Ferrari more acutely this weekend, as a failure to finish could see Verstappen swoop into the lead of the championship with a win.
The contest is going to be closely fought, with both teams possessing vast amounts of knowledge regarding the Catalunya venue.
Ferrari's F1-75 has displayed an edge in cornering performance, especially at high speed.
And with the 2022 cars able to follow another with greater ease, which Leclerc demonstrated in the flowing first sector in Miami, Ferrari will fancy their chances on a circuit that rewards a well-balanced, high-performance car.
The F1-75 does have a weakness, which is exactly where Red Bull holds its trump card, straight-line speed.
The RB18 has prodigious top speed, which has been evident from the opening round in Bahrain.
The Milton-Keynes based team appears to be able to operate the car well in lower downforce conditions, excelling on the longer stretches between corners.
It has long been considered that the Circuit de Barcelona-Catalunya has limited overtaking opportunities, but a car with the top-end performance of the Red Bull will always have a chance, in the right circumstances.
In any title battle, there will usually be an element of mind-games and war-of-words off the track, and it seems 2022 will not be an exception to that.
The first stages of a confrontation between the teams has been ignited by Ferrari, who claim Red Bull are already close the limit of the budget cap after some early developments of the RB18.
Binotto said: "It's true that they have improved their car. I hope, because there is a budget cap, that at some stage Red Bull will stop development, otherwise I cannot understand how they can do that."
Red Bull have dismissed Binotto's claims, insisting that they are part of the restructuring of the team, given that they new have the Red Bull Powertrains arm of the company.
Exactly how accurate the Ferrari Team Principal's suggestions are, remains to be seen.
But it is certainly the first step into a battle off the track, as well as on it.
Spaniard's Seek Home Change
This weekend will be the home event for Fernando Alonso and Carlos Sainz, who have both endured a tricky run of results.
Sainz will be aiming to follow up his "reset" podium finish in Miami, with another strong result on home soil.
The 27-year-old, yet to win in F1, will see no better venue to claim that maiden triumph and consequently fully ignite his bid to become world champion.
With competition in the form of Leclerc and Verstappen, it certainly won't be easy, however Sainz has shown he has got the speed to be in the fight.
The racing gods have allowed the race weekend to move away from him at various points of qualifying, as he has only found himself on the front row on one occasion, having been in the hunt for pole at all five rounds.
In Australia and Imola, qualifying dramatically affected both his races, as he was walking back to the Ferrari garage before the completion of two racing laps at both events.
The former Renault and McLaren driver is confident he is as quick as his opponents but did admit after the Emilia-Romagna weekend that he was "not 100% happy with the car."
Sainz said: "I'm having to do techniques and driving that I'm not used to doing in order to be fast with this car."
If he can perfect those techniques and unlock that final piece of performance in Spain, he can give himself a great opportunity to duke it out with his current teammate and former Toro Rosso parter.
Sainz, who will have a grandstand of his own, full of returning Spanish fans, will be hoping that it will those in "Grada CS55", who are celebrating come Sunday afternoon.
As for Alonso, he too has been quick in 2022, showing that there very much is still life in the old dog yet.
The double world champion has been beset by poor fortune, although his escapades in Miami fall well short of bad luck.
He suffered car failures in Jeddah and, most notably, in Melbourne, where he was on course for a very good grid position before crashing in Q3, due to a hydraulics problem.
Imola again saw the racing gods turn their back on the 2005 and 2006 champion, as Schumacher's spinning Haas caused sidepod damage that ended Alonso's race.
In Miami, two five-second time penalties dropped the 40-year-old behind his teammate, Esteban Ocon, and out of the points.
Alonso, a 32-time grand prix winner, has scored just two points in 2022, which he picked up at the season opening Bahrain grand prix.
His teammate, Ocon, has scored 24.
Alpine have their highly-rated prospect Oscar Piastri waiting in the wings, and with time not on Alonso's side, and nor apparently luck either, the French team could take a dramatic decision on their driver line up.
Alonso needs a strong result on home soil to boost his season outlook, stating he needs a "trouble-free race on Sunday"
Spanish Grand Prix Session Times
| | | | |
| --- | --- | --- | --- |
| Session | Local (CEST) | UK (BST) | Europe (CEST) |
| Free Practice 1 (Fri) | 14:00-15:00 | 13:00 – 14:00 | 14:00-15:00 |
| Free Practice 2 (Fri) | 17:00 – 18:00 | 16:00 – 17:00 | 17:00 – 18:00 |
| Free Practice 3 (Sat) | 13:00 – 14:00 | 12:00 – 13:00 | 13:00 – 14:00 |
| Qualifying (Sat) | 16:00 – 17:00 | 15:00 – 17:00 | 16:00 – 17:00 |
| Spanish Grand Prix (Sun) | 15:00 – 17:00 | 14:00 – 16:00 | 15:00 – 17:00 |
For more preview of the 2022 Spanish Grand Prix, listen to the Formula 1 Grid Talk Podcast, hosted by Tom Horrox.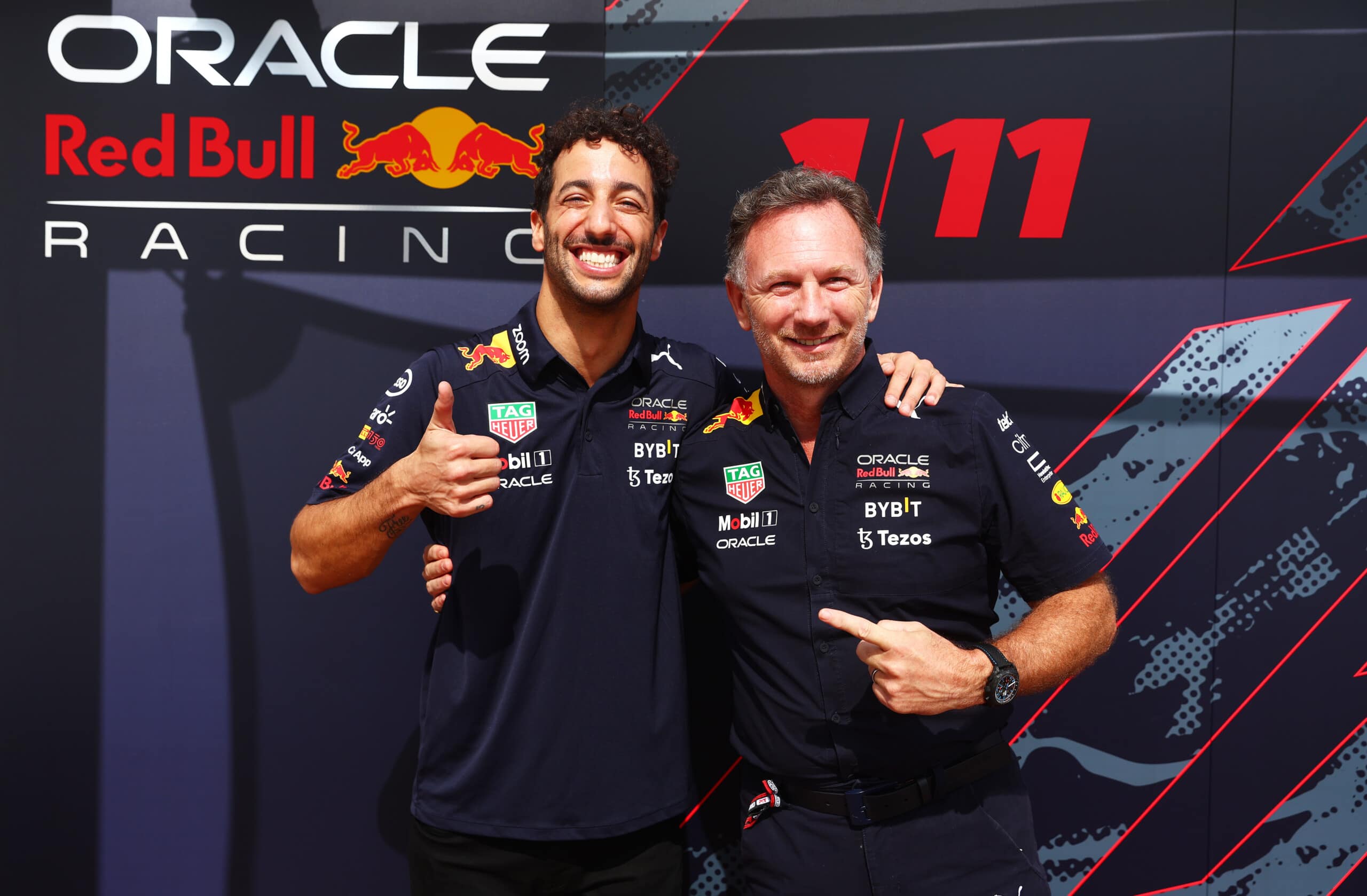 Oracle Red Bull Racing today confirms Daniel Ricciardo will return ...