Today Lewis Hamilton scored the 86th win of his Formula One career – his second of the 2020 season and eighth at the Hungaroring, matching Michael Schumacher's record for the most wins scored at the same race and the same track.
Listen – Formula 1 Grid Talk Episode 42: 2020 Hungarian Grand Prix Review
Hamilton also scored the additional point for fastest lap, with his 1:16.627 setting a new lap record at the Hungaroring. The Brit has now taken the lead in the Driver's Championship on 63 points.
"What an incredible race. Honestly, that was one of my favourites that I've raced, even though I was on my own for the majority, it's a very different kind of challenge and I was pushing hard out there – particularly for the fastest lap at the end. I want to say a huge congratulations to everyone back home at the factory in Brackley and at HPP in Brixworth, they've done such a fantastic job developing and improving for this year and this team just continues to amaze me. I love working with them and I'm grateful to be able to perform for them on weekends like this. We had great pace today, brilliant pit stops, a fantastic strategy and then, as I was managing those Mediums for a long, long time, at the end it was the perfect time to get on fresh tyres and take that extra point for fastest lap. Everything has just been on point throughout the weekend, so we need to try and keep it up. I can't wait for Silverstone now, although I'll miss the energy the fans bring, so I hope I can perform for them there as I know they'll be watching from home," said the race winner.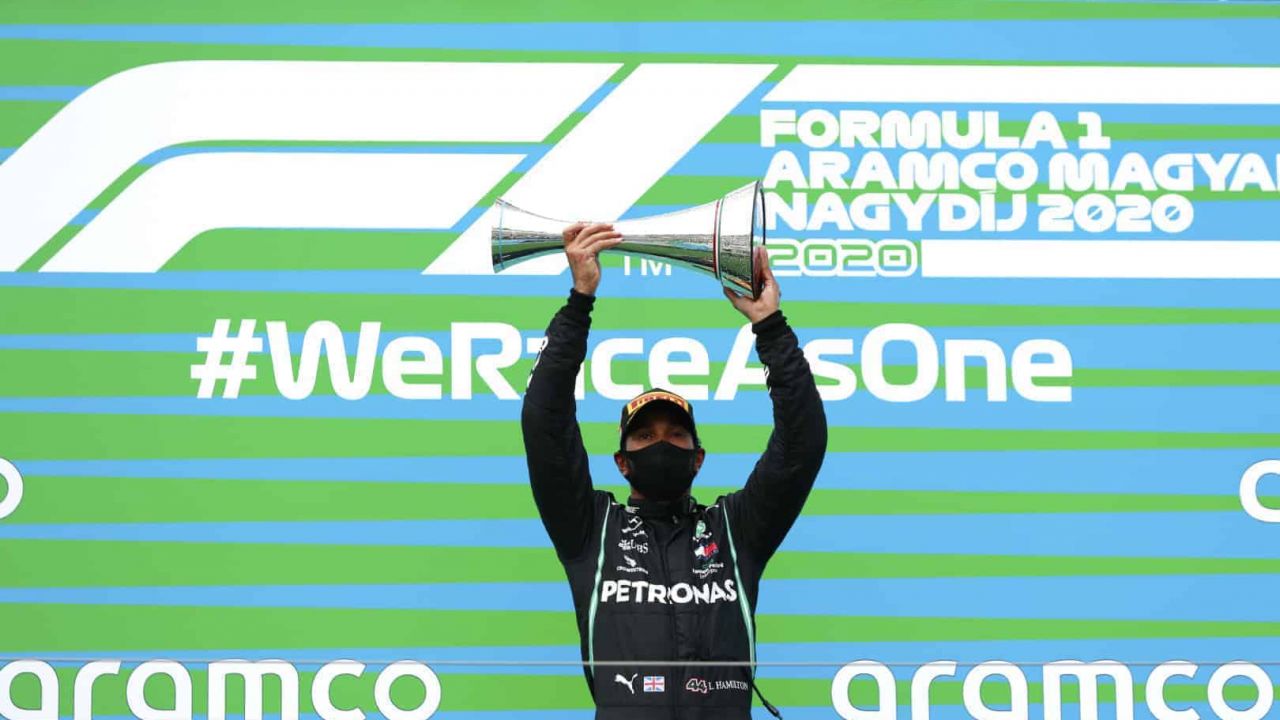 Second-place finisher Max Verstappen's race was almost over before it started, as the Dutchman crashed on the out lap before gridding up. However, thanks to a heroic effort from his crew, Verstappen could take his place in the race and score a memorable podium.
"This podium is definitely dedicated to my mechanics. I thought the race was over before it had even started. I braked, locked a wheel, came off the brakes and tried to brake again but went straight on into the wall on the out lap. I couldn't believe it but I managed to reverse out of the wall and get to the grid. As a Team we never give up and the mechanics did an incredible job to fix the car so quickly, I don't think anyone could actually believe they managed it but they all stayed very calm. The track was still pretty greasy but I had a good start. You cannot plan going into Turn 1 but I saw there was a traffic jam on the inside so I thought I would go around the outside where I knew there was grip in the wet and it worked. The race could have been very different if I was stuck in seventh place for a few laps that's for sure. We then made all the right strategy calls and I just had to manage my tyres, be as consistent as possible and manage the backmarkers. To be second here between the two dominant Mercedes cars is an unbelievable result and we did not expect it yesterday after qualifying and such a difficult weekend. We want to try to close the gap to Mercedes, they are really dominant at the moment so it will be very hard to beat them but we won't stop trying," said Verstappen.
Lewis Hamilton's teammate Valtteri Bottas overcame a poor start to gight his way back up to P3, which sees him drop to second place in the championship standings.
"That was a tough race. Obviously starting second on the grid, you aim to win the race, but I had a bad start and lost a few positions. I reacted to a light on my dash that went off, instead of the start lights, which then meant the car went into anti-stall and I had to do the start again. I lost some ground there and that made the race very difficult for me, as I was fighting right to the very end. It was pretty close with Max and I think the gamble to pit late on was definitely worth taking, as it gave me the difference in tyre life. But it didn't quite pay off today. Still, I scored a good haul of points and there's plenty to learn from this weekend, heading to Silverstone."