He might not have started the brand new season with a dominant pole at Bahrain but here in Italy, it was the reign of the king on a very captivating Saturday afternoon as twenty cars returned to lock horns after a three-week break for the Imola GP!
Lewis Hamilton wasted no time whatsoever in announcing his return to the top of the timesheets for the all-important qualifying battle as he captured pole position on a hotly-contested 2021 Imola GP. In setting a belter of a lap at 1:14:441, Hamilton took his tally of pole positions to a majestic 99 poles, sitting one shy from completing a century of poles, a record that inspires envy and exudes pride.
'Today has been great, obviously. I definitely didn't expect us to be ahead of the two Red Bulls. I think they've been so quick this weekend. There were times when they were six tenths ahead. We didn't really know where they would be, but the car was already feeling a lot better from the beginning of this weekend, so you know, mad respect to the Team for the hard work to really narrow down the window.'

'This track is all medium and high-speed corners, so I think that's why we've closed the gap. Temperatures are much lower which has brought us closer to the Red Bulls. But they are so strong – it's going to take absolutely perfect laps to stay ahead of them if we are going to have a chance of the win tomorrow.
But it wasn't just a sparkling afternoon for the Mercedes at the twisty and bumpy Imola as the two Red Bulls kept themselves in the hunt with Sergio Perez driving a commanding flying lap in his final Q3 as he put his RB16B on P2.
For the better part of Q3, Perez demonstrated great speed as he turned out to be the faster of the two Red Bull drivers, squeezing out the very best from his softs in a session where all ten drivers began on the softest compound on the track.
A career-best starting grid position for the talented Mexican also meant that Perez took just two races to out-qualify his mercurial teammate, Max Verstappen, the Dutchman placing his Red Bull on third.
'What a massive result for us, knowing that I could win the race tomorrow is definitely a good feeling. There are a lot of positives to take out of today but I made a little mistake at the final turn, I was so close to pole. I can't believe this is my first Red Bull start on the grid, as I started from the pit lane in Bahrain and it's from the front of the grid! It just shows the amount of work we have put into this as a Team is paying off. Looking to the race tomorrow, Max and I are of course on different strategies, I am starting on the softs and Max is on the mediums so I think we have a good race ahead of us, especially as we've been able to apply the pressure to Mercedes. It was a great result for us today but we can't get too carried away, I know that there is a lot of work to be done and it's important that we keep making good process,' said Perez.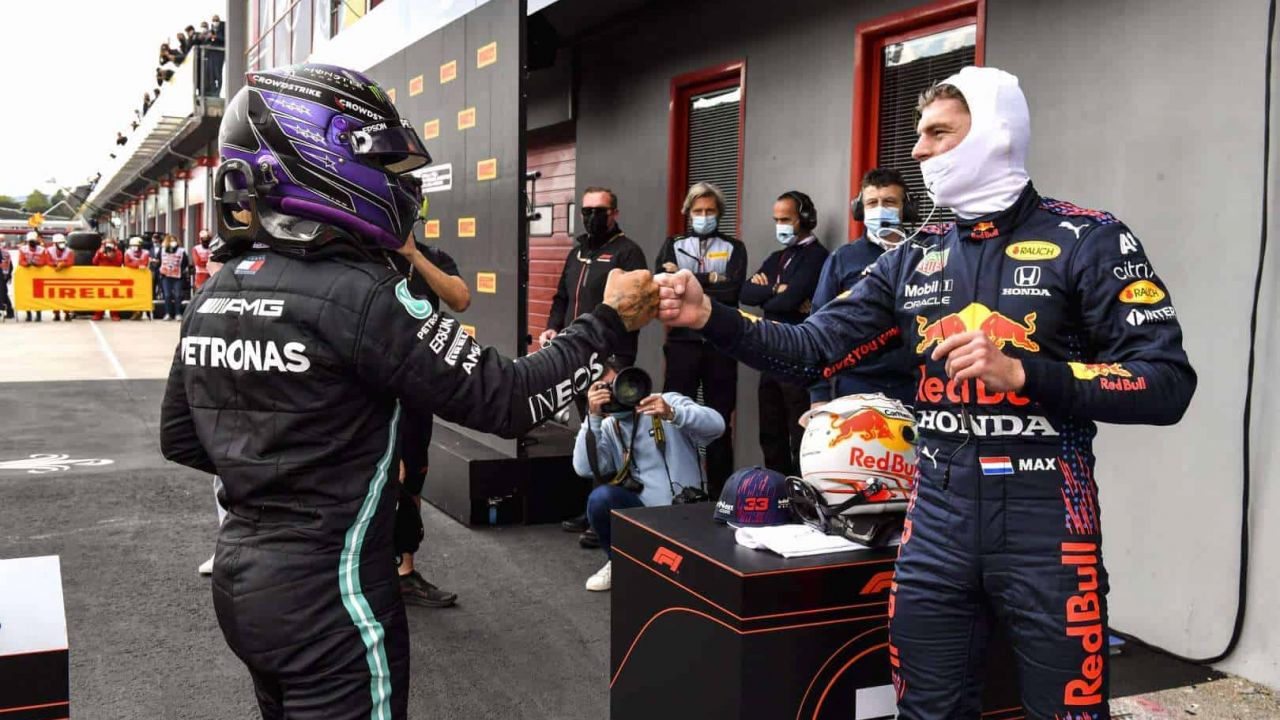 Meanwhile, young Monegasque driver Charles Leclerc kept Ferrari involved in a top-five tussle, placing his SF 21 on fourth, positioning the nose of his sparkly red machine ahead of Pierre Gasly's very competitive fifth for Alpha Tauri.
'It was a very good qualifying, even though I feel we struggled a bit more compared to yesterday to achieve the lap times we wanted. We took a small compromise in terms of setup that will help us in the race tomorrow. It made it a bit more difficult in quali, so let's wait and see. I made a small error in the chicane, maybe I could have gained another 7 or 8 hundredths there, but looking at the time sheets it wouldn't have changed our position, so I am very happy with P4 today.

'The track is amazing. I love it because you cannot afford to make any mistakes. There is not much tyre management involved, which is something we drivers like, because it means we can push throughout the race.
It should be an exciting but difficult race. We are lacking a bit of straight line speed, so hopefully we will have a good enough pace to get away. If not, it will be a bit more difficult, but I think that our performance overall is better here than it was in Bahrain. At Sakhir it was a real surprise to be P4 on the grid, today, a bit less so.

'There is a lot of motivation in the team, a good momentum. We need to use it and continue to work as hard as possible as a team, keep our feet on the ground and continue to push as we have been doing for the past months. Then I am sure the good days are soon to come,' added Leclerc.
Agony and ecstasy for Norris at the 2021 Imola GP
Surely if there's a young gun who doesn't mince words and means business then it's McLaren's cheery Lando Norris. A driver who looked very threatening in his first flying lap in Q3 as he went about setting the fastest time of the ten involved in a tussle, Lando Norris, it seemed would do the unthinkable and match Lewis Hamilton.
And he all but did as he put his MCL 35M in the hunt for a daunting pole, an inspired run during which the young Briton would impede the track limits in the final sector, as a result of which what initially seemed to be a maiden P1 became a deletion in his track time, and P7 in the end.
'A disappointing end to qualifying. I think the whole thing went very well and I was very happy with my laps all the way through. We only did one run in Q1 and Q2, which I think is the first time I've ever done that. So things were looking hopeful, but I just overdid it slightly on my final lap, which was a very good lap but just a little bit wide and the lap was taken away. Pretty disappointed, because we could've been a lot higher up and in a much better position for tomorrow,' said Norris.
This meant that there was a gain for McLaren newcomer Daniel Riccardo, who captured a P6, a repeat of his 2021 Bahrain GP qualifying effort.
There was an unending struggle for Valtteri Bottas especially in the entirety of Q3 as he never quite looked threatening enough to deny Hamilton a pole, finding himself outpaced by even inexperienced Lando Norris' blitzy McLaren.
Ending six-tenths behind teammate Hamilton, Valtteri's task up ahead on Sunday would be to engage in a close-fight with the likes of Leclerc's Ferrari and the two McLarens, a battle that should make for compelling viewing.
Esteban Ocon of Alpine F1 and Lance Stroll of Aston Martin made up the ninth and tenth slots on the grid respectively on a cracker of a Saturday afternoon where cars battled oversteer and hardly shied away from contacting the kerbs.
Williams shine as Vettel, Alonso, Sainz disappoint in Q2 at Imola GP!
If there was ever a qualifying battle where one saw the keenness and hunger of the two Williams to pace themselves out of the ignominy of cementing spots further down the rear of the field, then the 2021 Imola GP quali battle was it.
A qualifying contest that Canadian Latifi would remember for the times to come, the young Williams driver first scripted a bit of history for himself by making it to Q2 for only the second time in his career. The only other occasion where the promising Canadian made it to Q2 was in Hungary, 2020.
But at the heart of his determined run was the fact that he outpaced Russell in Q1. The Williams duo gathering a very respectable P12 and P14, respectively, with Russell using all his experience to edge out Latifi.
Though, it could be said Q2 wasn't quite a walk in the park for the experienced duo of Vettel and Alonso, the Alpine and Aston Martin struggling for grip whilst running on rickety pace. In finding himself on thirteenth, Vettel once again fell shy of teammate Stroll while the returning Spaniard found himself out qualified (remember Ocon's P9) for the first time ever since Malaysia 2017.
But the biggest disappointment of them all, it could be said, was Carlos Sainz jr., whose P11 seemed insipid, driving at all these times, the same machine with which teammate Leclerc kept up the fight for Ferrari.
'Today's result is not what I wanted. I struggled to nail all the corners in one single lap since the beginning of qualifying. Every small mistake can cost you many positions in this tight field, so I am not happy because I know the lap time was there had I been able to make it all work on one strong lap.

'At the same time, I think this track has exposed that I still lack a bit of experience with the car to exactly know what to expect and how to extract the absolute maximum of it. It will come, I'm sure, but I feel I'm still on a learning curve.
Into tomorrow, you can be sure I'll give my absolute best to gain positions and fight for the best result possible. I'm confident in my pace and we will try to use the free tyre choice to our advantage,' said Sainz.
Can the young Spanish driver make it count and swoop to a seventh or eighth or maybe go further up shall form a key narrative for Sunday's battle.
Familiar disappointments in Q1
Struggling to match the qualifying pace as the rest of the midfielders, the Alfa Romeos of Kimi Raikkonen and Antonio Giovinazzi never quite looked in touch to score a memorable slot for their Swiss team here on a cracker of a 2021 Imola GP qualifying sesison.
Kimi's P16, followed by Gionviazzni's P17 at Imola was way more disappointing than what the duo gathered in the season-opening run at Bahrain, where Gio's P12 and Raikkonen's P14 carried a touch of respectability.
'It's very disappointing not to get the chance to even set my final lap because of what happened today. Drivers normally respect each other on track but that was not the case today – Mazepin just failed to leave the space to the car ahead that all other drivers always give and destroyed my lap. I haven't spoken with him yet, but this is not the behaviour we expect from each other on track. It's a shame as the pace we had in the car yesterday was really good and we could have got a good result here: we will see what we can do tomorrow, but starting from P17 is not ideal as it's quite hard to overtake here. We still go out, be positive and try to get the best possible result – we scored points from the back of the grid in 2020 so we won't give up yet,' added Giovinazzi.
And while he may not have spun and crashed, Nikita Mazepin of Haas, though competing in only his second-ever quail run seemed out of touch, as he gathered a lowly P19, behind Mick Schumacher on eighteen.
That said, the winner of the most dramatic moment here on a chilly Imola afternoon was young Alpha Tauri recruit Yuki Tsunoda who made a mistake early on in Q1 in the run toward Turn 15 where carrying great speed he spun out of control and carried a bit of kerbs to make a headway straight into the barriers.
Resultantly, Tsunoda would crash out inside eight minutes in the qualifying battle for the 2021 Imola GP and would, as a result, begin Sunday's tussle from the rear-end of the field.
Should he move up in the ranks and make amends for a lost opportunity, it would certainly make for one heck of an evening where the most exciting prospect lies at the very front- the grinding battle between Hamilton and the two Red Bulls that shall try all they can in their might to defy 'Hammertime' at the 2021 Imola GP.
Remember it's not the easiest to overtake here at Imola but do not also forget that all top five have the potential and capacity to deliver a blistering contest for round two of the 2021 F1 season.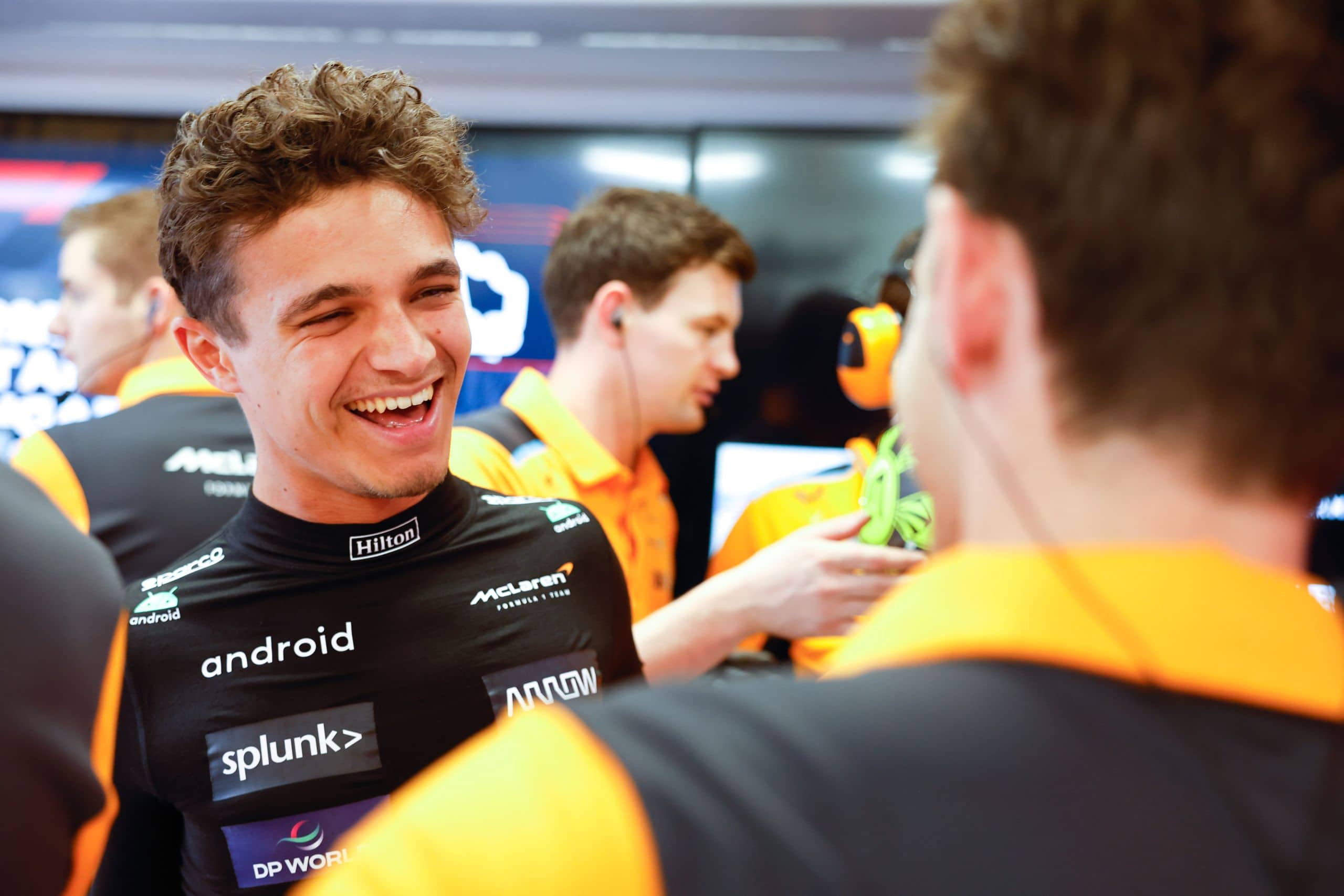 In the most recent times, Zak Brown, the top boss ...