After a dramatic and thrilling Singapore Grand Prix that saw Red Bull's record run come to an end, McLaren driver Lando Norris has revealed that he was millimetres away from losing his podium finish after hitting the wall on the final lap.
'I hit the wall on the last lap at the same place [as George Russell].
'I did the same. I think he copied me! Just did it even worse. No, I feel for him, he fought a tough race, he was probably one of the quickest today, I would say. So, it helped me a bit: the last couple of corners I could chill just a little bit more. Good points for the whole team as well with Oscar there – but everyone – Carlos, Charles, Lewis and George, we all pushed each other the whole way. It was stressful but it paid off. 
'George couldn't overtake me, he struggled to overtake me when he had a five, six tenths advantage, so the chances of me getting past Carlos with maybe a one-tenth advantage, there was no chance. Carlos played it smart. There was no need for me to try and attack him. The more I attacked him, probably the more vulnerable I would have been from both the guys behind and I wouldn't be sitting here, we wouldn't be on the podium if I played it differently.
'So, it was stressful, stressful last few laps, for sure. I think we both knew as soon as the VSC came out, we had to put in a stint-and-a-half and try to open up the gap as big as possible. But they still caught us. And then it was about not making a mistake.
'I knew with George, he was going to pressure me a lot. He did and I had to defend quite a bit into 15, or 14. That's when Carlos backed off after that when there was a little bit of a gap and allowed me to get the DRS which was very helpful. So I think we together played it in a smart way to get the Mercs to stay behind us.
'The last lap then I had a bit more of a breather. I hit the wall, where George also hit the wall, but I hit it with the front so I kind of panicked a bit, thinking maybe I just messed it all up, but it damaged the steering, in terms of it was just off-centre. But luckily, it wasn't anything more than that. So an amazing race, a stressful race from start to finish. A lot of management, but perfectly executed.'
Strong Race Pace
Norris had strong pace throughout the race, and with less tire degradation, was able to close the gap to Sainz.
'I think our pace was strong. Honestly, I think initially I started to catch him myself. I think our pace was a bit better towards the end of stints. The Ferrari was probably better in the initial part of stints. So, I think that would have caught up to him ever so slightly anyway. I think I would have got into DRS. But it was more that when there was a gap, when I was most under pressure from George, that's when he most helped me out.
'So yeah, I guess it helped me keep him from not getting under pressure, from getting attacked, because I'm sure if I had got overtaken, Carlos would have had a lot more stress too, you know? But he drove a good race. Both George and Lewis and, of course, Carlos, drove a great race to not make any mistakes, not have any lock-ups or any of these things, and finish the way we did.'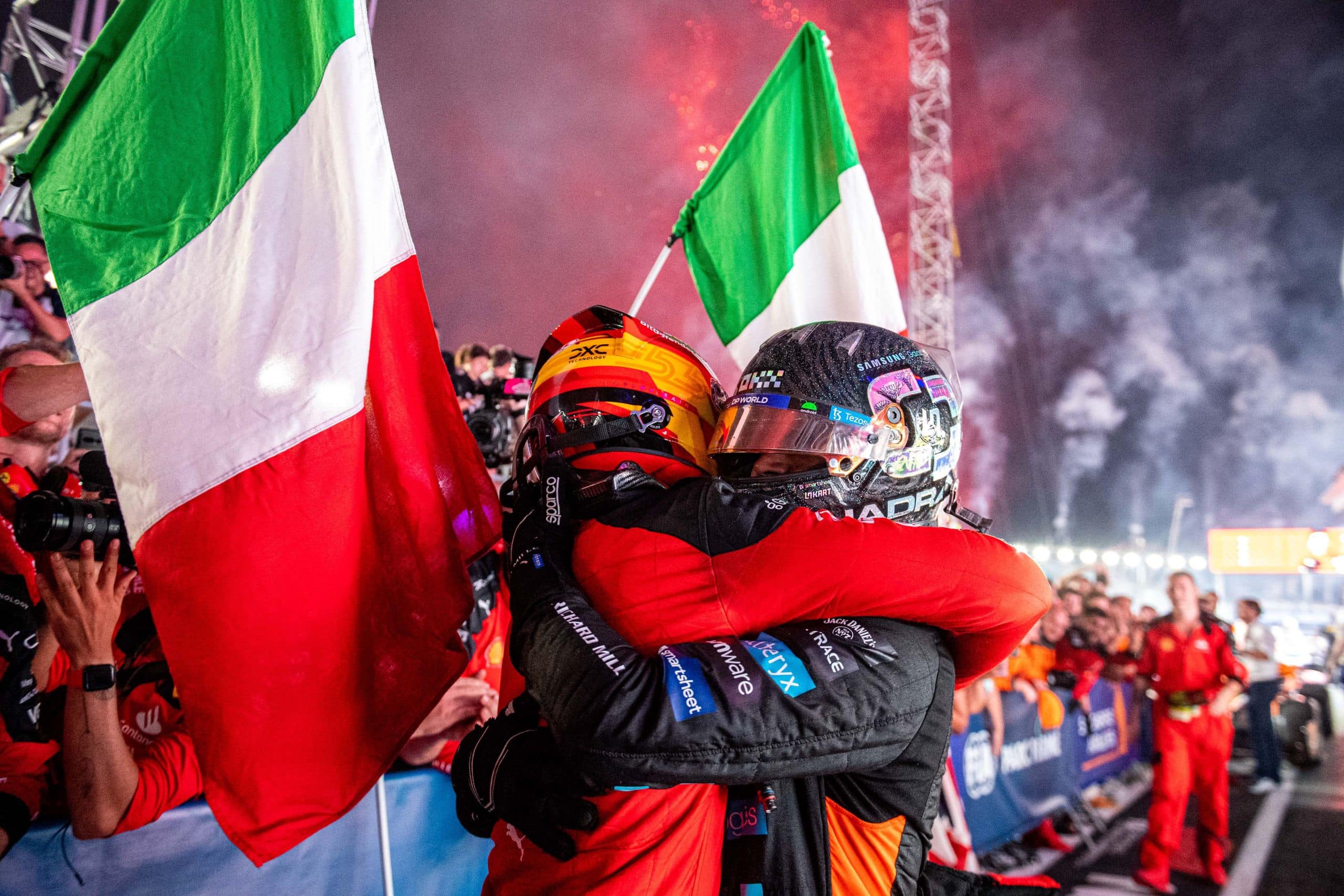 To Pit, Or Not To Pit…
An early safety car compromised the strategy of both Red Bull drivers, so when a Virtual Safety Car came out in the closing stages, many teams pitted, however, both Ferrari and McLaren kept their drivers out, which setup a grandstand finish…
'If we went to Safety Car, we would have boxed, but VSC not. I think on paper, the Mercs, if there was no traffic, they didn't have to overtake, the Merc strategy was way, way faster. If we weren't in a way, they would have been 10 seconds ahead of us quite easily.
'But there's always the task of overtaking, which in Singapore is one of the hardest tasks, and especially at the end. And with a couple of those attacks from George, I think he just put his tyres a little bit over the edge, and he didn't attack me as much after that main attack that he did.
'It's always a difficult challenge here in Singapore, the management and looking after the tyres, but you are kind of a bit dictated to by the guys ahead of you. And, of course, looking in the mirrors to the guys behind you. But we had a perfect pit stop to get ahead of Charles and a perfect strategy to get ahead of the Mercedes as well. So, the team did an excellent job today.'
CarLando v2
After being dubbed 'CarLando' in their time together at McLaren, the duo have remained friends, with Norris happy to be on the podium as his mate celebrated his first win for Ferrari.
'I think Carlos has said it well, it's always nice to be on the podium with whoever that you respect and get along with so the first time we've been able to be P1 and P2 – it's in the wrong order! – but it's alright for now.
'We had our first podium in Monaco, we were both there, so for Carlos to be on the top step is obviously great and he deserves it. He's done a very good job the last few weekends but to be up there too and to share it and yeah, just all of us, we've always got along since 2018, 2019 so yeah, always a pleasure and I'm sure and I hope there'll be more moments like it.'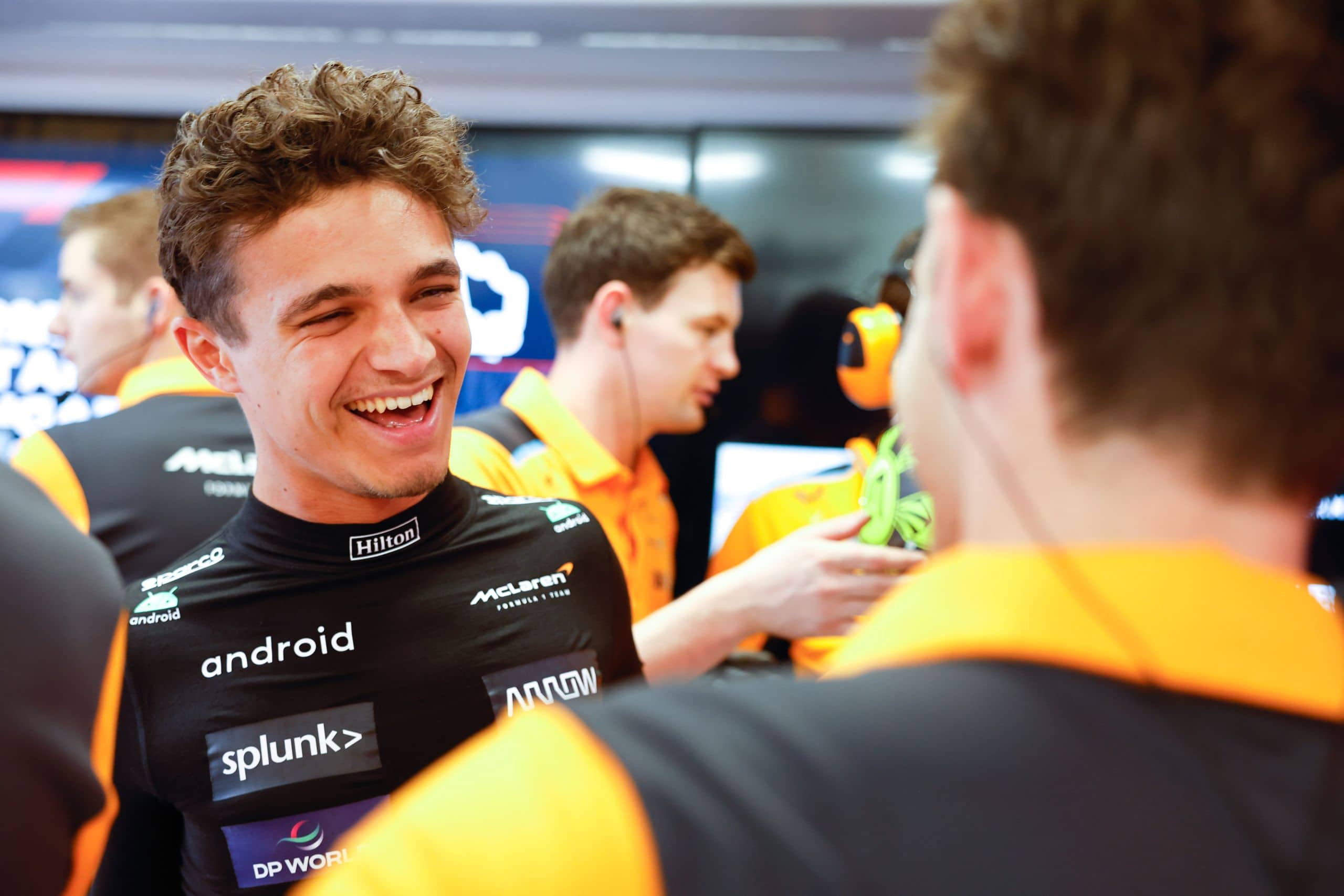 In the most recent times, Zak Brown, the top boss ...