Just how many championships did Alain Prost win during his F1 career? The answer is four, making him one of the most successful drivers in the sport's history.
Alain Prost, a legend in the world of Formula One racing, made a lasting impact with his calculated approach and sportsmanship over the years. The French driver's career spanned over a decade, during which he became one of the most successful and respected racers in history. Prost's extraordinary talent helped him achieve numerous victories, milestones, and accolades throughout his illustrious racing career.
Driving for numerous teams such as Renault, McLaren, Ferrari, and Williams, Alain Prost showcased his keen abilities to adapt and excel in different scenarios. With his intelligent driving style and unwavering commitment to the sport, Prost earned four World Championship titles – a testament to his prowess on the track.
Key Takeaways
Alain Prost won four World Championships during his career in Formula One racing
The French driver showcased exceptional skills and adaptability across multiple teams
Prost's legacy in Formula One includes numerous records, known rivalries, and a lasting impact on the sport
Alain Prost: Career Overview
Alain Prost, born in 1955 in France, was a highly successful Formula One racing driver. His journey in the world of racing started with karting, eventually leading him to become a four-time F1 Drivers' World Champion.
He began his professional racing career in the Formula Renault series in the late 1970s. Prost made his debut in Formula One with the McLaren team in 1980. He quickly established himself as a formidable competitor in the sport, winning his first race in 1981 and consistently demonstrating his driving prowess.
Throughout his career, Prost competed alongside several other legendary drivers, most notably Ayrton Senna. Often, the rivalry between Prost and Senna intensified, resulting in unforgettable on-track battles that garnered global attention. Their rivalry was not just personal but also had significant implications for their respective teams as they competed for championships.
In his illustrious Formula One career, Alain Prost claimed four world championships, making him one of the most accomplished drivers in the sport's history. He achieved these titles in 1985, 1986, 1989, and 1993 while racing for various teams such as McLaren, Ferrari, and Williams.
Prost's driving style was notably calculated and focused on maximizing efficiency, which earned him the nickname "The Professor." This approach allowed him to secure numerous podiums, with 51 Grand Prix wins and 106 top-three finishes in his career.
In summary, Alain Prost was a true icon of Formula One racing with a decorated career that included four world championships. Competing against some of the greatest drivers in F1 history, Prost's exceptional talent and calculated approach on the track cemented his status as one of the all-time greats in the sport.
Teams and Championships
Renault Era
Alain Prost started his Formula One career with the Renault team in 1981. During his time with Renault, he achieved multiple race wins and demonstrated his potential as a future world champion. In the 1983 season, Prost narrowly missed out on the championship title, finishing just two points behind Nelson Piquet.
McLaren Dominance
In 1984, Prost joined the McLaren team and secured his first World Championship title in 1985. The partnership between Prost and McLaren proved to be successful, as the team went on to dominate Formula One during the late 1980s. Prost won further championships in 1986, 1989, and 1993.
During his time at McLaren, Prost had a famous rivalry with his teammate Ayrton Senna. The two drivers, despite being in the same team, intensely competed against each other throughout their time together at McLaren. Their on-track battles were legendary and helped shape the modern era of Formula One.
Ferrari
Alain Prost left McLaren and joined Scuderia Ferrari in 1990. Although his time with the Italian team did not yield any championships, Prost still showcased his talent and skill, finishing as runner-up in the 1990 season.
Williams
In 1993, Prost made his return to the sport with the Williams team. It was during this season that he secured his fourth and final World Championship title. Prost retired from Formula One at the end of the 1993 season, having won a total of four World Championships throughout his remarkable career.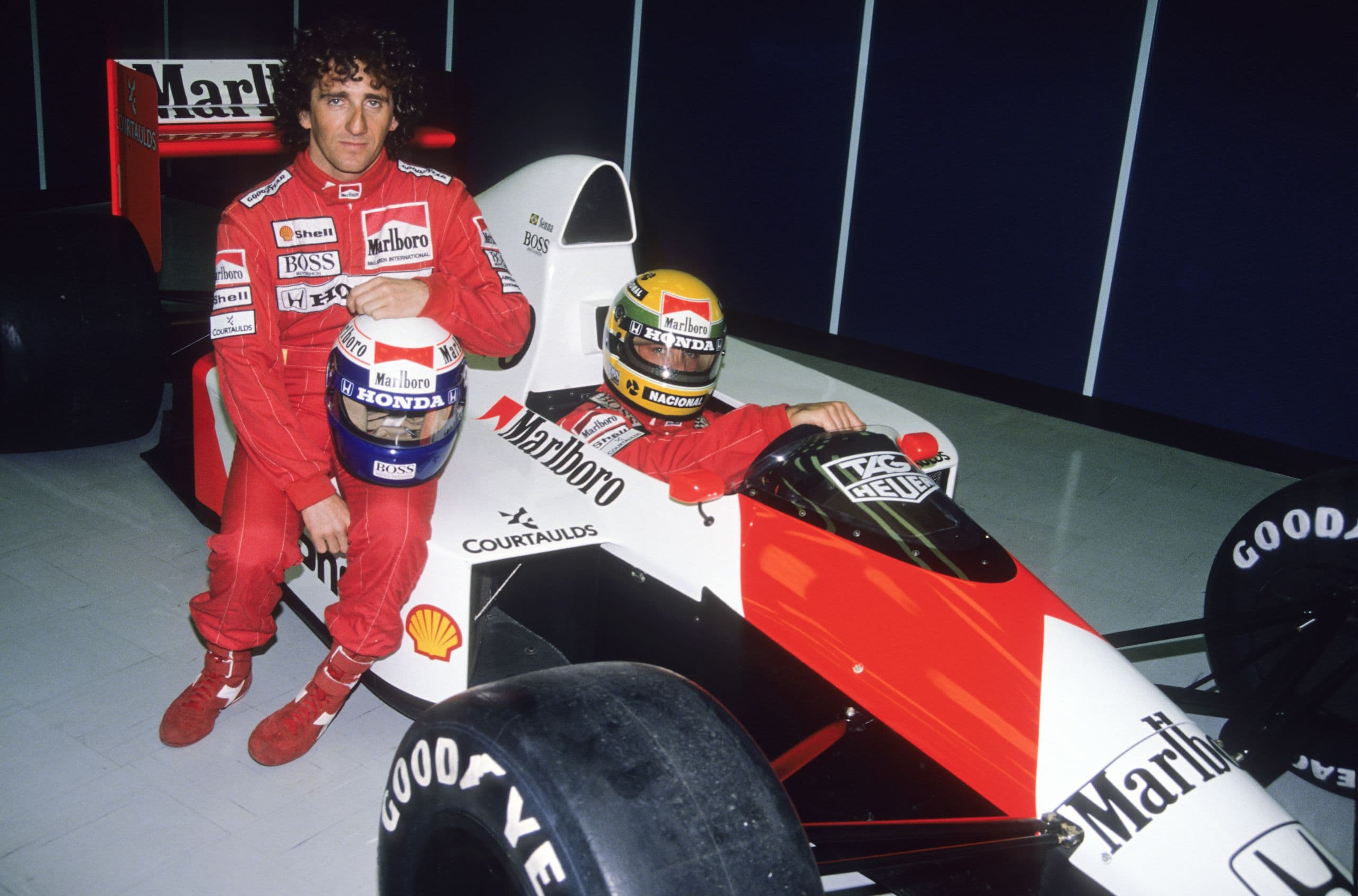 Top Rivalries
Ayrton Senna
Alain Prost's rivalry with Ayrton Senna is undoubtedly one of the most intense and famous rivalries in Formula 1 history. Both drivers were highly skilled and fiercely competitive, and their battles on the racetrack often transcended into personal animosity. Their rivalry began when Senna joined McLaren in 1988, where Prost was the reigning world champion. Their clashes eventually reached a boiling point at the 1989 Japanese Grand Prix, where a controversial collision between the two drivers handed Prost his third world championship and fuelled the rivalry further.
Nelson Piquet
Another significant rivalry in Prost's career was with Brazilian driver Nelson Piquet. The two drivers were contemporaries, with both achieving great success during the 1980s. Their rivalry was underlined by their contrasting driving styles and personalities, with Prost showcasing precision and consistency while Piquet was known for his flamboyance and aggressive racing tactics. Although their rivalry was not as explosive as with Senna, it contributed to some memorable on-track duels over the years.
Nigel Mansell
Prost also had a notable rivalry with British driver Nigel Mansell. The rivalry began when they were teammates at Ferrari during the 1990 Formula 1 season. Mansell, known for his bold overtaking moves, was frustrated by Prost's disciplined and measured approach to racing. Their differing styles and personalities caused friction within the team and led to an intense rivalry on the track. Mansell eventually left Ferrari after one season, but their on-track battles continued to create excitement for fans throughout the early 1990s.
Niki Lauda
Prost's rivalry with Austrian driver Niki Lauda stems from their time as teammates at McLaren in the early 1980s. The two drivers had a highly competitive but respectful relationship as they battled for supremacy within the team. Lauda's final world championship triumph in 1984 came down to a closely fought contest with Prost, with Lauda claiming victory by just half a point. Their rivalry was a testament to the high standards both drivers set for themselves, and the respect they had for each other's talent.
Alain Prost's rivalries with these legendary drivers have contributed immensely to his legacy, elevating him to one of the most respected and successful drivers in Formula 1 history. The intensity and drama of these rivalries have left a profound impact on the sport, creating unforgettable moments for fans and setting the stage for future racing legends to follow.
Notable Race Wins
Alain Prost, a renowned Formula One driver, won a remarkable four World Championships throughout his illustrious career. Born in France in 1955, Prost displayed incredible skills on the track and was often referred to as "The Professor."
During his time as a professional racer, Prost celebrated 51 Grand Prix victories. Some of his most impressive race wins include the 1981 French Grand Prix, where he secured his first-ever Formula One victory. This win proved that Prost was a force to be reckoned with on the racing circuit.
The 1983 Austrian Grand Prix was another significant win for Prost, as it laid the foundation for his success in the coming years. In this race, Prost demonstrated his ability to excel in challenging weather conditions, showcasing his versatility and adaptability.
In the 1986 Australian Grand Prix, Prost claimed his second World Championship title after a tight battle with Nigel Mansell and Nelson Piquet. Prost managed to clinch victory, demonstrating his unwavering determination and commitment to success.
It's important to note that Alain Prost had a long-standing rivalry with Ayrton Senna, one of the greatest drivers in Formula One history. Their intense competition was marked by several dramatic on-track incidents. One of the most memorable is the 1989 Japanese Grand Prix, where Prost and Senna collided, resulting in Prost winning his third World Championship.
The culmination of Prost's racing career came in 1993 when he secured his fourth and final World Championship title. In a fitting end to an exceptional career, Prost retired with the title of the most successful Formula One driver at the time.
Throughout his career, Alain Prost showcased numerous outstanding race wins that contributed to his overall success. His dedication, skill, and adaptability on the track were key factors in his victories and his legacy as one of the greatest Formula One drivers.
Race Record and Statistics
Throughout his illustrious Formula 1 career, Alain Prost proved to be a force to reckon with on the racetrack. The French racing driver, hailed as one of the best F1 drivers in history, won four World Championships during his time as a professional racer.
Statistically, Prost excelled in numerous aspects. His race record can be summarised as follows:
World Championships: 4 (1985, 1986, 1989, 1993)
Race Wins: 51
Podium Finishes: 106
Pole Positions: 33
Fastest Laps: 41
Formula 1 Points: 798.5
In his more than a decade-long career, Prost competed in a total of 202 races. From these races, he consistently put on remarkable performances, securing an impressive 51 race wins, marking a 25.2% winning record. Furthermore, Prost's true mastery of racing is evident in the fact that he stood on the podium an astounding 106 times.
Prost's ability to control his car and outpace his rivals was also showcased through his 33 pole positions, starting from the front of the grid in 16.3% of his races. He didn't stop there; he consistently pushed his car to its limits, boasting 41 fastest laps throughout his career.
As a true Formula 1 aficionado, Alain Prost demonstrated his racing expertise beyond the driver seat. After hanging up his helmet, Prost even went on to manage his racing team, Prost Grand Prix, further cementing his legacy in the world of F1.
Although this section does not provide an overall conclusion or opinion, the facts and statistics listed above give a clear and in-depth overview of Alain Prost's remarkable career in the realm of Formula 1 racing.
Post-Racing Career
After his illustrious Formula 1 career, during which Alain Prost secured four world championships, the French driver pursued various ventures within the world of motorsport. Following a sabbatical year in 1992, Prost returned to racing full-time in 1993, capturing his fourth and final championship title before retiring from Formula 1.
In the years that followed, Prost took on several roles within the motorsport industry. Notably, he started his own racing team, Prost Grand Prix, in 1997. The team participated in Formula 1 as a constructor until 2001. Despite not reaching the same level of success as Prost had experienced as a driver, the team became an important player in the sport for a few years.
Furthermore, Alain Prost maintained a connection to his roots by becoming involved with Renault. In this capacity, he held an advisory role and assisted with their development of Formula 1 engines. Significant progress was evident when Renault-powered cars saw success in the early 2000s.
Outside the realm of Formula 1, Prost tried his hand at other forms of motorsport. He competed in the Andros Trophy, a French national ice racing championship, where his skills on slippery surfaces proved useful. Prost's connection to the Andros Trophy continues to this day, as the motorsport legend has been seen taking part in the event from time to time.
In conclusion, Alain Prost's post-racing career has been rich and varied, with engagements in both team management and alternative racing formats. His expertise and passion for motorsport remain evident, ensuring his respected standing in the racing world.
Legacy in Formula One
Alain Prost, known as "The Professor" for his calculated and intellectual approach to racing, won four Formula One World Championships during his illustrious career. His record places him among the greats of the sport, such as Juan Manuel Fangio, Jim Clark, Emerson Fittipaldi, Jackie Stewart, Keke Rosberg, Michael Schumacher, Lewis Hamilton, and Sebastian Vettel.
Prost's rivalry with Ayrton Senna is considered one of the most intense and captivating in the history of Formula One. Their on-track battles pushed each other to the limit, and the competition between them undoubtedly contributed to their respective legacies. Off the track, their relationship went through various phases, from fierce competition to mutual respect and friendship.
In addition to his four championships, Prost achieved 51 Grand Prix victories and 106 podium finishes. His driving style was smooth, precise, and calculated, often conserving his car's tyres and fuel to optimise his chances of winning. This strategic approach earned him comparisons with fellow racing legend Jackie Stewart.
While Prost's legacy stands strong among the all-time greats of Formula One, it's important to acknowledge the impact of other exceptional drivers. Michael Schumacher, a seven-time World Champion, set new records in the sport, only to be surpassed by Lewis Hamilton, who continues to break records and claim world titles. Juan Manuel Fangio, a five-time champion in the 1950s, held the record for the most titles for nearly half a century, while Jim Clark and Emerson Fittipaldi, both double World Champions, showcased their tremendous skills across different eras.
Sebastian Vettel, another four-time World Champion, dominated the early 2010s with Red Bull Racing, earning himself a place among the best drivers in history. Meanwhile, champions like Keke Rosberg and his son, Nico Rosberg, represent an impressive father-son accomplishment in the sport.
Jean Alesi, a skilled driver who never won a championship, is still remembered for his passionate and spirited performances. His legacy persists despite not achieving the ultimate prize, proving that individual achievements and memorable moments can transcend statistics.
In conclusion, Alain Prost's four championships and his era-defining rivalry with Ayrton Senna secure his legacy as one of Formula One's all-time greats. However, the sport's rich history is also shaped by the achievements of other extraordinary drivers, who have all left an indelible mark on the world of motorsport.
How Many Championships Did Alain Prost Win? – Frequently Asked Questions
Who were Alain Prost's main competitors?
Alain Prost had several notable competitors during his Formula One career, including Ayrton Senna, Nigel Mansell, and Nelson Piquet. His rivalry with Senna was particularly intense, and the two drivers often battled fiercely on the track.
Which teams did Alain Prost race for during his career?
Throughout his Formula One career, Alain Prost raced for a number of teams, including McLaren, Renault, Ferrari, and Williams. His stints with McLaren and Williams were especially successful, and he won multiple world titles with each team.
In what years did Alain Prost secure his F1 titles?
Alain Prost won the Formula One World Championships in four different years: 1985, 1986, 1989, and 1993. These impressive victories solidified his place in the history of the sport.
How does Alain Prost rank among other F1 world champions?
Alain Prost is widely considered one of the greatest Formula One drivers in history. His tally of four World Championships places him among the top drivers in terms of career victories, although several others, including Michael Schumacher and Lewis Hamilton, have since surpassed his total.
Who did Prost triumph over for his championships?
During his championship-winning seasons, Alain Prost triumphed over a range of competitive rivals. In 1985 and 1986, he bested Michele Alboreto and Nigel Mansell respectively. In 1989, his main competitor was Ayrton Senna, while in 1993, he won the title ahead of Damon Hill and Ayrton Senna.
What car models did Prost drive during his title-winning seasons?
Alain Prost drove various car models during his successful title-winning campaigns. In 1985, he claimed victory in a McLaren-TAG, while in 1986, he drove a McLaren-Porsche. For his 1989 championship, Prost raced for McLaren-Honda, and in 1993, he secured his final title while driving a Williams-Renault.
Want to save this information for later?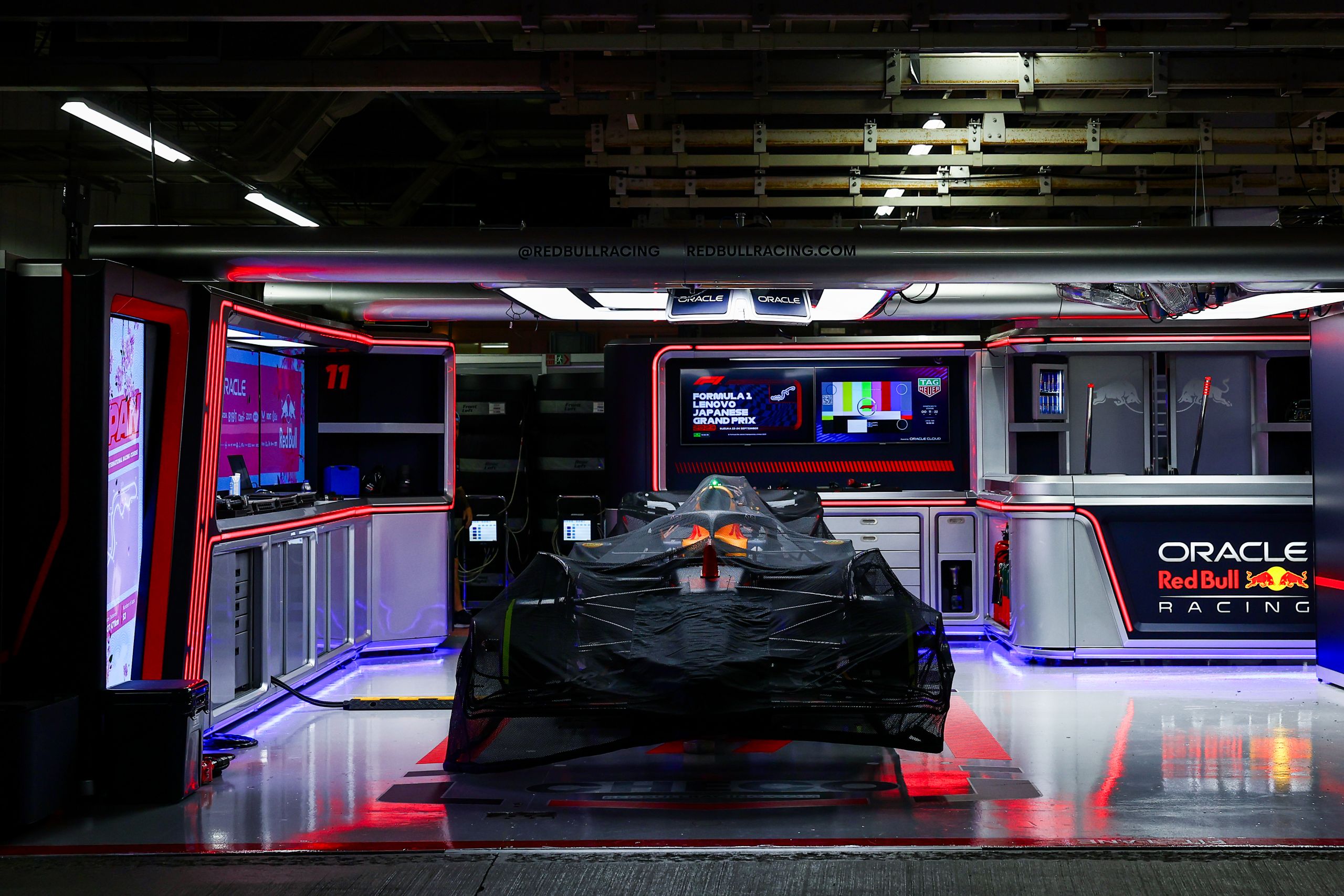 The roar of engines, the blur of speed, and the ...