Much like his teammate Valtteri Bottas, championship leader Lewis Hamilton suffered a torrid time with tyre blistering throughout the 70th Anniversary Grand Prix, eventually finishing second to Red Bull Racing's Max Verstappen.
The Brit managed to extend his lead in the championship, by virtue of passing his teammate in the closing laps, as well as snatching the extra point on offer for the fastest lap of the race.
Blistering Issues Surprise Hamilton
After puncturing on the final lap of the 2020 British Grand Prix, Lewis Hamilton was wary of similar issues derailing his championship bid as Pirelli brought softer compounds to the second race of the Silverstone double-header.
As it turned out, while the tyres held together, the amount of wear was both worrying and surprising to the 6-time World Champion.
'Firstly, congratulations to the Red Bull team and to Max. You look at their tyres they don't have the problems that obviously we had today. Definitely unexpected to have the blistering as hard core as we experienced it, but I'm really grateful to have progressed and managed to just get my way through the race. I think I had blistering right at the end again, but I had been pushing pretty heavily to catch the guys in the lead.
'I'm sure the team will be working as hard as they can because we've not had that before. Obviously, Pirellis were struggling with tyres failures last week so then this weekend, they just put the pressures up and up. They're balloons now. They're they highest pressures we've ever had at a track like this. I wouldn't be surprised if it was an affect for us but I don't know if anyone else struggled with the blistering we had. But it's something we'll look into.
'That middle stint was… even the first one actually, the first stint was really difficult I started to fall back to Max… And then that second stint I was managing like you couldn't believe. I was managing to the best of my ability but it didn't make a single difference to that blistering. At the end I was just driving with half a tyre basically. If you looked in the mirrors, one half is bald and the other side is OK. It held together but I was nervous it was going to explode,' said Hamilton.
A One-Stopper Was Considered
With the events of last weekend fresh in their minds, Hamilton and his team still considered the possibility of a one-stop race, though with the blistering getting worse as the laps went on, they decided to pit and pocket the points, rather than risk going home empty-handed.
'I was trying to go for a one-stop at the end but there was a lot of vibration with the tyres that we had and I didn't know if the tyre was going to last if I'm being honest.
'Not just with the rubber but a rear tyre blow-out through a corner was too big a risk to take; that would have been end of race, so I think it was a good decision by the team.
'I was trying to keep going but there were a lot of laps to go and Max, I think at the end, was doing 28s, 29s and I couldn't do that on the tyre old tyres, so congratulations to Max, he did a fantastic job.
'It was an exciting race for me with the struggle we had, keeping the car on track and not losing my cool and bringing it home and getting the points, so I'm really happy with it.
Tyre Degradation Worse Than Practice Simulations
The Mercedes outfit used the Free Practice sessions on Friday to test the tyre degradation over long runs, yet with variable temperatures playing a part, didn't experience anything like the degradation they experienced under race conditions.
Although suffering with the softer compounds, Hamilton believes races with two stops make much better racing, with more entertainment for fans.
'We haven't had deg like this before. So, it's big. I don't know what happened today. We've come here with the softer tyres which, I think, has made the race even more exciting as we set about a two stop.
'Part of me doesn't want to propose that we go with softer tyres moving forwards because maybe we'll be in this position again, but ultimately, one-stop sucks.
'We should never be doing one-stops, I think in this sport. It's never been good watching as a fan. It makes it more exciting when there's more.
'I was trying to manage but I was trying to keep up with Valtteri, to be honest, and I was struggling, like, within three laps with the rears, and so yes, managing also but it wasn't doing anything to help the issue.
'So then I started to lose ground to Valtteri and yeah, I've got to look into that because it's rare also for me to have as bad as I'd had. Usually I'm on the slightly better end of a bad day but today was worse,' he added.
Tyre Pressure Not An Issue
During the course of the race there was a radio message heard on the broadcast, where Hamilton appeared to question the tyre pressure on the Red Bull of Max Verstappen.
At the conclusion of the race, he was quick to clear up any confusion, confirming he didn't believe any rules were being broken.
'When we go out and we start the race we have minimal pressures and then during the race they increase.
'With more laps, they go on a steep rise and I assume that we just went on a much steeper rise and increase in pressures.
'In general, to look after your tyres, you need to keep the temperatures down and hence the pressures, so that wasn't really my thought process when I was out there.
'They must be able to keep their pressures lower than ours and that's why ours were blistering and that was just a theory that I had.
'I wasn't saying that they have different settings to us, because we all have the same minimum but if you can keep your pressures lower then you can go further and make the tyres last longer, so I think that that's probably – I'll find out later but I'm sure that's part of the issue that we had.'
Hamilton Happy With Renewed Pressure
After stating last weekend that he wanted more of a challenge to come from Red Bull and Ferrari, Hamilton got his wish, and is relishing the opportunity to rise to this new challenge.
'I think it's great, as I said before, I want to have races where they're challenging like today so I'm excited to watch this race.
'Obviously the Red Bull seems to be quite close in race conditions to us and obviously today is stronger so it shows they don't have as bad a package as perhaps people had said in the past but I think it's good.
'It will be interesting to see the progression through the rest of the year and I definitely will not overlook them.
'I think we've got to keep a close eye on them and keep working to push forwards because I don't think it's going to be easy by any means.
'But I don't think my team has that mentality anyway so we just keep our heads down. I was hopeful today that maybe we would have that – wishful thinking, but hoping to have some sort of race towards the end, but maybe in the future we will get to have some, a bit more.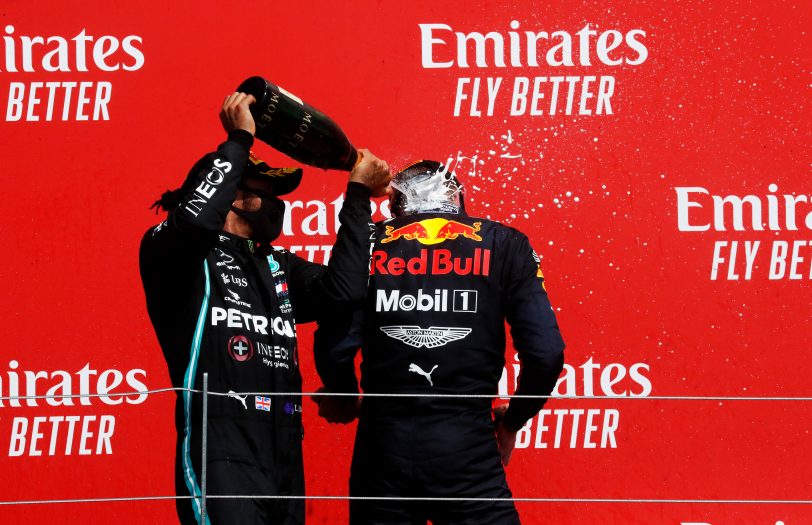 All Eyes On Spain
After back to back races at Silverstone, the paddock now moves to Spain.
With hot temperatures forecast, and travel advisories stating not to head to Spain due to the Covid-19 situation, there will be more than one challenge for teams in the coming days.
'I expect that track (Barcelona), we will probably have similar problems to what we had here, especially if it's hot conditions. Maybe it won't be as bad as today but it's still going to be a challenge. It's (the tyre selection) going to be the same as last week? So it's still going to be a serious challenge for us.
'I don't really know a lot of what's happening there (in Spain) but I stay at the track always, so nothing changes for me. I stay in my bubble, I'm only around a couple of people and so I will get to the airport and then go straight to my motorhome and stay at the track for the three/four days. Same as I have done this weekend,' concluded Hamilton.
Have Red Bull exposed a chink in the Mercedes armour?
With only a week between races, we won't have to wait long to see how Hamilton and his team deal with this new challenge.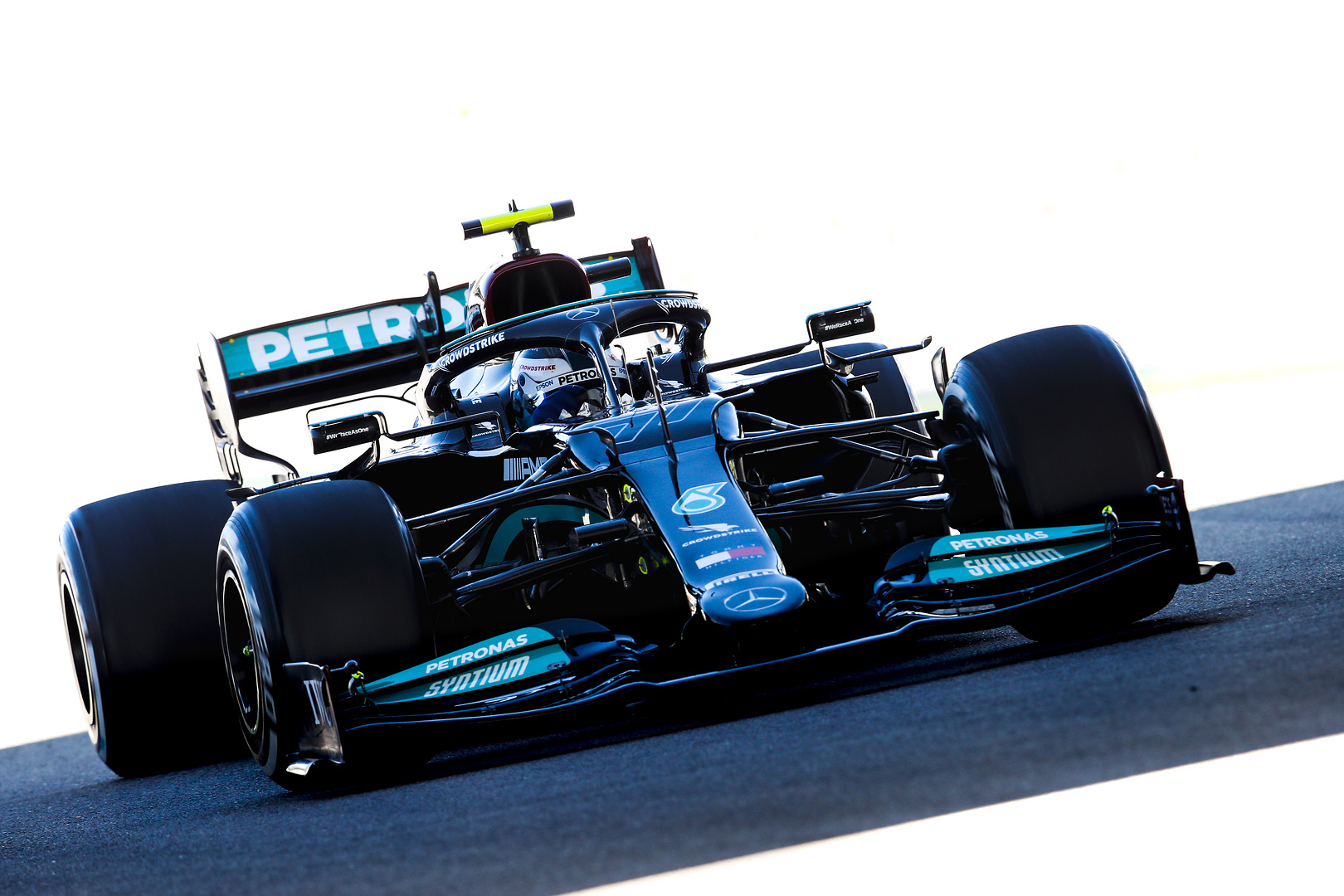 It was a strong Friday showing for the Mercedes-AMG Petronas ...