Scuderia Ferrari locked out the front row of the grid for the Mexico City Grand Prix which gets underway tomorrow at 14.00 local time (21 CET) at the Hermanos Rodriguez Circuit.
Charles Leclerc and Carlos Sainz each put in an incredible lap on their first run in Q3, setting times that were out of reach of the rest of the field. The Scuderia has previous form for this in Mexico, also locking out the front row back in 2019 with Charles and Sebastian Vettel and this is Ferrari's 248th pole, its 69th one-two in qualifying.
For Leclerc this is his second pole in a row, his 22nd, which puts him one behind Niki Lauda in the Scuderia's record books. Carlos has also taken two in a row this year in Monza and Singapore. There could not be a better way for Leclerc to start what will be his 100th Grand Prix with Ferrari.
Qualifying. Both Ferrari drivers got through Q1 on Medium tyres, while in Q2, Carlos had a few worrying moments, getting through to the final phase in ninth spot having encountered traffic on his second run. Both of them then got to Q3 in great shape as they each had two sets of new Softs. Charles and Carlos went out as soon as the session started and got their tyres in the perfect operating window, posting times of 1'17"166 and 1'17"233 respectively. No one was able to go quicker on the second runs, to ensure that this was the Scuderia's best Saturday of the season.
The race. Tyre management will again be an extremely important factor in tomorrow's race. Over the three free practice sessions the SF-23's behaviour on all three compounds was assessed and now the team is preparing for all possible scenarios. It's a long 71 lap race but the Scuderia starts it from the two best places on the grid.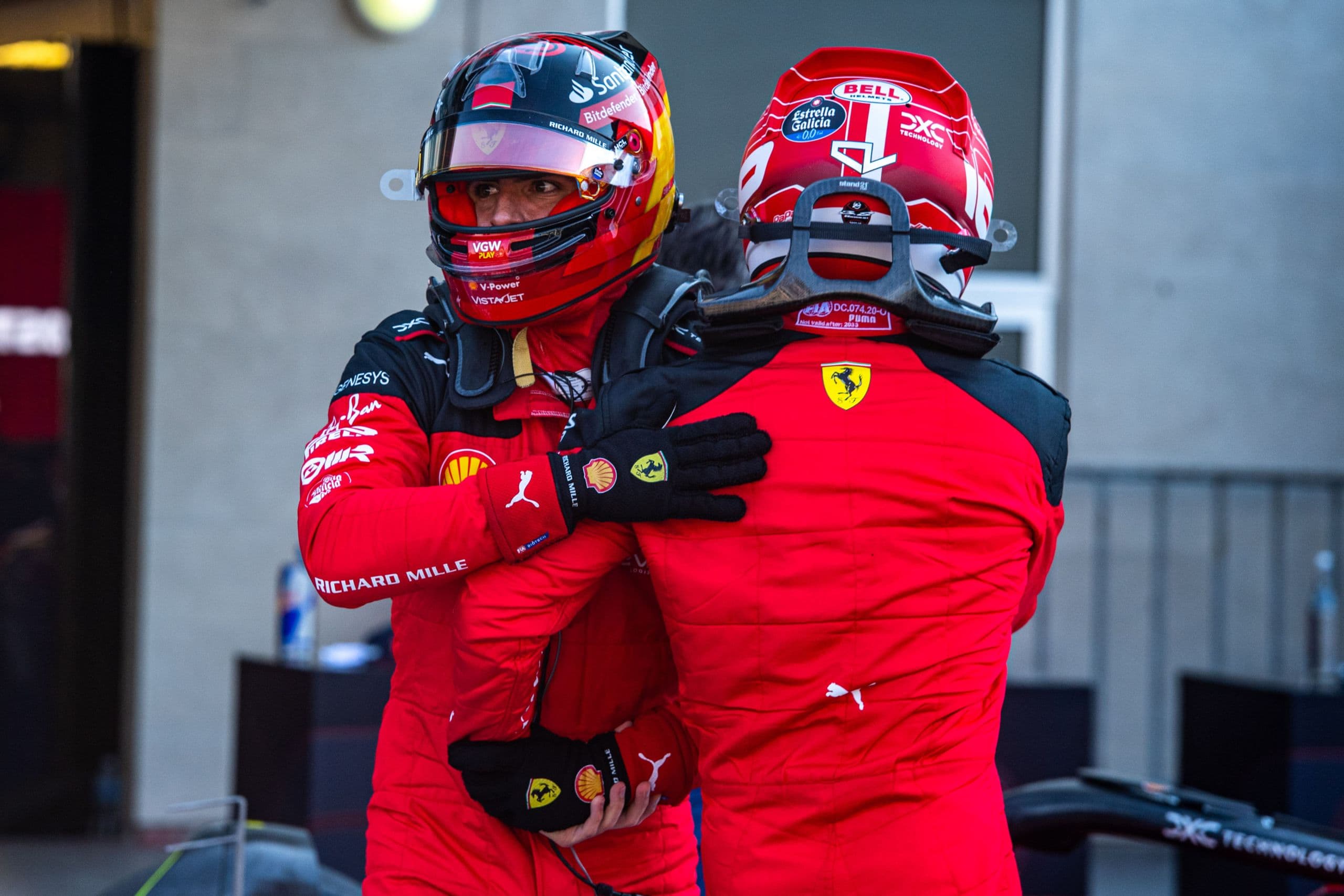 P1 – Charles Leclerc
'I did not expect to take pole position today. After FP3, it seemed as though we were on the back foot but once we put it all together in Q3, it went well. I'm already focusing on the race though, because we want to convert this pole into a win. Our pace has been good so far here this weekend, so let's see what we can do tomorrow.'
P2 – Carlos Sainz
'It was quite a strange qualifying session today, but a mega result for the team! It hasn't been the cleanest of weekends for us but in Q3 we managed to put everything together and consolidate a front row lockout for the race. Traffic nearly put me out in Q2, but the lap in Q3 felt good and this is a fantastic boost for everyone in the team, especially during this long triple-header. We need to stay focused, as tomorrow won't be an easy race. Temperatures and tyre management will be key for us. However, we are in the best possible position to try to keep everybody behind. Let's race!'
P3 – Max Verstappen
"I tried to do the best I could but it just didn't come together today. There's very low grip around this circuit because of the altitude, so it's not as easy to push as hard as I usually would in qualifying. I didn't have the perfect balance in Q3 and that cost us a few tenths here and there. Nevertheless, we were still close to the Ferraris and it's a long race tomorrow. I am feeling confident, I of course would've liked to start first tomorrow but we'll have a good slipstream into turn one so let's see what we can do."
P4 – Daniel Ricciardo
"I'm very pleased. P4 is a little higher than we expected within the top 10, but the pace has been there from the start of the weekend. After Austin, knowing we had a normal weekend in Mexico to try things with our setup, we started with a slightly different car and definitely more toward what I was after. I was happy to hit the ground running yesterday. The confidence in the car was there, and we were always a solid P10 car, with some purple sectors sometimes. Before qualifying, it wasn't about whether we could make it into Q3 but how far up the grid we could qualify. Yuki was great and gave me a slipstream in Q1 and 2, so that definitely gave us the extra tenth or two to get in, and then Q3 was just our pace. From that point of view, we had the pace to do it. The lap I was visualising in my head was maybe P7, or P6 at best, but P4 is wild. As a team, we have to enjoy it because it's a big moment. It's not often that we get this far into the top 10, so there's a part of me that will be enjoying it for the next hour. Points are awarded tomorrow though, and I believe we have a chance to score a lot. Half the job is done but it's a long run to Turn 1, so I'll keep calm, pick a good line, and race hard."
P5 – Sergio Perez
"I don't know where the Ferraris came from, we were not expecting them to be that fast. Overall, I got a clean lap and it felt ok but I just lacked some progression through qualifying, which I didn't get fully and that really hurt us. Not having a new set in Q3 wasn't ideal, that probably proved quite costly with the evolution and being on a used tyre. We wanted to be on the first two rows but we are still P5 and a lot of things can happen tomorrow, I need to overtake four cars and anything can be done in this sport. It's a long race and it's a long way into turn one, we know overtaking here can be really difficult, but anything can happen and I know I have the support of this crowd behind me."
P6 – Lewis Hamilton
'I've been struggling all weekend with the car and it has been a bit of a nightmare to drive. We've had to try and put the performance together piece by piece, and we made good changes going into qualifying so that I was much happier with the car. Q1 and Q2 weren't looking too bad – especially the second run in Q2. But the car is just really peaky – sometimes it's in the window, sometimes not. And I couldn't squeeze anything more out of it on that final lap. The race is definitely going to be a challenge: we will be overheating the tyres and the brakes, so it won't be easy to battle the cars around us. I don't really know what kind of race to expect but it's going to be on a knife edge.'
P7 – Oscar Piastri
"Seventh on the grid. The pace looked good early on, we had a decent Q1, a decent Q2, we just struggled in Q3 with grip for some reason. We'll have a look and see what we can do tomorrow. We're still in contention for strong points, and this circuit always throws up opportunities."
P8 – George Russell
'It was a bit of a shame to end up P8 because we showed signs of strong pace at points, but we didn't deliver when it counted. We lacked consistency today – some runs we were strong, others not, so it was a confusing picture. On the final run, we had one set of new tyres and tried something different on the out lap, and it didn't work and the tyres weren't in the window. As for tomorrow, it will be hard from P8 – the brakes will need managing and PU temperatures are always a challenge, too. We came here expecting to be competitive and I hope we can make progress in the race, but it won't be easy.'
P9 – Valtteri Bottas
"It's great to have both cars in Q3, especially considering where we were just a week ago. I am really proud of the team for the work done: everything ran smoothly today. The track definitely suits our car quite well, so it's been good fun out there: I think I got the most out of our car today, despite a lock-up in the last sector on my final lap. Looking ahead to tomorrow, with the pace we've shown so far, as well as what we have learnt in practice, I reckon we have a concrete chance to bring home some good points, so I am looking forward to getting in the mix."
P10 – Zhou Guanyu
"I am happy with the step we have made today, after a challenging Friday. I felt we had a stronger car in race pace than on the single lap, so to be in Q3, on the same level as Valtteri who had been confident with the car from the beginning, is a very good result. The margins have been tiny all weekend, and we knew track limits would be an issue on this track: we waited in the car at the end of Q2, and indeed we got promoted into Q3. In the final segment, I squeezed everything out of the car – I don't think I left anything on the table. We kept improving with each session, feeling more comfortable with each lap. Now, with two cars in the top ten, we have a good chance to score points: we will still need a strong race tomorrow, but we've put ourselves in a good position to do so."
Frédéric Vasseur – Ferrari Team Principal
'After FP3 I was convinced we could do well, but maybe not this well! Performance this afternoon was mainly driven by the tyres because there was the risk that if you pushed too hard at the start of the lap, you would have killed the tyres at the front or the rear towards the end of the lap. We managed things very well during Q1 and Q2 and we had the advantage of having two new sets of Softs for Q3 for both Charles and Carlos and the first flying laps proved to be the best.
'Of course we will enjoy today's result but we must not get carried away and we are already focused on how we can convert this performance to the best possible result tomorrow as we saw the field is very tight. It's a very long run to turn 1 and the slipstream here is an important factor, but we still prefer to start from the front row. Having both drivers there separated by six hundredths shows the team is doing a good job.'
Want to save this information for later?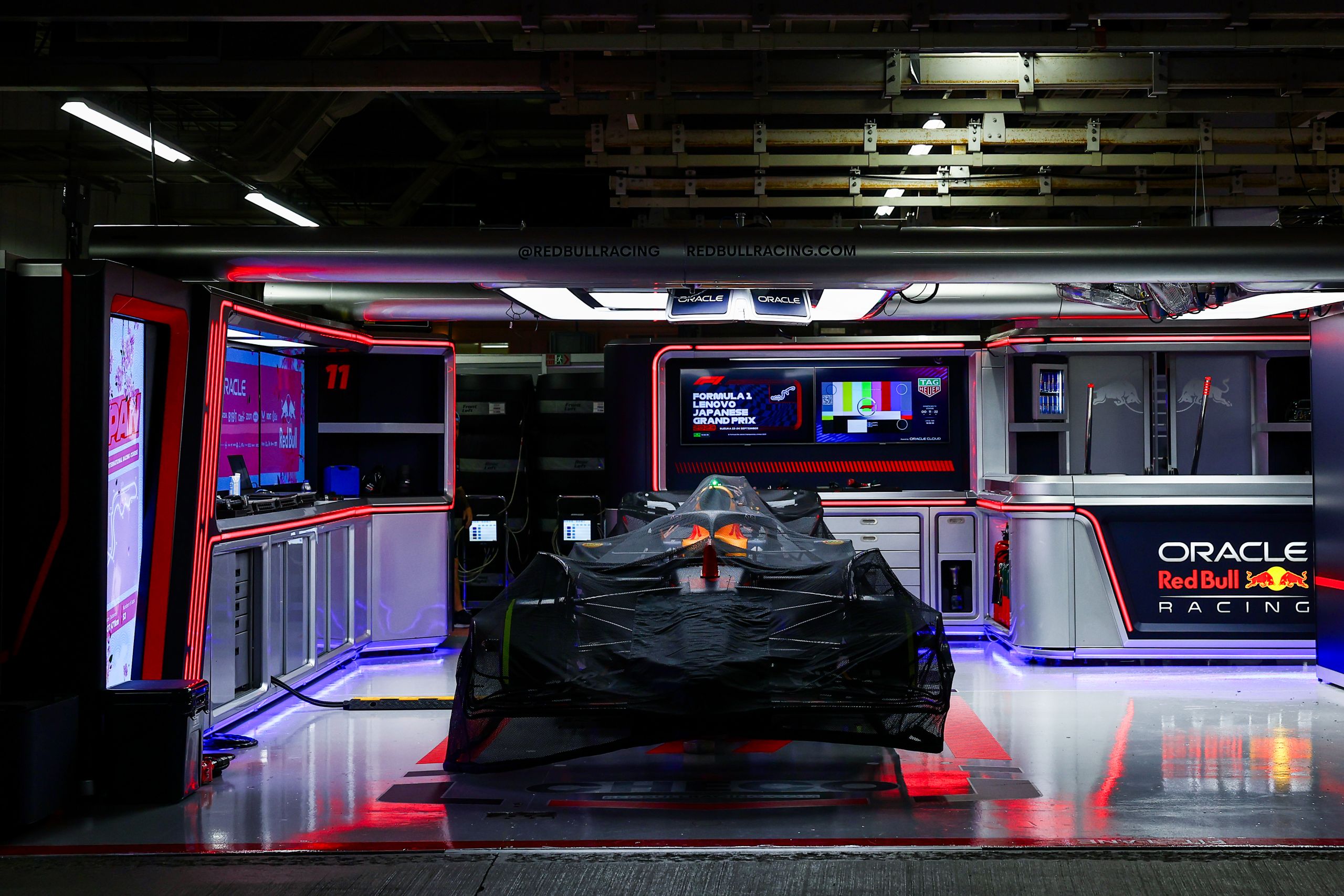 The roar of engines, the blur of speed, and the ...