Daniel Ricciardo has delivered on one of his main objectives since signing for Renault; to return the French manufacturer to the FORMULA 1 podium. For the first time since Robert Kubica graced the podium at the 2010 Belgian Grand Prix, the Renault team will add a trophy to the trophy cabinet thanks to the relentless efforts of the affable Australian.
Daniel Ricciardo's First Podium Since 2018
The 2020 Eifel Grand Prix was Daniel Ricciardo's first podium finish since 2018, and the Australian's trademark smile was bigger than ever.
'It honestly feels like the first podium. These emotions. There's like that feeling when you get out of the car and go and hug the team, getting slapped on the helmet, getting a nice headache, it's a bit of a shock happiness but we know we did it.
'I think as well, it's the first one with Renault, so the first podium with a new crew but, it's been two-and-a-half years since I was in one of these post-race press conferences, so it's been a while.
'It's a feeling I've missed. I feel we've been knocking on the door, particularly the last four-five races we've been so close and finally had the opportunity and we took it.
'I felt it was coming and it's nice to have made it happen, so very, very happy for everyone. To see Renault there down below the podium, I know it's a big day for everyone.'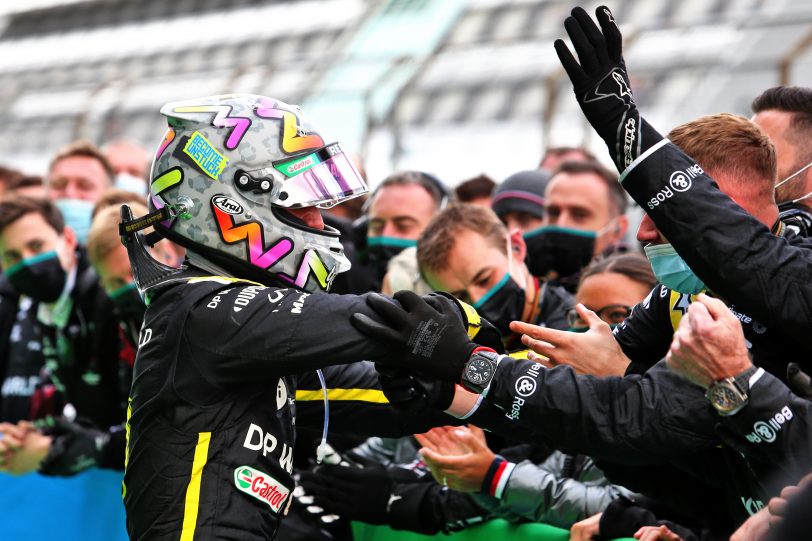 Fight To The Podium With Sergio Pérez
Ricciardo had a fight to the podium with Sergio Pérez closing and the Australian on worn tyres, which meant the team had a critical decision to make: do they pit and give up track position, or stay out and try to fight? Thankfully, the Safety Car came out and made the decision a simple one.
'It was going to be tight. I was trying to manage a little bit the tyres to have something at the end but he started to catch me, on some laps a second a lap.
'So, I was then trying to pick up the pace and not to be vulnerable too early. There was a discussion: do we pit or not? But, I think if there wasn't a Safety Car, I think we would have stayed out and tried to have held on – at least put up a fight.
'I think, you know, if you pit and then the tyres don't have much of an advantage and we don't get on the back of Pérez, then some could say you had the track position and you gave it up.
'So, I think in that position we would have taken the risk. And it would have been very close. I was a little bit mixed to see the Safety Car because I knew it was going to bunch us up – but obviously it put us all on the same tyre, so it maybe helped us hang on at the end.'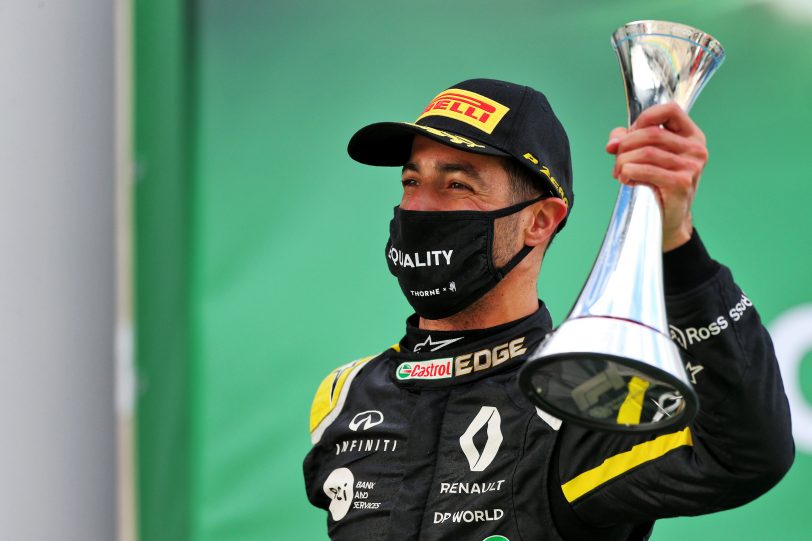 The Tattoo Design Bet
As well as the trophy for third place, there is also the tattoo bet with Cyril Abiteboul to be settled…
'Yeah, so it's real (the tattoo). It's going to happen. We'll have to do some thinking now. Probably something to do with me but I think with a German flavour. This is obviously the place we did it so a little tip of the hat to something traditional in Germany as well.
'I think there's going to be a lot of brainstorming to do for Cyril's tattoo. I'm sure he's going to be excited. The first one is always a fun one. We'll think of some things – but yeah, could be this!'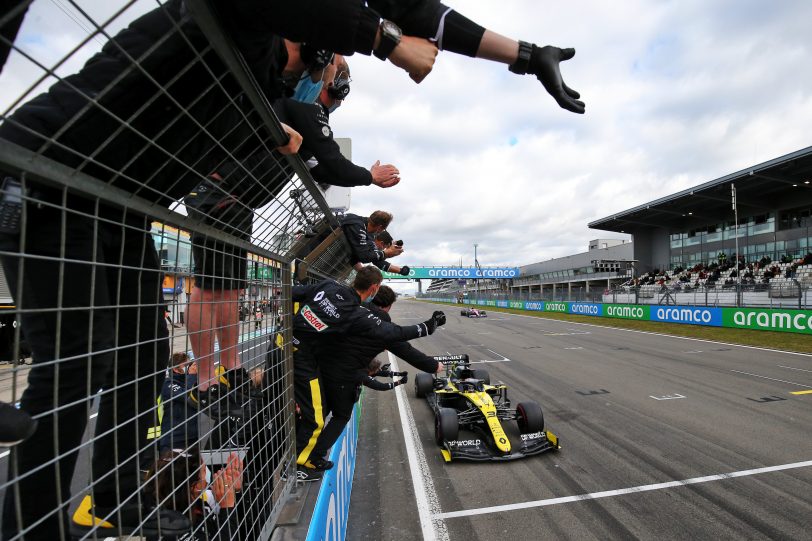 Cyril Abiteboul Proud Of Whole Team
For team boss Cyril Abiteboul, it was a proud moment as both he and the team have come in for a great deal of criticism over the years, but the Frenchman believes the team have turned the corner and can fight for more podiums in the future.
'It's a great feeling that and I would like to share this emotion we had at the track with every team member.
'It's been a huge, huge journey to get here and today is a milestone. We earned that podium: we've seen it coming for some time.
'We have had the potential to be there and today we had the right circumstances. While we might need events in front to happen, we have a car that is a good all-rounder and when this type of opportunity comes we have the right team to capitalise.
'Daniel drove a great race and fully deserved this – we will have to see about that bet now!'

Given his penchant for dominance and sheer consistency, most headlines ...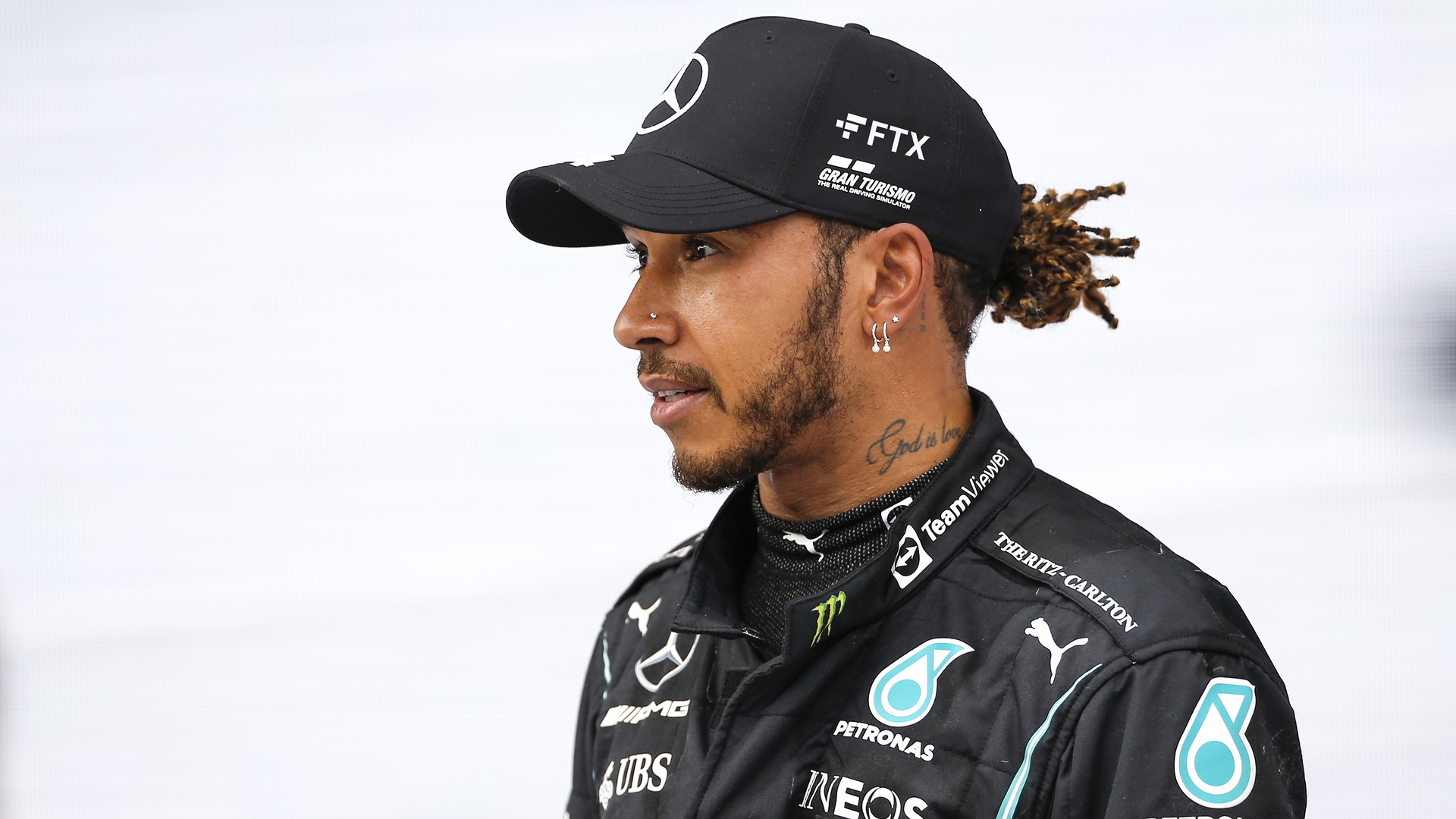 FTX Trading Limited ("FTX" or "the Company"), a leading global ...