Charles Leclerc delivered a perfect performance dominating qualifying to give Ferrari its 249th pole position and his 23rd. That puts him level with Niki Lauda in second place on the Scuderia's all-time list which is headed by Michael Schumacher on 58. The session that began on the stroke of midnight should have delivered a clean sweep for the Scuderia, as Carlos Sainz was second fastest just 44 thousandths of a second behind his team-mate, but he has to take a ten-place grid penalty for a change of battery pack following the very dangerous incident in yesterday's free practice when he hit a manhole cover loosened on the track.
Always first and second. The Scuderia pair was totally dominant, actually finishing first and second in all three phases of qualifying on the 6.201 kilometre-long city track running between the walls. In the final phase, Leclerc and Sainz each had two sets of new Soft tyres available and set their best times on their second runs: 1'32"726 for Charles and 1'32"770 for Carlos.
Racing on Saturday. Once again, Charles, Carlos and the team will be working into the small hours to prepare for the 50 lap race that starts at 22.00 local time on Saturday, effectively on the same day as qualifying, although back in Europe it will be 7am. There has not been a Saturday race since the 1985 South African GP. The top three teams in the constructors' classification are all represented on the front two rows of the grid: Max Verstappen starts alongside Charles, with George Russell in third place, while their team-mates are in the midfield with Lewis Hamilton tenth, ahead of Sergio Perez and Carlos. One can therefore expect a race within a race with a lot of points up for grabs in the battle for that second spot in the constructors'.
Charles Leclerc – P1
"I'm excited to be starting on pole tomorrow, I really like the track and I've felt comfortable in the car all weekend. It's a bit more tricky than expected to overtake and I hope we see some good battles tomorrow. Our race pace looks quite good so hopefully we can convert the pole into a win."
Carlos Sainz – P2
"It's been a great qualifying for the team. Unfortunately, it won't be a front row lockout tomorrow as I will take a penalty. The frustration and anger I feel right now won't go away easily, even more so looking at how competitive we are on this new track. However, you can be sure I will do absolutely everything to recover from P12 and I know we can produce a solid race. It's unknown territory, but hopefully it will be an enjoyable Sunday with many overtakes."
Max Verstappen – P3
"I think we maximised what we could today. I'm not a massive fan of street circuits, I prefer the high speed tracks where you can really push the car to the limit. So far this weekend we've been lacking pace with the one lap performance but the long runs looked good yesterday. Starting second tomorrow will be interesting, the lead up to turn one isn't too bad but we definitely need a good start. The race will be all about keeping the tyres alive, there will be a lot of graining. I'll ease myself in to it tomorrow and if I see an opportunity I will go for it."
George Russell – P4
"I'm very satisfied with Qualifying today. We were always up there in the top-four, but the Ferraris were a step ahead of everyone today. I think P4 maximised what we had, and we were close with Verstappen for P3. With the grid penalty for Sainz, I think third is a good place to be starting from.
The race itself is going to be very tricky. I am sure there will be a lot of graining for all teams in these cold conditions, but nobody knows exactly how it is going to play out. We may see multiple stops in tomorrow's race but whoever manages to keep the tyres alive will be big beneficiaries. We had some difficult long runs and I think the Ferraris are quicker than us, not just on the single lap but in race pace. We will do our best to give Leclerc a fight though and hopefully the race will throw up a few surprises."
Pierre Gasly – P5
"I'm very pleased with the team effort today especially as our expectation was much lower than what we have achieved. We proved the predictions wrong and hopefully we can do the same tomorrow where we start fourth because of Carlos's [Sainz] penalty. The car felt really good, I felt comfortable and that is so important, especially at a street track where you need to feel in sync with everything. I was able to push to the limit and the laps today were probably my best of the season. We will see what we can do tomorrow. We have to stay focused as it's a new track, conditions will be cool and tricky and we just have to be ready. The target is to score some big points."
Alex Albon – P6
"We executed very well today; we've known this track was going to suit us but it's always a bit scary coming in when there's a bit of hype and pressure, so I'm really happy with how that went. I've been struggling with the brakes all weekend and after my off in FP3, I had to reset my confidence a little bit. I also just want to say thanks again to the team for their hard work in getting the car ready for Qualifying. Tomorrow is going to be all about the graining, with cars that suffer probably going a second and a half slower, and vulnerable to anyone overtaking. We did have some graining on Friday, but we've made some setup changes that should hopefully help mitigate this. I'm obviously excited for Logan as well, so to be starting P5 and P6 due to penalties, we now just need to finish it off tomorrow."
Logan Sargeant – P7
"Today felt really good from FP3 onwards. I'm very happy to execute over three separate sessions and finally extract the potential that we've had. To do it here in Vegas is extra special which is highlighted by the fact we have a great car here. It's not easy to deliver on that performance, so the fact we're able to continuously do that throughout the session is awesome. It's been a great day for the team and congrats to everyone. We've worked hard and knew this weekend was a good opportunity and we're off to the right start. Most importantly we have two cars near the front of the grid. We have a very annoying car down the straights for others, so we'll try and use that to our advantage. Hopefully we can continue this level of performance and have a strong race."
Valtteri Bottas – P8
"I am really pleased for our performance tonight, it's a great result for us and it gives us a good opportunity to score some points tomorrow. It's a shame Zhou had a tricky Q1, otherwise we could have been up there with both cars; in any case, we can be happy about our pace, especially as we couldn't really be sure about where we'd be coming into this race. We were able to find the right window to operate our car, and we were able to extract more performance in every segment of qualifying. There's never a single silver bullet, but we executed every element well: it's a lot of small margins that worked for us and made a big difference in the end result."
Kevin Magnussen – P9
"It's good to be in the mix up there and I'm really happy with that. In terms of qualifying, we've been good before and have fallen back on race day so that's what we'll try to avoid tomorrow. Yesterday there was a lot of graining with the tires, so we'll see how we manage that as it's going to be key for the race. We'll do our best and see what we can do."
Fernando Alonso – P10
"We are quite happy to be in Q3 and we will see what we can do from ninth tomorrow.
"I was happy with both of my laps in Q3 and we finished about half a tenth from seventh position, so it was all very tight.
"Coming here we thought this circuit might not suit our package as much, especially with the high straight-line speeds.
"The venue here is impressive and they have done a good job with that.
"I think the only issue for us has been the asphalt, which doesn't have that much grip, so perhaps that can be looked at for the future. But, so far, it's been fun racing in Vegas."
Want to save this information for later?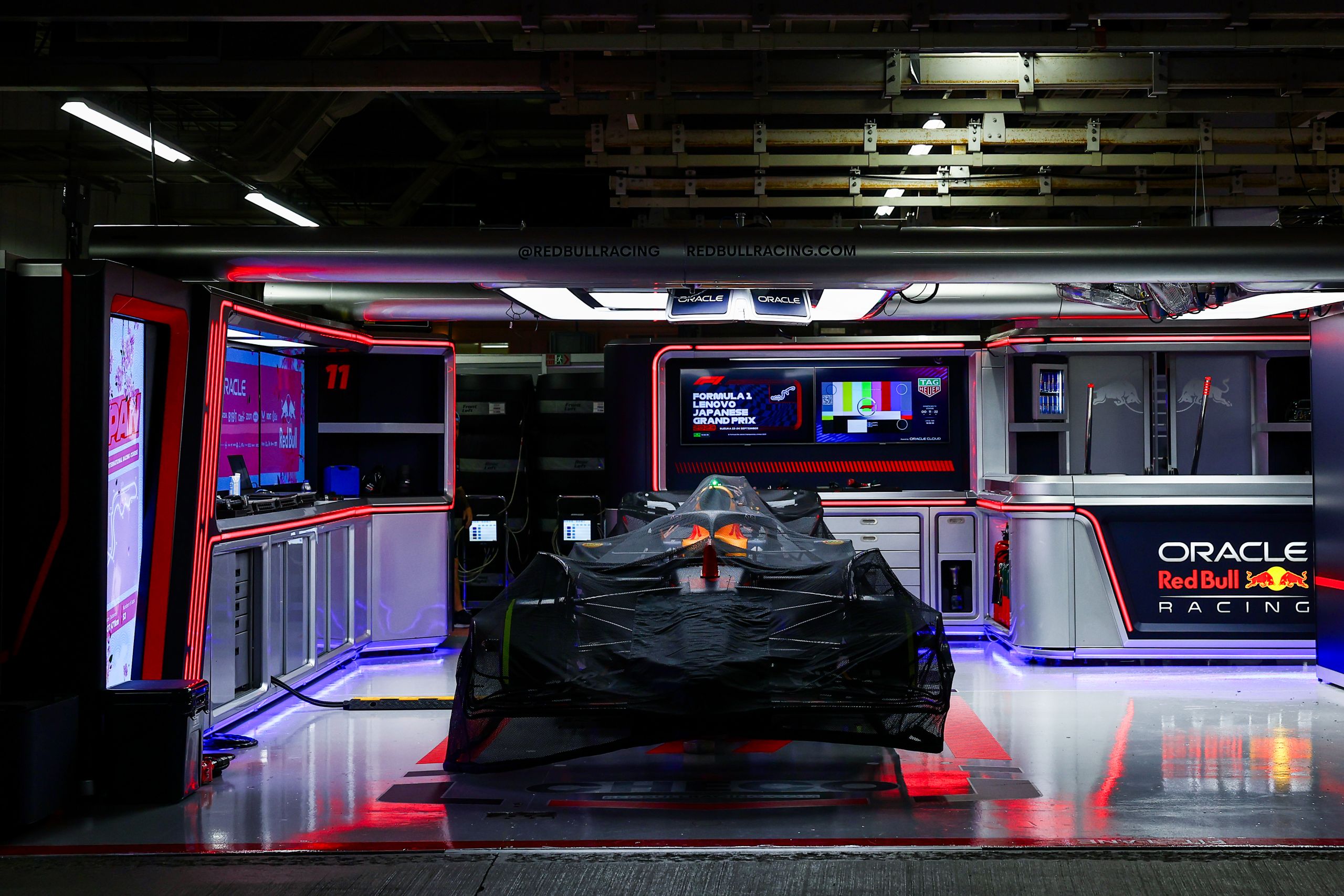 The roar of engines, the blur of speed, and the ...