Second place for Carlos Sainz at the 2020 Italian Grand Prix was a bitter-sweet moment for the Spaniard.
While Sainz had the pace to challenge Lewis Hamilton at the front, he was left to ponder what might have been after some misfortune with the safety car period, and ultimately lost out to Pierre Gasly who took full advantage.
Carlos Sainz Happy With P2
Much like third-place finisher Lance Stroll, Carlos Sainz felt he should have won the 2020 Italian Grand Prix, however, he was still happy to finish in second place on the podium.
'I'm halfway disappointed with P2 you know. I wouldn't have believed that I would have got a chance to fight for victory today, we were very, very close.
'Honestly, with a normal race I think I would have got P2 behind Lewis because we had really, really good pace. So I think it's what we deserve.
'But with Pierre there in front is like, 'wow, how could that happen?' I guess a bit of bad luck with the safety car but then we did a good job to recover it and with the red flag also.
'Very happy with P2, we've been super-quick all weekend and I felt like I could dominate the midfield pretty easily today, so I've got to be happy with that.'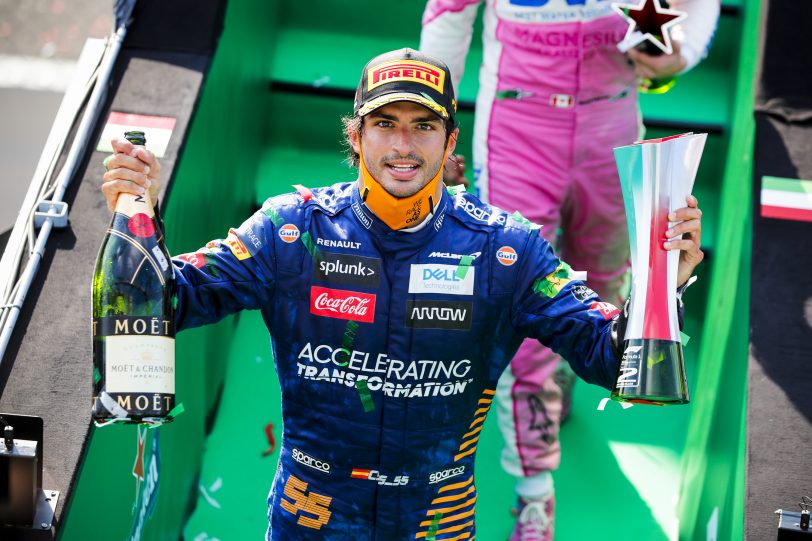 McLaren Had Incredible Pace At Monza
After qualifying in P3, Carlos Sainz knew he had a fast car underneath him, and was able to capitalise on the pace of his McLaren come race day.
'The pace we had today was incredible. Honestly, the gap that I managed to open with the rest of the midfield in the first stint and after that, managing to go through the whole five cars I had in front to end up chasing Pierre. Definitely felt really nice and felt like I had a good shot for victory.
'Then once I got to 1.5s I got stuck. The tow, as we see with these cars and the dirty air, starts affecting you a lot in traction, in braking. Mini lock-ups, oversteers and I think we were both a bit rallying for a minute because we were both struggling with tyres. But yeah, happy. Happy to finish in P2.
'Obviously disappointed to not get the win because today we had a lot of pace and we felt that without that red flag it would have been a different story because I know I was the virtual race leader with Hamilton's penalty.
'Especially what I didn't expect is for everyone behind us to not be able to overtake us and to open that five-second gap that gave me that buffer before the first stop, then the Safety Car came out and I knew I had lost all that hard work earned.
'And then I very quickly realised that Lewis was going to get a penalty and I would have been the virtual race leader on the fresher tyres, and I just had to go through the field and get myself to P1 and push like mad – but the red flag came out.
'It was a rollercoaster of emotions because I was then lying in P6 with the same tyres as everyone in front of me. Even on a used tyre for me from the Safety Car, and I was a bit angry – and a bit disappointed, to say the least.
'But I managed to recover, and nearly made it. I think we can be proud because today I left nothing on the table in Monza. So I'm going to bed calm that I know that I didn't leave one single tenth out there.'
Tight Tussle At The Finish
It was a very tight finish to the race, especially with both Sainz and Gasly on worn tyres, with both drivers using every ounce of skill and energy at their disposal.
'Since the moment I started catching Pierre, my main target was to get within DRS and then knowing that he would have to defend and use the battery to defend.
'Honestly, we've been very strong here on the straights this weekend, we've been very, very quick all weekend on the straights and the only thing I haven't done this weekend is to get a tow – because I know that our car doesn't work very well on the tow, we are very affected by the dirty air.
'So, as soon as I got to within 1.5s I started feeling that dirty air; I started feeling the car a lot more loose, a lot more difficult to get the lap time and the grip in the corners. So, I was trying to maximise the tow, maximise everything I could but the car was starting to struggle a bit behind Pierre.
'Then suddenly in the last lap and a half I saw him start doing the small mistakes that allowed me to get into the DRS and then I crossed the start finish four-tenths, which would have given me a good run into Turn One if it was one lap more. But, unfortunately, it wasn't one lap more and it is what it is.
'He did a tremendous job defending and I'm not going to say anything. I know I left nothing on the table. I think those four-tenths reflect very well what we both did and I think it's a good finish to the race.'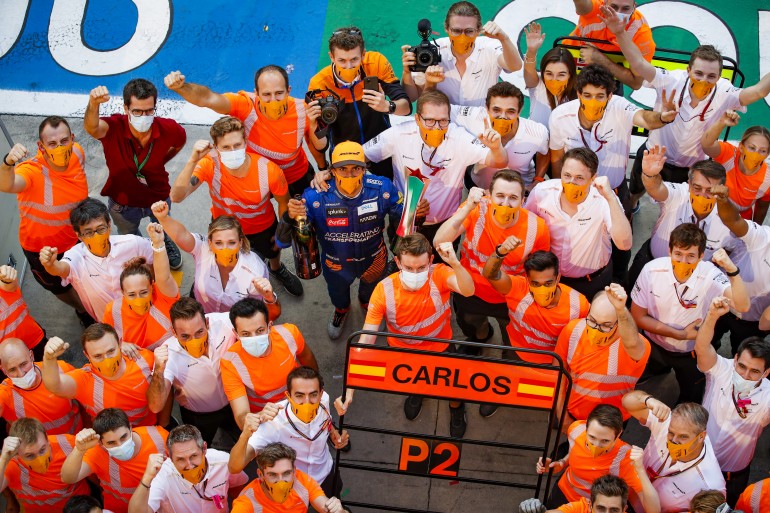 Sainz Angry At Red Flag
While the red flag almost ruined his race and had a red-mist descend under the visor, Sainz was able to regain his composure and get back to the job at hand – securing his second podium finish for McLaren.
'As you can imagine, I was very, very disappointed with the red flag and angry and I had rage in myself and again, I was again thinking about the bad luck and this season and everything and we had to re-start on four lap old medium tyres which is not easy and I knew that the two Alfas in front of me had new softs, one of them had to pit, Hamilton to pit so maybe I was in contention for a podium but maybe the win with Pierre knowing how quick they had been all weekend, I knew it was going to be tricky if Pierre and Lance got a good start.
'So disappointed because I knew it was going to be a race with them and maybe I could make it to third but honestly, since the restart, I just put my head down, tried to do everything I could to focus on catching them both and had a great battle with Lance on lap one and then from there on, with that medium tyre that didn't feel great, I just pushed as hard as I could, to try and make it to Pierre and I nearly did but at the point of the red flag I was negative and I was disappointed and I thought I had lost the chance of a win and potentially of a podium also,' concluded Sainz.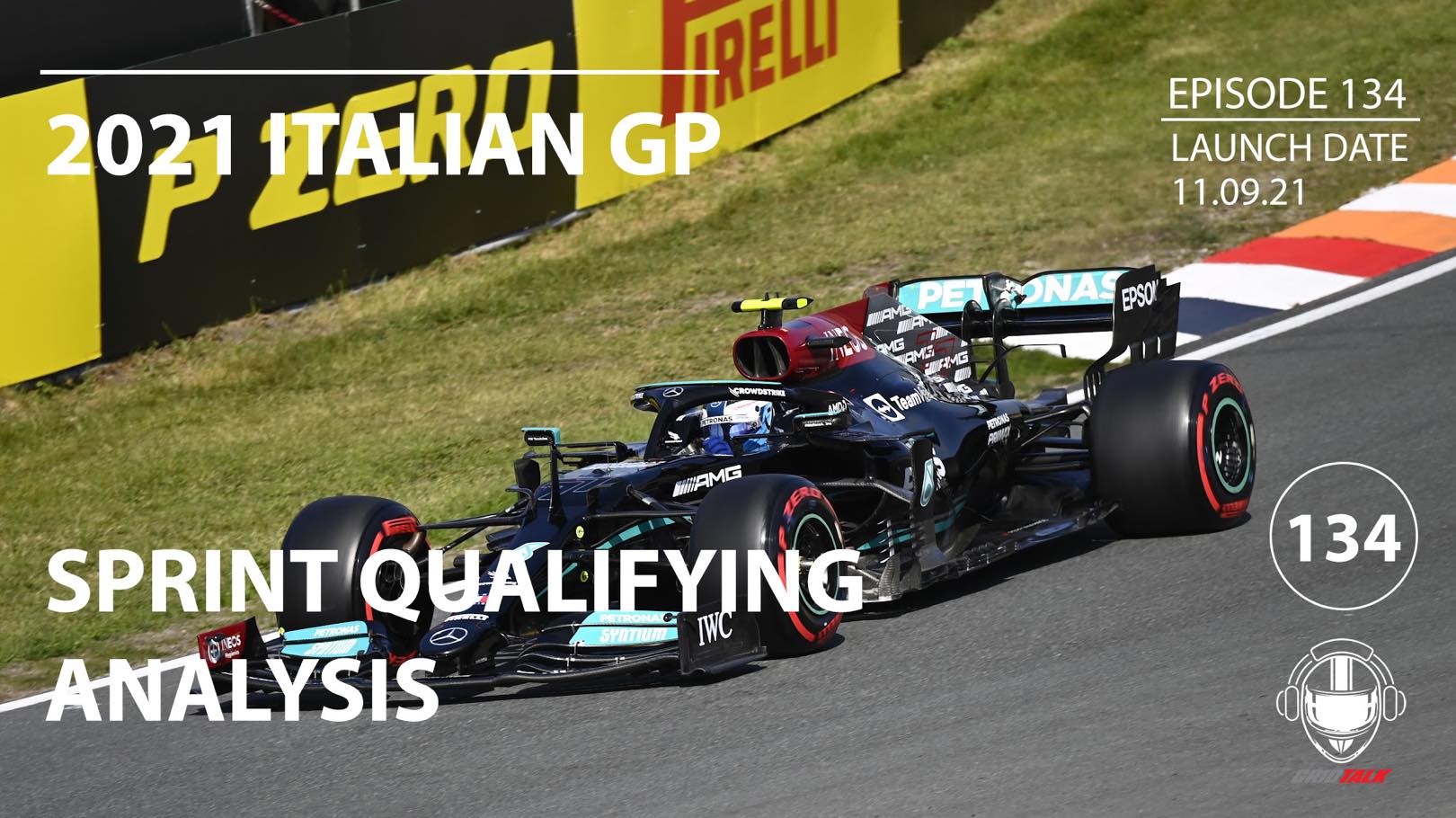 Welcome to Episode 134 of our Formula 1 podcast, Grid ...