2023 Qatar Grand Prix: Sunday Tyre Analysis – Max Verstappen celebrated his third world championship title with yet another win, this one in today's Qatar Grand Prix, his fourteenth this season and the 49th of his career. The Dutchman finished ahead of the McLaren duo, with Oscar Piastri second and Lando Norris third.
At the start of the day, the FIA decided to impose a maximum limit of 18 on the number of laps that could be completed by any set of tyres in the race. Earlier, Pirelli had presented the FIA with the findings of the analysis of the tyre sets returned by the teams yesterday, which showed there was not a significant enough reduction in the possibility of micro tears in the sidewall, between the topping compound and the carcass cords because of the impact generated from repeatedly driving over the kerbs at some corners, as a result of measures introduced before the Sprint Shootout. This meant that three pit stops would be required for a driver to complete the 57 laps race distance.
For the start, the majority of drivers went with the Medium. The exceptions were Hamilton, Bottas, Magnussen and Lawson, who preferred to start on the Soft, while Perez, starting from pit-lane, fitted a set of Hard. As expected, the C3 was only chosen by those who were looking to make up places at the start or in the closing stages of the race when the fuel load would be lower.
Mario Isola – Pirelli Director of Motorsport
"This was a very demanding weekend on many fronts, which ended with a race that, given the circumstances, was interesting and closely contested. The committed and transparent collaboration between all of Formula 1's stakeholders – the FIA, Formula 1, the teams and drivers – meant that there was a rapid and efficient reaction to solving a safety issue that involved us at first hand. Today, the sport was able to put on an interesting show for the spectators with a lot of overtaking and duels, despite the limitations imposed by the FIA. In the coming weeks, we will continue to analyse the tyres used this weekend to acquire as much information as possible and share that with the FIA.
From what we saw this evening, graining was a very significant factor with all the compounds. It's severity gradually decreased as the track rubbered-in. Today the wind was much weaker than in the past days which reduced the amount of sand and dust blown onto the track surface, even if it did not disappear completely. Thermal degradation also had an effect on tyre performance, with track temperatures never dropping below 36 °C."
2023 Qatar Grand Prix: Sunday Tyre Analysis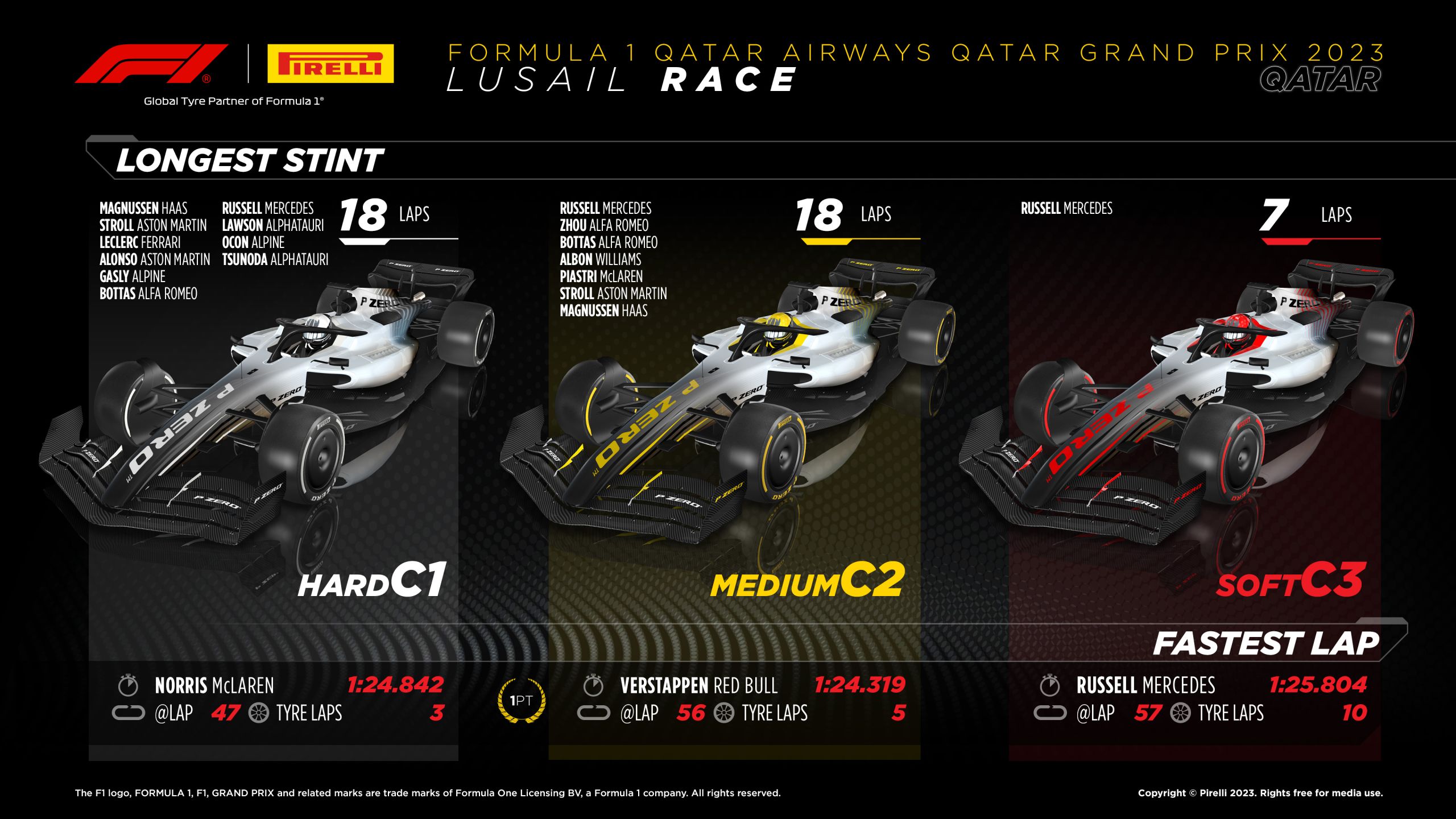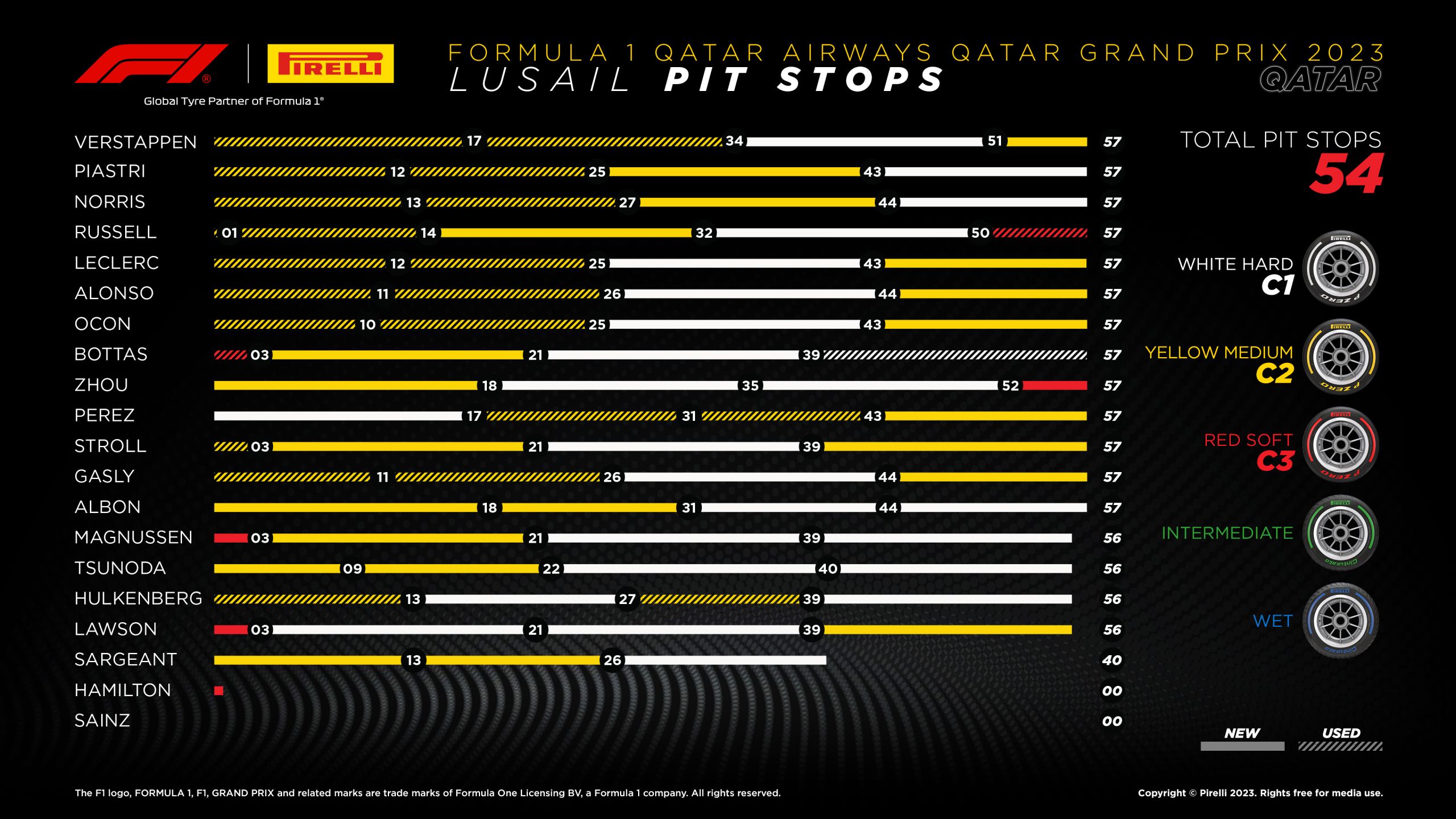 Want to save this information for later?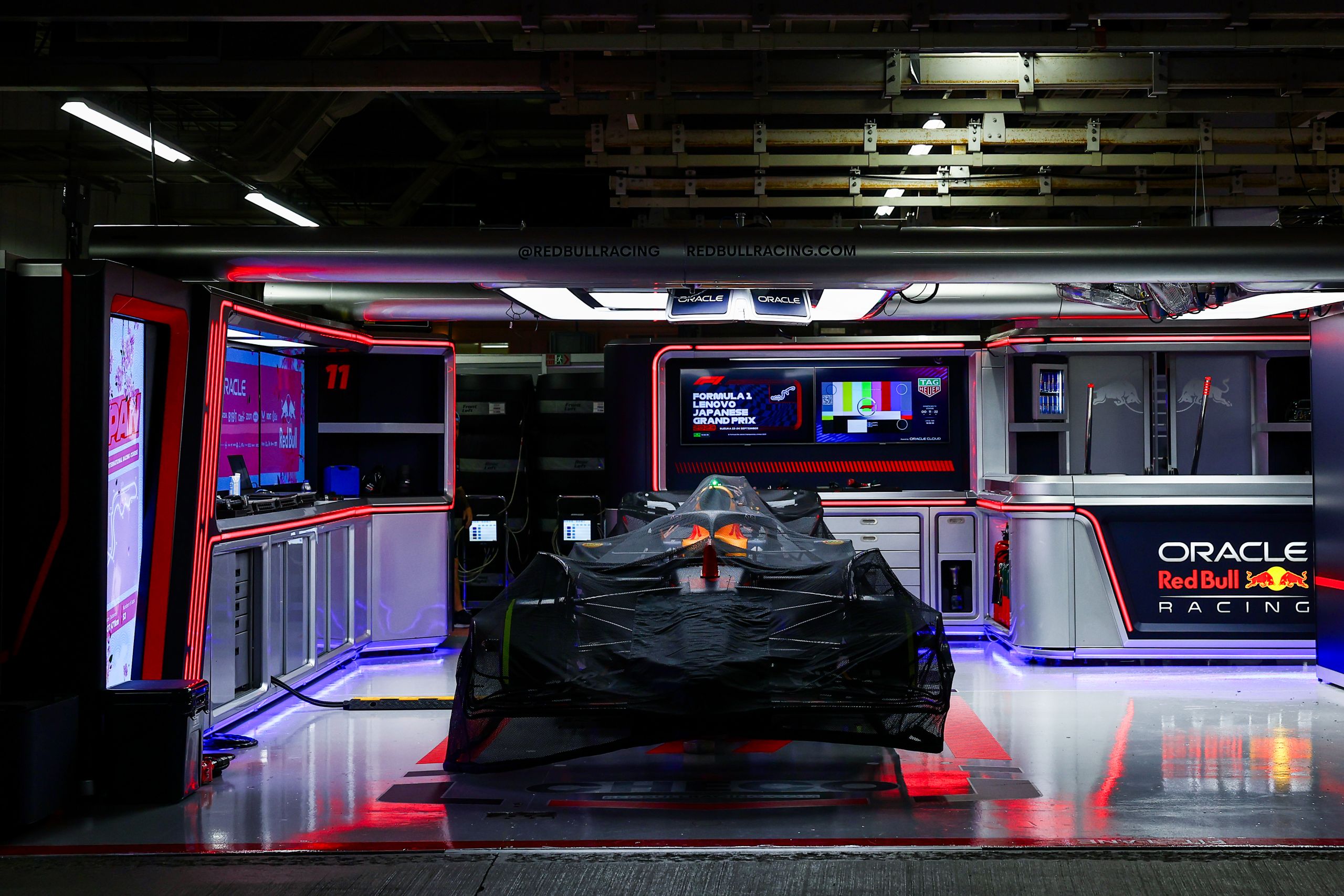 The roar of engines, the blur of speed, and the ...