2023 Japanese Grand Prix: Selected Tyres – At Suzuka the teams will have C1 as P Zero White hard, C2 as P Zero Yellow medium and C3 as P Zero Red soft.
The Japanese Grand Prix could spring a few surprises due to the high temperatures recorded last week, with highs of up to 33 degrees centigrade. If this continues, tyre degradation could become an important factor.
Weather conditions have often heavily influenced the Japanese Grand Prix. On four occasions (2004, 2009, 2010, and 2019) qualifying has been held on Sunday morning due to torrential rain or the threat of a typhoon.
In 2022, the race was interrupted due to rain on the first lap. The restart occurred three hours later, with only 45 minutes to go due to the maximum allowed race duration (four hours). In total, 28 laps were completed, with the drivers using only Cinturato intermediate and Full Wet tyres.
The asphalt at Suzuka features some of the highest levels of roughness and abrasion seen all season. Wear and degradation are important factors in determining the run plan for free practice, as well as race strategy.
There have been 36 editions of the Japanese Grand Prix valid for the F1 World Championship: 32 of them hosted at Suzuka – Honda's home circuit – and four at Fuji, which belongs to Toyota. The most victorious team is McLaren, with nine wins, while the driver who has won the most times is Michael Schumacher (six wins). In 1994 and 1995, the Pacific Grand Prix was also held in Japan, at the Aida circuit.
The Japanese Grand Prix has crowned a new world champion 11 times: most recently last year, when Max Verstappen won his second world title. In 1995, Michael Schumacher also became world champion for the second time after winning the Pacific Grand Prix.
Mario Isola – Pirelli Head Of Motorsport
"The Japanese Grand Prix takes place on one of the most fascinating and demanding tracks in Formula 1 history: Suzuka, with its unique figure of eight layout. This historic venue is a drivers' favourite, being absolutely thrilling to drive in today's ultra-competitive single-seaters. With its very significant lateral and vertical loads, Suzuka is as demanding on tyres as it is on drivers. These demands are equally distributed across all four wheels, with 10 right-handers and eight left-handers throughout the six-kilometre lap. As a result of these challenging characteristics, we bring some of the hardest tyres in the 2023 range to Japan: C1, C2, and C3. This is only nominally the same as last year's selection on account of the new C1 compound, which was introduced this season to slot in between the C2 and former C1 (now called C0). On Friday, all the teams will get the chance to test a new version of the C2 compound, with a view to homologating it for next season. This latest evolution should provide more grip than the current C2, and so fit in more coherently between the C1 and C3. For the first two free practice sessions, each driver will have two additional sets of tyres, compared to the usual 13 sets per weekend. This test is part of a development programme that was recently defined for 2024 and will continue with a new C4 compound to be tested on track during the Mexican Grand Prix weekend."
2023 Japanese Grand Prix: Selected Tyres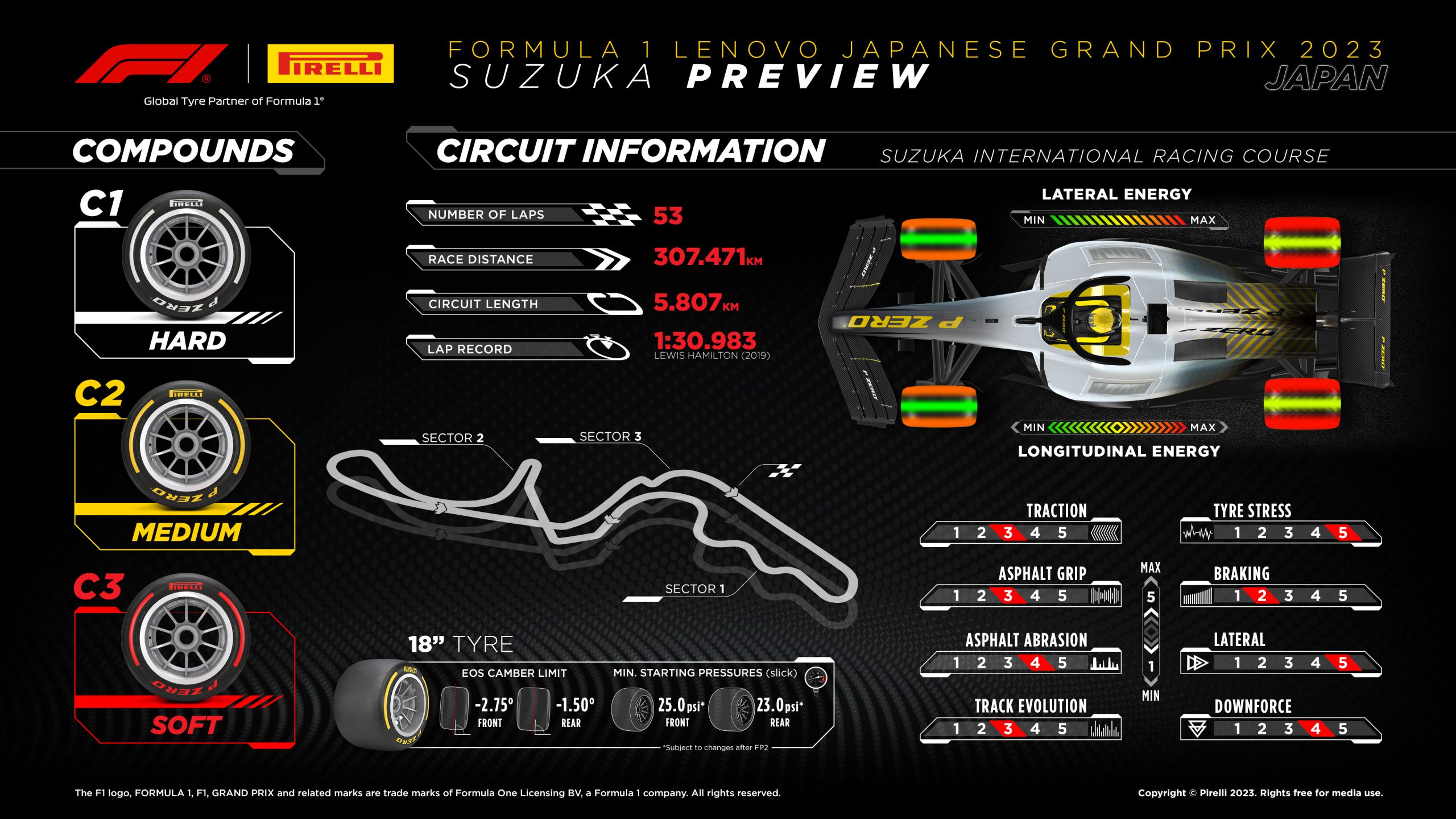 Want to save this information for later?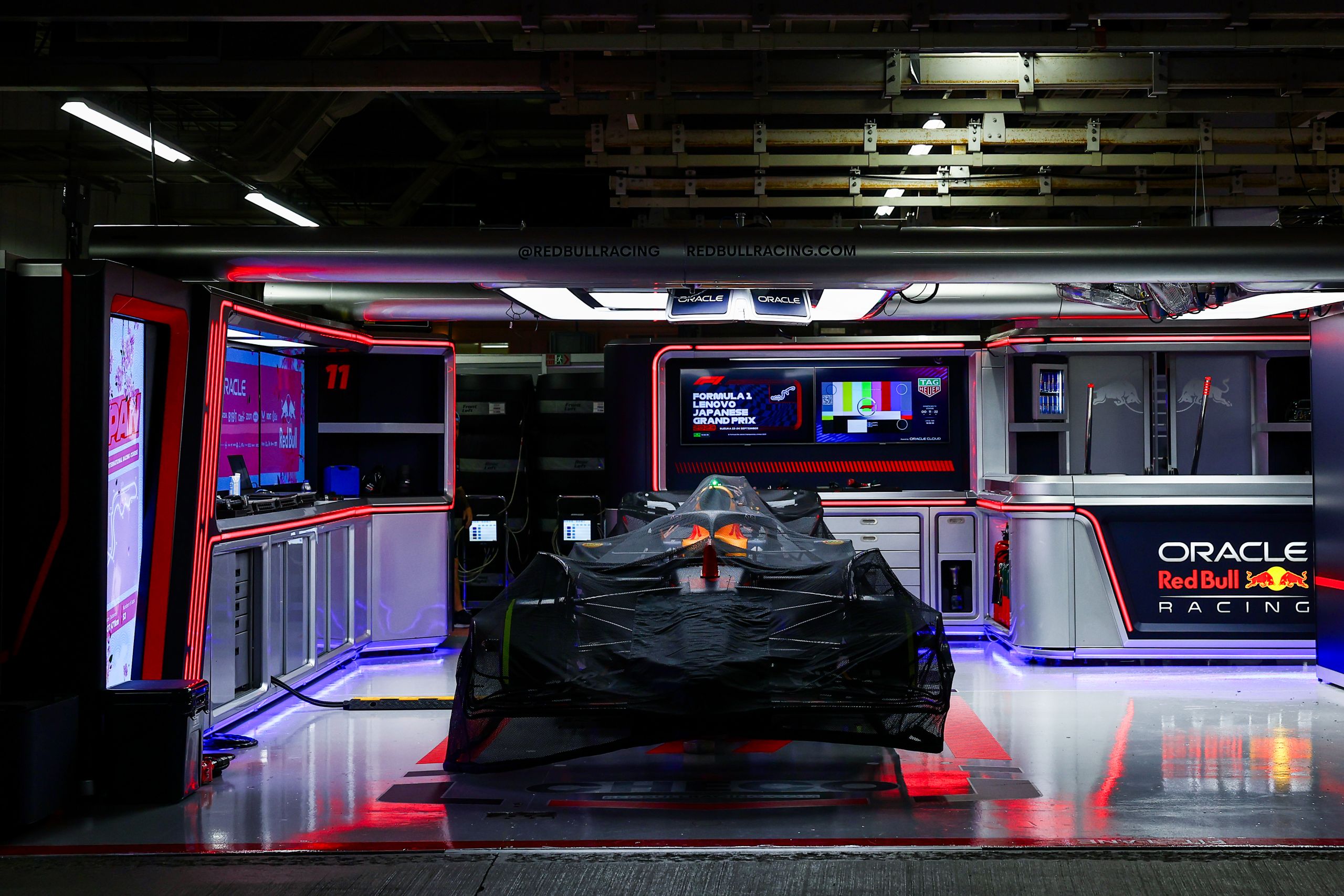 The roar of engines, the blur of speed, and the ...