Yesterday saw nothing but beaming sunshine at Silverstone, but that all changed today ahead of the 2023 British F2 Sprint Race. Rain had affected both the F3 Sprint Race and Formula 1 FP3 and if anything, it had gotten worse by the time the Formula 2 Sprint Race was scheduled to begin.
Frederik Vesti converted his P1 starting slot into a Sprint victory and never really looked to be in trouble. Podiums for Isack Hadjar and Theo Pourchaire
2023 British F2 Sprint Race
Vesti started on reverse grid pole after qualifying eighth yesterday. The cars got their formation laps underway behind the Safety Car and all of the drivers were on the full wet tyres. The rain had stopped, but there were still puddles on the surface of the road.
After three formation laps, the Formula 2 drivers were unleashed to take a rolling start for green flag racing. Most cars got through the opening sectors unscathed except for Brad Benavides being spun round by Clement Novalak. He would retire from the race, but Ayumu Iwasa continued despite a mechanical gremlin, albeit a lap down. Novalak would later receive a five-second penalty for his contact with Iwasa.
The Safety Car was called and stayed out until the race resumed on Lap 4 of 19. Oliver Bearman was the most switched on at the restart, putting in an excellent move on Theo Pourhaire into Village for P3. Bearman would produce another fantastic overtake on Isack Hadjar for P2 into Stowe, could he catch his teammate for the lead of the race?
Bearman was quick, but he perhaps pushed too hard as on Lap 6, he spun and lost P2 to Hadjar. Further back, Jack Doohan and Enzo Fittipaldi were having a great battle for fifth. The Brazilian held his advantage, despite the Aussie's advances through Brooklands and Luffield.
Bearman v Doohan
Silverstone was showcasing a brilliant race as battles between Pourchaire and Bearman and Fittipaldi and Victor Martins kept us entertained. Pourchaire was up to P3 thanks to a superb move on Bearman in the final corner and it wasn't long before the Frenchman was challenging his compatriot Hadjar for P2.
The track was starting to dry now though, and the drivers were needing to go off-line to cool their tyres. Bearman continued to drop back because of his damaged tyres but put up a stoic defence against Doohan to keep his P4 position. On Lap 11, Pourchaire made another switchback move for P2 going onto the Hamilton Straight.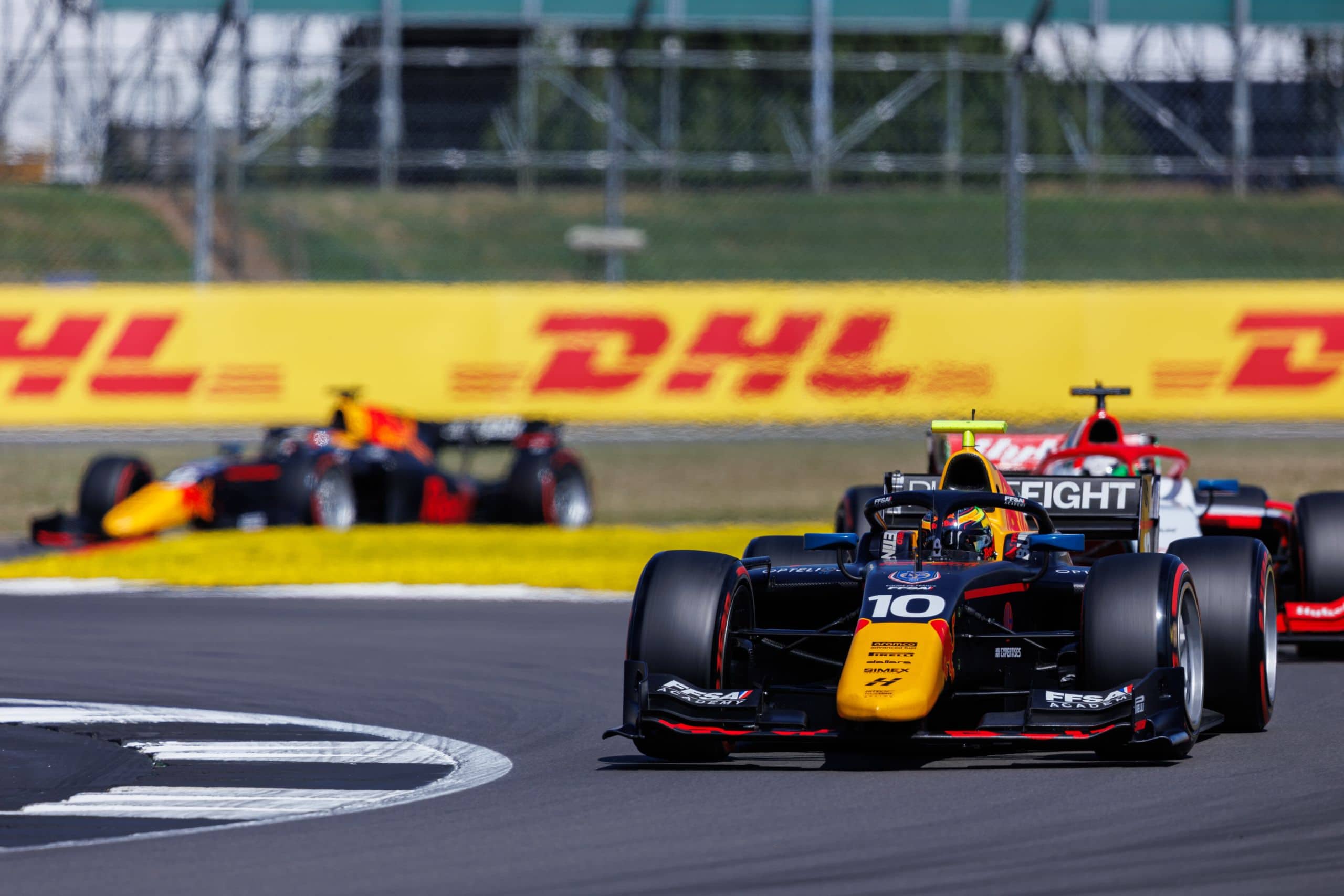 On Lap 13, Bearman and Doohan almost came to blows going through Stowe. Bearman looked like he'd ran Doohan off the road, but kept the position for now. Bearman actually caught Hadjar for P3 on Lap 15 and passed him with a ballsy move down the inside of Copse.
Doohan would get past Hadjar on the following lap but not before Fittipaldi attempted to overtake the Australian driver. Drivers were now queuing up behind Hadjar, his tyres were shot to pieces as we headed into the final three laps.
Bearman v Doohan resumed on Lap 17, as Doohan continued to voice his complaints to the stewards on the radio. Doohan eventually got past thanks to Bearman running wide under pressure into Vale, something Doohan would label as "karma" after the race. Berman would drop to P6 as his tyres too were ruined to be competitive at this point.
Vesti would come across the line in P1, the fastest lap point making it a maximum haul for the Great Dane. Pourchaire was an excellent P2, with Doohan making the podium after a very eventful day. Fittipaldi was an impressive P4, Hadjar (P5) and Bearman managed strong points finishes despite their troubles.
Full classification
| | | |
| --- | --- | --- |
| Pos. | Driver | Time |
| 1 | Frederik Vesti | Leader |
| 2 | Theo Pourchaire | +13.4 |
| 3 | Jack Doohan | +19.4 |
| 4 | Enzo Fittipaldi | +25.6 |
| 5 | Isack Hadjar | +30.5 |
| 6 | Oliver Bearman | +30.8 |
| 7 | Victor Martins | +31.3 |
| 8 | Artur Leclerc | +31.6 |
| 9 | Roy Nissany | +32.4 |
| 10 | Zane Maloney | +38.5 |
| 11 | Jehan Daruvala | +39.8 |
| 12 | Dennis Hauger | +40.2 |
| 13 | Kush Maini | +44.1 |
| 14 | Jack Crawford | +44.7 |
| 15 | Aumery Cordeel | +45.2 |
| 16 | Roman Stanek | +48.2 |
| 17 | Clement Novalak | +51.0 |
| 18 | Richard Verschoor | +52.8 |
| 19 | Juan Manuel Correa | +67.9 |
| 20 | Ralph Boschung | +67.9 |
| 21 | Ayumu Iwasa | + 1 lap |
| Ret. | Brad Benavides | Collision (Lap 1) |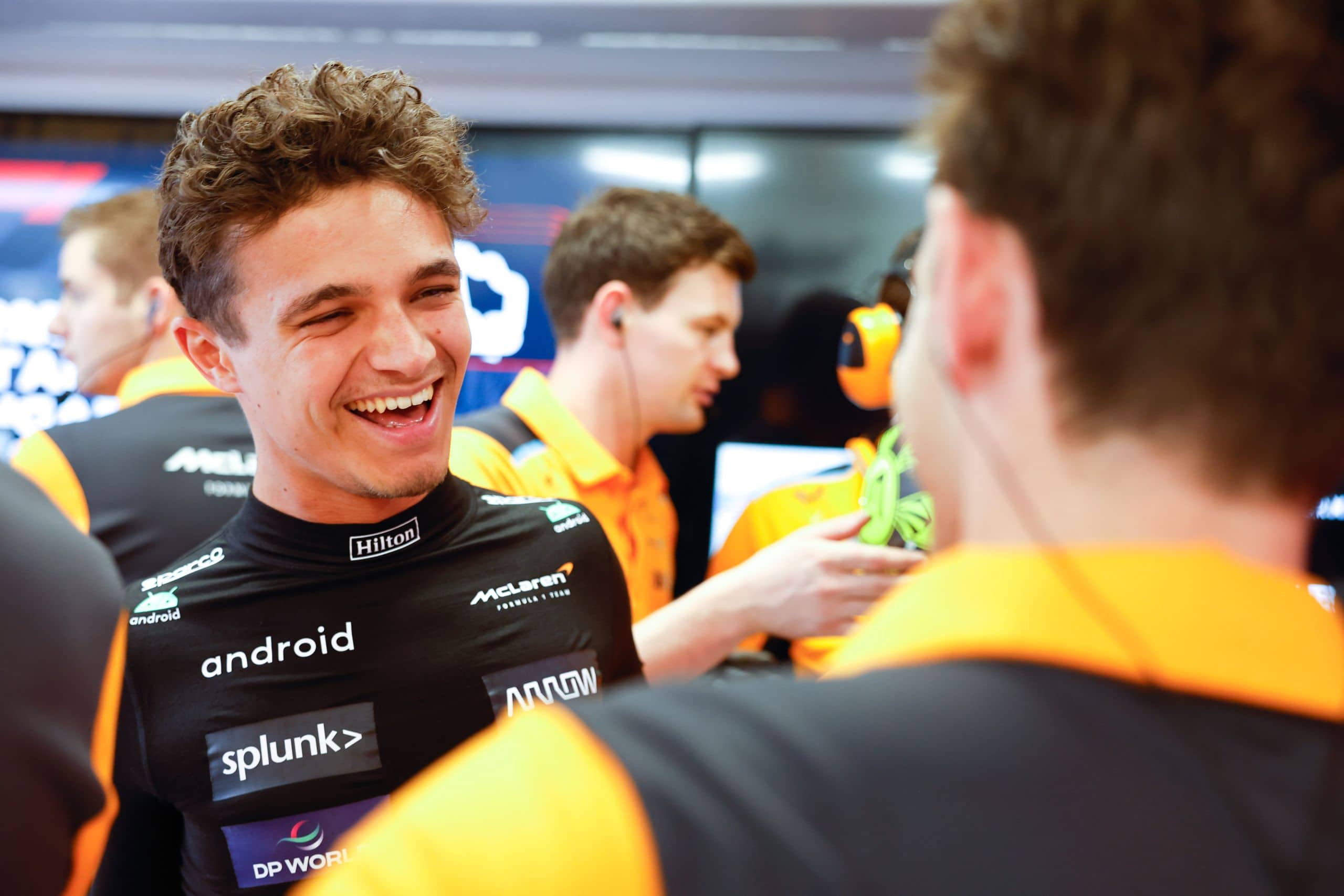 In the most recent times, Zak Brown, the top boss ...