Charles Leclerc will start tomorrow's 2019 Italian Grand Prix from pole position. After taking pole and the win in Belgium one week ago, the Scuderia Ferrari driver confirmed that he is currently the man to beat and has taken the first step on the way to repeating that achievement in the Maranello-based team's home race. This is the Monegasque's fourth career pole and Ferrari's 224th, the 21st at this race.
Fourth Career Pole for Charles Leclerc
It was a really closely contested qualifying and the final part was strange to say the lead. The top three are separated by just 47 thousandths of a second, with Leclerc posting a 1.19.307.
"Of course, it felt amazing when I came out of the car and heard our tifosi cheering from the grandstands. On the other hand, it is a shame for Seb who had the potential to do first or second, and I think that as a team we deserved that today. It was quite a messy qualifying session, especially in Q3. In the last few minutes, we found ourselves in an odd situation at the exit of the second corner where two cars were blocking our way. Seb overtook me there, because I think that he was aware that we were tight on timing. After this, I tried to find the best tow and then overtook Seb before the last corner to give him the tow back, but unfortunately, it was too late to achieve what we had planned. Looking at the race, our pace looked quite strong in FP2 and the gap to our competitors is smaller than it was in Spa-Francorchamps. DRS and tow are very important here in Monza, so the target will be to create a gap in the first three laps that is big enough not to see them again!" said Leclerc.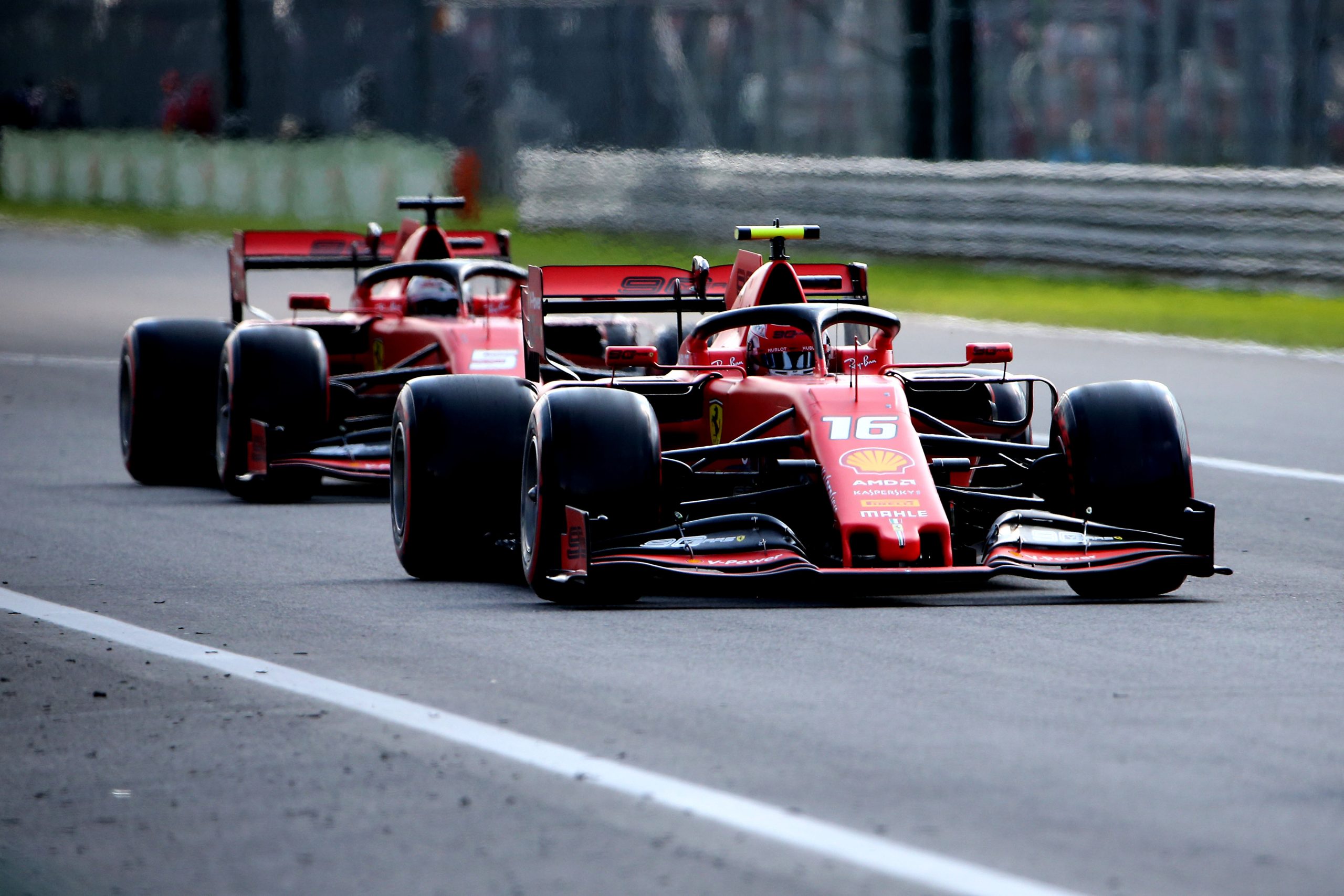 Mercedes Duo Second & Third
Lewis Hamilton qualified second in 1.19.346, with the Englishman's Mercedes AMG Petronas Motorsport team-mate Valtteri Bottas third in 1'19'354.
"We didn't get pole but at the end of the day, Ferrari were always going to be strong here and Charles did a great job today. I was unfortunate with Kimi spinning off right in front of me, so I had to lift at the last corner on my first lap. The end of Q3 was a bit of an anti-climax; we couldn't all go out and do that final lap, which is usually one of the most exciting parts of a race weekend. There was more time in the car, so it's disappointing that we didn't get to properly thrash that out on the final lap and see who had that little edge today. It's great to be able to get on the front row and separate the Ferraris. Together we've got a good chance as a team to get that Ferrari, but let's see tomorrow," said Hamilton.
At the end of the session Mercedes Team Principal Toto Wolff cut a frustrated figure, adding "It was a bizarre end to qualifying today; we were all trying to get the slipstream out there and that waiting game in the end just made everyone in Formula 1 look silly. Nevertheless, starting P2 and P3 in Monza and splitting the Ferraris is not a bad situation at all so we are very much looking forward to the race tomorrow. This position is something we would have taken coming here, but we are all racers and of course we will aim for more on Sunday. We are in a good position, we have a good car, not the fastest on the straights, but there are options. We'll make sure we are ready for tomorrow and I know we're all looking forward to getting out there and scoring some solid points."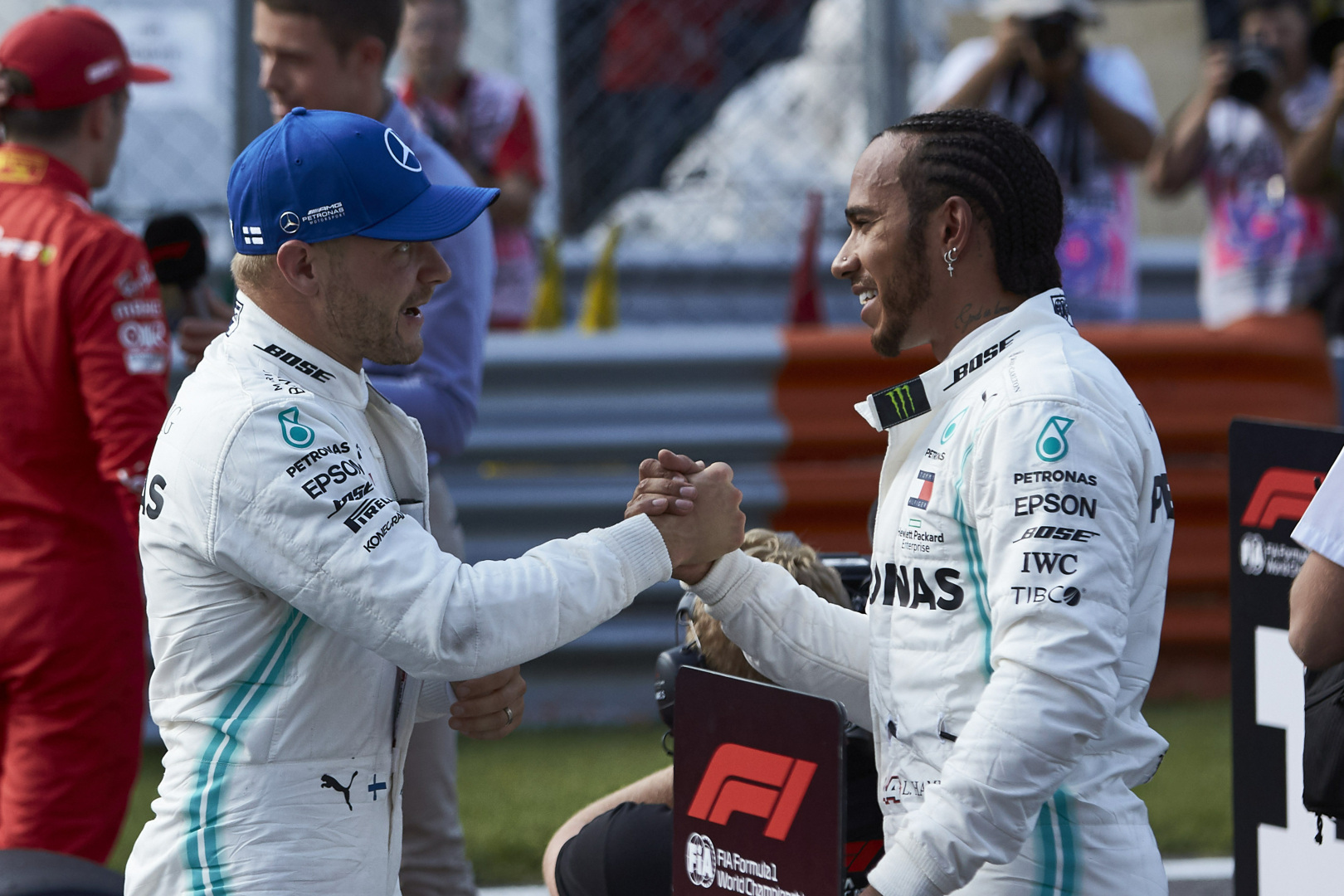 Unlucky Sebastian Vettel Settles for Fourth
Slightly further back and not where he expected to be, was the other Ferrari driver, Sebastian Vettel, fourth in 1'.19.457.
"I was happy with the car which was really good, and I was also pleased with my lap today, but I cannot be happy with how qualifying went. At the end of Q3, most of us didn't make it through to the second attempt. The lap I did on my own without a tow was good. I think we went out late and then obviously you look for a tow, but it's clear we waited too long, so in the end there was no margin. At the end I just had no choice but to miss my last lap because the light was already red, so I'm obviously disappointed. But from fourth on the grid there are still plenty of chances to do well. Let's see how it goes tomorrow," said Vettel.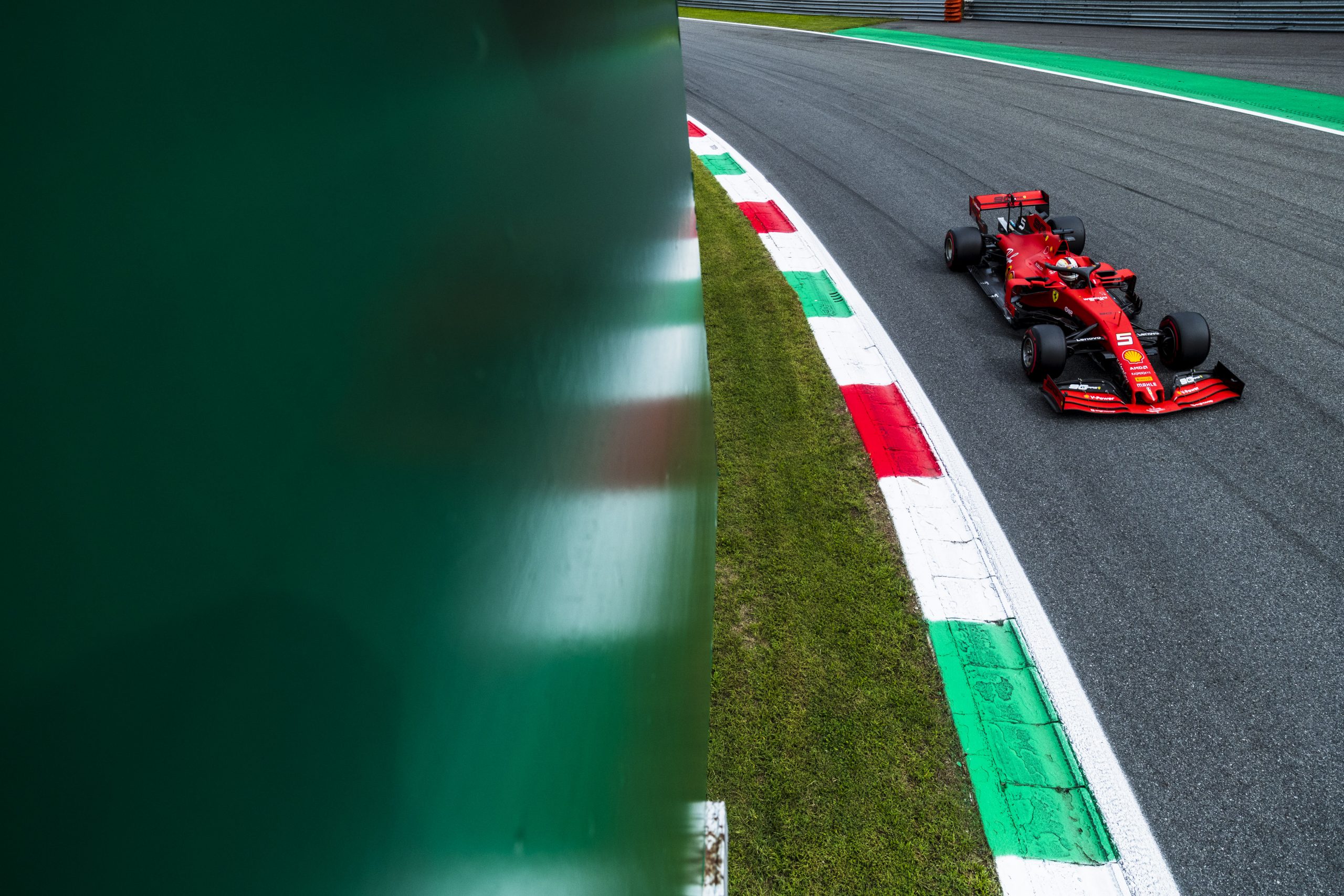 Confusion Reigns in Bizarre Session Finale
All these times were set on the first runs in Q3: only Carlos Sainz, seventh in 1.20.455, set his best time on his second run.
"It was quite an eventful qualifying for everyone. A weird last run we aren't used to seeing. Anyway, I think I managed to extract the maximum from the car and, as a team, we executed a very solid quali, so we should be happy with our overall performance today. P7 is a good starting position for tomorrow and it gives us a good fighting chance for the race and for points. The weather might play a big role, so we'll be ready for different scenarios," said Sainz.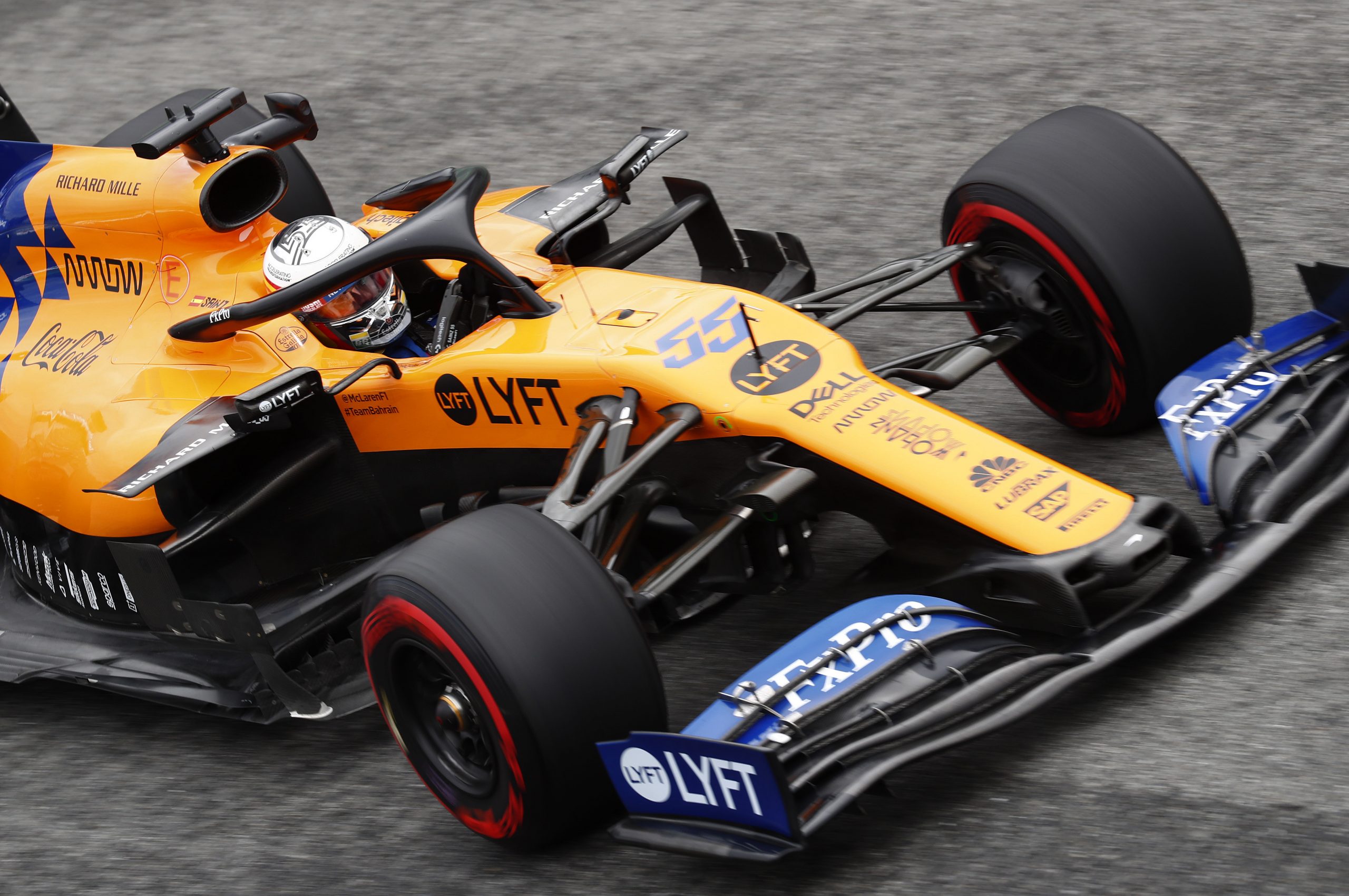 And the others? With slipstreaming so important at this track, no one wanted to be first man out on track and the strategists tried to find the best moment to send the drivers out. As a result, they all headed down pit lane together and fell victim to the jockeying for track position that ensued. It was like watching the slow start to a track cycling sprint. It meant that apart from Sainz and Leclerc, the other eight drivers all failed to start their flying lap before the chequered flag fell, thus handing the Ferrari man pole position without a fight.
It therefore took a while before the official classification was published, but in the end, as several drivers were under investigation for driving too slowly on that final out lap. In the end, only Sainz, Stroll and Hulkenberg were affected and no penalties were handed out, just reprimands. Therefore, behind the Ferraris and Mercedes on the grid, we have the two Renaults of Daniel Ricciardo (1.19.839) and Nico Hulkenberg (1.20.049) and Sainz in the McLaren (1.20.455,) while Alexander Albon and Lance Stroll are respectively eighth and ninth, not having set a time, as they were unable to complete a flying lap in Q3. Kimi Raikkonen completes the top ten and he too has no time to his name but for a different reason, this being that he went off the track on his first run, which red flagged the session for a short while. One driver who was expected to show do well was Max Verstappen, but he did not make it to the top ten. However, the Dutch Aston Martin Red Bull Racing driver's performance was not a surprise, as the decision to fit him with his fourth power unit of the season as from Friday, meant he has penalties relegating him to the back of the grid. Verstappen tried to do a lap in Q1 but suffered a power drop from his Honda unit and had to pit.
While Scuderia Ferrari can continue to celebrate its 90th anniversary in style thanks to Leclerc's pole position, the day went less well for the other teams with Italian links. Alfa Romeo's drivers are in close formation on the grid with Antonio Giovinazzi behind Raikkonen, the first to miss the cut into Q2 being just two thousandths slower than his team-mate. The two Red Bull Toro Rosso Hondas qualified 13th and 15th with Daniil Kvyat and Pierre Gasly respectively. In fact, the young Frenchman is in the same situation as Verstappen, running a new power unit in excess of the three per season allowed in the regulations and will also start from down the back of the grid.
Once again today, evoking past Formula 1 glories, the 1979 world champion, Jody Scheckter took to the track at the wheel of the Ferrari with which he won that year's Italian Grand Prix and there was also a look to the future of the sport, as another popular figure with the Monza crowd, Jean Alesi, drove a few laps in a Formula 2 car fitted with Pirelli's experimental 18 inch tyres. These will be used by Formula 2 next year and by Formula 1 as from 2021, giving the cars a more relevant and modern looking wheel-tyre combination.
2019 Italian Grand Prix – Tyre Sets Available for the Race
The following tyre sets are available to the drivers for the 2019 Italian Grand Prix.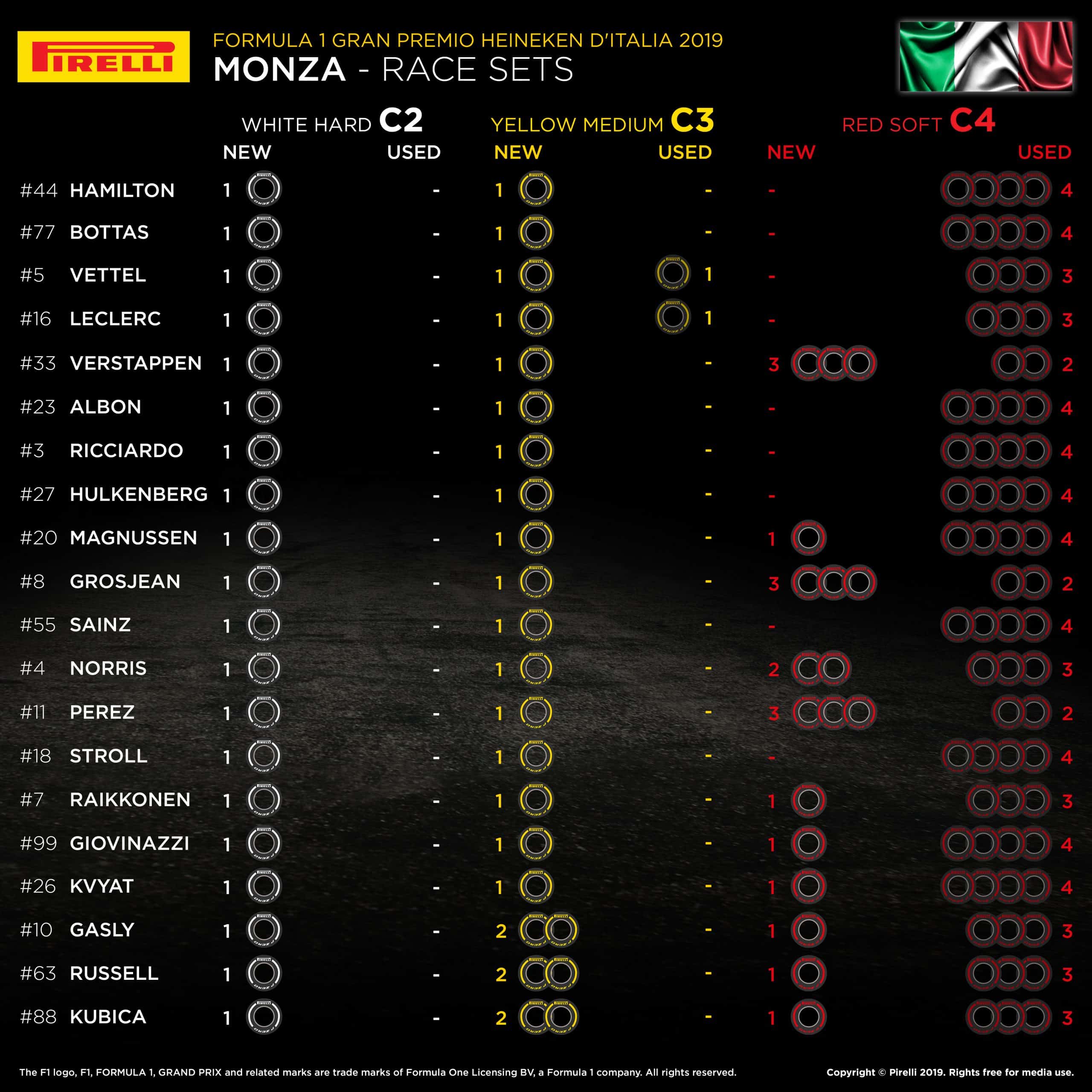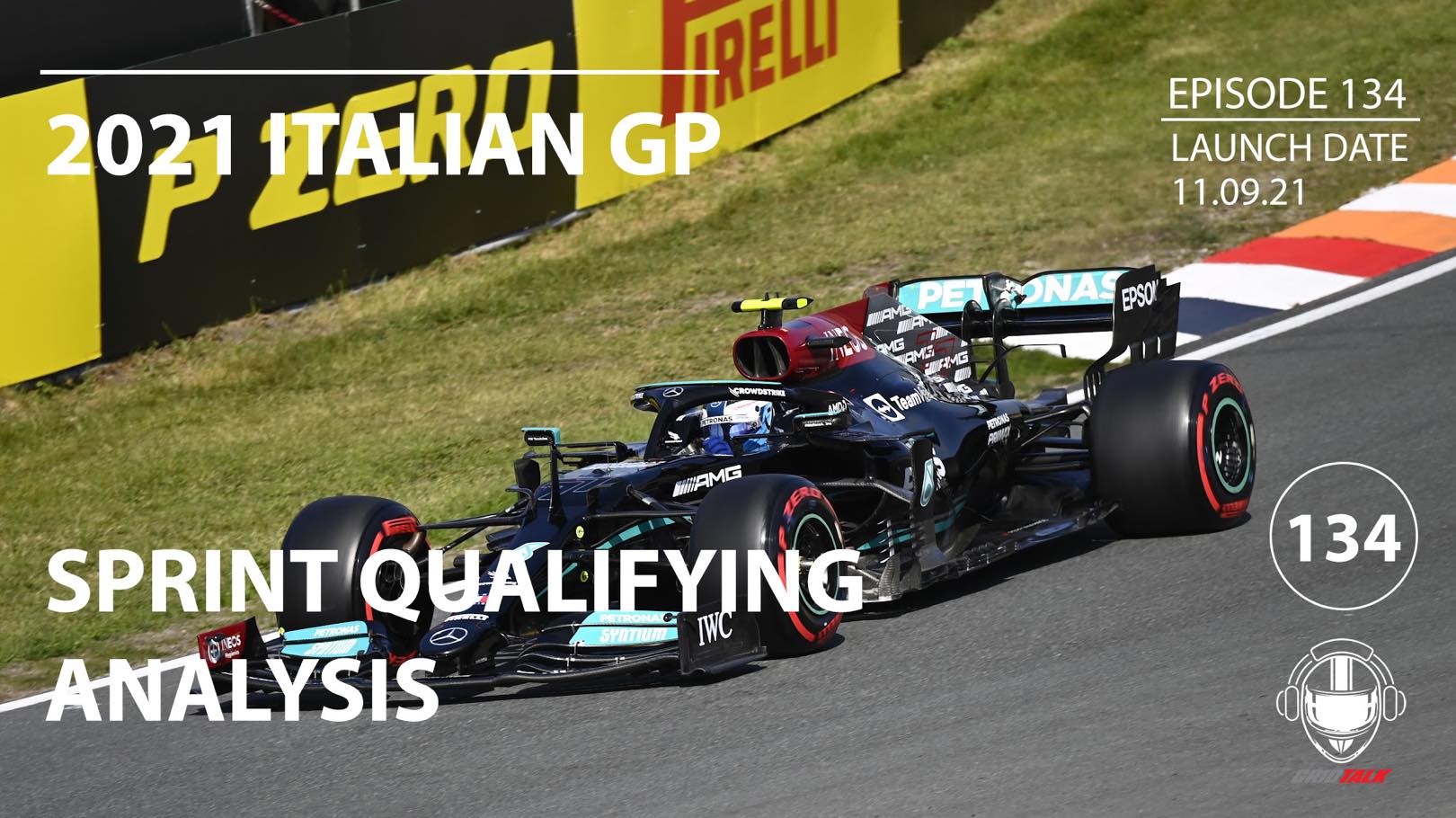 Welcome to Episode 134 of our Formula 1 podcast, Grid ...