Max Verstappen will start tomorrow's 2019 Brazilian Grand Prix from pole position having been quickest in all three parts of this afternoon's qualifying session at the Autodromo Carlos Pace in Interlagos.
Max Verstappen on Pole at Interlagos
This is only the second time in his career that the Aston Martin Red Bull Racing driver starts from the number one slot on the grid, after doing so in this year's Hungarian Grand Prix. It's actually the third time this season he has been quickest in qualifying, but he was given a grid penalty in Mexico when he failed to slow for yellow flags on his best lap.
"Yes boys, that was really good", said the Dutchman when he was told over the radio on his slowing down lap. "The car was on fire! That's the best birthday present isn't it Christian?" Earlier in the morning, his team principal Christian Horner was presented with a cake to celebrate his 46th birthday and pole position is definitely the icing on the cake for him and his team.
"That was the perfect birthday present from Max today with pole position in São Paulo. This is a track where Mercedes have dominated qualifying for the last five years so it was a great performance. Max was quickest in every session of qualifying and it's also good to see Alex getting closer and closer to the pace as well. Pole position is all credit to the Team, they're doing a fantastic job and all praise to Honda as well at what is a power sensitive circuit, especially at this high altitude. It's a great effort all around and I think this result is all about teamwork. Tomorrow, it's important for us to get a good start as this is a track you can overtake at. We need to have a clean first lap, get our heads down and then do the best we can," said Horner.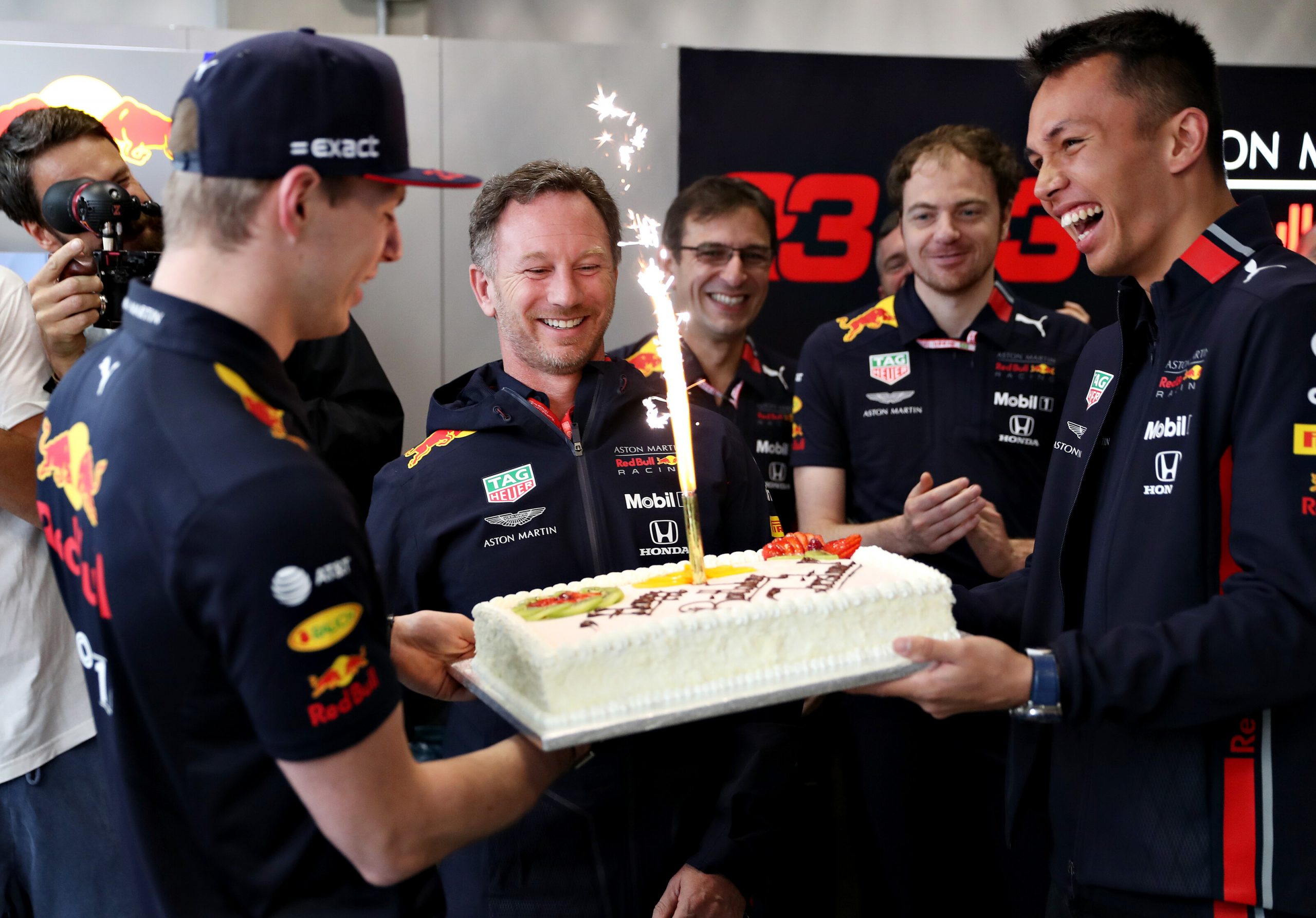 Sebastian Vettel Settles For Second
For a brief moment, after the ten remaining cars had gone out for the second Q3 runs, on a day where the rain kept away, allowing the track to rubber-in nicely, it looked as though Sebastian Vettel had done enough for pole. However, there was more to come from Verstappen, who had made a tiny mistake, running wide at turn 9 on his first run, so the Scuderia Ferrari Mission Winnow driver had to settle for second, his car lacking a bit of pace in the middle sector.
"Max put in a strong lap and so we can be happy with a front row start. I think our performance matched our expectations and it is good that our lap time was reasonably close. It puts us in a good position for tomorrow. We improved the car, it felt better and it was coming alive in quali, I am reasonably optimistic that we are in good shape for the race, but we will have to wait and see. It is supposed to be a bit warmer and it will be important to look after the tyres and to make the right strategy calls. It will also be key to get a good start. The weather is unpredictable here in Interlagos, there could be sunshine but it might rain. 71 laps means it's a long race and I think it will be fun," said Vettel.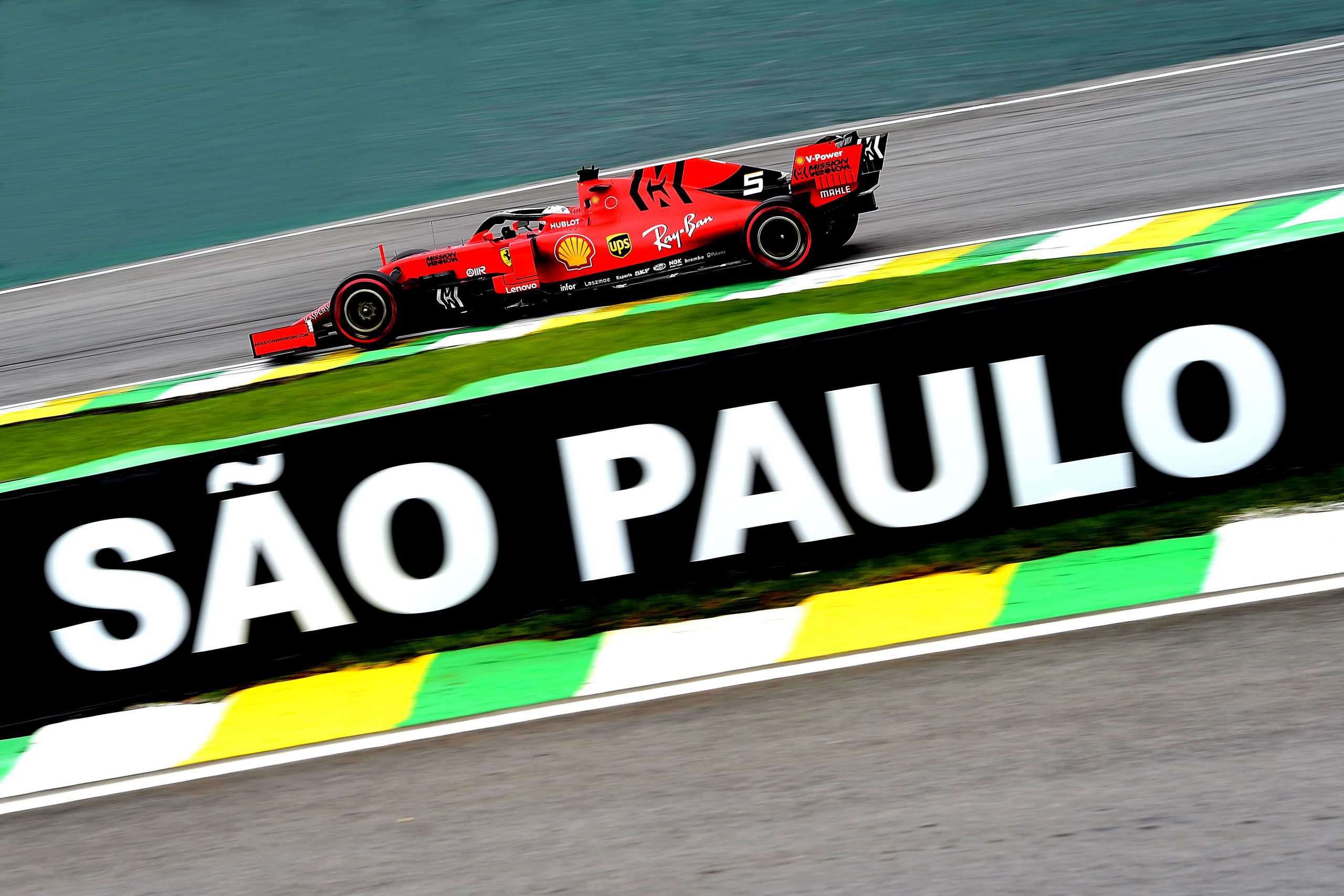 Mercedes Duo to Start From Second Row
It's almost a rule that Lewis Hamilton has to make an appearance in the qualifying press conference this year and sure enough the Mercedes AMG Petronas Motorsport driver was third quickest.
"It was a challenging Qualifying session. We went in knowing that it was going to be very tight, but in the end we didn't have the pace to be on pole. FP3 was really strong for us, but once we got to Qualifying both Ferrari and Red Bull had great pace and we were losing out on the straights by quite a chunk. I kept chipping away at it and I think the last lap was as good as it could get for us, I don't think there was any juice left in the car. I'm happy I got myself into the top three, that makes it a much better challenge for me position-wise to fight for a win. Our long run pace looked strong on Friday, it's been one of our strengths throughout the year. It's going to be really hard for everyone tomorrow with track temperatures potentially reaching up to 50 degrees which we've not seen all weekend. I've been conscious of that with my set-up, so hopefully that works well tomorrow," said Hamilton.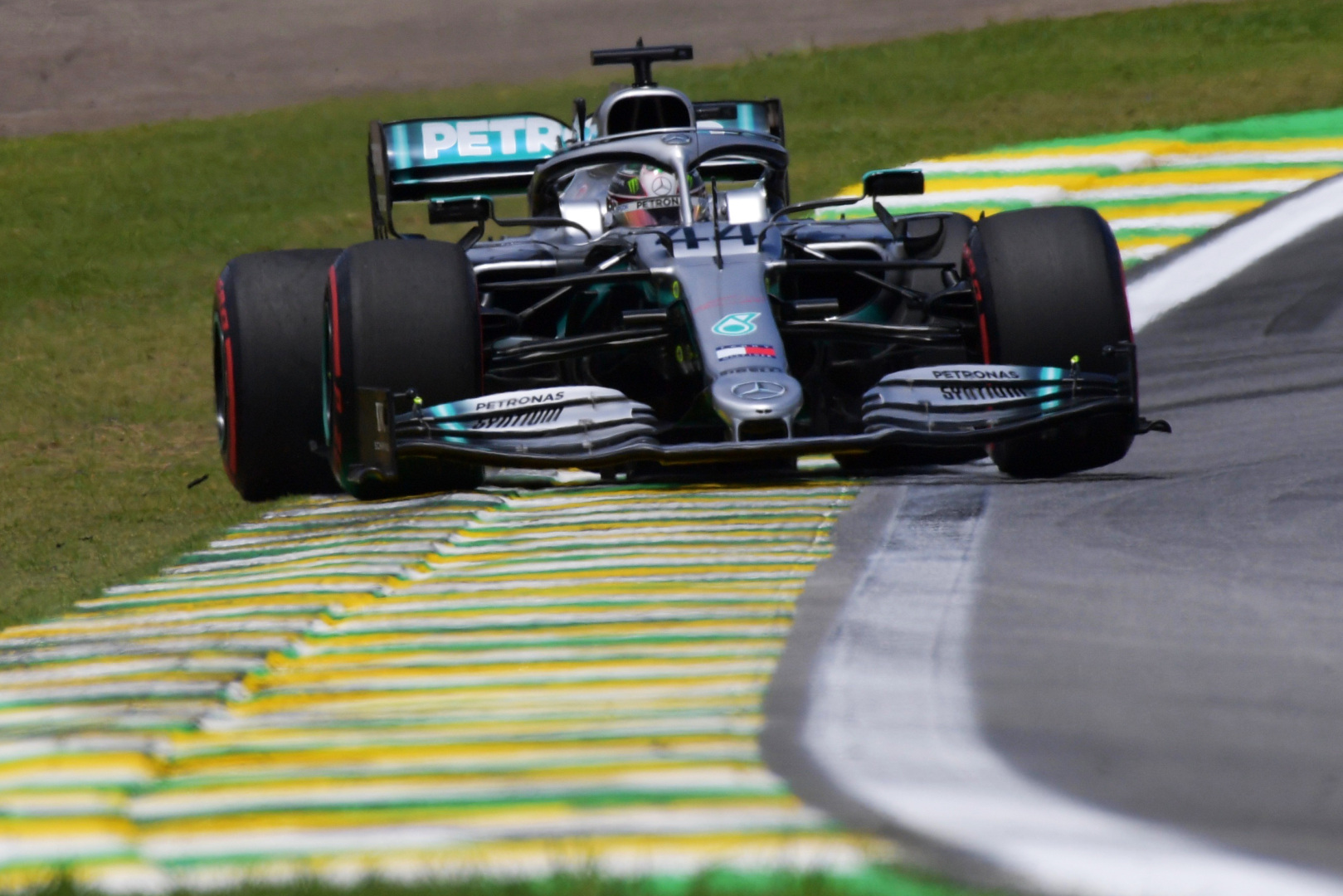 Charles Leclerc was fourth fastest in the second Ferrari, but he will drop down to fourteenth on the grid with a 10 place penalty for having fitted a fourth Internal Combustion engine for this event. He was the only driver to opt for Medium compound tyres to make the cut into the top-ten shoot-out, with all the others using the Soft Pirellis, thus giving him a few more strategy options in tomorrow's 71 lap race.
Valtteri Bottas was fifth in the second Mercedes, while Alex Albon was sixth for Red Bull, around four tenths slower than his team-mate. The man he swapped seats with after the summer break, Pierre Gasly was the winner in the mid-field battle, taking his Red Bull Toro Rosso Honda to seventh, his fourth consecutive top ten start. It was a surprisingly good day for Haas, as Romain Grosjean was eighth and Kevin Magnussen rounded off the top ten. The meat in the American team sandwich was Alfa Romeo's Kimi Raikkonen, ninth.
Both Renaults Knocked Out in Q2
Q2 was unusual in that only one driver, Nico Hulkenberg in the Renault, went faster on his second run than the first, with Lando Norris today's unlucky eleventh, missing the cut by one hundredth in the McLaren. He was joined by Daniel Ricciardo, Antonio Giovinazzi, the aforementioned Hulkenberg and Sergio Perez.
"The midfield is super tight, and we just couldn't extract enough pace today. It was nip and tuck and only a few hundredths would have seen us into Q3. It's a short lap here and my second run in Q2 was clean, but we just lacked that extra bit of pace which would have seen us comfortably through. It makes our life tough for tomorrow, but I'm somewhat optimistic as our race pace has been better recently. Coming from the back of the midfield and sitting in dirty air is never easy, but we'll fight and give it our all tomorrow," said Hulkenberg.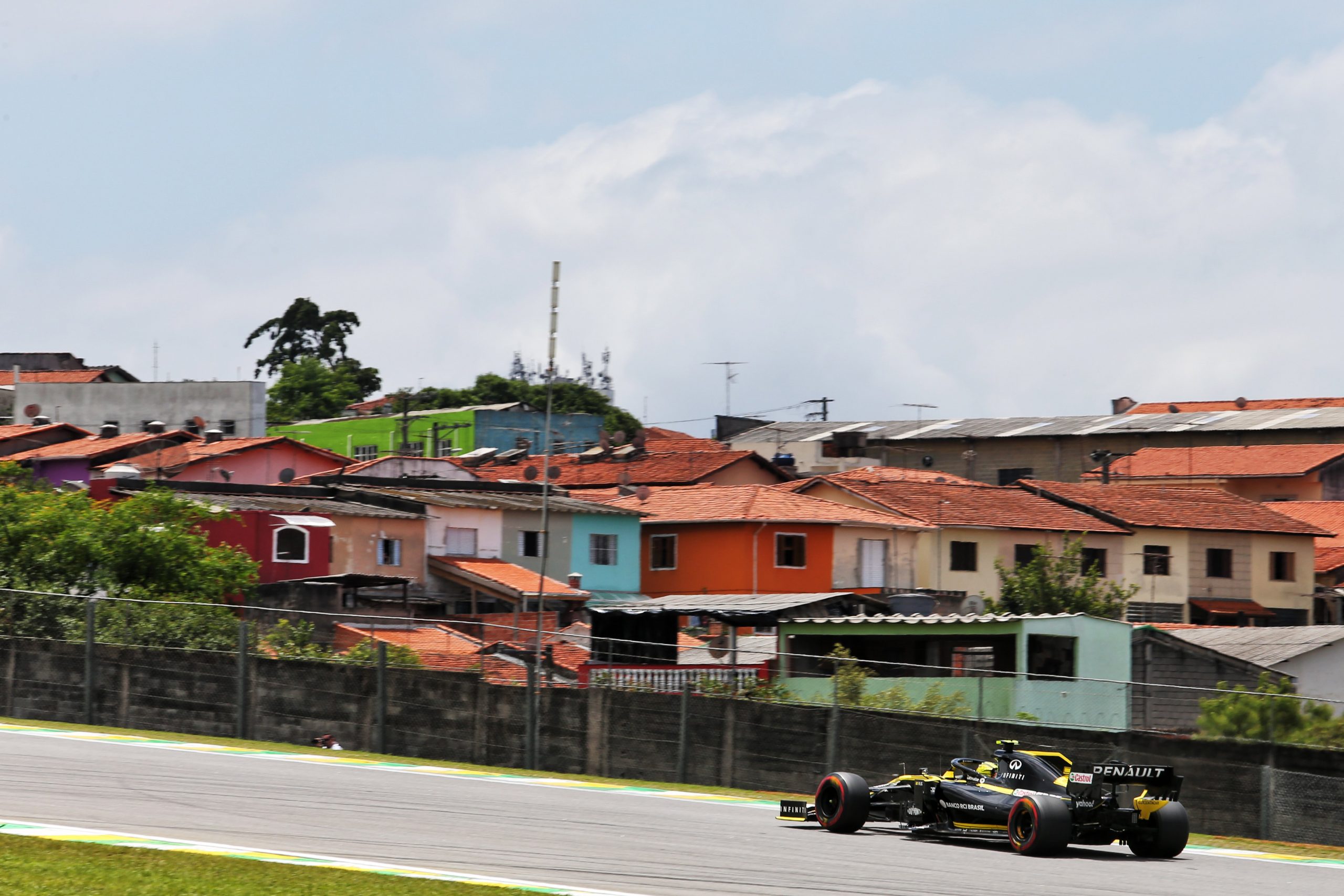 Those reduced to the role of spectator after Q1 were Daniil Kvyat, sixteenth, followed by Lance Stroll, the ROKiT Williams duo of George Russell and Robert Kubica and Carlos Sainz, the McLaren driver failing to set a time because of a technical problem on his car.
Formula 1's Global Tyre Partner, Pirelli, reckon that a one stop strategy is the quickest way to the chequered flag, but the teams themselves don't always agree and a Safety Car in tomorrow's 71 lap race could change that. However, this tricky little track can usually deliver an exciting afternoon's sport whatever the conditions and strategies on offer.
2019 Brazilian Grand Prix Tyres
Red Bull driver Max Verstappen was fastest in qualifying for the third time this year, having used the soft tyre from start to finish of each session. The red tyre will be used by those at the front of the grid tomorrow, with Charles Leclerc the only driver to run the medium in Q2. However, the Ferrari driver will start outside of the top 10 on this compound due to a grid penalty.
Verstappen received the Pirelli Pole Position Award from Brazil's Rubens Barrichello: the driver who has started more Formula 1 races than anyone else, finishing runner-up in the world championship twice with Ferrari.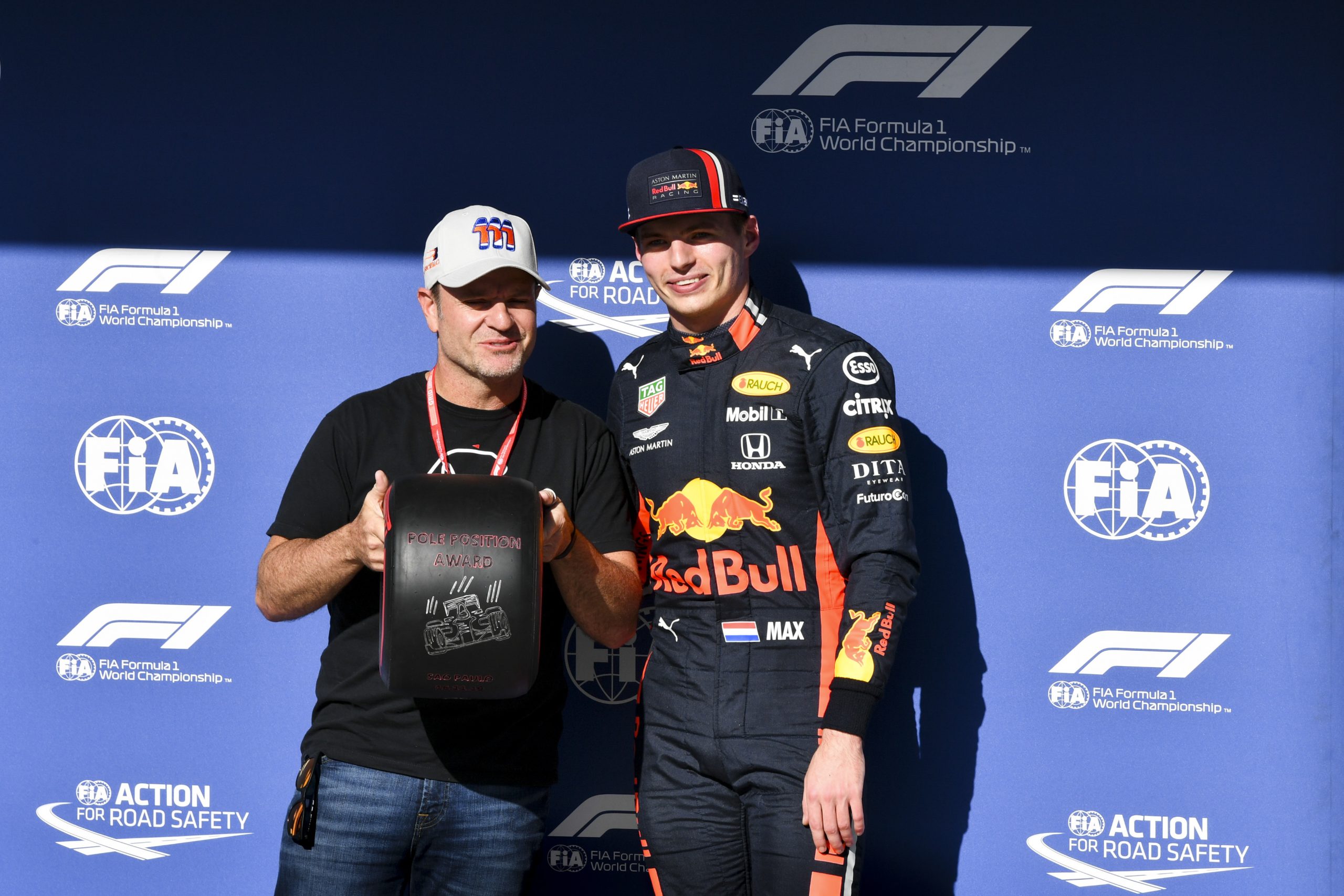 The fastest strategy on paper for the 71-lap Brazilian Grand Prix is a one-stopper, using the red soft tyre for 26 to 29 laps and the white hard for 42 to 45 laps.
The second-quickest way is to run the red soft for 34 to 37 laps, and the yellow medium for another 34 to 37 laps. About as fast as this is actually a two-stopper: with two stints on the soft of 18 to 21 laps each, plus a medium run for 29 to 35 laps. These stints could all be done in any order, with a soft-medium-soft plan potentially making sense as a two-stopper, for example.
The reason for this is that with much warmer conditions expected on Sunday compared to Friday, the hardest compound as well as a possible two-stopper all become much more interesting.
What's slightly slower is a one-stopper with the medium for 24 to 27 laps, and the hard for 44 to 47 laps.
Keep an eye on…
Higher temperatures. The weather tomorrow is expected to be warmer again, which could further affect tyre behaviour and therefore race strategy.
Traffic. The short lap at Interlagos means that getting through traffic will soon become an issue for the frontrunners, again affecting the timing of the stops.
Safety cars. Interlagos has little run off area, with both free practice sessions yesterday stopped by red flags. This might influence pit stop strategy.
Leclerc. In Q2, he was faster on mediums than most soft tyre runners. Tomorrow he has to fight his way up the order, but he clearly has the pace.
Mario Isola – Pirelli Head of Formula 1
"As expected, track temperatures were warmer today, well above 30 degrees centigrade for the first time so far this weekend, which meant that the track offered a bit more grip. This increase in temperature is expected to continue tomorrow, which means that we could see some variations in strategy. With three different teams in the top three of the grid, we're set for some close competition, so even a small change could make a difference. The front of the grid all start on the soft tyre, which means that it's a level playing field for the first stint at least: whoever makes the most of it could gain an important advantage."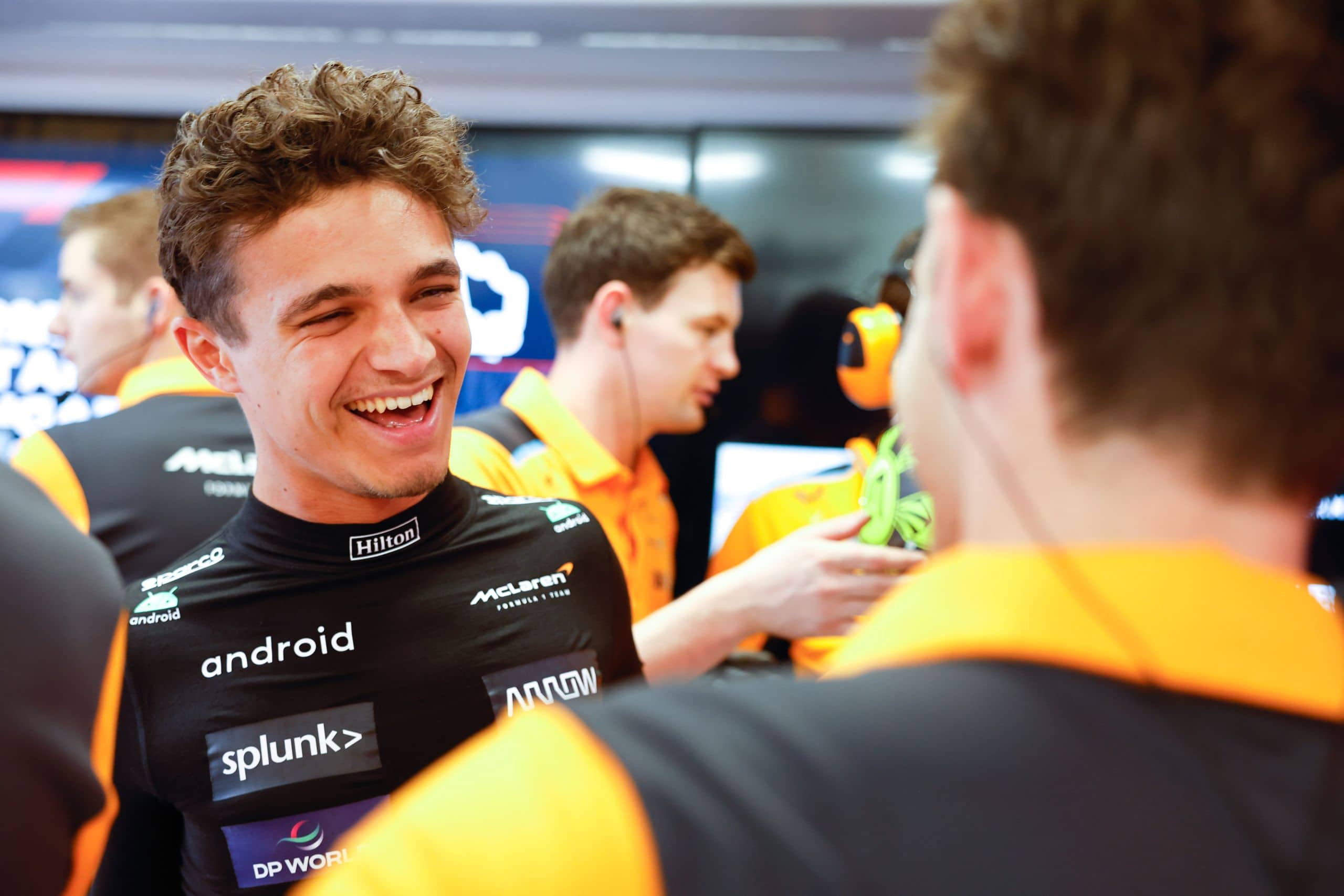 In the most recent times, Zak Brown, the top boss ...