A weekend of joy and sadness came to an end today at Spa-Francorchamps, the scene of the 2019 Belgian Grand Prix. The sadness is due to the tragic loss of Anthoine Hubert following the terrible accident in yesterday afternoon's Feature Race of the FIA Formula 2 Championship in which he was involved alongside Juan Manuel Correa, who is currently recovering in Liege's CHU hospital in a serious but stable condition, and three other drivers.
Charles Leclerc Holds Nerve For First Win
The joy belongs to Charles Leclerc, who today sealed his first victory in the FIA Formula 1 World Championship, and Scuderia Ferrari, which ended its run without success that had lasted since last year's USA Grand Prix. The young Monegasque talent thus finally took a win that had narrowly eluded him so far during his debut season in scarlet overalls – first in Bahrain, when he was slowed by technical problems when he was comfortably in the lead, then in Austria, when Verstappen passed him on the penultimate lap. Despite having dominated the weekend – given that it was only in FP1 that there was a driver ahead of him on the timesheets – Leclerc's win was in doubt until the very last second, as shown by the gap of just 0.981 seconds to second-placed Lewis Hamilton at the flag.
Leclerc claimed his maiden Formula 1 victory after a stunning drive on a difficult day in the Ardennes following yesterday's tragedy, and the Monegasque dedicated his first win to his childhood friend.
"It is difficult to enjoy a first victory on a weekend like this. I grew up with Anthoine, and we competed in our first karting race together with Pierre (Gasly) and Esteban (Ocon) in 2005. These are memories I will keep forever. Losing him yesterday was a huge shock, not only to me but to everyone in motorsport. In a way, I am satisfied having won today to remember him in the way he should be remembered. He was a champion, and this victory is for him. The race itself was good and nothing would have been possible without the amazing car the team gave me. We made good improvements in terms of race pace and tyre management this weekend. The last few laps weren't easy. I saw Lewis coming closer and closer in the mirror, so I put my head down and tried to focus on the work I had to do in the car. At the end, I managed to cross the line in first place and I'd like to thank the team for the hard work they have put in to make this possible," said Leclerc.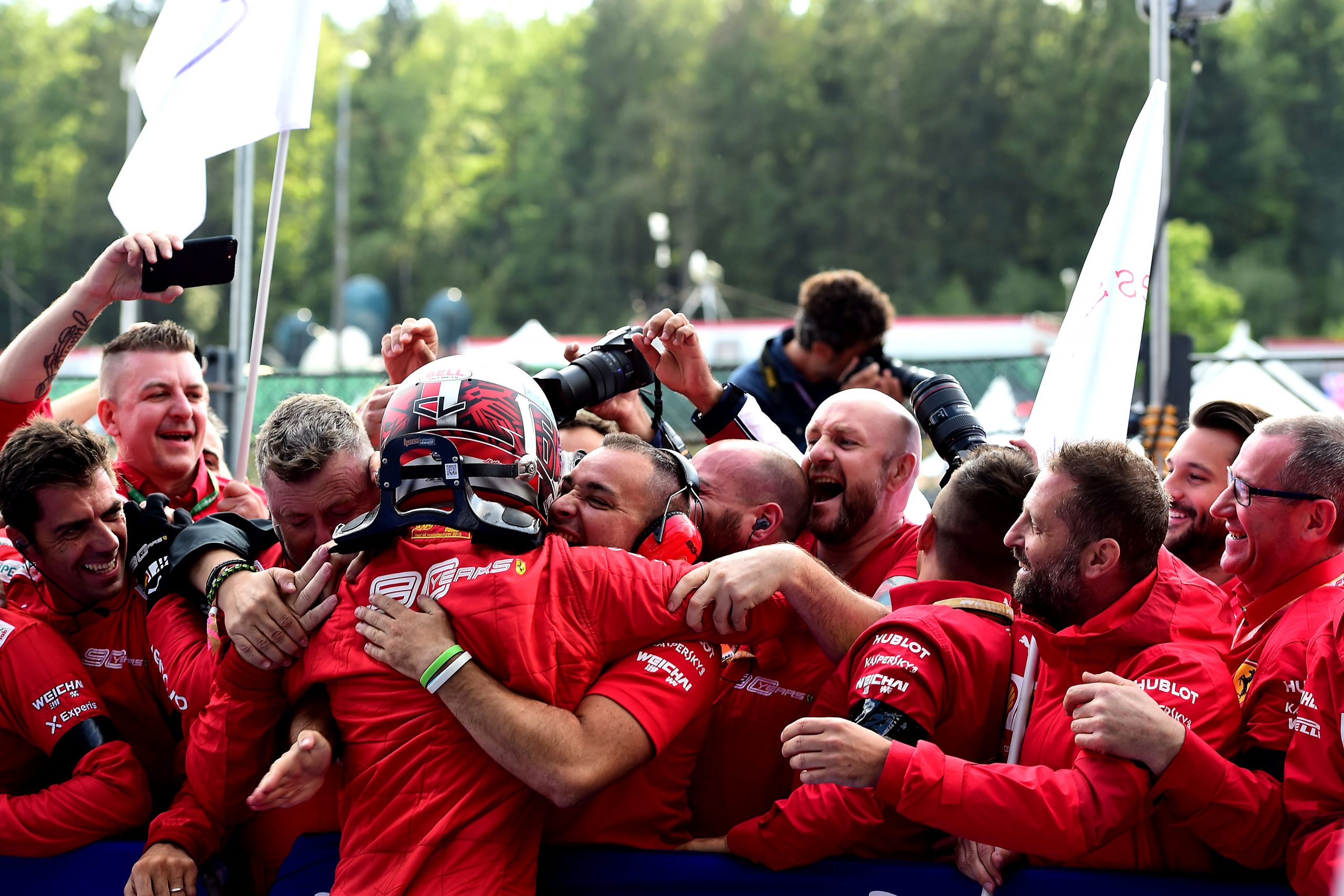 Lewis Hamilton Extends Championship Lead
Lewis Hamilton extended his championship lead to 65 points, finishing in second ahead of Mercedes teammate Valtteri Bottas in third.
"It's been a very difficult weekend for everyone in motorsport and today I raced with Anthoine in my thoughts. In general, it's been a wobbly weekend but to have a solid Qualifying and then a solid race today, I'm really happy. Of course, you always want to win on a race day, but I gave it absolutely everything I had. Ferrari were a very strong force but for us to be that close at the end means there are plenty of positives to take. I'm happy for Charles, he did a fantastic job all weekend so congratulations to him. We've got a lot work to do to try to catch up to Ferrari on the straights in the next four days, but if anyone can do it it's this team. Hopefully we can have another close race next weekend in Monza," added Hamilton.
Sebastian Vettel Misses Podium, Claims Fastest Lap
Sebastian Vettel took fourth place and set the fastest lap of the Grand Prix with a 1:46.409.
"It was not by any means an easy race for me. At the start I managed to retake my position from Lewis but then I began to struggle with the tyres and I had to stop earlier than planned. With the medium tyres at first I managed to maintain a good pace, but then it dropped again. I tried to keep second place but I couldn't do it and at that point, the best thing to do was to pit once more for tyres and carry on without struggling so much. We have to understand why my car had such high tyre degradation and we will do a full analysis of the situation to understand the reasons why I did not feel comfortable. It was definitely not a great weekend for me, but it was a great weekend for the team and that's the main thing. So congratulations to all the guys in the team and well done to Charles for his first win!"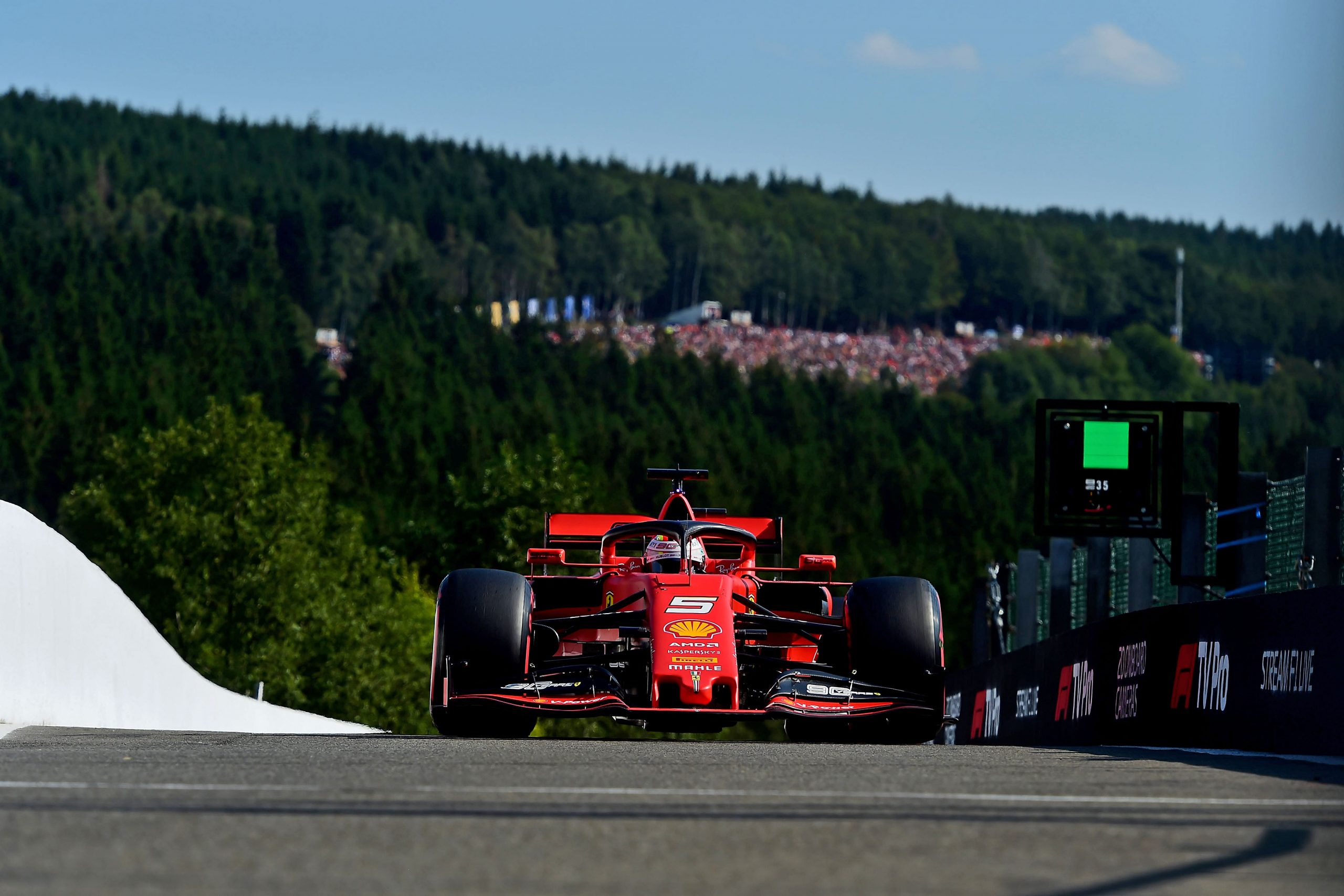 Alexander Albon 5th On Red Bull Racing Debut
Alexander Albon earned his best ever result in F1 by bringing his car home in fifth on his debut with Aston Martin Red Bull Racing.
"I'm very happy. P5 is an amazing result and we've got off to a great start. I had some good fun out there and I enjoyed this race a lot. I started off the weekend very nervous and if you had told me I'd finish the race fifth I'd be very happy, but I'm a bit more relaxed now. It was actually a difficult race and in the first stint I struggled with grip in the dirty air and couldn't overtake anyone. But then once we pitted for the soft tyres, the car came alive and I was like – now we can do something! The last lap was really good, I had a good fight with Sergio where we were both on the grass and it made for some good racing. There are definitely some areas I need to improve on and over the next few days I'll get my head down, do some homework and address them for Monza. I will sit down with the Team and understand why I struggled at the start, but I am still finding out the car's little tricks and adapting to it. I didn't really feel too much pressure coming into the weekend, I think the media thought I was going to, but I've enjoyed my week with the Team. It's been a good experience and a different way of working. Last night was very tough, us rookies knew Anthoine very well, so it's been a stressful few hours and this morning felt strange. When you know a person and when they're at the race track, it's a very difficult atmosphere, so we dedicate this race to him," said Albon.
Sergio Perez, Daniil Kvyat, Nico Hulkenberg, Pierre Gasly and Lance Stroll completed the point-scoring positions.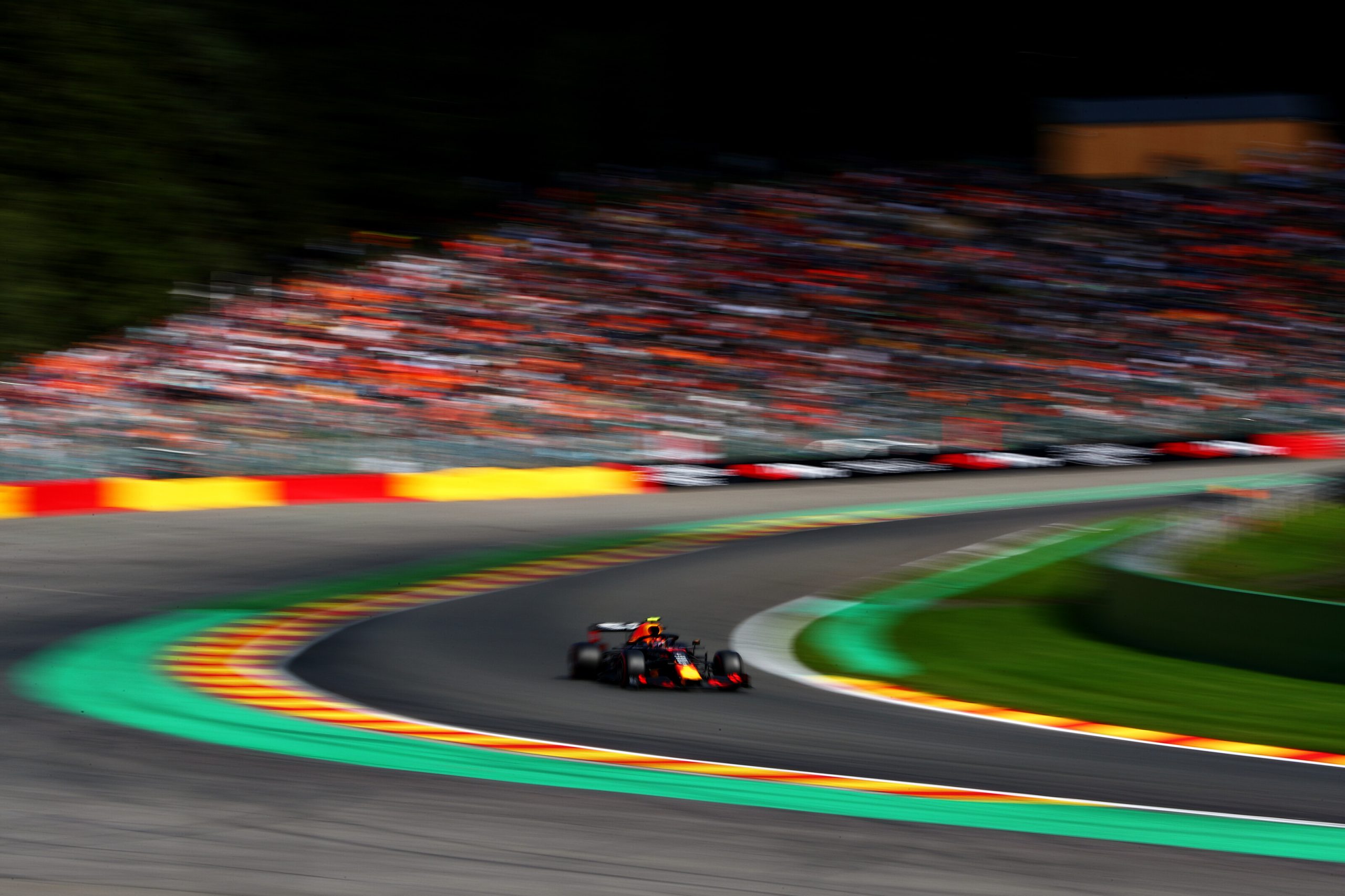 Minutes Silence For Anthoine Hubert
After an impeccably observed minute of silence in memory of Hubert, Leclerc blistered off the line from pole position with a great start to stay ahead of Ferrari teammate Vettel, who battled wheel-to-wheel with championship leader Hamilton as he looked to pounce from third on the grid. The Englishman was quickly alongside the German, and he went up to second place in Turn 2, only for the German to fight back immediately and retake the position into Les Combes.
There were several collisions behind the leaders on Lap 1 as everyone squeezed each other for space. As carbon fibre flew in all directions, there was contact between Max Verstappen and Kimi Raikkonen as the Dutchman looked to dive down the inside of Turn 1. The move was never really on, and while the Alfa Romeo man was able to continue with a damaged floor, Verstappen broke his steering and buried his Red Bull into the wall at the top of Eau Rouge. The safety car was deployed and the Dutchman's race was done.
Lando Norris made a great start to move up from P11 to fifth, though his McLaren teammate complained of a lack of power, and sure enough, with the drivers still following the safety car on Lap 4, Carlos Sainz pulled over near the chicane and retired with a power unit problem.
The safety car returned to the pit lane ahead of Lap 5, and Leclerc mastered the restart. Vettel, still second, locked up going into Turn 1. Hamilton looked poised to take advantage but was held in check by Bottas, with the Finn's Mercedes in the slipstream of the reigning champion.
Vettel continued in P2, despite Hamilton and Mercedes stating that the German did not appear that quick, and was the first to dive into the pits for fresh rubber, swapping his softs for mediums on Lap 16. Vettel exited in fifth as Leclerc continued out in front, 4.8 seconds ahead of Hamilton, with Bottas and Norris behind. With no sign of the Mercedes pair following suit it was Leclerc who came in next, pitting from the lead five laps later and rejoining in P4. Hamilton came in for his stop the following lap on Lap 22, Bottas the lap after that, and Vettel inherited the race lead.
Lap 26 saw both Ferraris out in front, Vettel ahead of Leclerc, before team orders were radioed in and the German made way for his teammate to retake first place. Vettel was told his fight was with third-placed Hamilton, and sure enough by Lap 33 the Briton was on the Ferrari's gearbox. Hamilton powered past Vettel into Les Combes to take second, 6.8 seconds behind Leclerc out in front and the chase was on. The Mercedes driver began chipping away at Leclerc's lead and by Lap 41, with four laps to go, the gap had been cut to 4.5 seconds. Hamilton continued to push, as he did against Verstappen in Hungary last time out, going 1.5 seconds quicker than the Monegasque and slashing the gap to three seconds at the end of the lap.
If Leclerc felt the pressure, it didn't show. The Ferrari man held on valiantly as Hamilton lapped a second quicker than him. With two dramatic laps to go the gap was just 1.8 seconds, but the Briton was out of DRS range. Antonio Giovinazzi then crashed out at Pouhon in the final lap, bringing out the yellow flags in the middle sector, before Norris ground to a halt on the start finish straight having been on course for his best ever finish. Leclerc took the chequered flag, 0.981 seconds ahead of Hamilton, to cue jubilant scenes inside the Ferrari garage for the first time this season.
Leclerc thus added his name to the list of drivers who have taken a win in a Formula 1 World Championship race, which included 107 names this morning. It also allowed the Principality of Monaco to become the 23rd country to take a victory in the highest echelon of motorsport. The Ferrari driver managed it on a track that was also the scene for another driver who wrote history for the Scuderia, Michael Schumacher, who took the first of his 91 grand prix wins here in 1992.
Despite losing one of the most eagerly-awaited stars of the show in Verstappen, just seconds after the start of the race, the 109,064 spectators present today (up 21% on last year, with a total of 251,864 over the whole weekend) enjoyed another spectacular race this year. This wasn't just down to the battle between Ferrari and Mercedes at the front, but also for the many duels and passing moves that went on further down the field. At the end of a weekend on one of the most legendary circuits on the calendar, Formula 1 now heads to another historic event, the 2019 Italian Grand Prix, which will take place next weekend at the Autodromo di Monza, near Milan.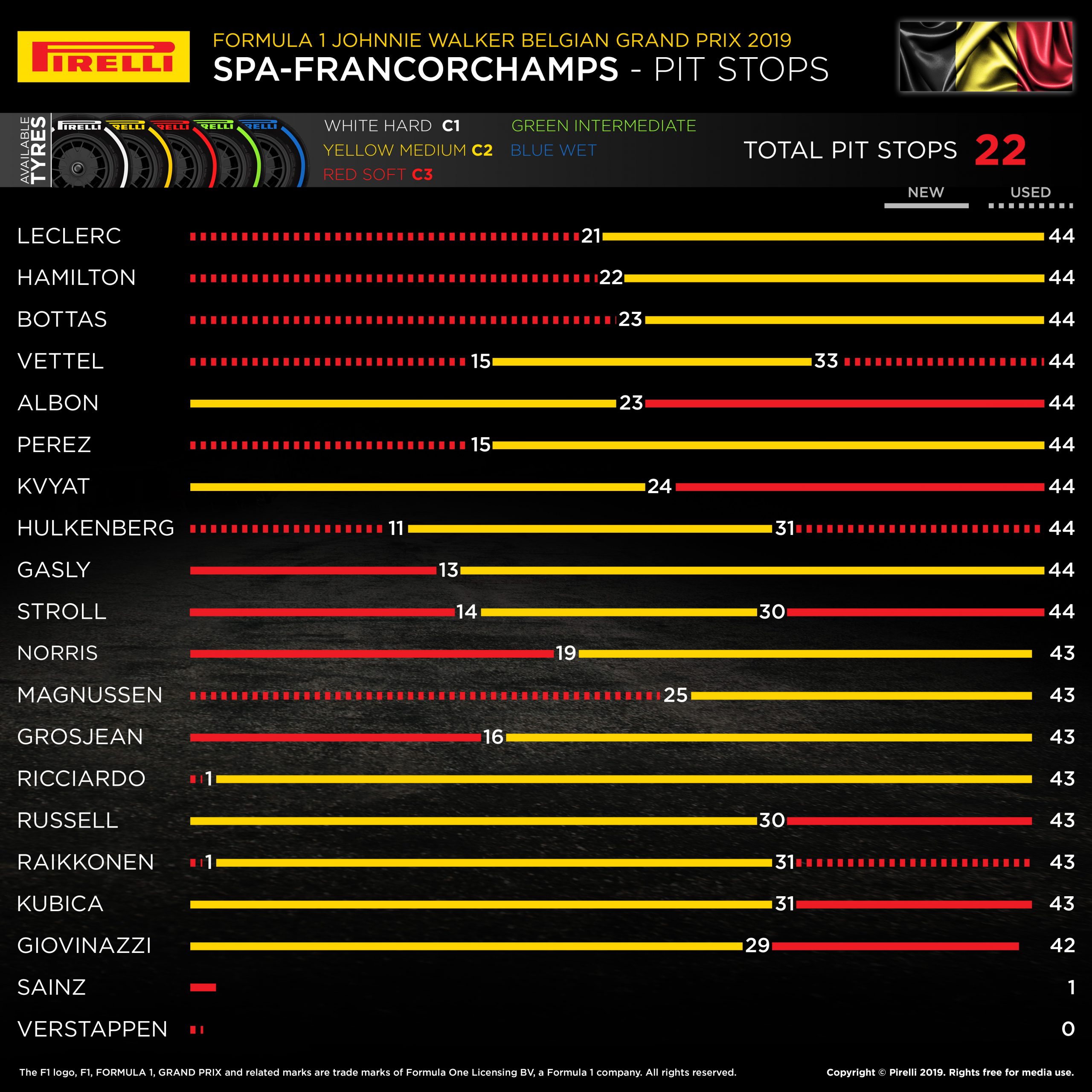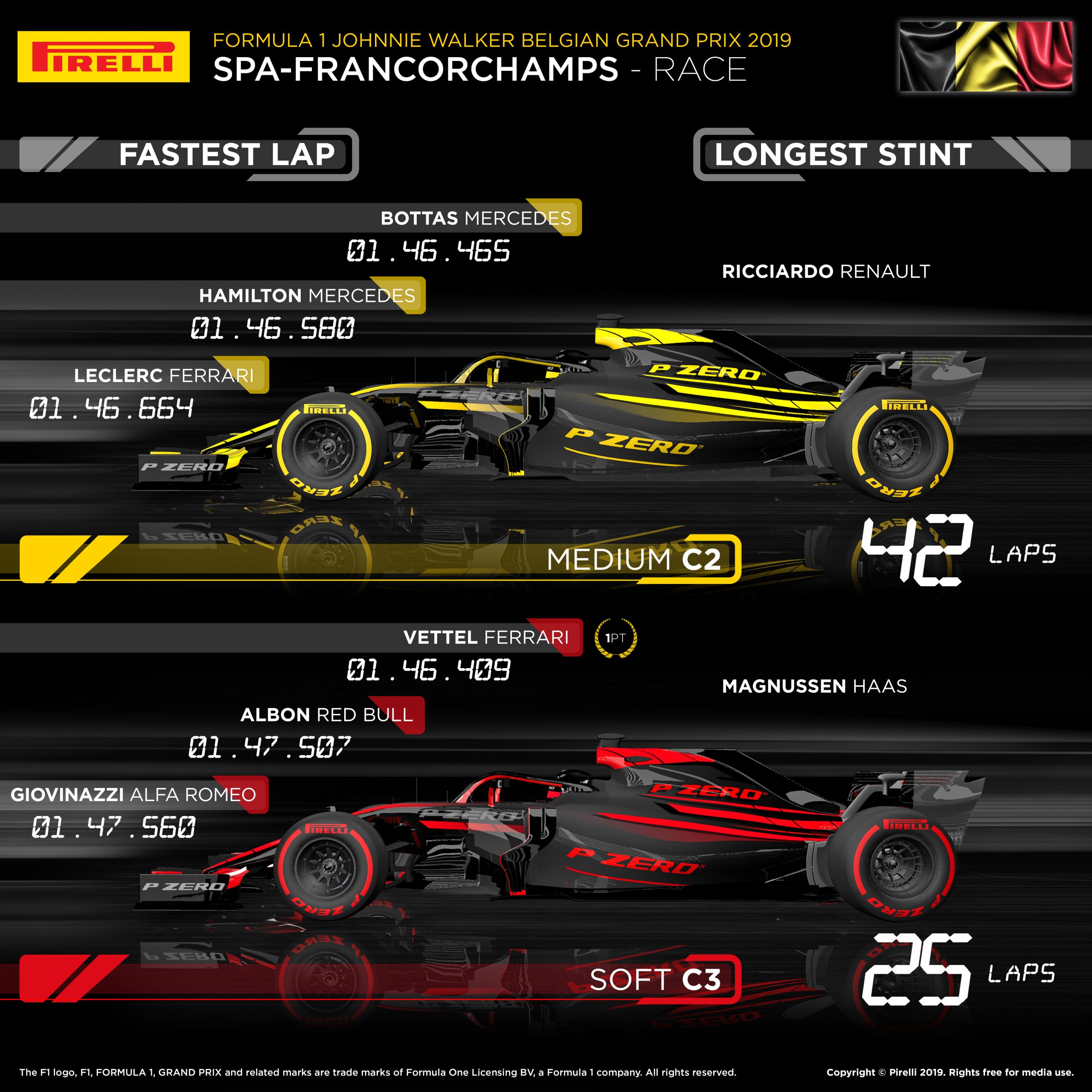 By the end of Friday practice for the Spanish Grand ...