2021 F1 Season Predictions: Lewis Will Sign Deal Before Season's End, Kimi Will Reveal Bucket List & More!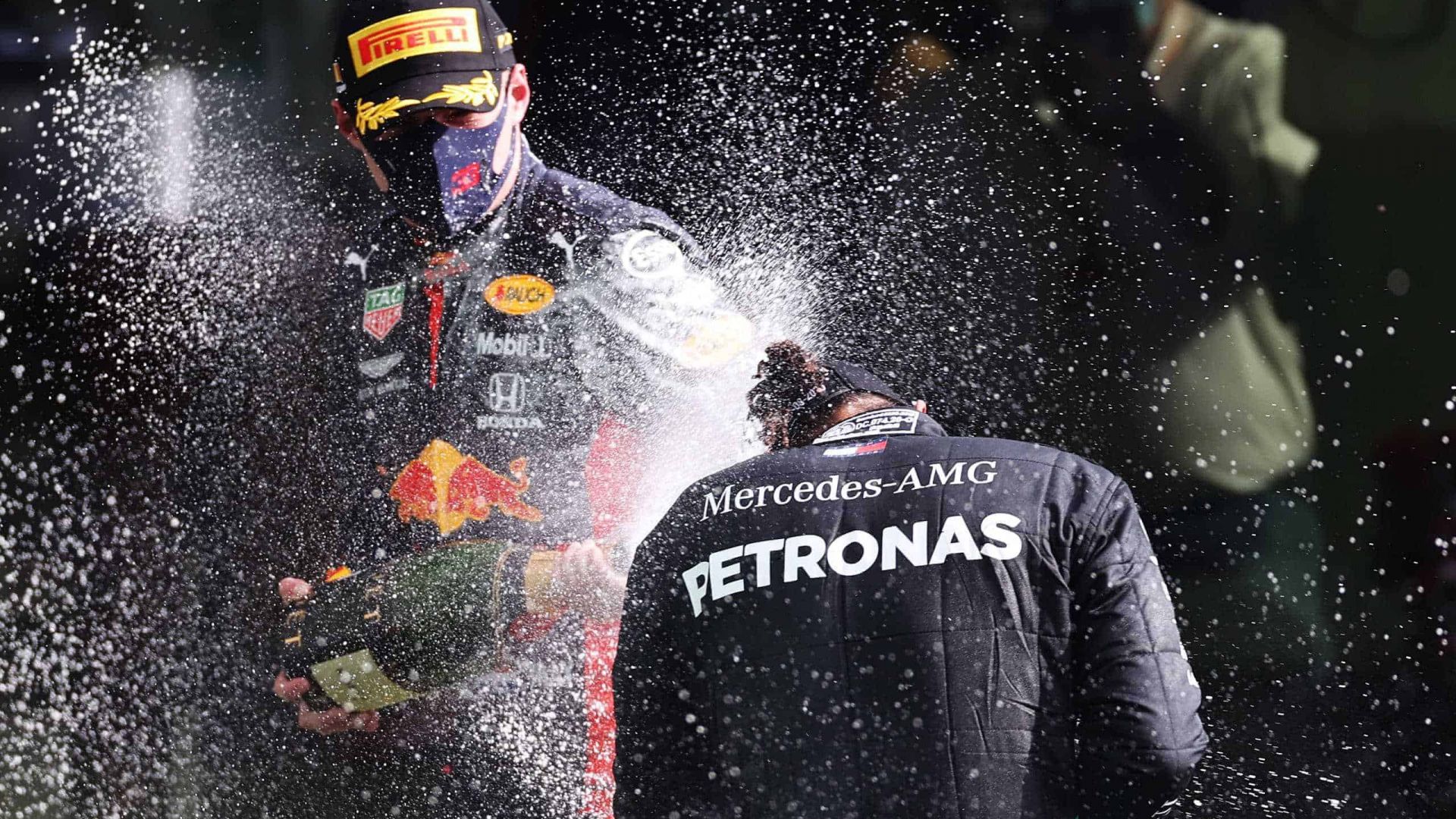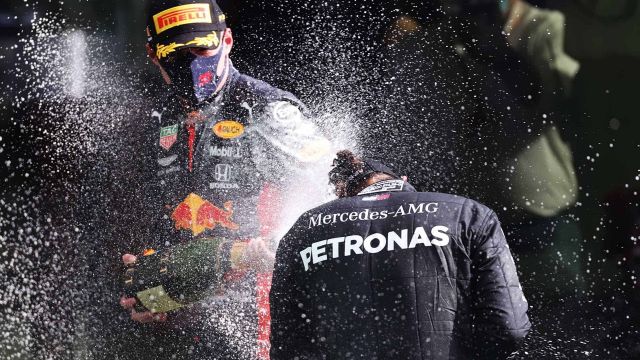 Tick-tock, tick-tock, tick-tock! Okay…someone please shut off the alarm, it's time for our 2021 F1 season predictions. Winter-season testing is still a Nicholas Latifi win away; there's still a lot of time left before Lewis Hamilton comes right at the end of testing to set the early pace for the 2021 season.
And you know what follows next, right? So, time to relax? No! Time to shut the hell up? Nope. In a sport that's about the right noises- yeah we know you still miss the V10s- how can a FORMULA 1 fan ever shut up and keep to himself?
Truth be told, the last time anyone stopped talking about just how incredible a season 2020 was- we still hadn't stopped talking. But the fact is- there are some (not so) incredible 2021 FORMULA 1 season predictions for you that will make you cringe as much as seeing Mr Boris Johnson change his hairdo.
So here we go then, starting of course with:
Charles, Carlos Is Faster Than You!
Not because the Scuderia declare themselves bankrupt after all the prize money they lost for underperforming horribly last season. But one of the big 2021 F1 season predictions is that at Ferrari, Carlos Sainz will nearly draw level with Charles and he 'Shaarl' do that with about the same ease it takes a lion to swat aside a hare in his path.
Does that mean Charles Leclerc, 98 points and P8 in 2020, will simply forget how to drive? Of course not; he's yet to be banned for wearing the banana suit inside the cockpit.
It's just that in 2020, Leclerc made most of the package using superior race-craft and combining it nicely with all that Vettel failed to do, which was essentially making the most of the underwhelming SF 1000.
But in the new FORMULA 1 season, Sainz, more experienced than Leclerc if not necessarily at the same level will bring the force and if one must admit, the desperation (knowing Ferrari may still not have the car needed to win) into play.
And that shall make room for a healthy competition and who knows, even a few podiums at marginally better race-pace than Maranello's young knight!
In the end, Ferrari will improve vastly in 2021 and shall, make Felipe Massa desire planning a comeback, which may not necessarily give Alonso the right to think, "he's faster than you!"
Valtteri Will Stop Eating Porridge For Breakfast!
Doesn't mean he will hire Nico Rosberg as the man-in-charge for ordering early morning post-workout breakfast that reads: "High Performance Guaranteed," on the cover.
Simply means, Valtteri Bottas will completely alter himself for what may certainly be a last chance to muster up a fight- glad he's not inside the ring to face Lewis ever- to the great world champion driver.
Thanks to fine performances like winning the 2020 season-opener at Austria and then a commanding win at Sochi, Valtteri was able to ace some aces if not become the face of what one calls a habitual winner.
But in a sport where Rosberg did what most regarded as unthinkable- not the art of being nicknamed Brittany, but beating Hamilton for a title- what's must is for the thrill to remain.
Can that happen in the form of Bottas outdoing Lewis? Well, not sure if the Finn would like to be contacted by a Hammer. Losing to Lewis by a margin no fewer than 124 points was hard enough.
But Valtteri, you owe us a better season. Is that coming- depends on what you eat.
Sir Lewis Hamilton Will Lose At Least 1 Race, But, Shall Win At Least 1 More Title!
Lewis Hamilton has one serious problem. It's mediocrity, you guessed it right. He sucks at it. Doesn't know a thing about it.
Ever imagined there may come an era where a driver will be known for utmost dominance as also for lending race after race, lap after lap, a slice of the 'expected' or usual?
Honestly, among the most insipid- but what can I do, for the man's too good- F1 2021 season predictions is that it will be Hammertime in the end.
Not saying what's actually a strong feeling would be like denying the obvious or saying something not so funny like-
"In 2020, the only races Lewis lost were the ones he didn't win!"
So in 2021, Lewis, aware of the Mr. Consistent reputation he so humbly carries will allow himself to lose a race.
And who knows whether that'll be in the form of a collision? But wait, there's no Albon this year!
How does it matter. Do anything Lewis you want sir, but don't collide with George ever!
But more importantly, before Lewis gets inside the cockpit of the car with which he will blow the minds of nineteen other drivers, he will sign the contract and that will, hopefully happen, before you go nuts thinking when might the pandemic end.
Daniel Will Show More Teeth Than Lando
That's not because Lando Norris doesn't have any and is still being sat down by mummy dearest for breakfast. Heck, nothing could be further than that; in 2020, Norris, by virtue of brilliant drives evident as early as the last lap overtake at the season-opening Austrian GP showed true grit.
His constant battles in the midfield with the lot comprising Perez, Stroll, Ocon, and his-then teammate Sainz- were incredible.
Finishing only a point behind Leclerc, P9, on the standings was sufficient proof of Lando Norris' race craft.
But one of the bold 2021 F1 season predictions is that a man who's slated drive as a debutant at McLaren will usurp a driver ten years younger with unhinged alacrity.
Daniel Ricciardo, the true star of the 2020 season– not the inventors of the Coronavirus, will record a very fine season and shall, if the car is handy as it was last year, finish comfortably inside points.
But the big question is- will the Honeybadger gain an eighth F1 win?
How can I tell everything? What do you have pundits like Crofty for?
Kimi Confesses To Actually Having A Bucket-List
329 race-starts, 21 wins, 103 podiums, countless run-ins with irrelevant media questions, and 1 world championship, and once the holder of a world title (long before Max head butted Ocon), Kimi Matias Raikkonen is an enigma.
When the Espoo-born vida-drinking, laconic Iceman gets behind his Alfa Romeo, it will be his nineteenth season at the pinnacle of racing.
So far, Kimi's ticked all the boxes.
He's been the guy a true FORMULA 1 fan wishes to see; someone that can separate the drivers from the racers, go fast, be cool (not act as one), comeback strongly after setbacks, set the fastest lap in the history against Lewis and Seb and company, witnessing the record being smashed by Lewis.
But he isn't done yet.
Importantly, he's not even ticked that important tick-box, in a bucket-list.
When asked about what his bucket list had, the monosyllabic talker replied, "I don't have one."
Was Kimi lying? Yes!
His bucket list will be revealed in 2021 and truth be told, he told us about it. When F1 Chronicle, asked what it is, the man who doesn't talk all that much actually wrote back a para that read the following:
"No I mean, for me it's really normal not to have a bucket list. It's not that I wish to drive until am 89 or something.
"(It is) also not about finding Vodka dripping from every tap where water is to come out from.
"But I mean, if you force me to say something honestly… I'll say I hope someday FORMULA 1 can come back to India. I hope to do some racing at the Buddh International Circuit, close to New Delhi. I would like to see racing return to the country that eats and overpopulates at the same level.
"No, I mean, seriously speaking there's much racing talent in the country… look at guys like Narain.. Also Aditya Patel. He's good.
"So yeah, that's it for me!"
Disclaimer: this is a light-hearted read, kindly keep your shoey to yourself and avoid hitting me with it if you're reading this line.