With Lewis Hamilton setting a new FORMULA 1 win record, and closing in on a record-equalling seventh World Championship, the vitriol on social media has been increasing, causing many to no longer wish to participate in Facebook groups that tolerate driver-bashing and hatred.
So how did we get to the point where Lewis Hamilton could win with a horse and cart, and people would complain he had the fastest horse?
There are many factors at play here such as most drivers having a big presence across social media, but a key premise is we all have a different model of the world.
How you see things is completely different to how I see things, and generally speaking, this is a good thing for society as we can all bring our different points of view to a scenario and find a way forward.
Sadly this is not the case in the comments of nearly every F1 group on Facebook, where people are adamant that their point of view is right, yours is wrong, and you're an idiot for thinking the way you do.
Let's take a look at some of the common arguments in F1 groups, and see if they hold water…
Driver X Is The GOAT!
The GOAT argument isn't specific to the world of F1, just look at the NBA, where LeBron James fourth NBA title stirred great debate as to whether or not he takes the mantle from Michael Jordan.
In F1 we have Lewis Hamilton vs Michael Schumacher, 93 race wins vs 91, six championships vs seven.
So how do we work out who the GOAT is?
Well, we can't.
And even when F1 and AWS put out their 'Fastest Driver' analysis it still didn't appease people if their guy wasn't deemed the fastest.
Different drivers, different competition, different cars, the list goes on.
What we can have though is our favourite, and our own criteria for choosing a GOAT.
Personally, I didn't much enjoy the years where Schumacher and Ferrari dominated. However, he has the most titles so to me he is still the greatest.
Some say the best of all time is Jim Clark, some say Fangio, some say Ayrton Senna. But unless they have seen them race, how can they compare?
Because if they're using statistics, well the numbers don't add up.
If they're using stories and YouTube clips, then they're comparing some drivers highlight reels against other drivers careers.
The passing of time plays an interesting trick on the mind, where we often forget the flaws, the disappointments, and the losses, remembering only the triumphs and victories.
And that's ok.
You can have your GOAT, I can have mine, and neither of us can (or should) try to convince others that their GOAT is wrong.
Lewis Hamilton Has The Fastest Car (Or Best Car)
This one is odd, as I'm yet to see a car that wasn't the fastest win a race.
When Pierre Gasly won the 2020 Italian Grand Prix, on that day, his car was the fastest.
Maybe there is something in the air in Italy, as in 2008 Sebastian Vettel won in a Toro Rosso to claim his first win in F1. Funnily enough, on that day, his car was the fastest.
You wouldn't think you'd need to explain how motorsport works, but what happens is the driver who crosses the line first, ie completes the race distance the fastest, wins. It's that simple.
These 'fastest car' or 'best car' arguments add to the Lewis Hamilton Fallacy.
Formula 1 is a meritocracy, and as such, the best drivers usually find themselves in the cockpit of the best car.
From 2010 to 2013, it was widely acknowledged that Red Bull Racing were producing the best cars, as they powered Sebastien Vettel to four consecutive World Championships.
Today though, people are rewriting history as they claim Hamilton has 'always' benefitted from being in the best car.
So which one is it?
Because clearly it can't be both.
The Good Old Days Were Better
This one is always fun, and is something that likely happens to all of us as we get older!
I've found myself opining that the English Premier League was better in the 90s and 2000s than it is now for example.
Often, the 'good old days' coincide with a time in history where our favourite teams and stars were winning. Funny about that.
Have you ever met a Ferrari fan who thinks the current era is better than the 2000-2004 period?
No, you haven't.
However, where this one gets really interesting is when people argue that the drivers no longer drive the cars, and that everything is controlled by engineers sitting on a pit wall.
The problem with this is the Williams FW14B, built in 1992, is still considered the most technologically sophisticated car in the history of F1.
It's 28 years old.
The FW14B had semi-automatic transmission, active suspension, traction control and, for a short time, anti-lock brakes.
It also had Adrian Newey in charge of aerodynamics.
In fact, Williams found the FW14B was proving so successful that when the FW15 was ready half-way through the 1992 FORMULA 1 season, it wasn't used.
The argument (often made by people who reach their limit reversing out the driveway) that Hamilton turns up on a Sunday, plants his foot on the accelerator, and drives into the distance is disrespectful of the amount of work he puts in to keep his body and mind at peak performance, as well as the staff at Mercedes who put in countless hours perfecting the car.
Mercedes Should Get Max Verstappen, He Would Beat Hamilton
This would be a terrible idea for Mercedes, so it's a good thing they don't listen to public opinion on social media.
First of all, it sends a message to drivers in their development program that even if you progress through the program the seat will go to the big-name with more runs on the board.
Second, do you recall the Senna v Prost years?
Sure, Ron Dennis had two prodigious talents at his disposal, but the infighting, egos, and crashes out on course disrupted team harmony, causing factions in the garage and distrust at all levels.
Mercedes currently have the perfect set up, and it's obviously working, as they pick up championship after championship.
As we've seen throughout history, having a genuine #1 and an able deputy leads to both Driver's and Constructor's Championships.
During the aforementioned 'Schumacher Years' of 2000 to 2004, he was the undisputed #1 and teammate Rubens Barrichello understood his role and performed it admirably.
Lewis Hamilton Doesn't Have Competitive Teammates
Former Formula 1 World Champions Fernando Alonso, Jenson Button, and Nico Rosberg would probably all argue that they are competitive drivers, capable of going wheel to wheel with Hamilton.
And they would be right, because they have the race wins and championships to prove their credentials.
When Hamilton joined the grid in 2007 as a teammate to Fernando Alonso, the belief throughout the paddock was that Alonso was #1 and Hamilton would be there to learn the ropes in F1.
In reality, it didn't work out like that.
As Hamilton performed well, taking podiums and race wins, tensions mounted, and boiled over at the 2007 Hungarian Grand Prix, where in the final qualifying session Alonso deliberately delayed Hamilton in the pits, ensuring he wouldn't be able to get in one last run.
The pair didn't speak for weeks after the incident.
At the end of the season, both drivers secured four race wins and 12 podiums. Clearly they were allowed to race each other, there were no team orders.
Funnily, after tensions thawed, in 2017 Alonso said "[Hamilton] was able to win with a dominant car, with a good car like 2010 or 2012, or with bad cars like 2009 and 2011. Not all the champions can say that".
Is Alonso suggesting Hamilton hasn't always had the best car?
Facebook commenters would disagree with the two-time World Champion…
In Jenson Button's book 'Life to the Limit' Button goes into detail how competitive Hamilton was, and makes it clear that he too was there to win, not just to act as a rear-gunner for Hamilton. An interesting fact Button points out in this same book is that when Rubens Barrichello was his teammate at Honda, Barrichello had it written into his contract that they were equal drivers, he was not to be a #2…
When Hamilton moved to Mercedes for 2013, a move derided by many given Mercedes lacklustre performance in previous years, it was Nico Rosberg's team.
There is evidence that team orders were used on at least one occasion in 2013, where at the 2013 Malaysian Grand Prix Rosberg was ordered to stay behind Hamilton in the closing stages, rather than fighting for third place. Hamilton felt the call was wrong, and that Rosberg should have been allowed to race.
During the 2014 Formula 1 season tensions again boiled over for Hamilton and a teammate, as several early exchanges throughout the season threatened to compromise both drivers title aspirations.
The pair had a wheel-to-wheel battle in Bahrain, a down-to-the-wire tussle in Spain, and made contact in Belgium.
In 2016, the year Rosberg won the championship, the two came together at the 2016 Spanish Grand Prix, in a move that infuriated Niki Lauda, as both drivers crashed out of the race.
The duo came together again at the 2016 Austrian Grand Prix, however both drivers could continue, with Hamilton taking the win.
Nice Rosberg went on to win the 2016 Driver's Championship, which gives Hamilton detractors a curious dilemma.
On one hand they laugh, saying he was beaten by Nico Rosberg, yet on the other, they say he has never had to race against competitive teammates.
So, which one is it?
Lewis Hamilton Needs To Prove He Can Win With Another Team
This one always brings a smile to the face 😊
I have no problem with fans being new to F1, it's great! The sport needs more and more fans to keep it going.
The issue is people forgetting that the sport was going before they saw it on Drive to Survive, then commenting on Facebook posts.
For the record, Lewis Hamilton won the 2008 Driver's Championship with McLaren.
Although they had a Mercedes engine at the time, they were indeed their own team then, as they are now.
And that is a different team to Mercedes.
Hamilton has won championships with two teams.
Before the 2008 season Felipe Massa of Ferrari was the favourite to win the title, and Ferrari did indeed win the Constructor's Championship, however, in a thrilling finish to the season Hamilton won the title by one point.
His teammate Heikki Kovalainen finished seventh.
But wait, doesn't the best car always win the Driver's Championship too?
Well now I don't know what to believe.
Put Lewis Hamilton In A Williams, Let's See How He Goes
If Hamilton was to drive for Williams, we already know how it would go – terribly.
Why?
Because it is a poor car that has suffered at the hands of bad management and a lack of finances for several seasons now.
Fernando Alonso drove a horrible McLaren from 2015 to 2017.
Jenson Button and Rubens Barrichello had a terrible Honda to drive in 2007 and 2008, and not just because it had a map of the world painted on it. The aerodynamics were poor from the start, and the car just wasn't competitive.
Does this diminish any of these drivers achievements before or after?
Does it prove their car is what won them races?
No, what it does prove is that Formula 1 is a team sport, and that it takes everyone rowing in the right direction together to deliver a package capable of competing at the front.
If Lionel Messi signed for Newcastle they still wouldn't win the league. Likewise if Lebron James joined the Knicks, they wouldn't win an NBA title. The teams they would join are still terrible, but having a champion on the team would improve them and make everyone life their standards over time.
Hamilton wouldn't win in a Williams, just like Raikkonen can't win in an Alfa and Vettel can't get near a podium in a Ferrari this year.
However, the one thing all these drivers have in common is the ability to wring every ounce of performance out of a bad car, and Williams would expect nothing less if they had Hamilton in their race seat.
Politics Don't Belong in Sport
As a middle-aged white man, this one makes me cringe the most.
Middle aged white men on Facebook, telling a black man what he should and shouldn't do, how he can protest, and how he is 'ruining' the sport for them.
Yikes.
The purpose of a protest is to bring issues to light, to have people questioning their attitudes and beliefs.
Telling someone how they can protest against their perceived suppression is, er, suppressing them further.
You may not agree with 'We Race As One', the BLM movement or drivers taking a knee before the race, but that's the point. An issue being highlighted is an opportunity for you to question your thinking, to reflect, and possibly make changes. There is no harm in admitting that at one time you held beliefs that you now feel are wrong.
While we're on the topic of politics in sports and how the handful of minutes it takes to show drivers supporting the 'End Racism' message ruining peoples enjoyment of Formula 1, what of other sports?
The 'Old Firm' derby is one of the biggest rivalries in sport, and it is founded on religion and politics. People are born into a side based on which side of the clearly divisive line they fall, Catholic vs Protestant, British vs Irish Scot, Conservatism vs Socialism. People have been killed on derby days, and violence in Glasgow increases any time the two clubs play.
Politics don't belong in sport though, so they must be fighting over something else.
In 1967 Muhammed Ali refused to serve in the US Army during the Vietnam War, uttering the famous line 'I ain't got no quarrel with those Vietcong…no Vietcong ever called me nigger.' Since then he has, rightfully, been lauded as a hero for his stance.
The Vietnam War probably wasn't political though, was it?
Even the sport of Bandy isn't immune to politics!
Norway declined to take part in the 1957 Bandy World Championship because the Soviet Union was invited, due to the Soviet invasion of Hungary the year before. The country made a similar protest for the 1969 Bandy World Championship because of the Warsaw Pact invasion of Czechoslovakia that year, handing over the hosting of the 1969 event to Sweden.
Indeed Formula 1 itself is no stranger to politics in sport, with the 2011 Bahrain Grand Prix cancelled due to concerns over human rights protests led by Avaaz.
You may not agree with the stance Hamilton has taken, you may not like it, but you do have to respect that in a free society he can use his platform however he sees fit – he built it.
What To Make Of The Lewis Hamilton Fallacy
Now I'm not naïve enough to think that the words on this page will make everyone stop arguing on the internet, that will never happen.
What I do hope though is that it has loosened the grip for some people, and will help them take the blinkers off.
We're lucky enough to be living in a time where each Sunday, one of the finest Formula 1 drivers the world has ever seen jumps into his Mercedes and puts his life on the line to win trophies, and entertain us.
I'm lucky enough to have seen this level of performance twice, once with Michael Schumacher, now with Lewis Hamilton.
Should I live long enough to see Hamilton's records beaten, I won't waste time arguing over who is the GOAT, who had the best car, or why this bright new talent needs to jump through made up hoops to prove themselves to the folks in the bleachers.
I'll simply be grateful to have witnessed three drivers at the absolute peak of their powers, doing what they love.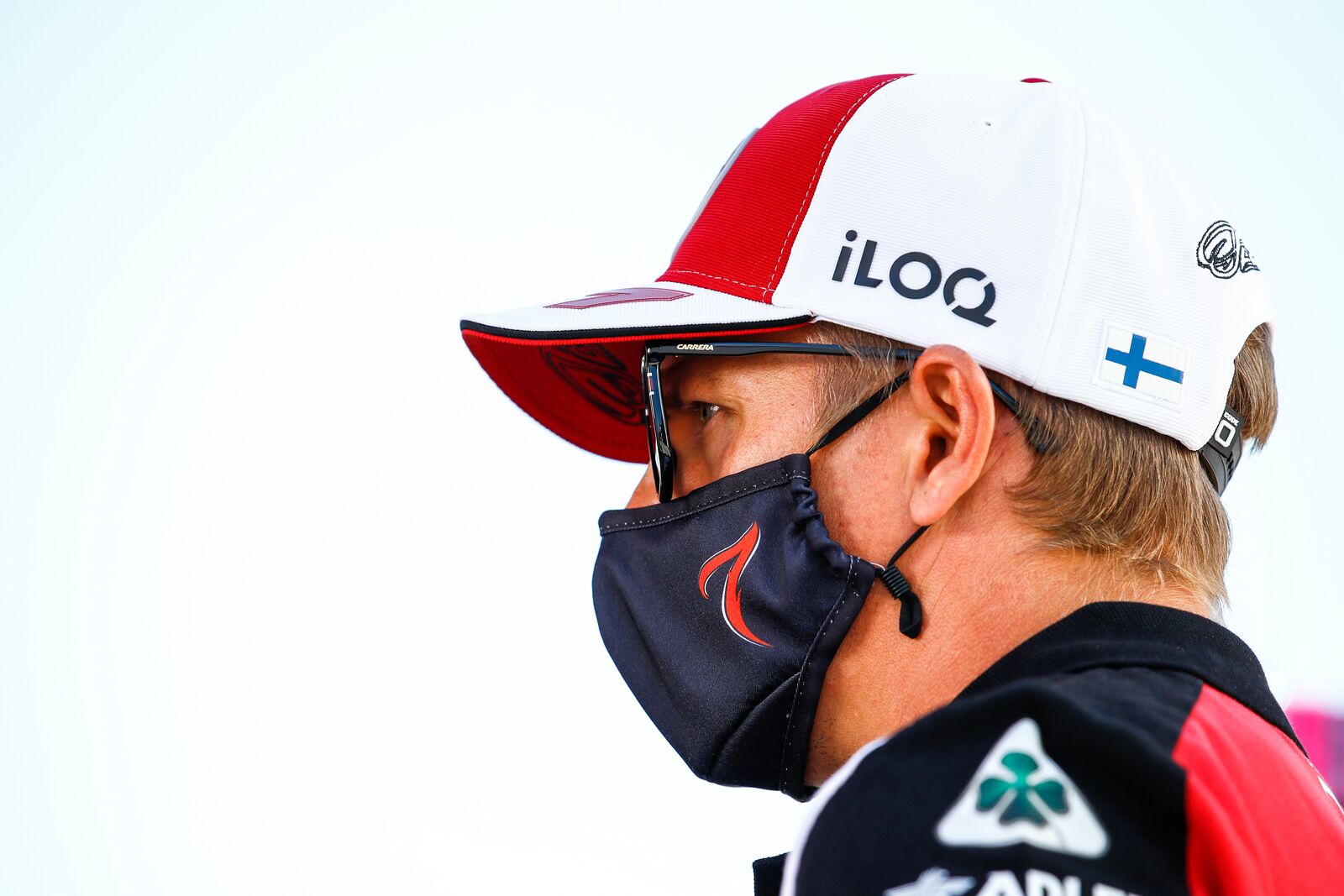 "Kimi, why do you think the move to Sauber would ...